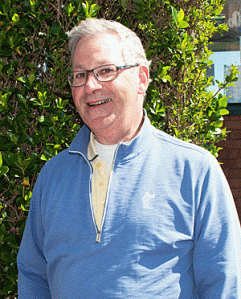 Fred Perry Senior Four-Ball Inter-Club Team 2019
Team Captain Bernard Brown (07752176129)
If anyone is interested in trying our for this team (and has not already done so) phone or text your details to the team captain (number below).
This competition is open to anyone aged 55 or over on the 1st January 2019 .  The team for each match consists of 5 pairs with a  maximum combined handicap of 42 and the match format is Four-Ball better ball.
Team Progress (newest entry first)
THAT'S ALL FOLKS – FOR THIS YEAR!
After a disappointing 4 and a half to a half loss at Strabane last weekend, there was a mountain to climb on Sunday, if we were to progress to the final of the Fred Perry Trophy.
Yesterday the FP team produced a fantastic performance, gave the Strabane Club Captain a few worrying moments but we couldn't deliver the 5 wins that were required.
My gratitude to the Donaghadee members who supported us yesterday and also to our Captain, Jim, Vice Captain, Trevor, President, John and a special mention to Mervyn and Derek for their support throughout the season.
Finally, thanks to the whole squad for their commitment and enthusiasm during this season's journey and you should be very proud, as I am, to have reached the semi-final of a GUI competition.
We will regroup and return stronger and more focused next season.
Best wishes to all involved.
Bernard
---
FRED PERRY TROPHY UPDATE 14TH JULY 2019
After a disappointing result last Sunday our Fred Perry team travelled the 200 mile round trip to Newtownstewart requiring 3 matches to progress to the semi-final of the Fred Perry Trophy.
1st up were Neale Jenkins and Mark Kernohan and in a high-quality match, with 9 3's in 15 holes, our boys suffered their first defeat.
Next up were Derek McCully and Brian Hegan, and fuelled with 2 Bargain Buckets from KFC, they brought home a tasty victory.
3rd in line were David Hick and Ben Hoal, and after a see-saw match our boys were beaten.
Penultimate match was myself and new recruit Ivan Humphreys. A very tight match with never more than 2 holes in it. We managed to keep a level match until the 18th, where we both received shots from our opponents. Ivan chipped close from the bunker and the putt was conceded for a 5 net 4 and secured the win, 1 up.
So, to the final match – a must win game. Mervyn Humphreys and Gary Canavan were leading for most of the game and were 1 up playing the 18th. A great drive from Mervyn, followed by a Sunday best 3 wood to the heart of the green secured the 3rd victory for the Dee.
So the Fred Perry team go through to the semi-final and will meet Strabane G.C.
Many thanks to the boys for their commitment and grinding out a wonderful team performance, the support and good wishes from the members of Donaghadee Golf Club and special thanks to Derek Green (Radar) for keeping me updated throughout the day.
Bernard Brown
Team Captain
---
Quarter Final 1st Leg at home to Newtownstewart G.C.
On Sunday 7th July we will be hosting Newtownstewart G.C. in the quarter final of the Fred Perry Trophy.
The team to represent Donaghadee G.C. as follows:-
Ben Hoal
Mark Kernohan
Neale Jenkins
Derek McCully
David Hick
Gary Canavan
Bernard Brown
Neill Boyle
Mervyn Humphreys
Tommy Hutton
Reserve – Jeff Aiken
Tee off time – 2.30pm
All support would be greatly appreciated.
Bernard Brown (Team Captain)
---
DONAGHADEE'S FRED PERRY TEAM THROUGH TO THE QUARTER FINALS
On Thursday night the Fred Perry Team played their home tie versus Portadown G.C. for a place in the quarter finals.
Our first pair (David Hick & Ben Hoal) came in with a solid 2&1 win.
Next out was Derek McCully & Bernard Brown and secured a 4&3 win.
Our 3rd pair (Mark Kernohan & Gary Canavan) were beaten 3&1 after an onslaught of 3 birdies and a hole in one from the opposition.
4th out were Mervyn Humphreys and David McBride – securing a 3&2 win (Mervyn chipping in AGAIN this time on the 16th).
The final pair (Tommy Hutton & Robert Henderson) were called in (as the match was over at that point).
So, the final score 3& a half to 1&a half for Donaghadee, having won the away leg 3-2 last weekend we progress to the next round where we meet Newtownstewart G.C.
A fantastic team performance and hopefully more to come – watch this space.
Our caterers are worthy of special mention who stayed on much later than usual to look after us all superbly, we are really grateful to them, thank you.
Bernard Brown
(Team Captain)
---
FRED PERRY TEAM CLAIM ADVANTAGE ON AWAY LEG
On Saturday 8th June the Fred Perry Team travelled the 50 miles to Portadown for the 2nd round of the Fred Perry Trophy.  The weather during the week had been atrocious, with a month's rain falling within 36 hours, making preparation for the match very difficult.
There was still a lot of rain on the day of the match but the course was deemed playable.
The Donaghadee boys came away with a 3-2 win, a fabulous performance from everyone.
The return match at the Dee is this Thursday night at 5pm, when we can hopefully do enough to progress to the next round.
Support for the Team on Thursday night would be gratefully appreciated.
Many thanks
Bernard Brown (Team Captain)
---
Fred Perry 2nd leg at Mourne G.C. – Sunday 19th May 2019
Having secured a solid 4-1 win (and 6 holes up) at home in April, 10 of Donaghadee's finest travelled to Newcastle for the second leg.  Knowing that one and a half matches would be good enough, five pairs took to the Mourne links.
All of the matches were tight and played with great sportsmanship, however we were beaten 4-1 with 9 holes down – we were out of the Fred Perry!
So off to the bar for a conciliatory drink……
A few minutes into my shandy, I was tapped on the shoulder and brought aside by the Mourne Club Captain.  Apparently Mourne had declared an incorrect handicap for one of their players. They had to disqualify themselves and therefore The Dee went through to the next round.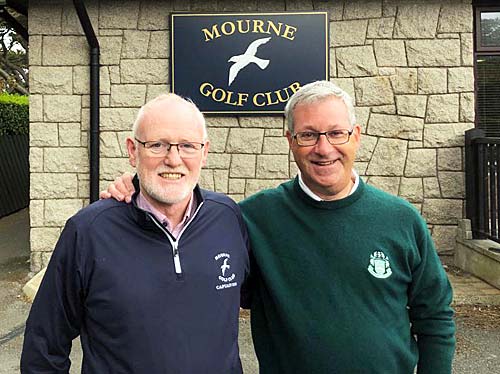 Through to the last 16 – awaiting us in the next round is Portadown G.C.
More details to follow…….
Bernard Brown (Team Captain)