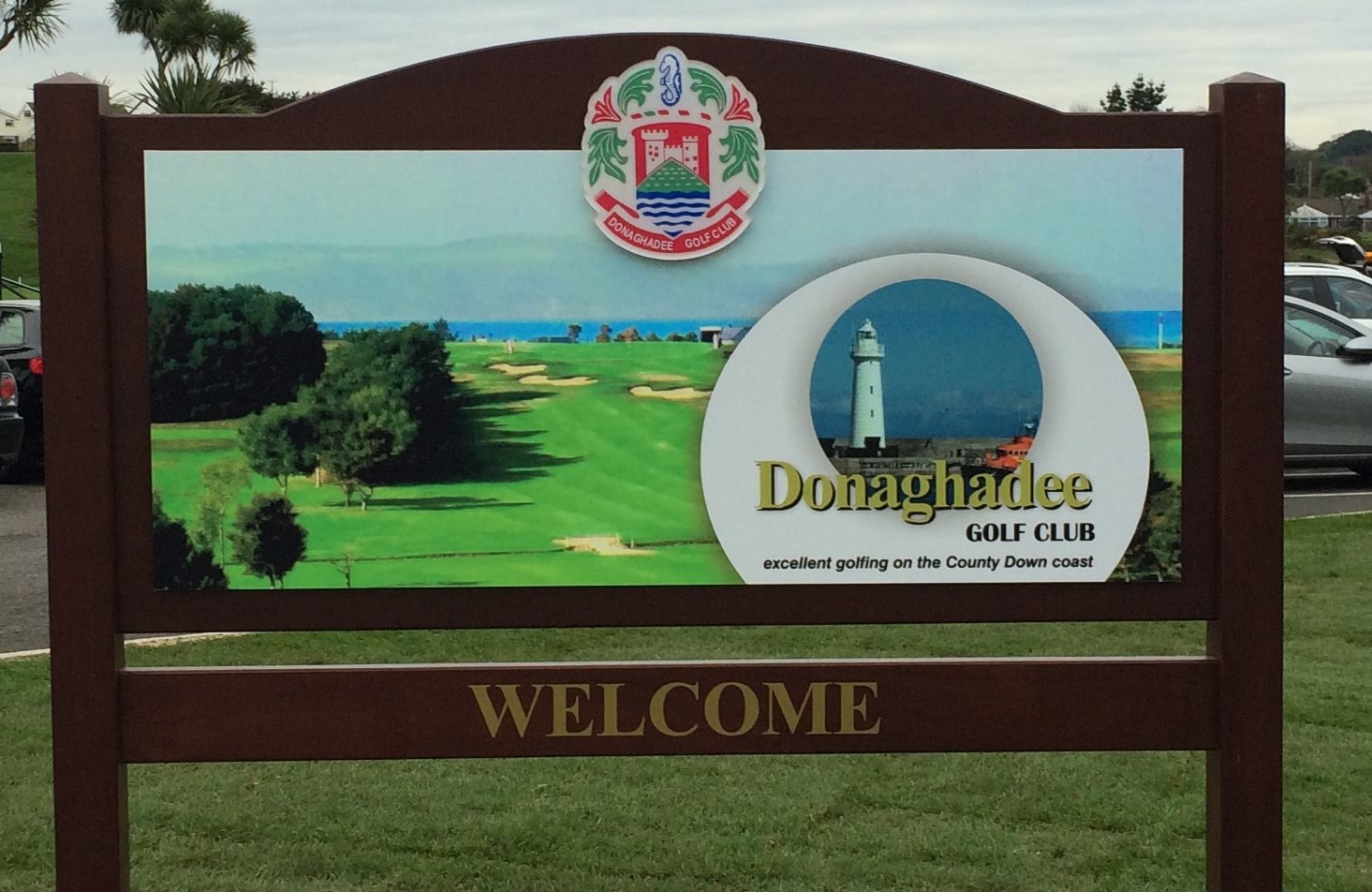 Donaghadee welcomes players of all backgrounds and abilities.  Our Men's, Ladies and Juvenile sections have enjoyed particular success over the years.  All members have the benefit of an excellent practice academy, opened by Norman Drew in 2010.
On the course and in the clubhouse, we pride ourselves on being a friendly, family, orientated golf club.  Members' visitors are also warmly welcomed.  You don't have to be a golfer to become a member.
Situated on the North Down Coast, at the mouth of Belfast Lough, with stunning views across to the Copeland Islands; Donaghadee Golf Club was opened on the 28th July 1899. 
The original 9 Hole course was designed by Willie Fernie the famous Scottish professional who won the Open Championship in 1883 and was runner up on four other occasions.  The current 18 hole par 71, which is part links part parkland opened in 1907.
In 1948, Sir Walter Smiles, Bear Grylls' grandfather started an annual boys' competition, which was to become the Ulster Boys Championship.  This was first won by Norman Drew, who defeated John Glover, a future Captain of the R&A.  Our current professional, Gordon Drew, is Norman's son.
Dress Code
Dress attire on the Course and in the Clubhouse should be smart, clean and neat and in keeping with the high standard which the Club seeks to set.
Denim clothing, including blue denim jeans, will be allowed in the Clubhouse but not on the course. Any clothes worn, including denim of any colour must be smart i.e. not soiled as in work jeans; not torn or frayed; or with appendages such as chains attached.
Shorts may be worn by Gentlemen and ladies but must always be tailored. Sports shorts are not allowed by anyone: In the case of gentlemen, shorts must always be accompanied by socks; Ladies may choose not to wear socks in the Clubhouse.
The following items of dress are not acceptable In the Clubhouse or on the Course Football, rugby or other team sport shirts; Garments with slogans or large motifs, Sleeveless Shirts worn by gents (permissible if worn by ladies) V-neck sweaters with no shirts, sun tops, Beachwear, In the Clubhouse Footwear worn on the course, or Caps.
This dress code will not apply on designated evenings when Council will define the appropriate form of dress. These are currently as follows, though Council reserves the right to vary these with prior notice being afforded to members: –
| | |
| --- | --- |
| New Year's Eve | Formal Dress |
| Men's Dinner | Formal Dress |
| Open Week Prize Night | Jacket and Tie after 8.00pm |
| President's Day | Jacket and Tie after 8.00pm |
| Captain's Day | Jacket and Tie after 8.00pm |
| Annual Prize Night | Jacket and Tie after 8.00pm |
Some tolerance in applying this dress code will be accorded to young people under the age of 12.
Please respect the position of our staff, who are required to ensure that members and visitors comply with this code.
Approved by Council.