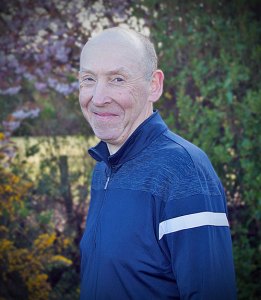 All Ireland Four-Ball Inter-Club Team 2019
Team Captain Mervyn Humphreys (07866255010)

If anyone is interested in trying out for this team (and not already done so) phone or text your details to the team captain.
This competition is open to anyone aged 30 or above on the 1st Jan 2019 and with a minimum GONGU handicap of 15 or above in 2018.
The team for each match consists of 5 pairs with a combined handicap of 34 or above and the match format is Four-Ball better ball.
Team Progress (newest entry first)
IRISH FOURBALL TEAM BOW OUT
Donaghadee had another mountain to climb in the second leg of their last 16 clash at home to Rockmount on Sunday, trailing by 4 and a half to a half match and 15 holes.. The team were still optimistic having managed a great comeback in the last round. However, Rockmount were recent finalists in this tournament and started much the stronger leading in 3 of 5 matches early on.
Donaghadee rallied well in all the top matches but it soon became clear that when the first and third match went dormy 2 and 3 down that the deficit could not be overturned and Rockmount were victorious. Well done to everyone involved on the day for another great effort with special mention to Ben Hoal and Bryan Hegan who won their match 4&2. No disgrace in defeat as Rockmount played exceptionally well and will be a hard team to beat.
So, another campaign is over. I would like to take this opportunity to thank the Club Captain Jim for asking me to lead the team again this year & for his support, to Derek Green for all his help as vice captain, but especially to all the players in the squad this year. You should all be commended not just for your quality of play in the matches but for your spirit, camaraderie and sportsmanship in representing the Club.
This has been my 5th year captaining our Irish Fourball Team. It has been an absolute pleasure and I have enjoyed every minute but feel I need a break, so hopefully someone else will be willing to step up. I will be more than happy to assist.
Team Captain
Mervyn Humphreys
---
4th ROUND
GROUNDHOG DAY AGAIN
Another 4 and a half to a half away defeat for our All Ireland Fourball team. More holes down than last time against Donegal – 15 this time. They need another miracle this Sunday. A tough ask as Rockmount are a very strong team. However, as we know, we can do it.
The team line against Rockmount was:-
Gary Canavan & Tommy Hutton
Neil Bailey & David Graham
David McBride & Mervyn Humphreys
Ben Hoal & Bryan Hegan
Mark Carlisle & Keith Wilkinson
Team Captain
Mervyn Humphreys
---
DRAMATIC FINALE CLINCHES A FANTASTIC COMEBACK FOR IRISH FOURBALL TEAM
Donaghadee faced a real uphill struggle on Sunday, to overturn the 4 & a half to a half defeat from the away leg match in Donegal. Whilst the first leg was played in near gale force winds the home tie brought equally trying conditions with torrential rain throughout the large part of the matches. Although a couple of matches were tight the Dee overall made a great start. In match 2 Gavin Hunter and Neal Anderson started like a train and never looked back securing an emphatic first point by 7&6. In the 3rd match Gary Canavan and Tommy Hutton also played brilliantly to win their match 5&3, closely matched by Ben Hoal and Bryan Hegan who triumphed by 5&4 in match 4.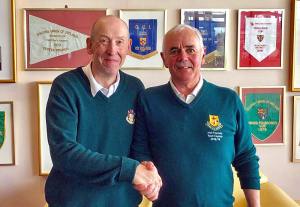 Word quickly filtered out to the other players on the course that the tie was now dependant on these last two matches. In the top match Neil Bailey and David Graham were all square playing 15 where Neil got an excellent par to go 1 up. Neil and David then kept their nerve to half the last 3 holes to secure a precious 4th point.
In the anchor match, involving both team captains, David McBride and Mervyn Humphreys were 2 down through most of the front 9, until David parred 9 and 10 to level the match. The match was still level playing 16 by which stage it was clear this was the pivotal match. With everyone missing the green in 2, Mervyn chipped and putted for a great par to go 1up for the first time in the match. On 17 after two shots both Donegal players were on in two within 4 feet, with David further away and Mervyn just over the back of the green.  Just when it looked likely the match would go the distance the team Captain produced a magnificent chip in for par to win the match and tie and seal the most remarkable 5 nil comeback, which few thought possible.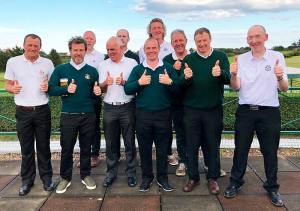 The team has now progressed to the last 16 with a tough next match ahead against Rockmount. Hopefully the team can feed of this great win and continue the journey.
Well done to all the players involved on the day for the fantastic spirit and performance representing the club. Thanks also to the other squad players, club captain and members who came out to support the team in such horrendous weather and to witness one of the best ever comebacks for any of our club teams.
Team Captain
Mervyn Humphreys
---
ALL IRELAND FOURBALL TEAM LEFT WITH ALL TO DO AT HOME
Our Irish Fourball Team played the 1st leg away today against Donegal Golf Club. The final result was a 4& a half to a half defeat and leaves us with all to do next Sunday. This was a huge effort from the team, played on one of the most challenging links courses in 40 plus mph winds!
Neil Bailey and Tommy Hutton lost 1 up. Gavin Hunter and Ben Hoal lost 2 up. David McBride and myself came back from 4 down to secure a halved match.
Very proud of the team today. No mean feat to take 3 matches to 18th green on away soil in such tough conditions. Big ask but we now need a big effort to turn this round at home next Sunday. But it can be done and we have to believe.
Mervyn Humphreys
Team Captain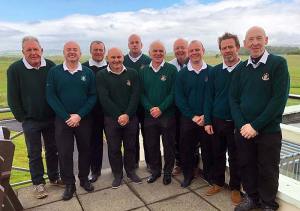 3RD ROUND DRAW
The team will now face Donegal in the 3rd round.  Due to Junior Cup qualifying at Donaghadee it has been agreed by the teams that the 1st leg will be played on Sunday, 2nd June at 12:30 in Murvagh!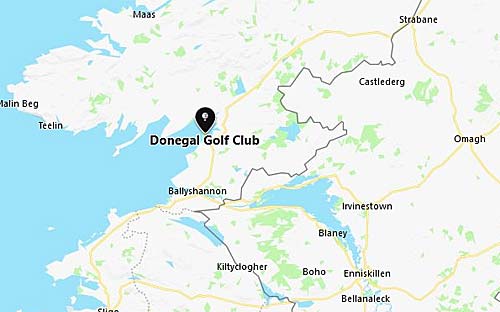 The 2nd leg at home will be played the following Sunday (9th) also with a 12:30 tee off.
Team selected to represent Dee in 3rd round first leg match away to Donegal this Sunday 2nd June at 12 is:-
Keith Wilkinson
Mark Kernohan
Neil Bailey
Tommy Hutton
Gavin Hunter
Ben Hoal
Mark Carlisle
Gregg Donley
David McBride
Mervyn Humphreys
Reserve Derek Green
---
ALL IRELAND FOUR-BALL TEAM PROGRESS TO 3RD ROUND
Team Captain Mervyn Humphreys and playing partner David McBride had another headline win as he and his team defeated Roe Park 4-1 in the 2nd and home leg on Sunday, 5th May.
The team fought hard the previous Sunday in Limavady to set up the opportunity to make progress and that is what the team did and will now face a short journey to Holywood or the long trek to Donegal.  Whoever they face Mervyn and his players will be working hard to earn the Club further success.
Gregg Donley and Mark Carlisle lost 1 up
Neil Anderson and Gavin Hunter won 2 up
David Graham and Neil Bailey won 6&4
Tommy Hutton and Keith Wilkinson win 2 up
David McBride and Mervyn Humphreys won 6&5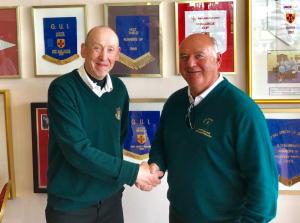 ---
2nd Round (bye in 1st Round)
Mervyn and his team travelled to Limavady on Sunday 28th April to play Roe Valley in the 2nd Round (1st leg) and obtained a credible score to give them a fighting chance in the return leg. Although beaten 3.5 to 1.5 they trail by just the single hole and that gives them all to play for.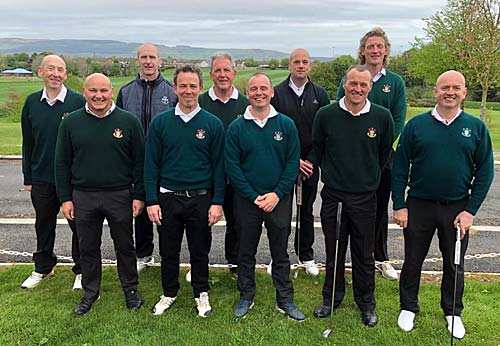 Captain Mervyn and his partner David McBride won their match 4&2 while Tommy Hutton and Keith Wilkinson fought back from 3 down to halve their match, with our other pairs narrowly losing on the closing holes.
Representing the Club were:
Neil Bailey & David Graham
Neil Anderson & Gavin Hunter
Gregg Donley & Mark Carlisle
Keith Wilkinson & Tommy Hutton
David McBride & Mervyn Humphreys
Mervyn declared himself happy with the result and now looks forward to the return match at Donaghadee next Sunday, 5th May when he and the team would appreciate your support.