JOHN McCANN CUP
Congratulations to Tom Johnston on winning the John McCann Cup for Past Captains. Tom was a clear winner on 23 points with his playing partner, Noel McKeown in second place.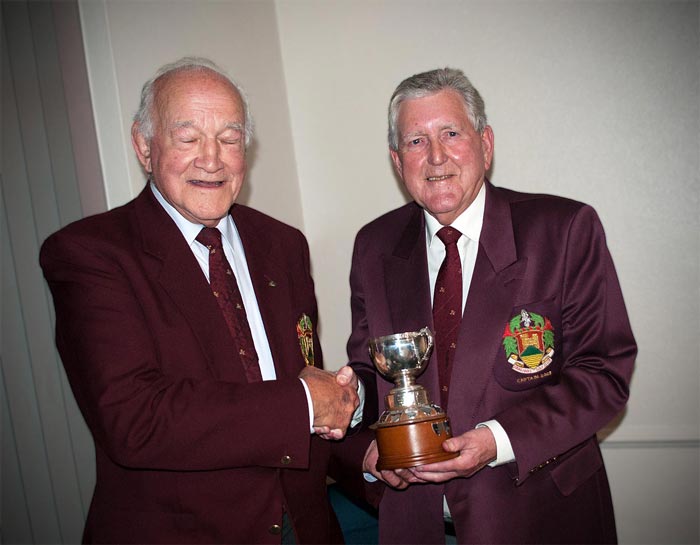 The Past Captains were delighted to welcome Trevor Kelly who joined them for their meal in the Judge Brown Room after the competition. Trevor is a Past Captain of Donaghadee and also of the renowned Portuguese golf club, Quinta do Lago in the Algarve. In the course of an excellent evening of camaraderie and catching up on old friendships, Trevor presented the Past Captains with a Tyrone Crystal Donaghadee bowl in recognition of the close association involving an annual challenge match between the Past Captains of the two Clubs.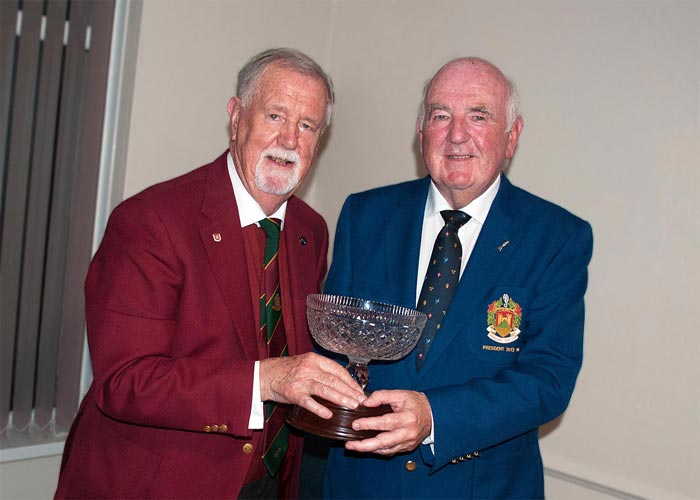 In response, Brian Hutchinson thanked Trevor on behalf of the Past Captains for the generous hospitality shown by him and his late wife, Kath, during their visits to Quinta over the past twenty-one years.
---
ALPINE GOLFING SOCIETY
Results for Thursday 23rd September 2021.
The competition was played over front nine holes.
1st   David McCord (10) – 22pts
2nd  Raymond Whiteside (10) – 20 (cb)
3rd   David Carroll (10) – 20pts (cb)
Number of Cards processed – 50
Note: The winner cut two shots and second cut one shot on the nine holes in future Alpine Competitions this season.
NB: Prizes not collected will be available in the Pro Shop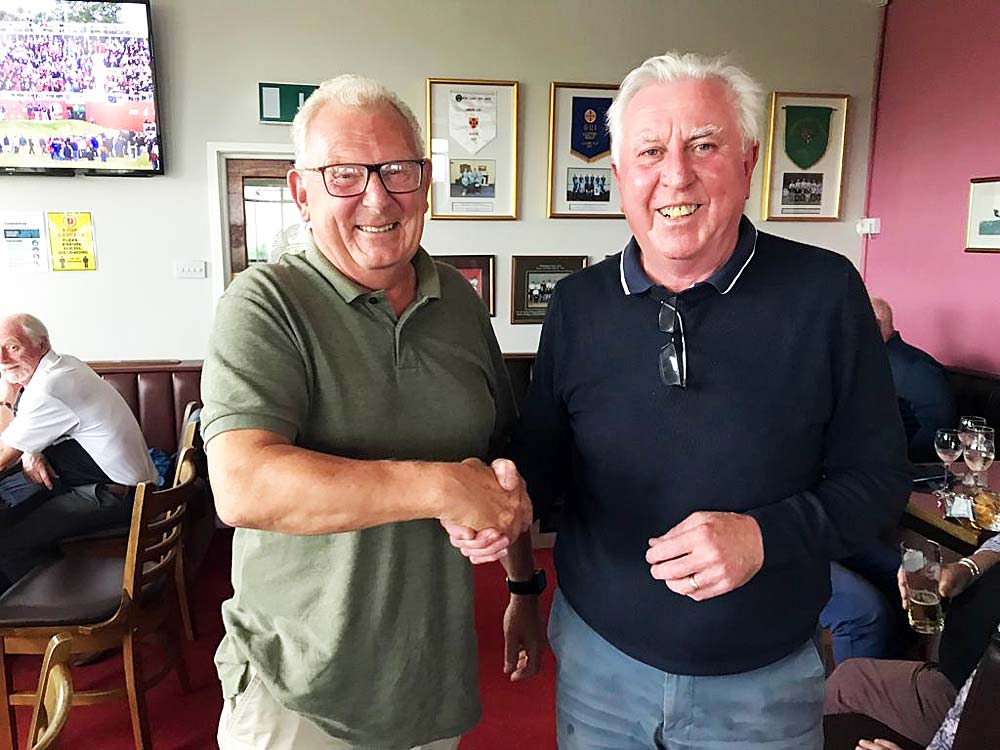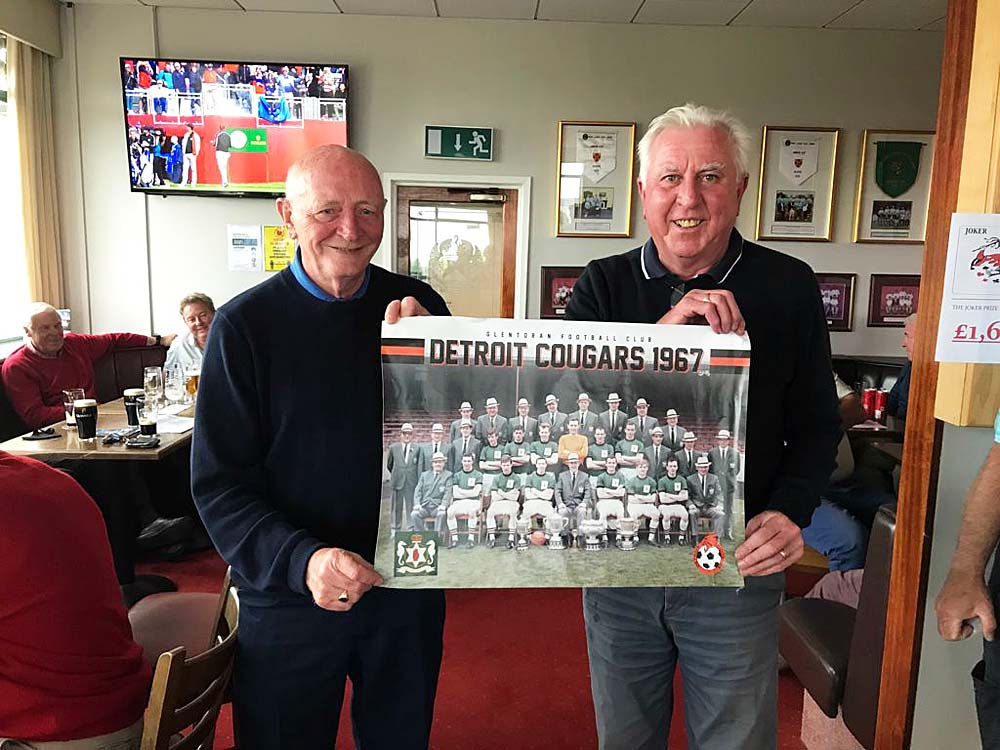 ---
SENIORS GOLF IS BACK
Seniors golf will resume on Monday 4th October from 11.46. Gents aged 60 or over are warmly invited to come along and enjoy a 9 hole competition each Monday. Just report to the Starters Hut on the day.
---
JUNIOR PRIZE WINNERS 2021.
Prizes will be presented on Junior Captains' Day 19th August at 8pm. It is hoped Parents and Prize Winners can attend and maybe have a meal beforehand starting at 6.30pm. Please book a table with the catering team. There will be events taking place during the day. Parents may like to attend.
For details of winners – click here.
---
JUNIOR CAPTAIN'S DAY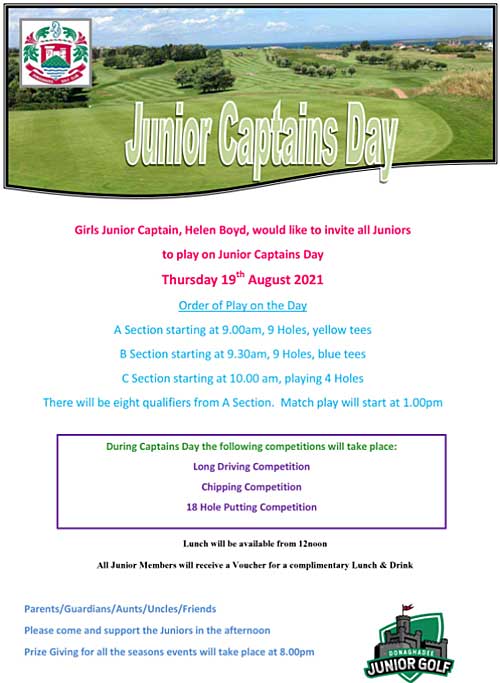 ---
CAPTAIN'S DAY –  FURTHER UPDATE
Following queries from some invitees, we would like to confirm that the Captain's reception goes ahead this evening as scheduled.
Saturday afternoon and evening entertainment has been postponed until 21st August.  Anyone who had booked a table for Saturday evening and would like to rebook for 21st August please contact the Caterer directly.
Bar and Restaurant will be open as usual tomorrow Saturday 7th August from 12 noon.
The re-arranged Restricted and Veterans Captain's Day competitions will take place on Monday 16th August and not the 19th as previously advised. The 19th August is Junior Captains Day. Catering and bar facilities will be available on Monday 16th August.
---
CAPTAIN'S DAY
Dear Member,
The heavy downpour during the Restricted and Veterans Captains Day today necessitated the course being closed and the competition cancelled.  Unfortunately it looks like more of the same over the next few days with heavy, slow moving showers and a chance of thunderstorms and indeed the Meteorological Office has issued an amber warning.  Acting on the basis of this information and, taking account of the recommendation of our Match and Handicap Convenor, I have decided to postpone the Captain's Day competition until 21st August.
I appreciate that for many this will be a major disappointment.  However the available evidence is such as to suggest that there is a strong likelihood of the course being flooded and, as was the case today, the competition being cancelled.  Captains Day is one of the highlights of our golfing year and requires a substantial amount of planning and work by our staff in the office, bar and course; the Club professional; and the Caterer.  Making the call to postpone has not been easy but avoids unnecessary expense and work.  I trust that members will understand and appreciate the basis for this decision.
The following arrangements will apply:
The Captain's Reception will take place as planned on Friday 6th August
A replacement competition will be organised for 7th August and the timesheet in place for Captains Day will apply weather permitting;
The cancelled Veterans and Restricted Captains Day will now take place on 19th August.  Any member who entered on 5th August will be able to enter again without any charge on this date and any vouchers unused will be honoured.
Captains Day will take place on 21st August.  The standard Saturday timesheet will apply and in an effort to free up times, any member not wishing to play or unable to play should remove their name.  Anyone who has pre-paid for Saturday 7th can either obtain a refund or transfer payment to the 21st assuming they have a time.
I apologise for any inconvenience this may cause but, as always we are subject to the vagaries of the weather.
Kind regards,
Trevor Simpson
Captain Donaghadee Golf Club.
---
THE C(HAT) RESULTS, WEDNESDAY 4TH AUGUST 2021
Record numbers (73) for this year to date played this week. Great turn-out – even greater prizes.
1st.      David Kerr (6) 22 Pts. Pro Shop Voucher £70.
2nd      David Johnston (9) 20 Pts. On last 6 holes. Pro Shop Voucher £50.
3rd       Robin Crothers (5) 20 Pts. Pro Shop Voucher £35.
4th       William McAllister (10) 19 Pts. On last 6 holes. Pro Shop Voucher £17
Best Gross 39 (3x Pro V1s)  –  Des Letman
There were 3 twos. David Kerr (at the 1st ), Robin Crothers, Billy McAllister – 10 balls each (includes balls carried forward from last week)
All prizes collectible from the Pro Shop
(NB David Kerr cut two shots and David Johnston 1 shot on the 9 holes in future Hat Competitions)
Noel and David
---
VETERANS CAPTAIN'S DAY
Gentlemen, please note that the Veterans Captains Day competition (Thursday, 5th August) will be run over 9 holes not 13 as advertised.
M&H
---
ULSTER CUP
Donaghadee play Blackwood in Ulster Cup South Qtr Final on Monday 2nd August @ 5.30pm with 4 games at Dee and 3 games at Blackwood. All support would be greatly appreciated as always.
Thanks
Ryan Hay
Team Captain
---
THE C(HAT) RESULTS, WEDNESDAY 28TH JULY 2021
The end of the heat wave and threatened rain affected numbers this week, but we still had a good turn-out of 50.
Do not forget to book your starting time each week.
1st.      Stuart Lally (9) 21 Pts. Pro Shop Voucher £46.
2nd      Gary Browne (8) 20 Pts. On last 6 holes. Pro Shop Voucher £35.
3rd       Mark Ennis (9) 20 Pts. On last 6 holes. Pro Shop Voucher £22.
4th       Sam Caskey (9) 20 Pts. On last 3 holes. Pro Shop Voucher £12
Note – Hat handicap adjustments applied to 1st and 2nd prize winners in earlier competitions have been used to derive above results.
Best Gross 40 (3x Pro V1s)  –  John Ross
There were no twos. 13 balls carried forward to next week.
All prizes collectible from the Pro Shop
(NB Stuart Lally cut two shots and Gary Browne 1 shot on the 9 holes in future Hat Competitions)
Noel and David
---
MIXED FOURSOMES QUARTER FINAL V KILLYMOON 28th JULY/1 AUGUST
Difficulty finding a suitable date in such a tight schedule means that the match v Killymoon will be played over two dates. One match at home at 4.30 on Thursday with the remaining 4 matches (2 at home/2 away) played on Sunday (2.40 tee off @ Dee). As always all support greatly appreciated.
Many Thanks
Barry & Carol
---
U16 CONNAUGHT GIRLS
Congratulations to Megan Boyd won The Bentley Plate for best stableford in U16 Connaught girls, beating her sister Helen (our Girls Captain) with the better back nine.   Both had 43pts.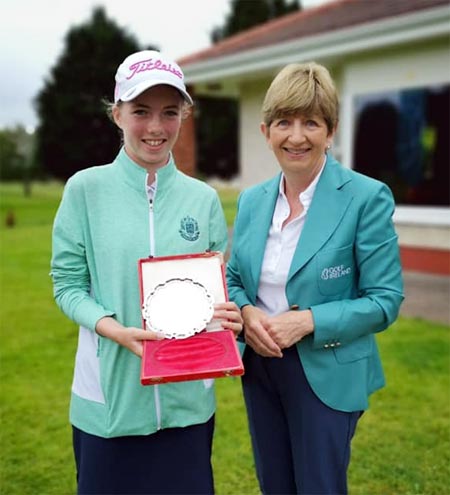 ---
COURSE NEWS
Great news that playing golf is getting back to normal with bunkers now back to normal with rakes to used and for those that wish flags can now be removed for putting, the world is slowly getting back to some sort of normal. Let's keep everything moving in the right direction and keep our course in top condition by fixing all pitch marks on greens and replacing divots where necessary. Our course is playing well in the current conditions let's keep it that way by doing the simple things and enjoying the golf, the great weather and our great course along with the great food and craic to be had in the club house. Swing easy and enjoy.
Robert Henderson
Course Convenor
---
The C(HAT) Results, Wednesday 21st July 2021
Yet another turn-out in the 60s (64 this week). We look forward to breaking the 70s barrier for the first time this season in the near future. (That's numbers of competitors, not average age by the way).  Do not forget to book your starting time.
Trevor O'Rorke (11) 25 Pts.  Pro Shop Voucher £60
Trevor Rodgers (10) 22 Pts. On last hole. Pro Shop Voucher £45.
Richard Murray (9) 22 Pts. On last 3 holes. Pro Shop Voucher £30
David Martin (6) 22 Pts. Pro Shop Voucher £15
Best Gross 39 (3 x Pro V1) Aaron Small
Twos (16 balls) Ricardo Neufus
All prizes collectible from the Pro Shop
 NB Trevor O'Rorke cut two shots and Trevor Rodgers 1 shot in future Hat Competitions
Well done Trevor, great score, especially using only 8 holes to get 25 points to give the rest a chance.
Noel and David
---

CAPTAIN'S DAY
The Captain, Trevor Simpson, would like to invite all Members to join him on his Captain's Days.
Captain's Day – Saturday, 7th August
Veteran/Restricted Captain's Day – Thursday, 5th August
Trevor hopes everyone will enjoy competing for the fabulous prizes.
Everyone is welcome to attend on Saturday evening for great entertainment, provided by Versatile.
For further information, click the images below: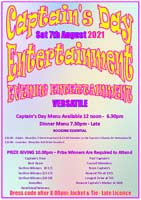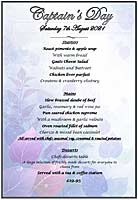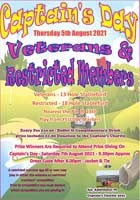 Captain's Day                The Menu         Vet's/Restricted Day
---
ULSTER CUP TEAM MAKE FURTHER PROGRESS
Congratulations to Ryan Hay and his team who overcame the challenge of Dungannon on Sunday (11th July) winning 5-2 with points from:
Garth Boyd
Johnny Boyd
Richard McCreedy
Ryan Hay
Michael Carlisle
They are now into the quarter finals of Ulster South and will next play Concra Wood or Blackwood.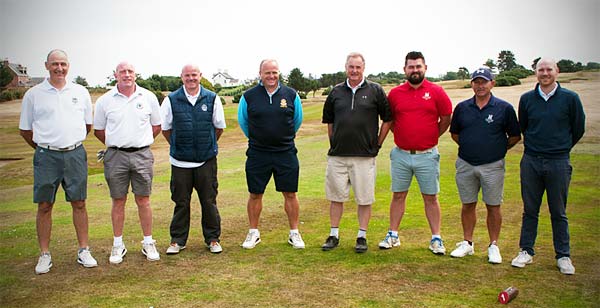 ---
LADIES OPEN COMPETITION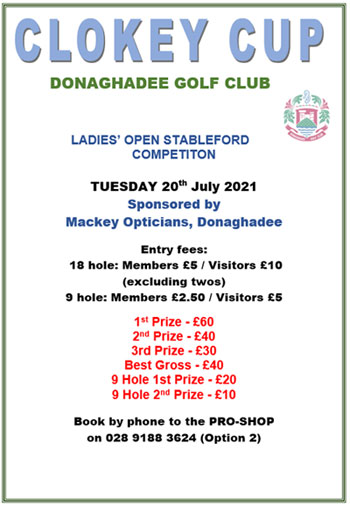 ---
THE GREAT RUGBY CYCLE

Jeff Aiken, Past Captain of the Club, is participating in a 1,000 mile cycle round Ireland in 10 days to raise funds for My Name'5 Doddie Foundation.   The team hopes to raise £50,000 for the foundation which funds research into Motor Neurone Disease (MND) as well as raising awareness of the condition – a condition that is currently without cure. There are a total of 38 cyclists completing the trip including several elite athletes and others who have lost loved ones to this cruel condition.   They will be calling into the Club before completing the penultimate stage on Saturday afternoon.
Timings are fluid but the expectation is that they will be at the Club round about 3pm-4pm and members may wish to turn out and encourage them all with a hearty welcome.  Several of Jeff's friends in the Club have already made donations but anyone else wishing to donate to this worthy cause can do so on Saturday or via Justgiving.com/fundraising/Jeff-Aiken
---
MIXED FOURSOMES
The reward for Barry & Carol Davison's team for overcoming Scrabo in the previous round was a tie against Helen's Bay.  Drawn at home, they did have the advantage of three home matches to the two away at Helen's Bay.  Still, a daunting task and one they were ready for.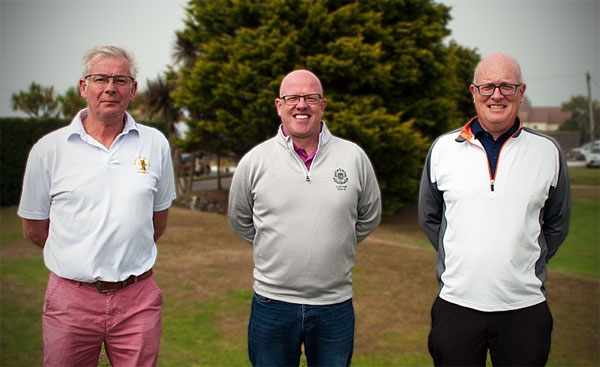 Boy and did they get on with it!  With an array of good and confident golfers carrying the hopes of the Club, many who were there to support, our team of gents and ladies (representing the WHOLE Club) got their heads down and carved out an impressive 3.5 to 1.5 win.
Next up?  Ardglass.  Please look out for forthcoming news as your support again will be crucial to the team.
---
ULSTER CUP
Congratulations to our Ulster Cup team who overcame Edenmore on Saturday (3rd July).  Being the 'away' team Ryan Hay's side faced the daunting task of four of the seven matches away from home.  Ryan, Robin Crothers and Richard McCready came from behind to win all three matches at Donaghadee and when Michael Carlisle secured the important fourth win it was match over.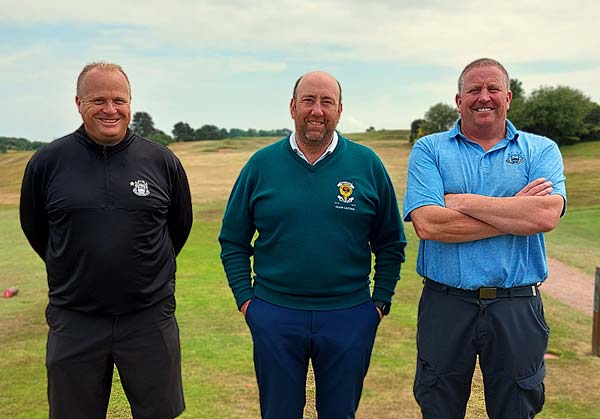 Ryan paid tribute to the challenge and integrity of the Edenmore team, Captained by Frank McCracken, who agreed that the standard of golf was high with both teams enjoying the day.  Donaghadee now meet Dungannon in the third round.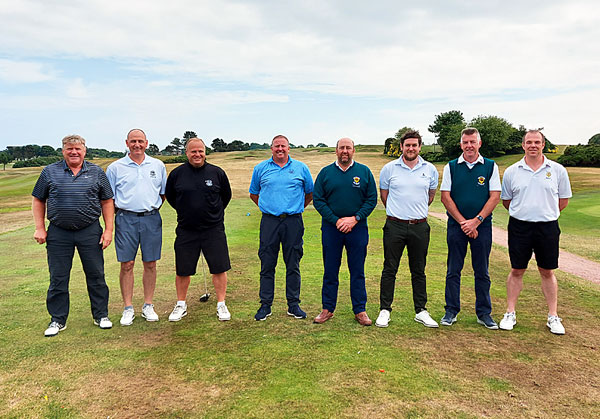 ---
PRESIDENT'S DAY 2021
President John Caldwell couldn't complain about the weather on his big day.  Greeting early starters on the 1st tee in overcast conditions that continued to improve throughout the day.  John even managed 18 holes himself for the first time in ages!  He enjoyed his round, but not as much as Sam Ewart who later in the evening collected the big prize during the evening (Covid-19 controlled) function.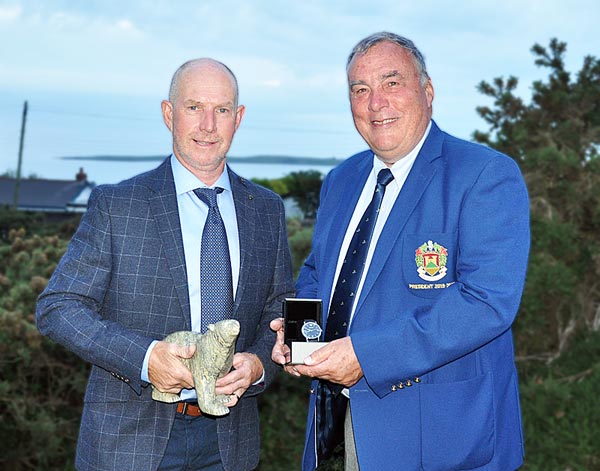 Sam amassed 44 points with the front nine being the foundation where Sam collected an amazing 29 points.  A par at the 1st was a nice solid start but a 'chip in' birdie at the 4th was even better.  Things only improved, including another birdie on the 8th, which is normally a bogey hole for him.
Realising his excellent start Sam was worried about things going pear-shaped over the back nine but he managed to hold his game together, despite a wobble at the 15th with a topped drive.  What better way to recover from that but to drive over the river at the 16th and through the green at the 17th.
Sam collected his prize and thanked the President for a great day and excellent prize, also expressing thanks to Match & Handicap, the Professional Shop and the Course Manager and his team.  Later reflecting on his success Sam realised the contribution and value of recent lessons from Craig Lyall.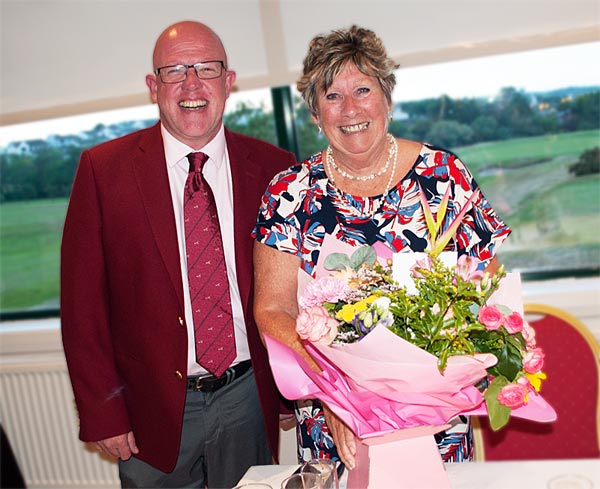 ---
THE HAT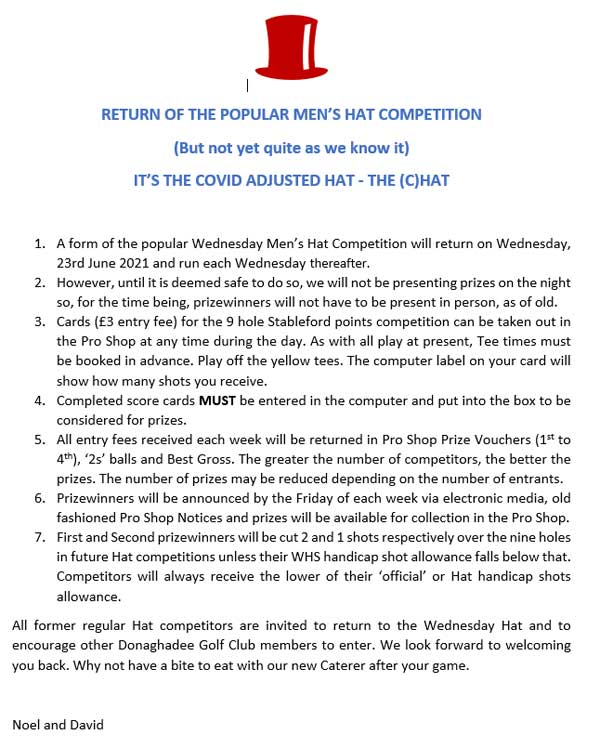 ---
ALPINES GOLF SOCIETY
The Alpines finally managed to close their winter season that originally started in 2019 and after two years punctuated by Covid-19 lockdowns celebrated with a day's competition and evening meal in the clubhouse.
The Alpine Golf Society will recommence a new winter season this coming September with 9-hole competitions each Thursday.  After two partial and difficult seasons Ray Logan has kindly agreed to continue as Captain of the society for the 21/22 season.
Competition Results:
18-hole competition
Richard Caldwell 38 pts
Nigel Carson. 37 pts (cb)
Drew Todd. 37 pts
Ryan Hay. 35 pts
Thomas Charteris. 34 pts
9-hole competition
Alan Morris 22 pts
Brian Miller 21 pts (cb)
David Carroll  21 pts (cb)
Brian Hutchinson  21 pts
Fred Green  18 pts
2's club. Brian Hutchinson; Nigel Carson.
Cards returned – 41
---
JUNIOR TRANING
Junior Training took place on Saturday, 1st May and also Alastair Law took advantage of new pre-round practice equipment secured with the help of a generous grant from Ards & North Down Borough Council.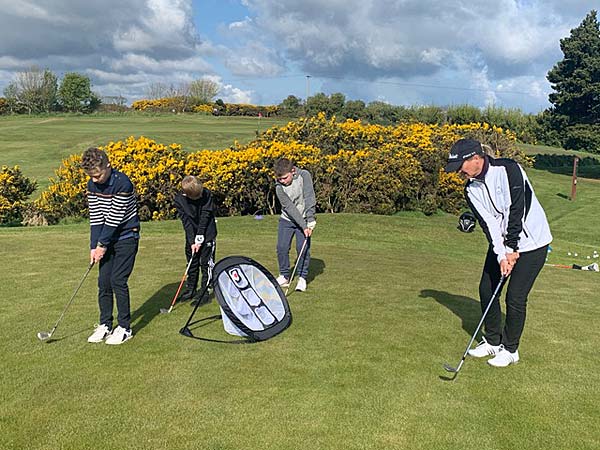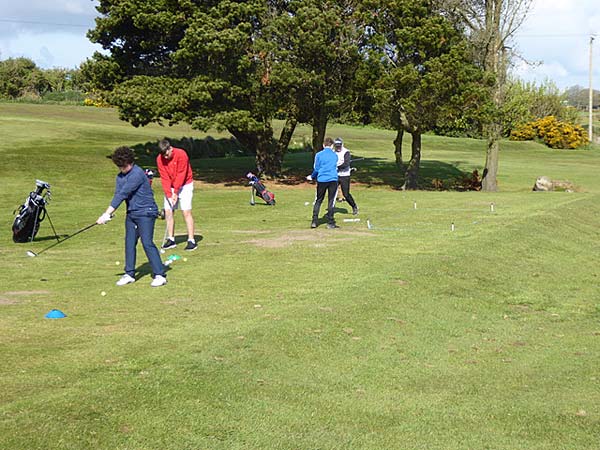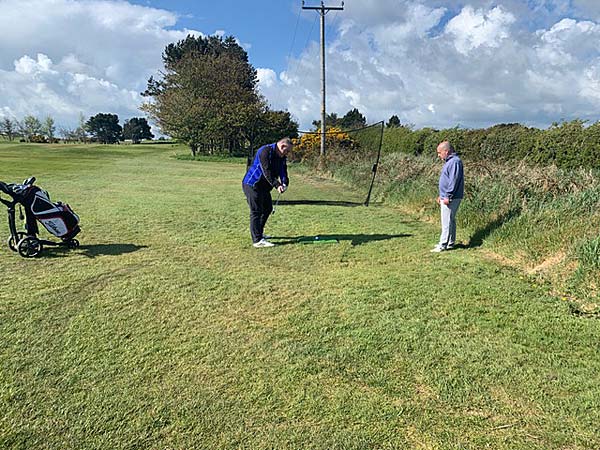 ---
BELFAST AND DISTRICT VETERANS' LEAGUE 2021
The pandemic has curtailed this year's league but the organisers have agreed to run the league from the end of May.
For further details click here.
---
NEW FEATURE
A copy of Council Meeting minutes are now being made available (PDF Document) and can be accessed via the Members Area on the top menu bar.  Access is protected via the previously used password.
---
PAST CAPTAINS UPDATE – APRIL 2021
Bert Mason Salver
I have spoken to a few Past Captains and have agreed that, due to the continuing Covid restrictions on the use of both the course and clubhouse, we should postpone our outing for the Bert Mason Salver, due to be played on 23 April,  until later in the Spring or early Summer. Hopefully by then the new normal will more normal.
Harry Kerr
Following so quickly after the loss of Matt Peacock, we were again saddened to hear of the death of Harry Kerr. While ill health and immobility prevented Harry from joining us in recent years, he nevertheless still took a keen interest in Past Captain affairs. His good humour will be sadly missed.
While the Covid restrictions prevented us from attending Harry's funeral, Jim McClure was pleased to attend at the personal invitation of the family. I have also written on behalf of Past Captains to express our condolences to Harry's wife, Sybil, and the rest of the family.
Fred Green                                         
---
BIG WIN FOR AIR AMBULANCE NI
As many of you will know, Sam Campbell won the inaugural Air Ambulance Trophy with an excellent score of 42 points, but the real winner was the Air Ambulance itself which has been presented with a cheque for £2,750.89.
At the formal presentation at the weekend the Captain paid tribute to all those who had made the event so successful "My thanks to Ian Gunning, Phil Robinson, Mark Weatherall for their generosity in providing the trophy; our many sponsors; those who purchased ballots and those who played in the competitions.   A lot of work went into organising the competitions and I am particularly grateful to our Match and Handicap teams, our office and bar staff, JAG catering and our Professional."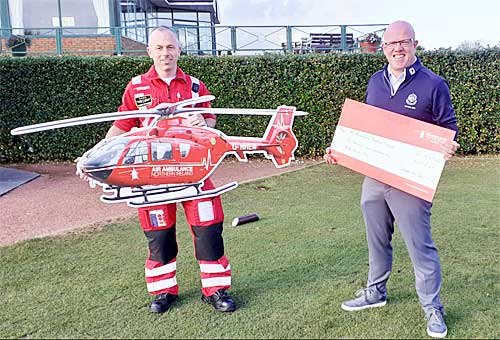 Glenn O'Rorke, Operational Lead for the Service, was very appreciative of the Club's fund-raising efforts, saying "We need around £2m a year to keep the service operational and we are entirely reliant on support from the public and local businesses.  We are very grateful to the members of Donaghadee Golf Club for their organising the event and for this very sizeable donation"