DONAGHADEE GOLF CLUB
Sometimes when we are strolling down the fairways, we only remember our last poor swing or how badly we played the last hole. A deep breath later, all we need to do is remember how fortunate we are and what beauty we have surrounding us at Donaghadee Golf Club.
If you are interested in;
Joining a family friendly club
Playing all year round
Enjoying a sea view
Please contact the office for membership enquires across a range of categories at office@donaghadeegolfclub.com
Media credit. Jonny McBride @jbphotograpghyonline – click the image below to view the website.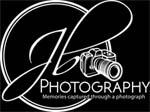 ---
CAPTAIN'S UPDATE
Welcome to my fourth Captain's update.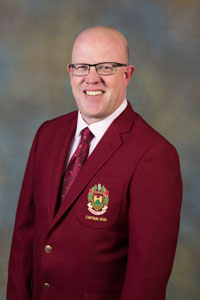 It is the first update I have been able to write where we have had a golf course open for play. The last couple of weeks since reopening have flown by and at the time of writing we are now already in preparation for the move into Step 2 of the Northern Ireland Protocol which Is available from Monday June 8th.
Before anything else, I want to publicly record my sincere thanks to all those who worked tirelessly to ensure we were able to open promptly after the return to golf was authorised. Our staff, our Professionals, our COVID taskforce and our hardy bunch of volunteers were simply brilliant in pulling together to make sure we delivered golf back to our members.
Feedback from you has been overwhelmingly positive. I had previously asked for members understanding and their tolerance and I have been delighted with the response. In the main, behaviour has been exemplary, and I extend my thanks to members for this. I will comment more specifically on reflections from Step 1 and on Step 2 challenges later in the note.
As members would expect, much work continues behind the scenes to ensure the Club is successfully steered through these extraordinary times. The taskforce still meets via conference call twice weekly and this group will oversee all COVID related actions. This week we have also had a meeting of the full Council via Zoom. These meetings are only for 60 minutes but we seem to be able to cover a lot of detail. There may be a message here around how meetings should look post COVID 19. Certainly, saves the Captain on his bar bill!
Over the past 3 weeks we have seen the phased return of our furloughed greenkeepers. I know from direct feedback that members were delighted by the impressive standard of the course given the circumstances prior to reopening. Now, for the first time since lockdown, we have all 5 course employees back on the course. James, together with the Honorary Secretary, have agreed a 3-week plan to bring the course back to full order. I would ask members to be patient as this work is completed.
Rosemary has now moved back to working from the Club office. The office workload has increased markedly over the last couple of weeks. Who knew so many people were not registered on BRS! I am extremely grateful to Maggie who, at short notice, came back in off furlough for a few days to give Rosemary some well-deserved support. I would remind members that the clubhouse is though still closed and that visits to the office should only be by exception.
Members will recall that there were consultative exercises ongoing around the feasibility of Team golf this year. The survey of all Ladies Committees, conducted by the ILGU, resulted overwhelmingly to sadly cancel all Ladies competitions. For the surviving GUI competitions, I had asked Team Captains, along with their squads, to make the decision on our participation. I was delighted with the positive responses and can confirm that Donaghadee will compete in the Ulster Cup, Senior Cup, Junior Cup, Jimmy Bruen, and the Pierce Purcell.
We have finally been able to mark the membership renewal period complete for adult playing categories. This has proved to be a challenging exercise in nailing down the final outcomes from those members who had not proactively contacted us. The final figures were unfortunately more disappointing than I had outlined in my last note. From last year's membership roll we saw 56 adult members resign across all categories including 33 full members. Disappointingly, given our strategic aim of growing our female membership, most ladies who joined under the Get into Golf programme in 2019 have chosen not to renew.
We are clearly not alone in losing significant numbers of members this year. Some of our local neighbours have rushed to offer short term deals to help support cash levels. As a club we have not followed suit. Our view was that it was not fair to offer a membership that gave a new member the chance to only pay for the premium summer months whilst existing members are supporting us all year round. The super news is that through our existing core membership packages we have attracted 30 new playing members over the last 3 weeks. These include 8 full members, 12 flexi members and 10 younger players.
Clearly the net loss of subscription income is a blow. However, the Honorary Treasurer, with support from the Honorary Secretary and the Sustainability workstream, have built this subscription reduction into our budget forecasts for the year. Members will appreciate that given the uncertainty around the return of key income streams from the bar and green fees, some forecasts will need to be assumptive. As such, we have adopted a worse-case scenario approach around income forecasts and will hope to be pleasantly surprised if some form of normality comes sooner than anticipated. Costs are being robustly managed and, as highlighted in previous notes, we are maximising all financial support available to us. Members should be confident in the resilience of the Club to come through this most challenging set of financial circumstances. All of us can help play a part by actively supporting the Club when the clubhouse reopens later in the year.
I continue to be humbled by the level of volunteer work being delivered on the course and in and around the clubhouse. The financial savings of this work is huge and is such a boost to the Club.
Members will have seen the beautiful flowers in the hanging baskets at the Club entrance. There are also additional displays on the balcony which will be well established by the time we are able to return into the clubhouse. Thank you to all concerned with a special mention to Lynda Lister, Thelma McMurray, and Joan Groves.
On the course, with the reduced number of greenkeepers, the support has been vital to look after some areas, such as the Practice Academy, which otherwise would have been left.
The clubhouse work continues. Work in the John Nelson Room, the ladies locker room, the Elsie Brown Room and the second-floor kitchen is now complete. Painting of the Walter Smiles Room and the first-floor hallway is also now underway. On investigation of a slight rise in the floor of the first floor Gents toilet we uncovered a significant leak. Unfortunately, the leak has clearly been there for some time and the damage means that the floor needs totally replaced. Again, through the skills of our volunteers, replacement costs should be restricted to materials only.
Can I also give a big thank you to Neale Jenkins, not only for his greenkeeping talents, but also for organising a promotional video for our Club. The free video will we shared with members via social media over the next few days. It is simply superb and showcases our course and its views brilliantly.
As I said at the outset of this note, the first couple of weeks of the course being open have simply flown by. The rules needed for Step 1 have been well observed by most members and the positive spirit displayed has made a challenging period that bit easier. It is brilliant that the course has been busy with male, female, and juvenile golfers happily co-existing at the same time.
Most local rules we put in place have worked well. On a couple of things, we got the rules wrong and we moved quickly to correct. Our biggest challenge is still undoubtably around the timesheet. Capacity is a challenge for us and that is clear to everybody who is looking at BRS. Given that knowledge, it is disappointing that a small number of members have ignored the request to restrict their number of advance bookings whilst other members are simply not turning up for their booked time. We have also seen some trends in booking that, whilst technically not outside of the rules, are certainly not within the spirit of them. I know that some members are used to playing almost every day in normal times but as I have stressed before, these are not normal times. Other clubs have more restrictive measures in place including limiting play to 9 holes, particularly at weekends. We will do our best to not introduce further restrictions, but we may be left with no choice. As we move into Step 2, capacity will be improved by the move to four-balls from next Monday. It is important that we maximise these slots and we may need to merge two ball bookings on busy days. Presently we have retained the 14-minute gap, but we will review this next week.
We will continue to open the timesheet each Friday for the following Sunday to Saturday period. I know some members have been disappointed to not secure a slot at their desired time, particularly on a Saturday. Members should remember that we are still only at less than 50% of our normal tee time capacity. We have reserved times for telephone only bookings and online booking opens to all members at the same time via BRS. Whilst the temporary first come first served method is far from ideal it is preferable to imposing any form of hierarchy to protect historical tee times that currently do not exist. Can I restate that no bookings should be attempted to be made in person and that telephone bookings should only be made by ringing the Pro-Shop number and not the office or the Professionals personal mobiles. Whilst a degree of frustration from members is understandable any abuse of our staff or Professionals cannot be tolerated. Where this happens, the Club will have no hesitation in taking appropriate action.
Council are currently reviewing proposals around the re-introduction of Club closed competitions. We will hope to announce details around these next week. As part of this we will need to review timesheet management on a Saturday and Tuesday going forward. Similarly, next week we will confirm arrangements that will start to allow members to bring a guest as a playing partner.
I finished my previous note with a plea for members to be supportive and I will take the opportunity to do so again. We are trying to work our way through the Protocols in the best and fairest way we can. It is impossible for us to please everybody all the time. The Club are happy to take any feedback on how we might improve but we need to make decisions we feel are in the best interests of the overall membership rather than just for individuals. Thank you to the vast majority for your super support.
Stay safe and enjoy your golf.
Trevor Simpson
Captain.
---
GOLF UPDATE – 3RD JUNE 2020
As you may be aware the GUI this morning has issued a revised return to golf protocol that indicates the move to step 2 of their plan on June 8th. This is a very welcome development on the path to recovery for our game and is testament to the continued patience and discipline shown by you in the adoption of the step 1 ways of playing.
As such, the timesheet for Monday 8th June to Saturday 13th June will be made available as previously discussed at 10am on Friday and will be for fourballs at 14 minute intervals for that period. We will communicate separately the provisions we will be making for the return of competitive play.
As this situation continues to develop we will keep all of these changes under constant review.
Greg McDaid
Honorary Secretary
---
RETURN TO GOLF
We are all delighted to have our course open once again, and many members were able to enjoy a round of Golf once again. The Protocols we have adopted to return to playing Golf whilst maintaining the necessary Social Distancing have largely been successful.
As this unique situation required exceptional untried measures these are being reviewed to ensure fairness and safety for all members. A full review of progress is scheduled for Monday morning however we note that one issue requires action today; tee time bookings.
Having examined the sheet the following changes are being introduced with immediate effect.
Each member may only have their name on the sheet a maximum of 3 times in any one week (Sunday to Saturday) however further bookings can be made for the same day only by phone to the Pro Shop (8am to 4pm). For clarity, the first week is Sunday 24th May to Saturday 30th May.
The timesheet will be formally reviewed on Monday 25th May and any member in contravention of the above will have their excess bookings deleted by the Pro Shop.
This gives all members the opportunity to book times they want and those who wish to play more often can avail of free times on the day.
These measures will be constantly reviewed and adapted to ensure all members have an equal opportunity to play Golf. They also will change and evolve as Lockdown is eased further and we continue the slow return to normality.
Greg McDaid
Honorary Secretary
---
RETURN TO GOLF (AFTER LOCKDOWN) – LOCAL RULES
All members should familiarise themselves with all aspects of the Protocol for the re-introduction of golf in Northern Ireland published by the GUI and ILGU. All members should adhere to the provisions of the Protocol and our Local Rules to ensure golf is conducted in a safe and responsible manner.
The Club has made every effort to keep the clubhouse and course as safe as possible but ultimately the decision to play sits with each individual member. Clearly anyone with symptoms or who has been in close contact with anyone displaying symptoms must
stay away.
Members will appreciate that we are in a fluid situation and the following Local Rules and conditions are subject to ongoing review and revision. Please ensure you are familiar with these and any subsequent amendments. Any changes will be circulated to members via email (if registered) and via Club
social media.
Please note that the time sheet for the reopening of the course will be available from 9am on Wednesday 20th May 2020.
You may book online via BRS or you may ring Gordon or Craig in the Pro Shop on 91883624 Option 2.
Return to Golf – Donaghadee – Local Rules – please click here.
---
GOLF UPDATE – 18th MAY 2020
As you will be aware today the Executive has approved the return to play for Golf.
This is great news and I am sure it is with a sense of relief that we will all enjoy the prospect of taking our exercise over a casual round of golf.
Our priority remains the safety of both our members and staff and in anticipation of this relaxation of the lockdown rules we have been working over the last number of weeks to prepare. The GUI have communicated from the Executive the protocols on which we can return to play and we are mandated to comply with these.
As such, over the next few days we will be testing our application of these rules and refining the implementation of the local rules we need to deploy and I anticipate Donaghadee Golf Club being open for play from Thursday this week.
I will provide a more detailed update on the protocol, process for booking tee times and what that means to us members tomorrow
Greg McDaid
Honorary Secretary
---
GOLF CLUBS IN LOCKER ROOMS
In preparation for play restarting.
Both male and female Locker Rooms will be open on Saturday morning, 16th May from 10.00am to 12noon.  Social distancing guidelines will be strictly observed with only one person permitted in the Locker Rooms at a time.  Members should if possible, wear gloves when in the Locker Room to provide as safe an environment as possible.
---
CAPTAIN'S UPDATE
Hi Everybody,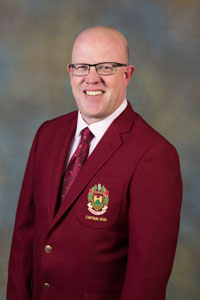 Welcome to my third Captain's update.
Three weeks on from my last note and, sadly, we are still not able to play golf in our wee part of the world.  It is obviously frustrating, particularly as golfers in England are playing and the Republic starts on Monday coming. I genuinely though do see light at the end of this very long tunnel and that golf is not far away.
On Wednesday of this week, the Honorary Secretary and the Men's Handicap Convenor attended a Zoom call hosted by the GUI. They, together with the ILGU, are in the process of agreeing the Northern Ireland return to golf protocol with the Northern Ireland Executive. We should have sight of this imminently. As we know, the resumption of golf is somewhere within Step 1 of the Executive's COVID plan. Members should be assured that much discussion is happening locally to ensure that we are in the best position we can be to resume golf promptly once we get the go ahead. There is no doubt that our golf experience, certainly in the short term, will look very different to what we are all used to. I will return to this later.
Sadly, the curtailed golfing season has already led to some of the 2020 Inter-club team competitions being cancelled by the GUI. I know this will be disappointing to those players and team captains who were looking forward to representing the club and will unfortunately now miss out. Clearly, we would wish to enter teams in the competitions that remain, however, I feel this should be a decision made by the relevant team captain's and their players. The Club is currently undertaking a consultation exercise with the team captains to arrive at final decisions on individual team's participation.
The ILGU are also currently running a consultative exercise across all clubs to understand the appetite of Ladies Committees' to support some or all competitions or to draw a line under 2020 competitions and resume in their entirety next year. We will advise members as soon as the results and impact of that consultation are published.
The Golf Club Council held their first meeting via Zoom on 30th April. Apart from my own technical failings which saw the meeting initially delayed, the meeting went well. It was important for Council members to have the opportunity to hear from, and ask questions of, the taskforce on a range of issues. Thankfully, not everything discussed was COVID related. This week, Council members and trustees have extended the delegated powers to our COVID taskforce for a further 4 weeks.
As in my previous notes, let me again give a massive vote of thanks to Rosemary, James, and Andy. Every job that is essential to our Club at the minute is still being done by only these three colleagues. With the return of golf looming, we will see a phased return of our greenkeeping team during May and June. Decisions on specific dates for return are under continuous review but these decisions, as members would expect, need to be balanced between operational necessity and the financial support provided under the Government's Furlough scheme.
Whilst speaking of Furlough, it was pleasing to see the Chancellor's announcement around the extension of the scheme. Clearly this is a stressful time for our colleagues, particularly those from the office and the bar where return dates are a lot less clear. The guarantee of the current 80% terms up to the end of July is therefore very welcome news.
I am delighted to advise members that the Club has now received the £25000 Business Support Grant. At a time when lots of our usual income streams such as bar sales and green fees are unavailable to us, receipt of this grant was so important and it was a huge relief when the funds finally arrived into our bank account. Eligibility for the grant for golf clubs was purely based on rateable value and thankfully our rateable value was in the qualifying range. Many of our neighbours were not so fortunate with over 40 clubs across Northern Ireland missing out on these funds. This week, on behalf of the Club, I wrote to our five local MLA's expressing our gratitude for the support given to help ensure the leisure industry, including golf clubs, was included within the scheme.
Members will recall that I had previously mentioned the possibility of gaining some volunteer support to take on some tasks around the clubhouse. I have been absolutely delighted by the response from a significant number of members who have already completed so much. The external walls of the clubhouse have been repainted; the clubhouse balcony has been power-hosed and the picnic tables repainted; the whole car park area has been tidied and weeded; the lamp posts in the entrance drive have been repainted as have the white walls at the entrance to the club. Work is now underway on projects in the John Nelson room, the Ladies locker room and on replacing the hanging baskets at the entrance to the Club. On the course, tee markers have been repainted and many, many, divots have been reseeded.
Thank you to every one of you who have, and are continuing, to be involved. There are simply too many to mention everyone individually, but you all know who you are! I do though want to give a special mention to Mervyn Nelson, David McCord and Mike Carlisle who have been at the Club on what seems like an almost full-time basis as well as to my chief organisers John Caldwell and Richard Caldwell.
The membership renewal period has now drawn to a close. We have seen resignations across all categories, with the House category, perhaps understandably, being badly hit. The value of resignations is around £30000 which is better than we may have predicted during this crisis. Thanks to the loyalty of our members who have either paid in full or who are on payment plans or on direct debit, we are currently performing better than we may have expected. There are however a small number of members who have not paid or been in contact. We would ask them to make every effort to contact us in the very near future to ensure their playing rights are not compromised when we return to golf.
In my last update I commented on plans for our Juvenile section and that a proposal would be submitted for Council approval. I am grateful to Council for their unanimous support of this proposal. Initial details around this were published to members on email and via social media yesterday. I am absolutely committed to our junior members having the opportunity to be engaged with golf all year round in a safe and welcoming environment. As part of this rebrand, we want to rename the Juvenile section to something a little more creative. So yesterday we launched a competition, open to all existing juvenile members, to come up with our new name. Details were on email and Facebook but clearly, some juniors may not have seen these. If so, please pass the details on. Entries need to be emailed in to office@donaghadeegolfclub.com by Wednesday 27th May
On a sadder note many of you will have heard the sad news regarding the passing of one of our Golf Club family, Danny Tonner, on the 5th of May. Danny had represented the Club in the Pierce Purcell and the Veterans League and was also the Club Ranger for many years. Although ill health forced an end to playing golf, Danny was still an active House member who seldom missed a Thursday afternoon at the Alpines. Our thoughts are with Danny's family and friends.
I will finish this update with my thoughts on the return of golf at our great Club.
At the time of writing, we are still to see the protocol for NI published but one can reasonably assume it will closely mirror many aspects of the Republic one. The rules and restrictions, including some local rules, will be clearly documented and I would ask that members fully respect and comply with the terms on which we will be allowed to return to golf. Prior to any resumption of play, we will publish these via the normal channels as well as displaying them in the Starters Hut at the first tee. An important issue to advise members of now is that there will be no facility to simply walk on to the course to play as every player must have a booking and be recorded on the timesheet. Bookings will only be available via BRS or over the telephone with the Pro-Shop. Any member not currently registered for BRS are strongly advised to register as the telephone option will only be available on restricted hours.
The rules and restrictions will not be universally popular. A man once said that the only two things certain in life were death and taxes. Over my time as a Club Officer I have learnt that there is a third one and it is that decisions made by Council will always attract criticism from some quarters, whatever the subject. In normal circumstances, we accept this as normal golf club life. However, we are not in normal circumstances.
As golfers we are in a truly fortunate position to soon be able to play the sport we love when most other sportsmen and women have potentially months still to wait. I have no doubt that any one of us could easily find fault with something in the next few weeks if we want to go looking for it. I've no doubt we will have some initial teething problems. Your course may not be as pristine as it would normally be in mid- May, but it is in magnificent shape when you consider only two men out of five are working on it. With an open timesheet, you might not get the exact tee time you are used too but there will be another tee time.
So, my plea to members is to look for the positives and reflect on what the Club is delivering within the many limitations put upon us. We are a members Club and there is no greater time for members to be in this together.
Stay safe.
Trevor Simpson
Captain.
---
JUVENILE SECTION
We are announcing some changes to enhance the Juvenile section at DGC. As part of this, we are launching a competition open to all our Juvenile members. We are asking them to suggest a new name for the Juvenile section.
Please send your suggestions to office@donaghadeegolfclub.com
The winner of the chosen name will receive a prize. Entries close on Wednesday 27th May.
Thank you and Good Luck!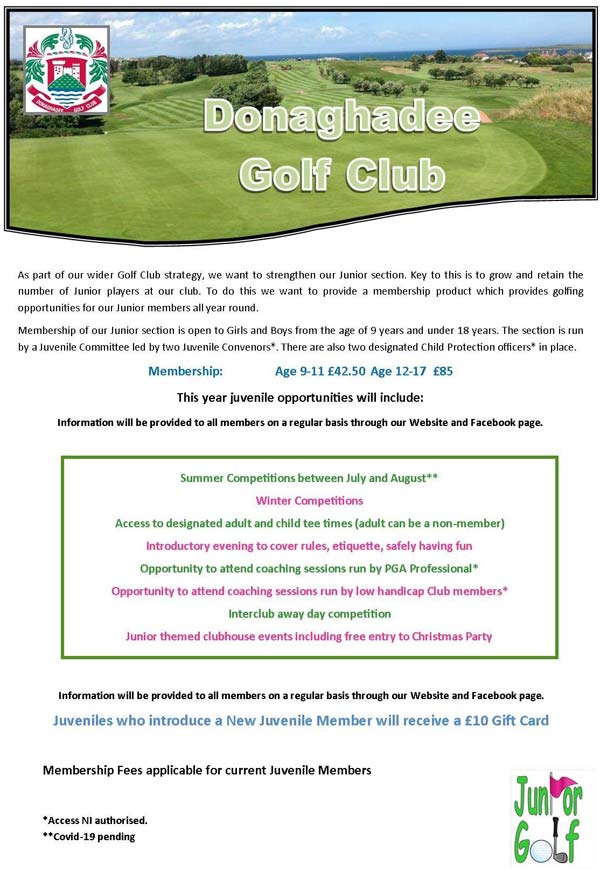 ---
TEE TO GREEN MAGAZINE
Please find below, the link for the May edition of Tee To Green..
---
VOLUNTEERS
Volunteers hard at work on the balcony weeding, painting and cleaning. Any member who would like to lend a hand please e mail or contact Club Captain or Office.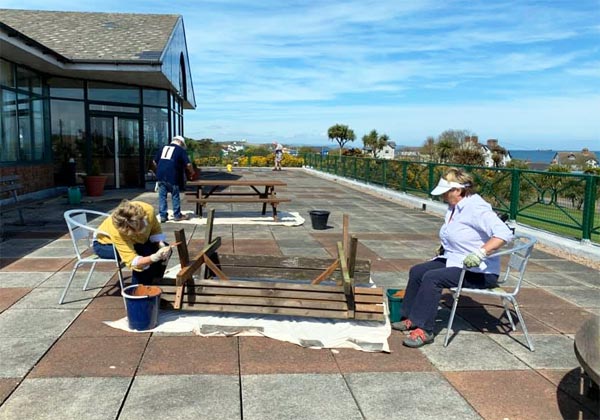 ---
DEATH OF A MEMBER
It is with sadness that we announce the death of Mr Daniel Tonner.   Mr Tonner was a previous playing member of the Golf Club; more recently he was a House Member.
The Council and Members of Donaghadee Golf Club wish to extend their sincerest condolences to the family circle at this sad time.
Danny's funeral will take place on Friday 8th May 2020, at 9.30am from Shields Funeral Home, High Street, Donaghadee. Anyone wishing to pay their respects may stand outside and if they wish walk after the hearse, while maintaining social distancing.
---
GREENKEEPER'S UPDATE – 29TH APRIL
A further update from James continuing the essential maintenance on the course. As we are unable to get out and see the course in its current format, James is trying to keep us all engaged with his day to day tasks on the course.
---
Captain's update – 24th April 2020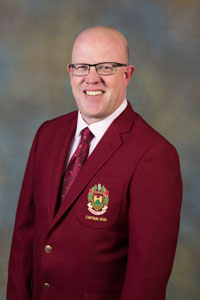 Hi everybody,
Welcome to my second Captain's update.
I know that so many of you are really missing your Golf Club. It's important to me that I try to keep members as informed as possible on Club news during this lockdown period. Feedback following my first note was really positive and thank you to those members who took the time to write to me directly. Clearly, we are following the advice from government and from the GUI in terms of our temporary closure but, like all of you, have our fingers crossed that some form of safe, socially distanced, golf is not too far away.
Our three colleagues still in role, Rosemary, James and Andy, continue to work to ensure the essential work in the office and on the course continues. They are working over and above, and we should all be really grateful for their contributions.
Rosemary, whilst still mainly working from home, has now been able to work at the office for a small number of hours. This has allowed her to complete some actions not possible to be done from home. I would ask that members still avoid turning up unannounced at the club hoping that Rosemary will be there. Preferred contact for enquiries is still by email to office@donaghadeegolfclub.com or by phone and leaving a message on the answerphone. Rosemary will then come back to you and agree the best way to deal with your query.
James and Andy have a programme of works they are completing across the week. Many of you will have seen current photos of the course on social media. Some of you, like me, will also have taken the opportunity to take a walk on the course as part of your daily exercise. I'm sure all of you will agree that, in the circumstances we find ourselves, the course looks truly amazing. I'll ensure that photos of the course are added to the website as regularly as we can. In addition, James has recorded a small video blog which will be on the Facebook page and, technology allowing, to the website as well. Unfortunately, we are not currently able to add the video to our email system.
From speaking to James, he's confident that when we get a green light to start playing again, that he can have the course up and running relatively quickly. Clearly, the longer lockdown goes into the year, the demands on the course will grow larger. We'll continue to review this week on week. I know we have had many offers from members volunteering to support James and Andy. It is likely that in the future, and when we can safely do so, we will take members up on these offers. Can I ask that anyone who might be interested in some future volunteering on minor projects, either on the course or in the clubhouse, to drop me a note directly on trevor54@btinternet.com.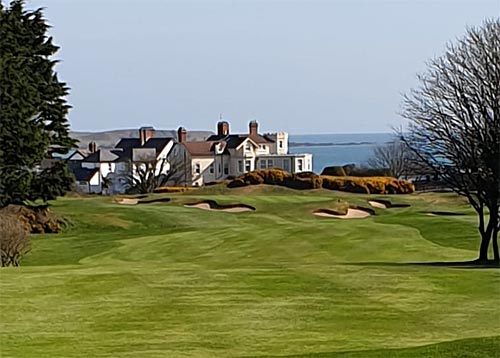 On the subject of volunteering, can I record some thanks to Mervyn Nelson and David McCord, both of whom, as part of their daily exercise, have been painting and tidying around the front of the clubhouse. Also, thank you to Council members, Roy Bird and Clive Majury for checking the clubhouse is safe and secure every weekend and to Alex McWilliams for adding information into the Club news section of the website. Also want to give a shout out to Garth Boyd who approached me to offer some support around the Facebook page and has been responsible for the excellent increased output via that platform. My particular favourite was the Stay Safe message from 5 of our junior members which has attracted over 2000 views. Thank you to Calum, Rachel, Dylan, Rachael and Harry for taking part. If you currently don't follow the Club page on Facebook and Twitter please sign up. If you like a post, share it around your friends.
This week has seen some significant movement in activity around the Job Retention scheme and the £25,000 Business Support Grant. Both of these schemes opened for application on Monday 20th.
Firstly, the Job retention scheme. This week would see our normal wages run. As part of this Rosemary has now made our first submission to HMRC for our furloughed colleagues. This was a complicated and lengthy piece of work as the claim involves not only wages, but other items such as national insurance and pension contributions. The great news is that we have been able to include our casual bar staff within the furlough claim as well as our permanent ones. As detailed in the previous note, colleagues will receive their salary payments on the normal due date and will not be delayed by receipt of funds from the scheme. Rosemary will be contacting all furloughed staff to ensure they are kept fully informed.
In relation to the Business Support Grant, members may not be aware but initially it was feared that golf clubs would not be eligible to apply for the £25,000. Whilst Leisure, along with Retail, Hospitality and Tourism, had been included in the eligible sectors in England and Scotland, in Northern Ireland Leisure was initially excluded. Over the last few weeks there has been some significant lobbying, both at GUI and local level, for leisure to be included and the great news is that the Minister at the Department of the Economy, Diane Dodds, has now extended the scheme to include the leisure sector.
Our application for the grant was completed and submitted by the Honorary Treasurer on Monday. Can I note my sincere thanks to our President, John Caldwell, for his tenacity in getting some of our local politicians involved on our behalf. Can I also thank Gordon Dunne, Alex Easton, Alan Chambers Andrew Muir and Rachel Woods for their support with this.
A big thank you for the response to the call to arms in terms of subscription payments. Many of you have taken up the option of using the 50% lump sum option or the new 12 monthly direct debit one. This year, more than any other year, your Golf Club needs your support and I'm so grateful for the response so far. As I stated in my first note, we are very aware, that for some in our community, COVID 19 is proving really tough financially. We are absolutely committed to ensuring that where a member wants to renew but is having financial challenges, we will do whatever we need to and will agree individual arrangements that will ease the cost burden in the short term. If you are in this position, please contact me or Rosemary directly and we will get this sorted.
I know some of you have been ringing to check that your online payments have been successful or that cheques that were posted have arrived. For anyone wanting this clarity, just email Rosemary using the office email address and she can confirm for you. In normal years, you would receive your membership sticker on receipt of your renewal payment. This year, we have taken the decision to delay the issue of these stickers until such time as the club reopens. To post everyone's stickers out at a time when the course is closed simply isn't cost effective. Rosemary has asked me to let members know that anyone wishing to make a card payment over the telephone can do so next Monday (27th) and Wednesday (29th). Ring the office between 10.00 and 1.00 but please be patient as there can be two lines ringing but only one Rosemary to answer!
In my last update I had highlighted the new Juvenile Committee and Child Protection structure within the Club. I had also highlighted my frustration that ideas from that committee, and from the wider membership stream, on proposals for the Juvenile Section would have to be on hold until the Club had reopened. However, as an old boss of mine never tired of saying, adversity is the mother of invention. With that in mind I asked the Lady Captain to seek the views from the Juvenile Committee, as well as some other parents, on a range of issues. Thank you to all those who responded and to Fiona for collating all the feedback and pulling together a really detailed report. Yesterday, I had a great call with the leads of the Membership and the Making Golf Fun streams, Matthew McLain and John Caldwell, to see how we bring this report to life. I'm delighted that we now have an initial plan with the first stage being taken forward for Council approval. I will communicate more in due course but in the meantime watch out for a lockdown competition that I would like all our Juniors to take part in.
Next Thursday (30th), will see the first meeting of our new Council. I'm confident in saying that, in the long history of Donaghadee Golf Club, this will be the first time the Council has met via a Zoom meeting! Whilst lots of day to day decisions are, under the delegated powers, being made by the Covid 19 taskforce, it's important that Council members still have an opportunity to scrutinise our current actions and ask questions of the taskforce as appropriate. Anyone from the wider membership is also able to contact me on trevor54@btinternet.com.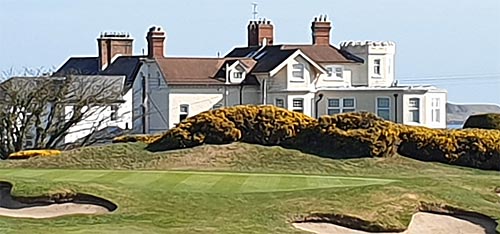 On a sadder note many of you will have heard the sad news regarding the recent passing of some of our Golf Club family.
Many will remember Ernie Graham. Ernie was a full member from 1973 until ill health forced him to resign in 2018 and he played with Jim McClure and Colly Fox for over 30 years. Ernie and his wife Anne were strong supporters of the social side of the Club attending functions on a regular basis.
Last weekend we also learned of the death of Basil McNamee. Basil joined the club last year after moving home to live in Groomsport. He thoroughly enjoyed playing with the Vets and more particularly the craic afterwards. Basil had the distinction of playing rugby for Ulster and cricket for Ireland and was appointed President of Cricket Ireland in 2010.
Our thoughts are with the family and friends of both gentlemen.
Our condolences also go to our member Martin Graham on the loss of his wife, Valeria.
These are testing times for all of us but hopefully there is some light at the end of the tunnel. Stay safe everyone and speak soon.
Trevor Simpson
Captain.
---
GREENKEEPER'S UPDATE – 24TH APRIL
---
GREENKEEPER'S UPDATE – 17TH APRIL
---
DEATH OF A MEMBER
It is with sadness that we announce the death of Mr Basil McNamee.   Mr McNamee was a Full playing member of the Golf Club.
The Council and members of Donaghadee Golf Club wish to extend their sincerest condolences to the family circle at this sad time.
---
ESSENTIAL MAINTENANCE
Andy and James have been hard at work – who is looking forward to getting back on the course?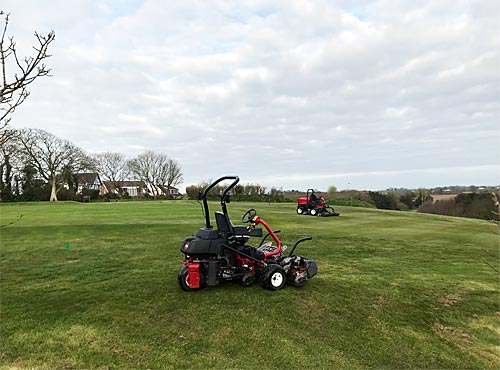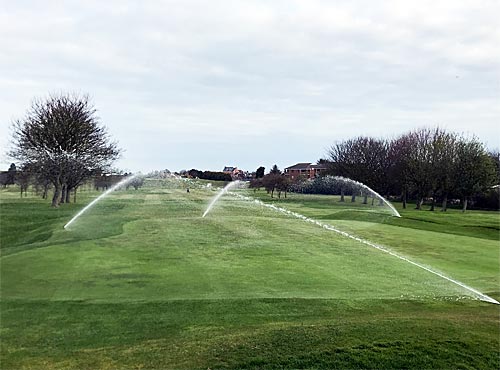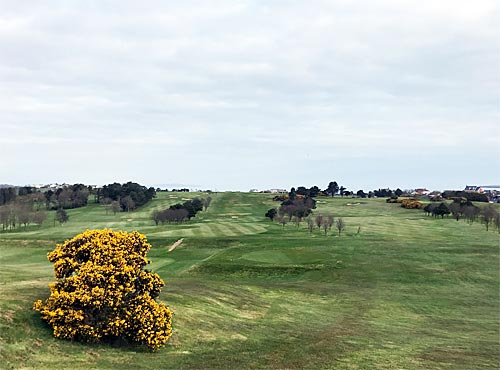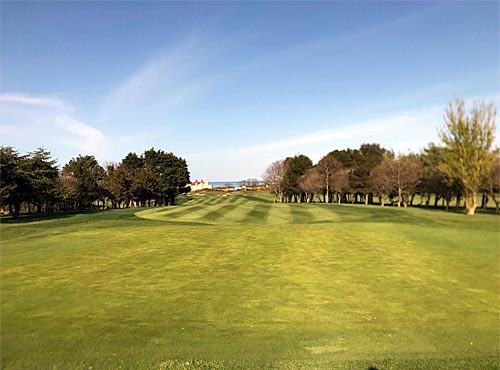 ---
CORONHAIR VIRUS
So here we are its 2020
And our wee golf club it is empty
It's sad to see
On green and tee
Where folk used to be aplenty
No more comradery
No more clink
In the club (gasp) no more drink
But fun is not too far away
Let's all look like Trevor
I hear John say
Cos you see, in Donaghadee
The barber is closed – until the foresee
So, with no more scissors
No more grooming
Here's what we will look like
(And it isn't blooming)
We are in this lockdown
It could be forever
In 3 months' time
We could all
LOOK LIKE TREVOR!!!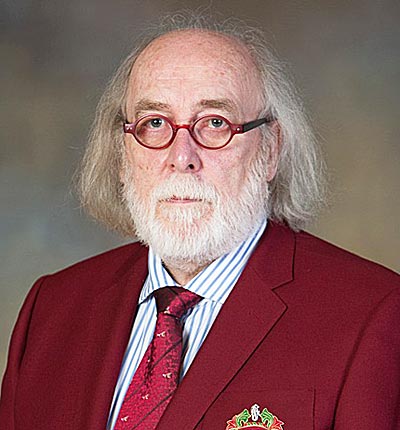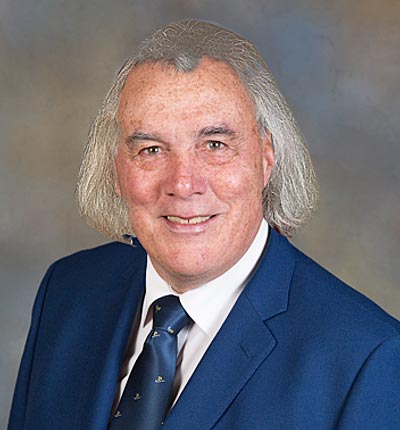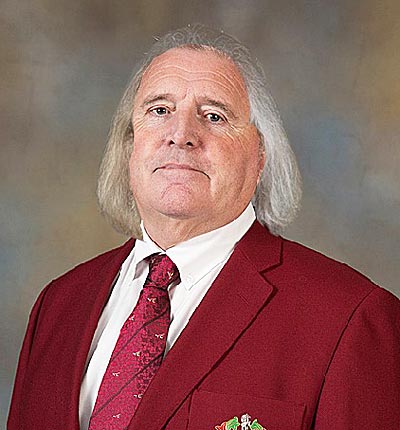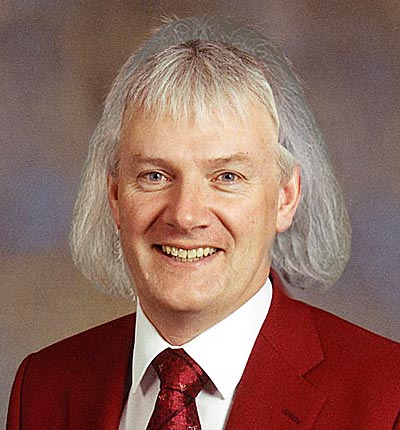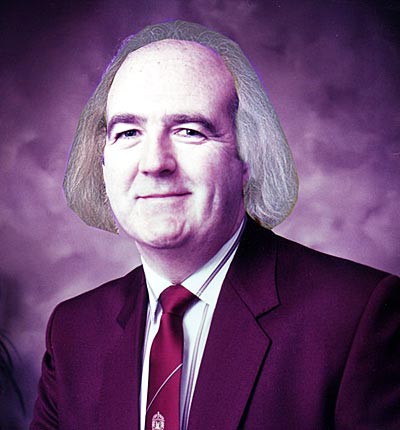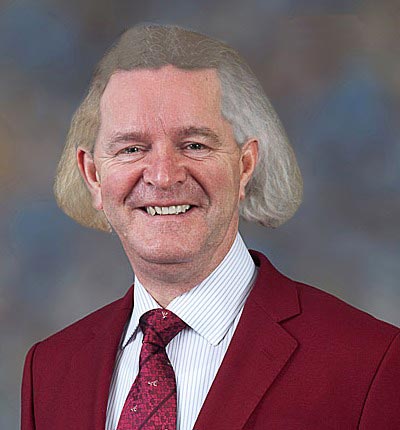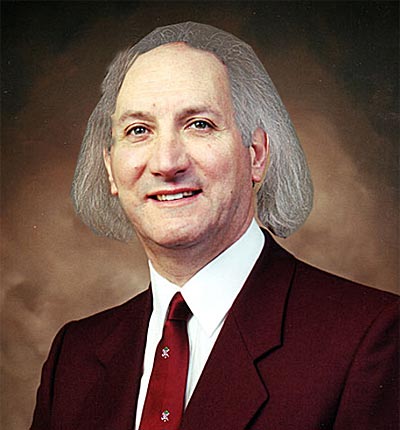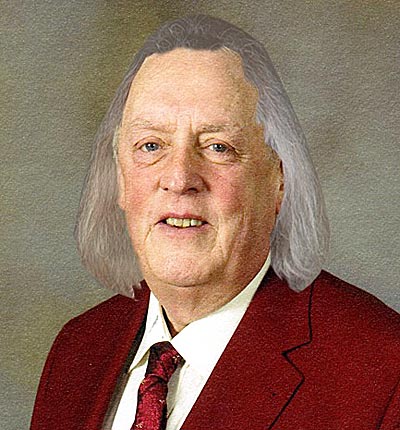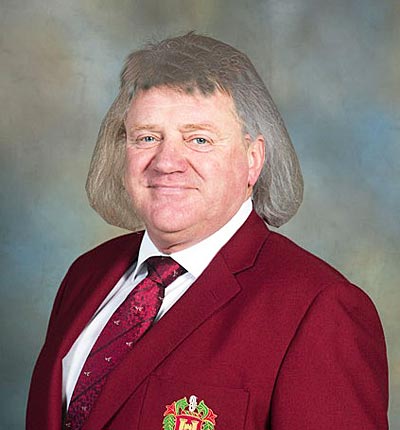 ---
Captain's update on Coronavirus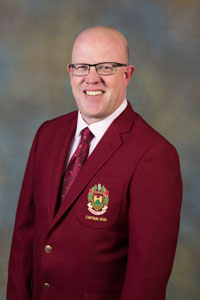 Hi everybody,
The note from the Club President last week detailed the move to the new Council and Officer appointments. Can I also add my thanks to Jim Gunning for his Captain's year and, in particular, the unequivocal support he's given to me in that time.
It's fair to say that the last week has not been the first week of my Club Captaincy that I had been expecting or looking forward to. However, when you see what others are currently having to deal with, that simply pales into insignificance. It is though important that I am in contact with members and want to take this opportunity to update you on the actions taken following the enforced closure of the Club and the restrictions put in place following the Prime Minister's speech on March 23rd.
Firstly our outgoing Council have granted delegated powers to a small group of Club Officials in order that decision making can be streamlined. Events, particularly last week, change at pace and it is important that we can react accordingly. These powers will initially last for a month and will require Council approval to renew on an ongoing monthly basis. I have been chairing conference calls with this group over the last fortnight to agree and review actions with Council updated on these actions weekly. In addition, I will hold a weekly call with the Lady Captain. I am grateful to Fiona for her support and for her willingness to take on actions as required.
The majority of our employees are now on Furlough. These colleagues have been assured that they will receive 80% of their salary and we will pay this up front ourselves if there is any delay to the scheme for PAYE colleagues outlined by the Chancellor. We have also given a commitment that this arrangement will be in place for as long as the government guarantee the scheme. I can also confirm that we have given Gordon Drew an undertaking that we will continue to pay his retainer in full for April and May whilst he awaits government support that was outlined for the self-employed.
Three colleagues, Rosemary, James and Andy, remain in role as their duties remain essential to us. This position will be reviewed at the end of April when the outlook may be somewhat clearer than it is now. Rosemary is working from home with remote access to the club computer systems. Unfortunately, we were unable to get a workable telephony solution in the short term. We will keep this under review but email or post are currently the only contact options for members. Can I ask that members are mindful of the fact that Rosemary's current workload is huge. As such, responses to member's enquiries may take longer than we would normally expect but bear with us.
The clubhouse is, for want of a better phrase, in lockdown. Contracts for Sky, BT and Robinsons (our cleaners) are all suspended. We are also in contact with all of our regular suppliers and utilities to ensure we are in the best place we can be financially.
You will have seen through previous Club notices, that we have tried to be creative in terms of subscription payments this year. We are obviously encouraging any member who can pay their subscription in full to do so. However, we are acutely aware that some members may find this challenging at the moment. We have introduced a 3 stage lump sum payment as well as amending our direct debit collection to 12 months as opposed to the normal 10. We have also waived the 3% admin fee for direct debit payers. We have encountered some issues since clubhouse closure with members wishing to switch to direct debit unable to do so. This is purely a practical problem with us currently having no way of issuing out new direct debit mandate forms. For members in that situation we have agreed that they can make a monthly online faster payment themselves until such time as we can get the DD set up. Any member wanting to make an online subscription payment can email the office and Rosemary will provide the sort code and account number to be used. Alternatively, members can still post us a cheque. There is no doubt that some members will be reviewing their membership choices with little golf likely in the short term. I would stress that subscription renewal now is about the Club that members want when Coronavirus is gone.
You will have read details of grants and loan schemes potentially open to us. Please be assured that we are actively reviewing all of these and will leave no opportunity missed. We have also had confirmation that our insurance policy does have a pandemic clause but it is not currently clear what this could potentially provide. We have also had a constructive first meeting with a representative from our bank and it is clear that some support will be available from them as well.
It has been an incredibly tough last fortnight. Our employees have been superb and pulled out all of the stops to complete the actions needed in such a tight time scale and I thank them for this. Can I also personally thank John Caldwell, Greg McDaid and Neil Bailey for their input and support to me. I especially also want to highlight Richard Caldwell as well. Richard has now left the Honorary Secretary role after two year's great service to the Club. Specifically though I want to call out the last two weeks where he has been the absolute rock for our Club. The workload he has shouldered has been huge and we owe him a massive vote of thanks. I'm delighted that Richard has agreed to stay on as a member of the group dealing with CV on behalf of the Club.
Unfortunately, the current situation has put on hold lots of the work due to be undertaken by the four workstreams I outlined at the SGM in February. This is hugely frustrating but unavoidable. Some of the issues high on our agenda are the ones currently producing most correspondence into the Club namely around membership and, in particular, Juvenile membership.
Prior to the CV outbreak we had completed a review of our Juvenile structure. We now have two Juvenile convenors as well as a new Child Protection officer and new Child Protection Liaison officer. They all sit on a Juvenile Committee along with the Girl's and Boy's Captains as well as three parents with children in the Juvenile section. The committee will initially be overseen by the Lady Captain reporting into the Membership workstream. The remit for the committee is to grow and retain our numbers. They will review what Juvenile Membership should offer, not just in the summer, but all year round and what that membership should cost. We had successfully applied for entry into the CGI Legacy programme which will help support some of this activity. The Sustainability workstream had also already highlighted that any future Professional contract would need to feature increased coaching as a requirement. Members who were at the SGM in February will have heard my commitment to look at all our membership categories but specifically around trying to grow numbers of Juvenile and Lady members and this has not changed. When we are back in a position to move issues forward then rest assured we will do so.
On a wider note, we have had some anecdotal feedback of people playing golf on the course. Whilst I'm confident that this would not be members, it is worth confirming that this is not acceptable as the course is closed for play. I have had some queries about walking on the course as part of daily exercise. This is ok but please no dogs.
It is my intention that going forward, I will provide members with regular updates of ongoing issues. Members can also contact me on trevor54@btinternet.com.
Stay safe everyone and speak soon.
Trevor Simpson
Captain.
---
A Message from the Club President
Dear Member
In these strange and uncertain times we all know that last night should have been the Annual General Meeting of Donaghadee Golf Club.  However, as I am sure you will understand, the Pandemic Crisis has forced the AGM to be postponed until a time when it safe to hold it.  The annual changeover of officers is going ahead today with a view to guiding our Club through these unprecedented events.
The Club AGM is an opportunity to pay tribute to the contribution made by those leaving office and to welcome new officers and Council members.  Sadly this is not possible and I felt that, as Club President, I should do this via an email to members.
We say farewell to Club Captain Jim Gunning who has led the Club in such an exemplary manner.  His year in office has had its highs and lows.  Highs such as celebrating Team successes or 90th birthdays and lows when bidding farewell to those of our members who died during the year – they will be sadly missed.  The last few months have been a particularly testing time with the wet weather and now Coronavirus but throughout his year in office, Jim has shown himself to be an effective team leader and has always displayed a generosity of spirit and his characteristic good humour.  I am delighted that he has agreed to continue as one of the Juvenile Convenors.
Stepping into the hot seat is Vice Captain Trevor Simpson who begins his year in these unimaginable circumstances.  I am fortunate to have been able to observe at first hand Trevor's capabilities, skills and talents.  Whether in his previous role as Honorary Treasurer or as Vice-Captain or more recently in leading the team responding to the Coronavirus Crisis, Trevor has proven himself to be a very effective leader and manager, quick to not only identify problems but also solutions and all members should have great confidence in our new Captain's ability to lead the Club over the coming weeks as we seek to bring the Club out of the crisis.  These are testing times and quite honestly I can think of no one else better qualified to navigate the Club through these unchartered waters.
We also welcome our new Vice Captain David Porter who will join the management team immediately and I pass on my best wishes to Davy in his new role.
The Ladies Section Calendar ensured that the new officers were installed before the crisis really impacted, so best wishes to Lady Captain Fiona Hicks and Lady Vice Captain Heather Majury for the next year.
Richard Caldwell had planned to step down as Honorary Secretary having performed the role for two years.  I am delighted that Richard has agreed to stay on and assist the incoming Honorary Secretary, Greg McDaid, during this period.  This is evidence, if any were needed, of the great sense of loyalty and commitment which Richard has for our Club.    As I know from my period as Honorary Secretary, and as others will testify, this is a time-consuming and demanding position and Richard has worked very hard and diligently on behalf of the Club during his period of office, dealing patiently and efficiently with all the issues which came his way.
Council member Phillip Robinson steps down from Council after six years, and we thank Phillip for his contribution over this time. Thankfully Phillip is remaining as Handicap Convenor for this year,  his experience and contribution has been invaluable to the club.
We welcome onto Club Council Garth Boyd Snr and Cynthia Smyth who, I know, will both make a valuable contribution to our Club.
This is also an opportunity to thank all the staff, the Caterer and the Professional for the work they do to make Donaghadee Golf Club the success it is and on your behalf I thank them for everything and particularly their support during this difficult time.
Fellow members, our Club faces a turbulent short term period, and I urge all of you, if you have not already done so, to pay your annual subscription as soon as possible in order that our finances will be in the best possible shape when normal life returns and we can enjoy our great Club once again.
In conclusion please follow all Public Health guidelines in order to keep yourself, family and friends safe.
Keep well,
Best wishes
John Caldwell
Club President
---
MESSAGE FROM THE PAST CAPTAIN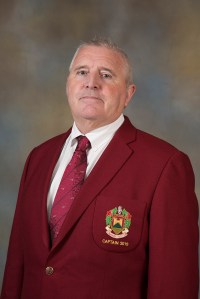 As of tonight, my year as Club Captain officially ends. I had a fantastic year representing our Club and all its members.
I would take this opportunity to thank everyone who served on this year's council. A special thanks goes to Richard Caldwell who stayed on an extra year as Honorary Secretary, his help and guidance was invaluable throughout the year. Also, to Philip Robinson who this year steps down of council. Phil was match and handicap Convenor, but really, he did much more within the club. Irreplaceable is a misused term, but in Phil's case he will be a hard act to follow.
To all my team Captains I could not have asked for more the effort and dedication you all put in was first class. A little bit of luck here and there it could have been a different year.
Next on my list so often go unnoticed, Gordon and Craig in the pro shop, James and the green staff.
Jennifer and her bar staff, Jag Catering , Cora and all their staff, and the glue that holds the all together. Rosemary and the office staff. Thank you all for the past year.
As some of you may know I continued as Juvenile Convenor this year. I initially took on this role to encourage our kids and help them improve and enjoy our great game. There was a set of rules laid down for the juvenile section, so I basically have organised their competitions as per our men's section. I have a lot more I'd like to say but all I will says is apart from the 'C' section all complete decided on the rules of golf.
This time last year I was installed as Club Captain on Brexit day. I thought that was unforgettable.  New Club Captain Trevor Simpson has outdone me with Covid19 .  It is not the way I wanted to hand over the reigns to Trevor but I have complete faith in Him and new Vice Captain to steer us through the these trying times.
Once again thank you all for giving me the privilege of being Donaghadee GC's Club Captain. Over my year I met and made friends with lots of you. I hope this continues now I am just another member.
Stay safe everyone and hopefully won't be long until this is over and we can all get on our course again
Jim Gunning
PAST CAPTAIN
---
SUBSCRIPTION PAYMENTS
Annual subscriptions payments may be made directly into the clubs bank account.
To obtain the Account Number and Sort Code please email the office on office@donaghadeegolfclub.com
---
DONAGHADEE GOLF CLUB- UPDATED ON 24 MARCH 2020
We are by now all too well aware of the unprecedented health crisis we all face.
Donaghadee Golf Club will at all times have the health and wellbeing of members, visitors and staff as our absolute priority.  We have therefore decided that the course should be closed and remain closed until government advice suggests otherwise. The majority of staff are being placed on furlough with only a skeleton staff in place to maintain our office systems and to carry out minimal maintenance to the course so that when we can re-open we can do so quickly.
The Club Office will be contactable by email – office@donaghadeegolfclub.com
The Professionals Shop is now closed and the Caterer has ceased his home delivery service.
As the crisis deepens and its wider implications become apparent, the Club recognises that many members may face difficulties in paying their Annual Subscription.
The Annual Subscription is the main source of income of our Club and is vital to the continued financial stability of our Club. Therefore we ask that members who are in position to pay their subscription should do so.  The following measures have been introduced as an emergency measure and are designed to help ease the burden on those members who are currently facing or expect to face financial difficulties in the near future.
The 3% administration charge has been removed on Direct Debit payments.
Direct Debit payments can extended over 12 months instead of 10 months.
Cash payments can be spread in the following manner:-
50% by 7th April 2020
30% by 31 July 2020
20% by 30 September 2020
Payments will be made by online banking, contact the office for details
It is hoped these measures will be of assistance to those members who face financial difficulties from this Pandemic.
Council is acutely aware that the current restrictions reduce the extent to which members, both playing members and house members can enjoy the facilities normally available.  We very much hope that we will be able to compensate members for this loss but a firm decision on this can only be made once we have a clearer picture of our financial position.  This will become clearer following the membership renewal process and when we receive more detail on the various Government support measures.  We are also seeking clarification of what can be claimed under our Business Interruption Insurance cover.
Members should also be aware that Council has established a Taskforce which has been engaging in daily conference calls to manage our response to the pandemic.  The scale of the crisis, the speed in which it is evolving and the need to implement Government restrictions are such as to justify a departure from the normal decision making processes.  It goes without saying that all decisions are made with the best interests of our Club, our staff and our members.  We will make every effort to keep our Club Community informed of changes as they develop.
We would encourage all members to follow all Public Health guidelines in order to keep themselves, family and friends safe so we all can continue to enjoy our Club when we come out of this dreadful Pandemic.
Richard Caldwell
Honorary Secretary
---
CORONAVIRUS
Due to the clubhouse closure from today, 24th March 2020, any enquiries please contact the club via email on office@donaghadeegolfclub.com.
---
DRAWS SUSPENDED
Please Note
The following Draws have been suspended; they will all take place at a future date.
JOKER
150 CLUB DRAW
FREE DRAW Re Subscriptions
---
CLUBHOUSE AND COURSE CLOSURE
The Honorary Secretary has asked me to advise that, with immediate effect, in line with Government advice, our Clubhouse and Course are CLOSED until further notice. This decision is regrettable but we must consider the welfare of our staff and members alike. Please stay safe over the next weeks and hopefully we will all be out playing and enjoying the hospitality of Donaghadee Golf Club before too long.
---
WELL DONE DEE GIRLS
Well done Brooke Stranaghan and Ella Ross representing Glenlola won the Under 18 Team award at the recent Ards an North Down Sports Awards.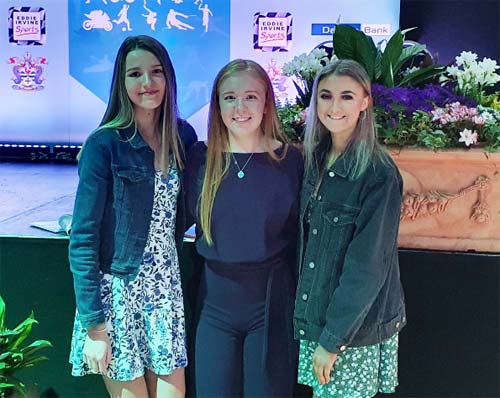 ---