SUBSCRIPTION PAYMENTS
Annual subscriptions payments may be made directly into the clubs bank account.
To obtain the Account Number and Sort Code please email the office on office@donaghadeegolfclub.com
---
DONAGHADEE GOLF CLUB- UPDATED ON 24 MARCH 2020
We are by now all too well aware of the unprecedented health crisis we all face.
Donaghadee Golf Club will at all times have the health and wellbeing of members, visitors and staff as our absolute priority.  We have therefore decided that the course should be closed and remain closed until government advice suggests otherwise. The majority of staff are being placed on furlough with only a skeleton staff in place to maintain our office systems and to carry out minimal maintenance to the course so that when we can re-open we can do so quickly.
The Club Office will be contactable by email – office@donaghadeegolfclub.com
The Professionals Shop is now closed and the Caterer has ceased his home delivery service.
As the crisis deepens and its wider implications become apparent, the Club recognises that many members may face difficulties in paying their Annual Subscription.
The Annual Subscription is the main source of income of our Club and is vital to the continued financial stability of our Club. Therefore we ask that members who are in position to pay their subscription should do so.  The following measures have been introduced as an emergency measure and are designed to help ease the burden on those members who are currently facing or expect to face financial difficulties in the near future.
The 3% administration charge has been removed on Direct Debit payments.
Direct Debit payments can extended over 12 months instead of 10 months.
Cash payments can be spread in the following manner:-
50% by 7th April 2020
30% by 31 July 2020
20% by 30 September 2020
Payments will be made by online banking, contact the office for details
It is hoped these measures will be of assistance to those members who face financial difficulties from this Pandemic.
Council is acutely aware that the current restrictions reduce the extent to which members, both playing members and house members can enjoy the facilities normally available.  We very much hope that we will be able to compensate members for this loss but a firm decision on this can only be made once we have a clearer picture of our financial position.  This will become clearer following the membership renewal process and when we receive more detail on the various Government support measures.  We are also seeking clarification of what can be claimed under our Business Interruption Insurance cover.
Members should also be aware that Council has established a Taskforce which has been engaging in daily conference calls to manage our response to the pandemic.  The scale of the crisis, the speed in which it is evolving and the need to implement Government restrictions are such as to justify a departure from the normal decision making processes.  It goes without saying that all decisions are made with the best interests of our Club, our staff and our members.  We will make every effort to keep our Club Community informed of changes as they develop.
We would encourage all members to follow all Public Health guidelines in order to keep themselves, family and friends safe so we all can continue to enjoy our Club when we come out of this dreadful Pandemic.
Richard Caldwell
Honorary Secretary
---
CORONAVIRUS
Due to the clubhouse closure from today, 24th March 2020, any enquiries please contact the club via email on office@donaghadeegolfclub.com.
---
DRAWS SUSPENDED
Please Note
The following Draws have been suspended; they will all take place at a future date.
JOKER
150 CLUB DRAW
FREE DRAW Re Subscriptions
---
CLUBHOUSE AND COURSE CLOSURE
The Honorary Secretary has asked me to advise that, with immediate effect, in line with Government advice, our Clubhouse and Course are CLOSED until further notice. This decision is regrettable but we must consider the welfare of our staff and members alike. Please stay safe over the next weeks and hopefully we will all be out playing and enjoying the hospitality of Donaghadee Golf Club before too long.
---
WELL DONE DEE GIRLS
Well done Brooke Stranaghan and Ella Ross representing Glenlola won the Under 18 Team award at the recent Ards an North Down Sports Awards.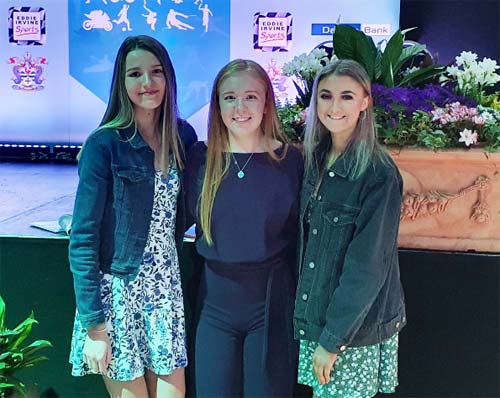 ---
CORONAVIRUS UPDATE – PLAYING GOLF
The course will remain open for casual play only.
Qualifying Competition Golf will resume as soon as practicable.
The Club will maintain access to locker rooms and toilets from 8am to 5pm even if the clubhouse is closed.
Members should consider removing their equipment from lockers in order to have better access and reduce the risk of transmission within the clubhouse.
Members are requested to adopt the following measures on the course to minimise the risk of transmission.
Please thoroughly wash your hands both before and after play;
Keep a sensible distance at least one metre apart at all times whilst on the course;
Leave the flag in at all times to avoid touching the flag;
All bunkers have been declared GUR to eliminate players lifting rakes;
Avoid shaking hands, please adopt one of the many alternatives suggested;
If a scorecard is essential avoid exchanging scorecards, one person only should touch the cards;
Do not exchange equipment, pencils, tees, etc.
The compressed air shoe cleaner will no longer be operational.
---
ALPINES GOLF SOCIETY
In view of the current Coronavirus threat all Alpine Golf Society activity is postponed and will cease with immediate effect. This includes tomorrow's event (Thursday 19th March), our away day and Captain's Day. Details of rescheduling will be circulated in due course.
---
GARTH BROOKS CONCERT
Donaghadee Community Development Association has informed us that, acting on the latest Government advice, it has decided to postpone the Garth Brooks concert scheduled for Saturday 21st March.  It is hoped to rearrange the concert at a later stage.
Anyone who has purchased tickets from the Club and who wishes to obtain a refund may do so by bringing their tickets to the Club.  The event was being organised in support of the Mayor's charities – Air Ambulance, Bangor Sea Cadets, Decorum and Flourish NI and anyone wishing to make a donation to these charities may do so at the Club.
---
CORONAVIRUS
The members and staff of Donaghadee Golf Club are all going to be affected by the current crisis.
We need to be aware that the situation is very fluid and will change constantly and sometimes with little or no notice.
At present the Club will continue to follow all Public Health recommendations. Therefore the Club will continue to operate as normal over the next few days. The bar and restaurant will be open as normal and all Club competitions will continue as planned. However, GUI/ILGU are presently postponing all inter-club matches, at least until the end of March. It is intended that all planned functions will be fulfilled but as the situation develops this may not be possible. Any member who has booked the Club for a function should contact the office for updates on a regular basis. The Club will continue to keep all members informed of measures as they unfold.
Members should follow all Public Health Recommendations at all times when using the Club facilities, however any member who displays any form of flu-like symptoms should not enter the Clubhouse while this current situation continues.
The health and well being of our Golf Club family is uppermost and all measures taken will be with this in mind.
Richard Caldwell
Honorary Secretary
---
BRIDGE DRIVE RAISES £2040 FOR CANCER RESEARCH UK
The Ladies of Donaghadee Golf Club have been organising a Bridge Drive in aid of Cancer Research UK for many years and have so far raised over £34,000 for this charity.  On Monday 3rd February 140 players from all over the North Down and beyond enjoyed a lovely lunch provided by the ladies of the club.  Due to the generosity of all concerned, £2,040 was raised for Cancer Research UK.
As well as thanking all those who attended the event, the Bridge Drive Committee would also like to thank Alan Crawford of Groomsport Nurseries, Clairns at Gordons Chemists, Sandra & Nessa, long time supporters of the charity, Eurospar Donaghadee, Nail & Beauty Bar Bangor, Bill & Anne Heaney, Donaghadee Pro Shop, Bar and Office for providing the ballot and table prizes.  Thanks also should go to all the members of the Ladies Branch who worked so hard to make the afternoon such a success and the many members and friends who gave generous donations.
Carolyn Minnis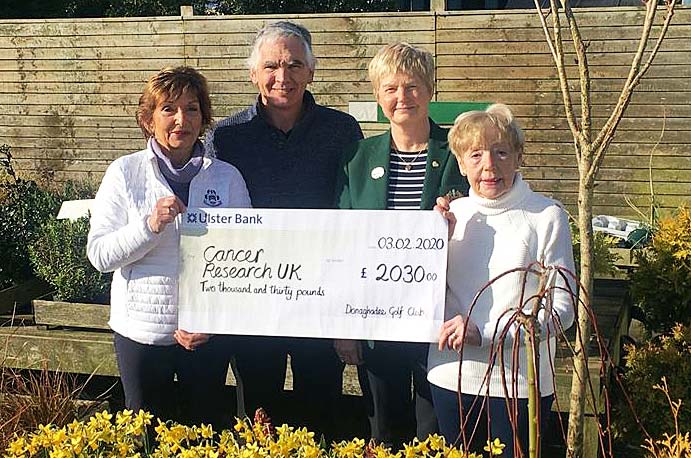 ---
DONATION TO BRITISH HEART FOUNDATION NI
The ladies of Donaghadee Golf Club celebrate the fabulous amount raised by Last Year's Lady Captain, Valerie McIlveen, for British Heart Foundation NI. Orla Clarke from BHFNI came down to receive the cheque for £3,910.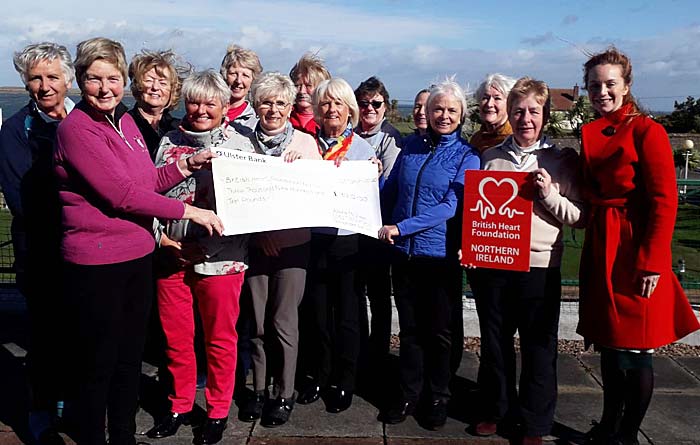 ---
WINTER LEAGUE
The Winter League came to an end and our gentlemen celebrated on Friday, 6th March when it was announced that Howard McCutcheon had won the Jim McNulty Memorial Trophy for leading individual golfer.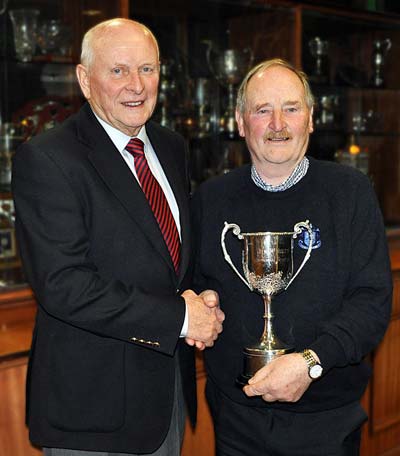 ---
BELFAST & DISTRICT VETERAN'S LEAGUE
The Belfast & District Veteran's League will commence on Monday 23rd March.  The league consists of Balmoral, Bangor, Belvoir Park, Clandeboye, Cliftonville, Donaghadee, Dunmurry, Helen's Bay, Holywood, Knock, Malone, Royal Belfast, Scrabo and Shandon Park.  Matches are fourball betterball and are played over 18 holes on a home and away basis.  This is a friendly team event with 12 players selected for each match.  No green fees are payable.  In the home leg players treat the opposition to a meal and a drink and when playing away the opposition reciprocate.
This year it has been agreed that, in addition to allowing anyone aged 60 or over to join, we shall also allow anyone retired and who will be 60 at any time in 2020 to join.  To sign up please complete one of the envelopes available from behind the bar and pass it to the bar steward.
The fee remains at £30 and the chosen charity this year is RNLI.  Last year after taking account of Gift Aid, Donaghadee Golf Club contributed £1,600 and the League as a whole £17,000 to the chosen charity which was the Air Ambulance.
If you need any further information speak to John Caldwell or Ian Garside.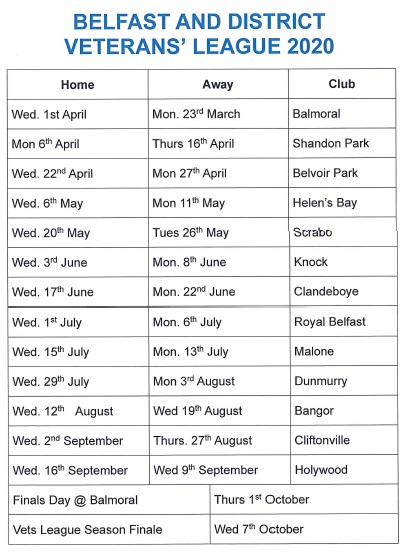 ---
Course Update
---
Gent's Singles, Doubles and Mixed Doubles
Folks, the boxes for this year's competitions are now behind the bar.  I would encourage as many of you to enter these competitions.
Singles £2.00
Doubles/Mixed Doubles £4.00 per team.
Thanks
Philip Robinson
Match & Handicap
---
Men's Winter League 2019/2020
Unfortunately the continuing bad weather has taken another week off the Winter League.  The course closure on Sunday 23rd February means there will be no Winter League this week.
As planned, the week commencing Saturday 29th and ending March 5th will be the last week of this year's Winter League.  The Closing Dinner and Prize Giving is on Friday 6th March 2020.
The dinner is free to all Winter League participants and visitors are invited at a cost of £15 per person.  An attendance sheet is in the Club Pro Shop, please confirm on this sheet if you will be attending the dinner and, if so, your choice of meal – Roast Chicken or Braised Beef followed by a delicious dessert.
The timing is 7.00pm for dinner at 7.30pm and the prize giving will be followed by entertainment.  Dress code is Smart Casual.
Come along and support or Club
---
WOMEN IN GOLF
---
VICE CAPTAIN 2020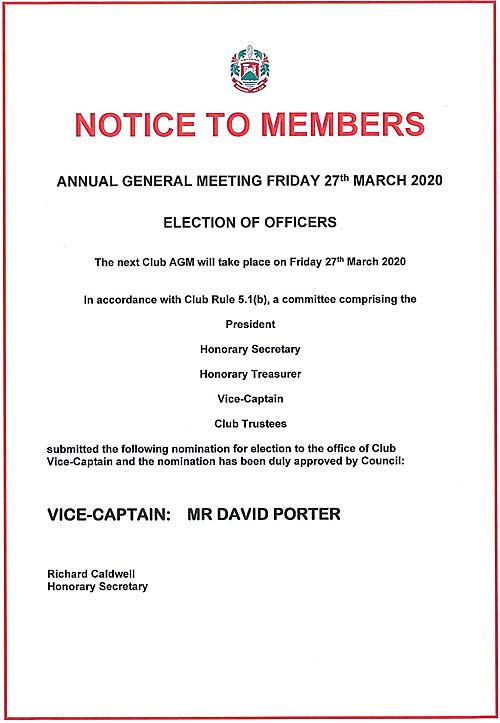 ---
The Ignored Caddie                               
Nine things tour players do that you should do –

---
GRANGE WINES OFFER
We are pleased to confirm that the Members' Special Discount on wines at Grange Wines, Donaghadee has been extended into 2020.  Please remember to take your membership card and ID along when visiting the store.  The offer cannot be used with existing other offers and is currently restricted to wines.  Thanks to Tom Bell and his team for providing this benefit to DGC members.
---
Brian Hutchinson appointed Chairman of GUI (Ulster Branch)
Brian Hutchinson of Donaghadee Golf Club has been appointed Chairman of the Ulster Branch of the Golfing Union of Ireland. Delegates at the Branch's Annual General Meeting held in Shandon Park Golf Club on 28th November voted unanimously in favour of his nomination.
A long-time member of Donaghadee Golf Club and having served as Captain and President, Brian is well known around golfing circles in North Down. Since his appointment to the Ulster Branch in 1995, Brian has fulfilled several high profile roles including Honorary Match Secretary (Ulster Branch), member of the Irish Championship Committee and Irish Seniors' Selector. His success in having attained the high level R&A qualification for referees at St Andrews in 2012 resulted in him officiating at several professional events and The Palmer Cup, World Team Championships and many Championships throughout Ireland and Great Britain. His passion for the game led to him being appointed as the Manager of the Ireland Seniors Men's Team which won the European Championship held in Sweden in 2017.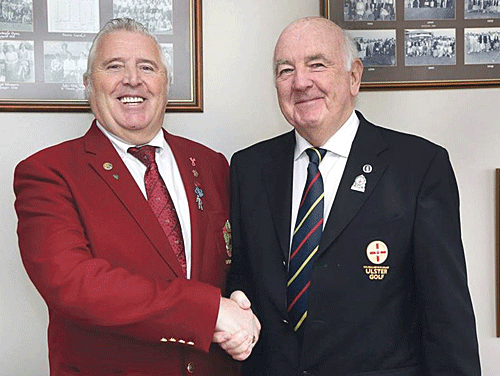 Speaking following his appointment Brian said "This is a great honour. These are testing times for golf clubs as they struggle to attract new members. The establishment of Golf Ireland is a significant step forward and in this our final year as the GUI Ulster Branch, I will be doing everything I can to build on the good work of my predecessors and ensure that here in Ulster, we have a thriving sport accessible by all. I believe golf is a fantastic game – it's not only a great way to meet friends but probably more than any other sport, golf also builds character – it promotes honesty and integrity, respect and responsibility, courtesy and sportsmanship. As such it can play a pivotal role in the development of young people."
Members of Donaghadee Golf Club were thrilled to learn of his appointment. Speaking on their behalf, Jim Gunning, Club Captain said "This is a well-deserved honour for Brian. He has worked tirelessly to support the development of golf not only across Ulster and Ireland but further afield and I know from conversations with my counterparts in other Clubs that Brian commands the utmost respect and is held in the highest regard. His appointment as the Chairman of the Ulster Branch is fitting recognition for the massive contribution he has made to the game"
---
ALPINES CHRISTMAS OUTING
The Alpines battled the rain today when the green staff managed to have open 9 holes for their Christmas outing on Thursday,12th December. Of the 34 members of the society that donned waterproofs there was one stand-out golfer on the day – Paul Forde with a competition busting 25 points. Over 50 were in the clubhouse to see Alpine Captain Ray Logan present the prizes after a fantastic meal accompanied by great craic.
Paul Forde – 25 points
Brett Borkowski – 22
Neale Jenkins – 21
Tom McNulty – 20
Billy Heatherington- 19
Richard Caldwell – 19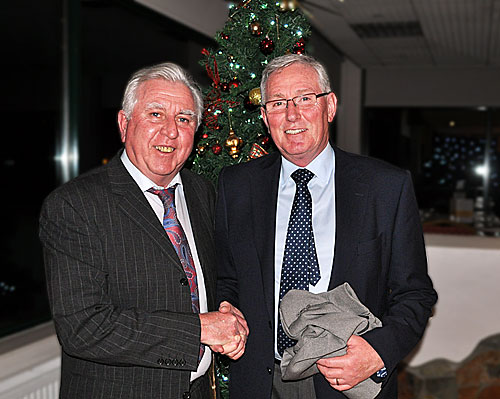 ---
10 Tips that might help you when playing in the rain – By the Ignored Caddie

Just because it's raining doesn't mean you can't still enjoy yourself and play well.
Here are 10 tips to help you play golf when it's wet…
---
WINTER LEAGUE
The Winter League is now underway and competitors may like to browse the following attached documents.
Winter League Rules – click here.
Winter League Teams – click here.
---
PRIZE-GIVING 2019 (MEN)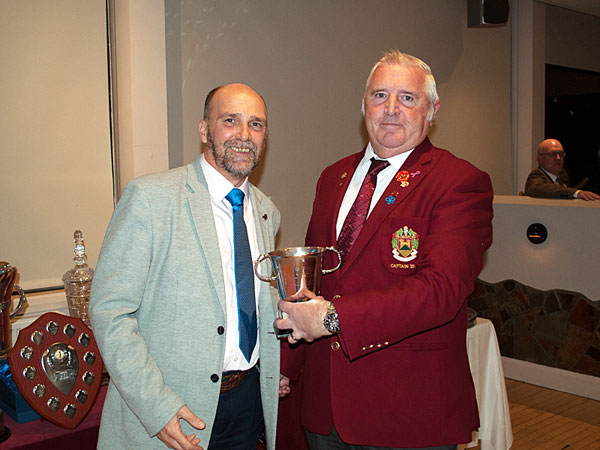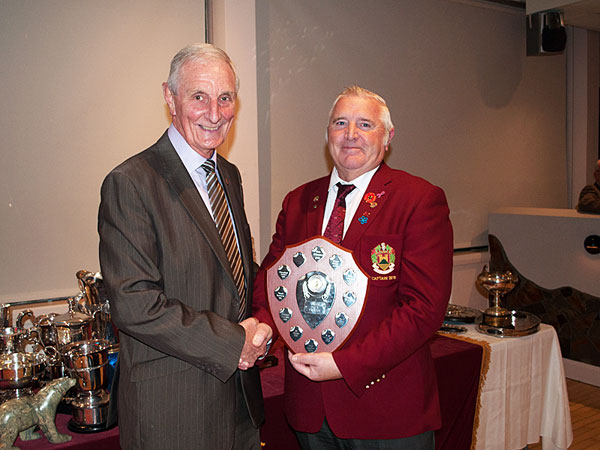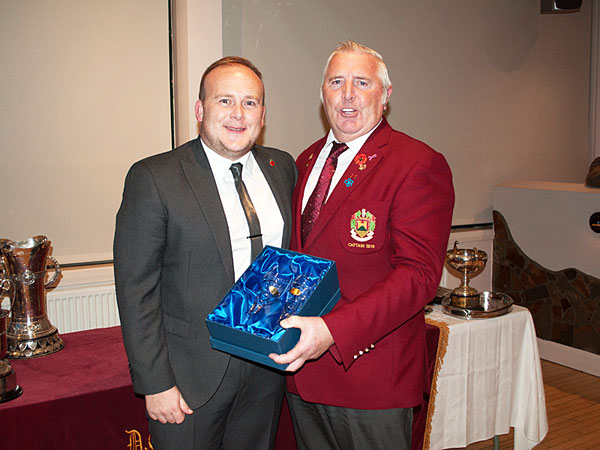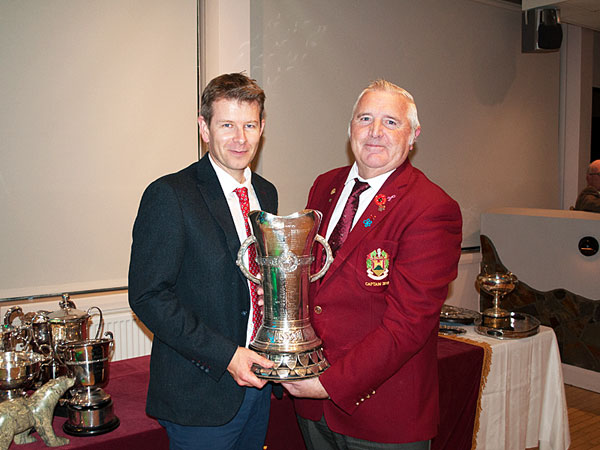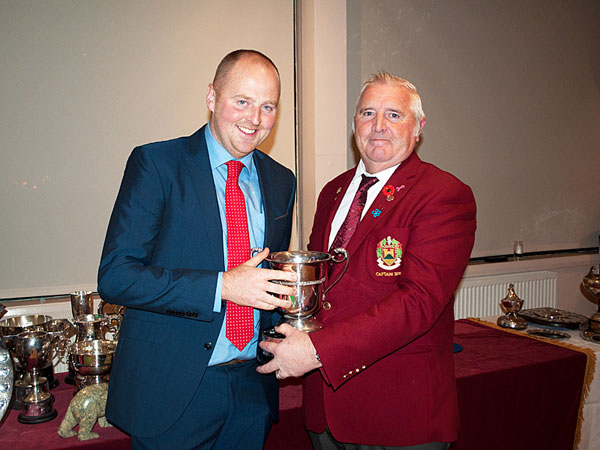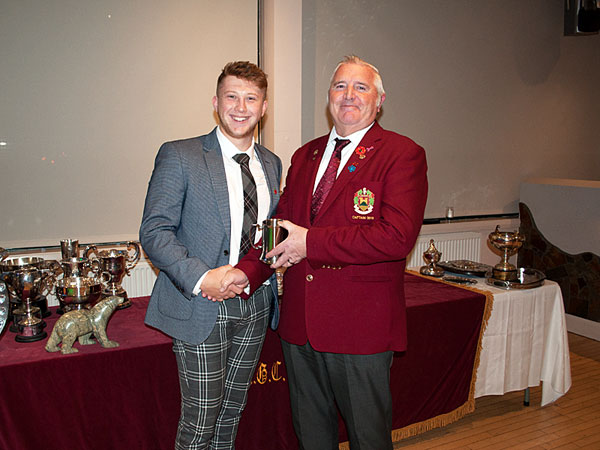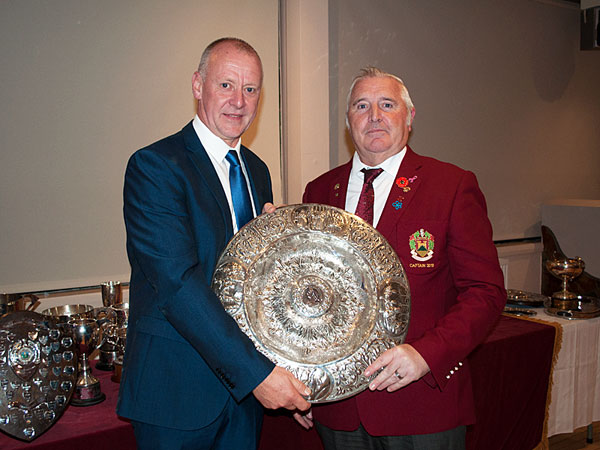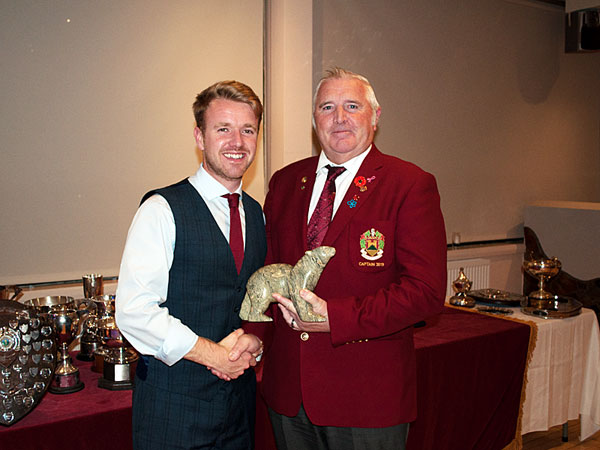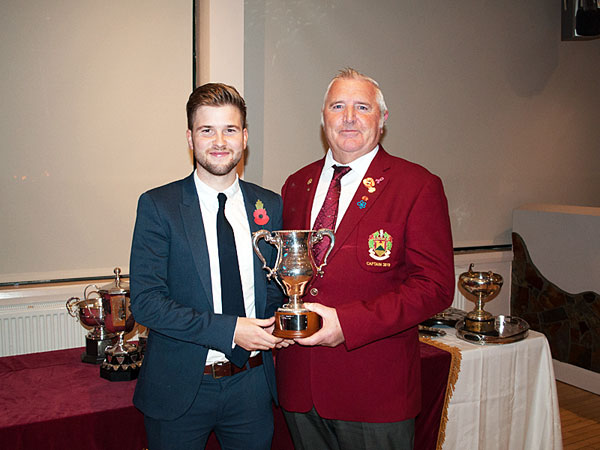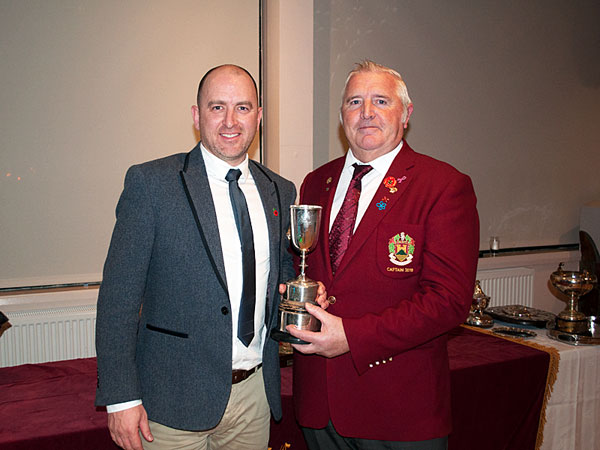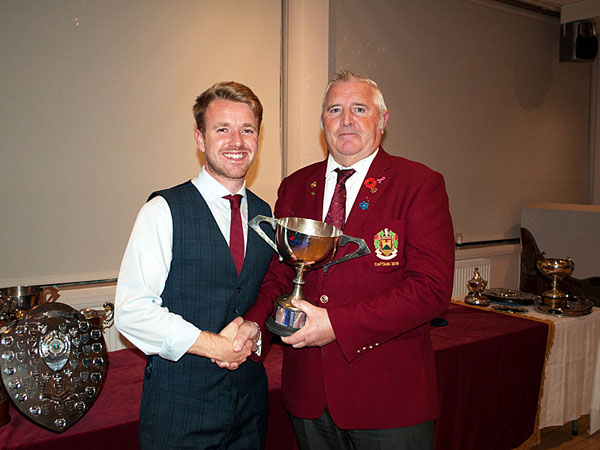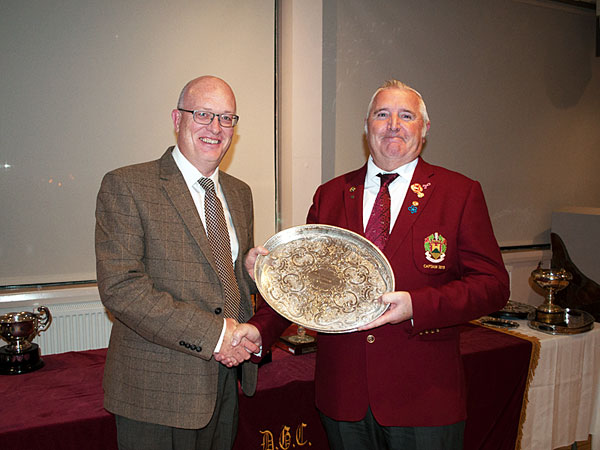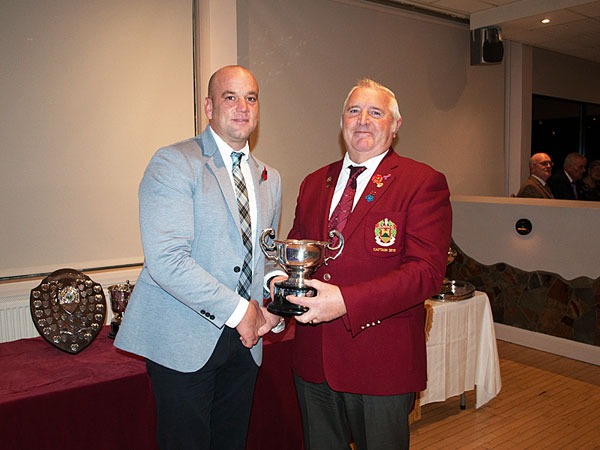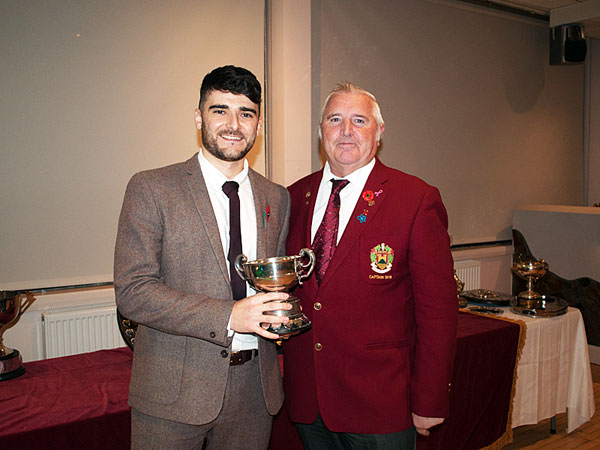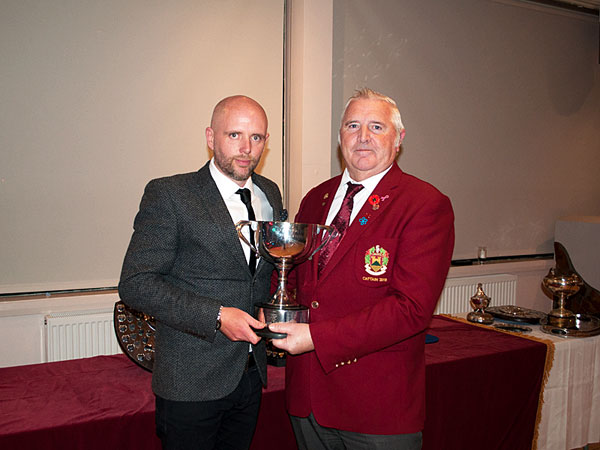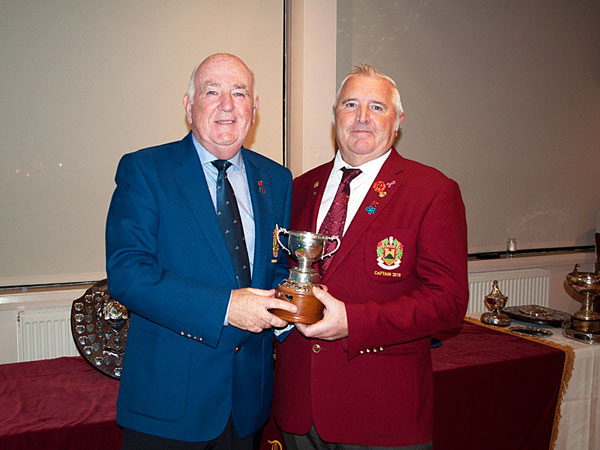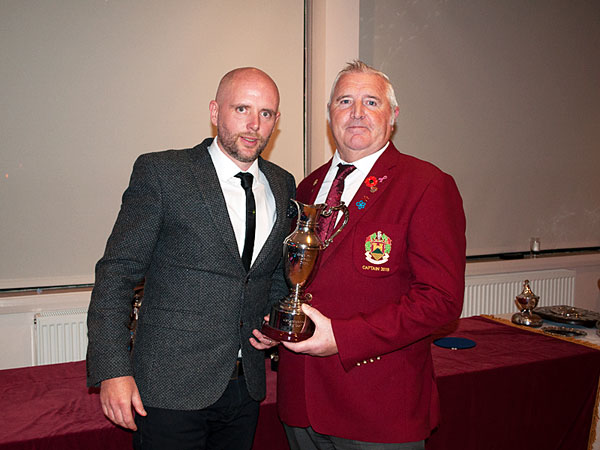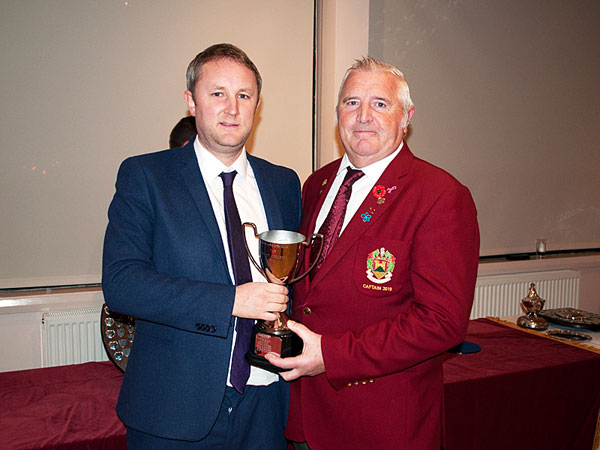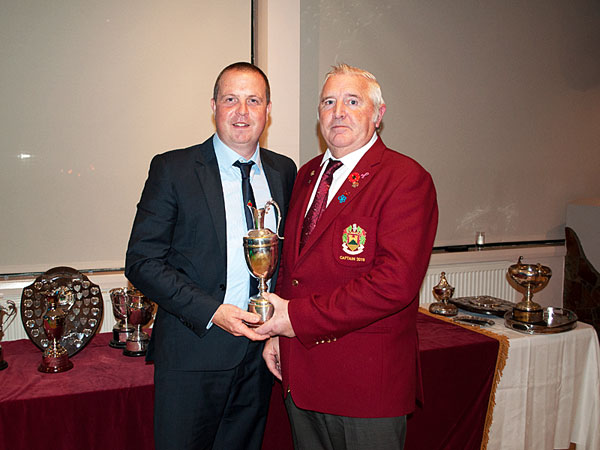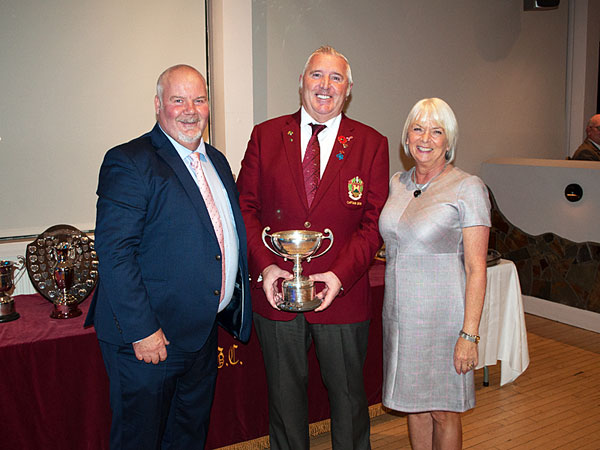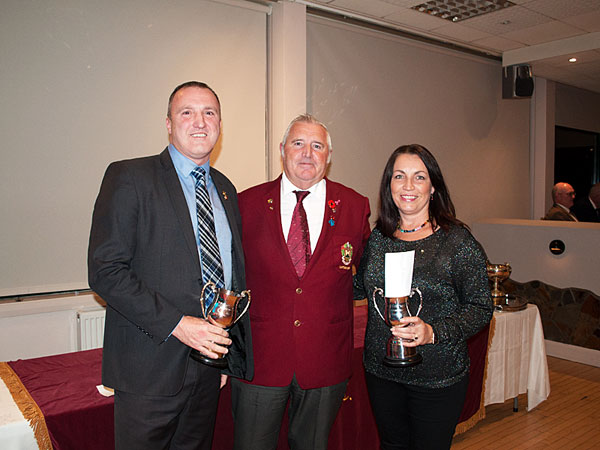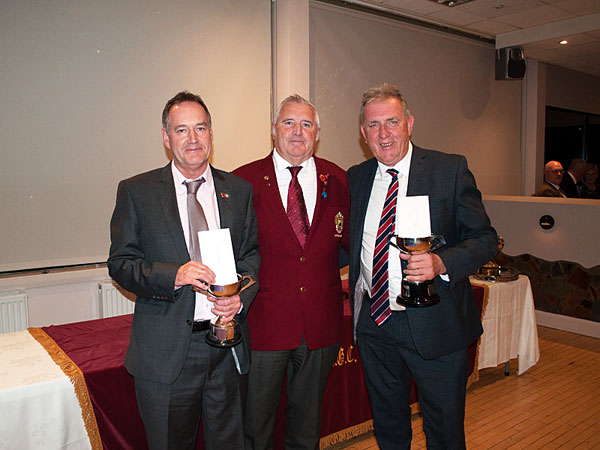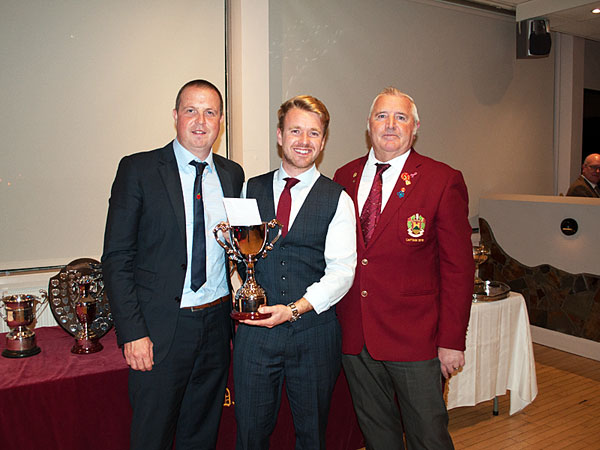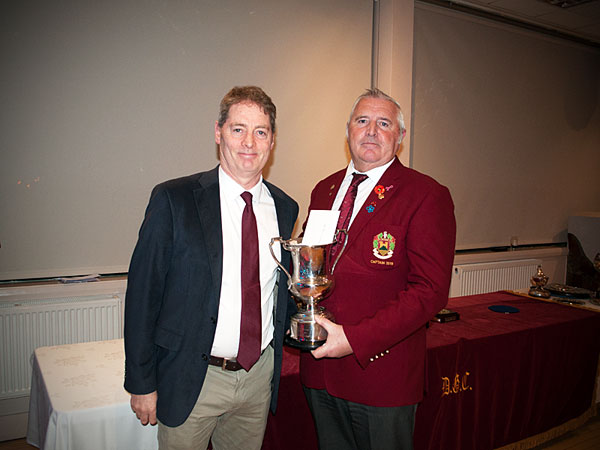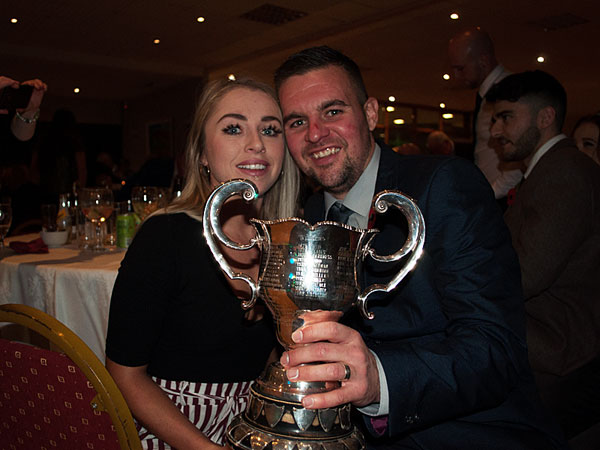 ---
PRIZE-GIVING 2019 (LADIES)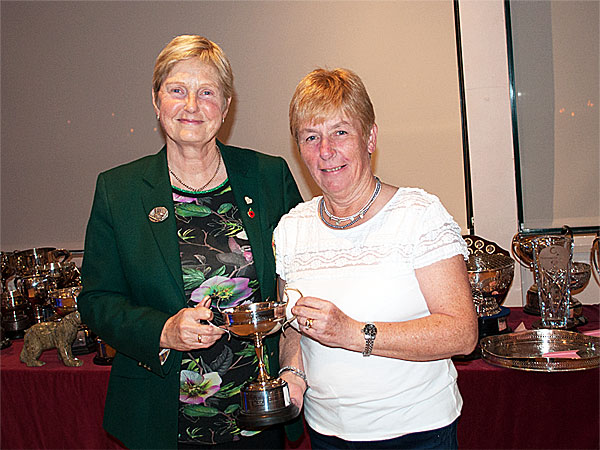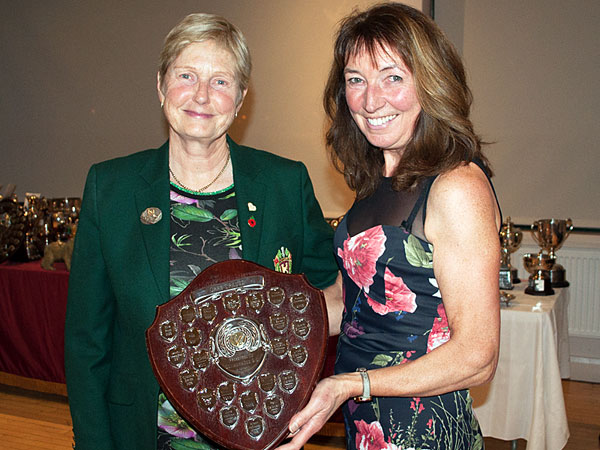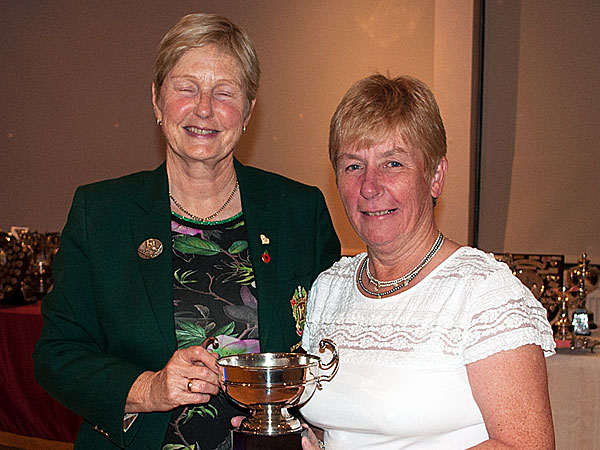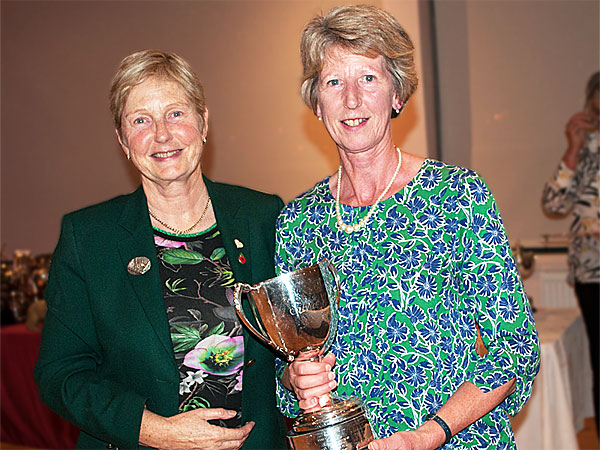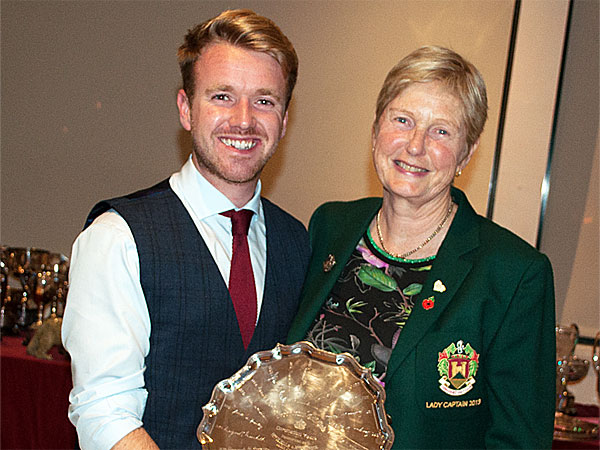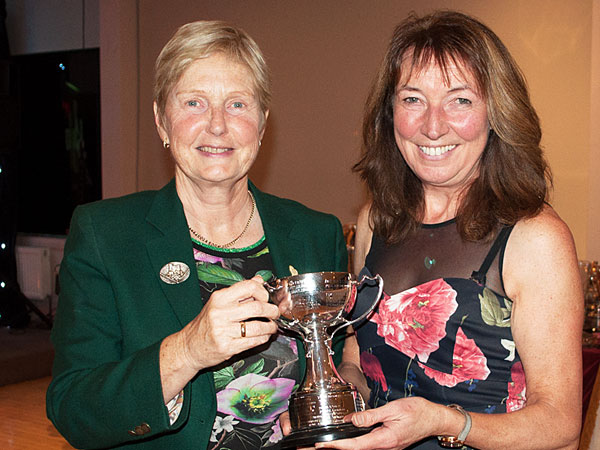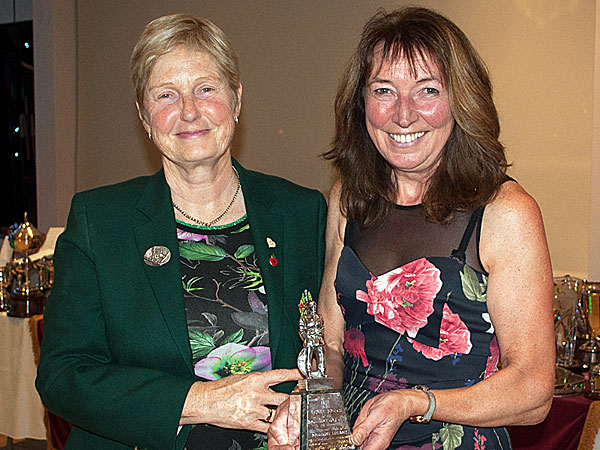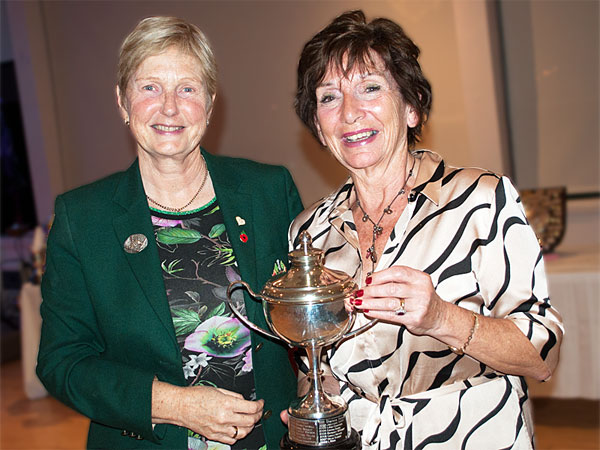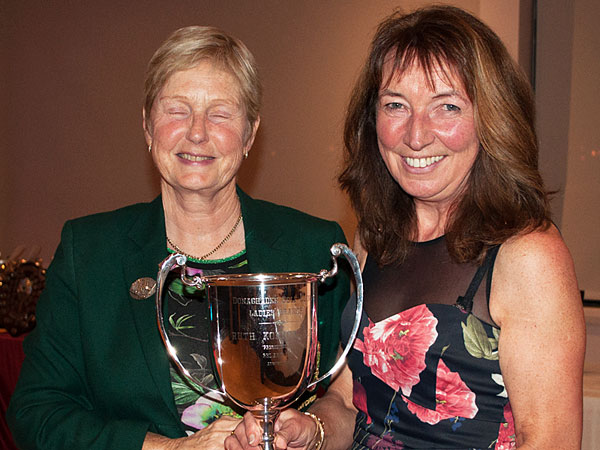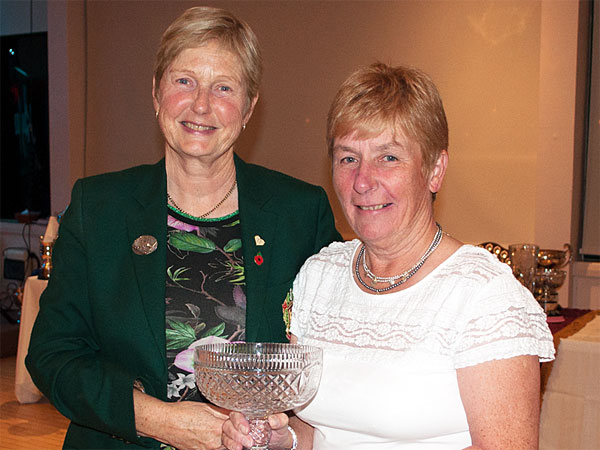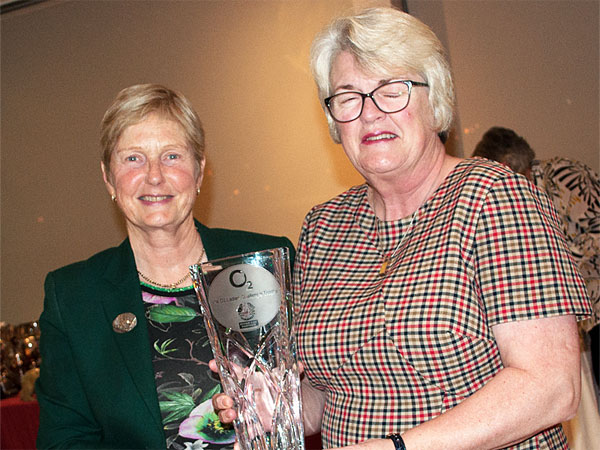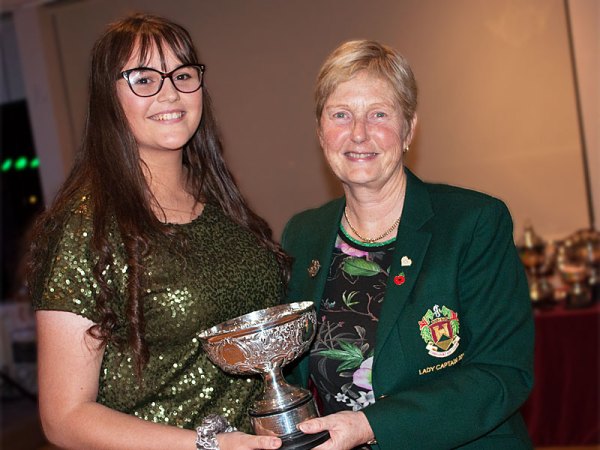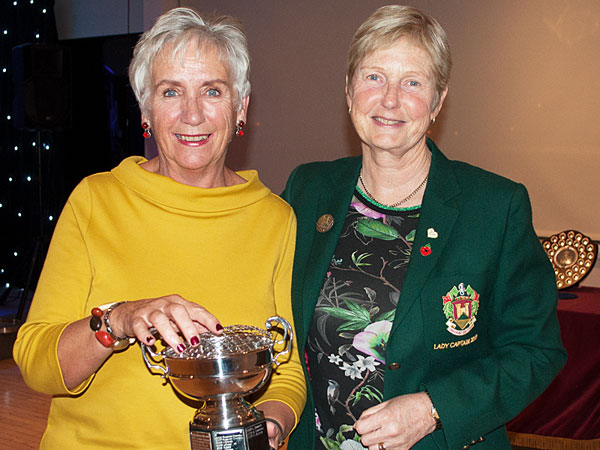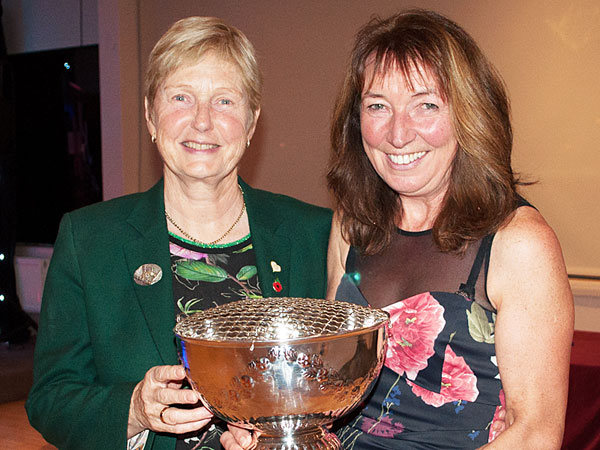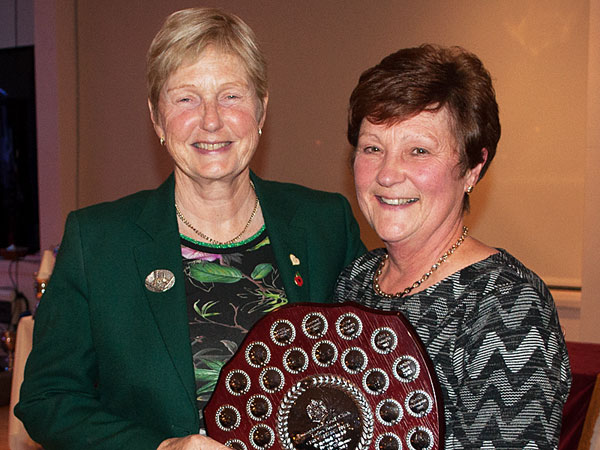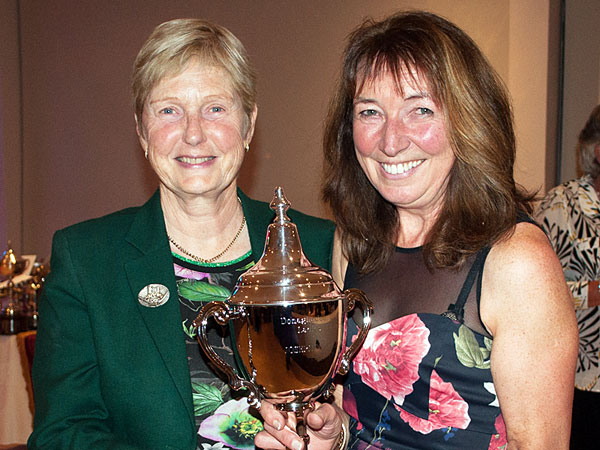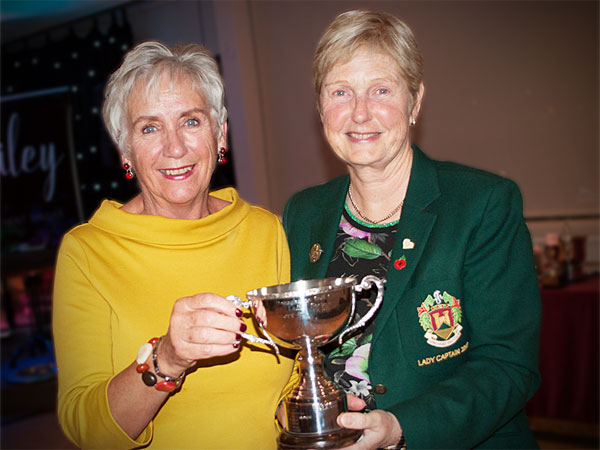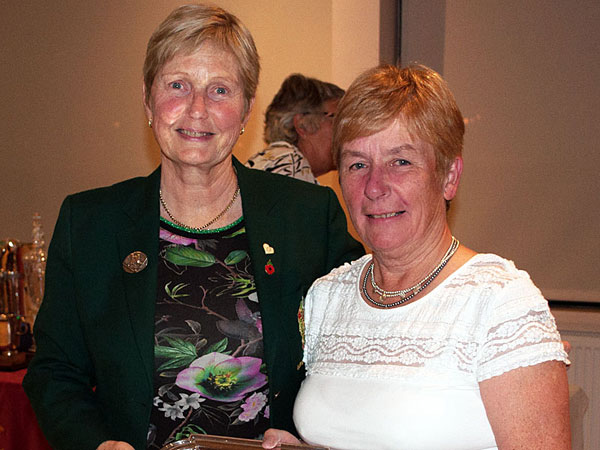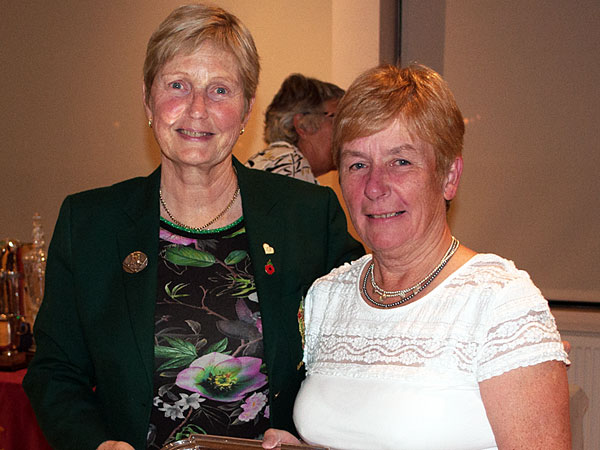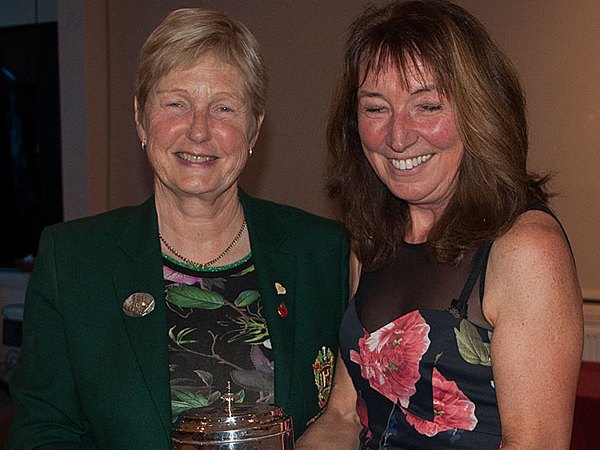 ---
DISABLED GOLF HUB

The publication 'Irish Golfer' carries an article of the Disability Golf Hub being hosted at Donaghadee. To read the article click the logo.
---
The Unheeded Caddie – It Never Rains But It Pours
It's only end-October but the 'course closed' signs have already been out on numerous courses around the Province. Surely a little bit of rain shouldn't cause too much hassle?
Walking on wet grass really damages it
We think grass grows in soil. Well, it does… and it doesn't. The roots actually grow in air spaces between soil particles.  These air spaces are vital and any biologist could go on about their importance for nitrogen-fixing and nitrifying bacteria but I can tell you're not interested in that!  Common sense tells us that when it rains these air spaces begin to fill up with water.  If there's only a little rain the water will drain away, eventually reaching streams and rivers, but if the rain is heavy, or if it's been raining earlier, the water can't drain away quickly enough and these air spaces get filled up.  If we start walking on these soils when they are saturated then a lot of those little pockets get closed up and water can't move through as easily and it takes a lot longer to dry out.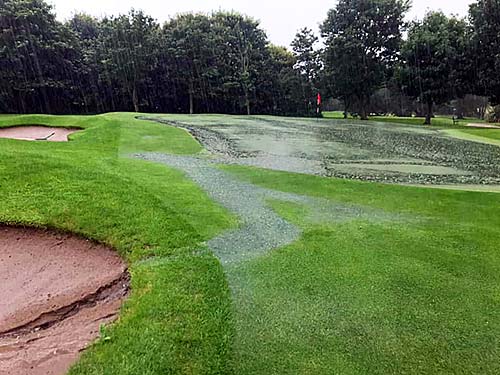 A well-known greenkeeper explained, "If you walk on it, and it's wet from the top down, you just compact it and push the grass into the soil. You are crushing the area where the roots are. All those spaces for air and water are being compacted and squashed. That's why the water comes up around your feet."
It will stop pouring, eventually. But, if a course has had heavy play, the damage won't be repaired any time soon.  It's very similar to frost, you could walk out on a golf course and see there's no frost. It could be frozen, though, but you can't see it.  Rain is the same. It will start drying out from the top but it doesn't mean that a couple of inches under it isn't still soaking wet.
We might start seeing some deterioration in the playing surface, and the time we really want the plant to perform well – the following summer – all the damage within the soil might take several months to recover and require remedial action and additional works to put right.   We're six months away from where we hit warm growing weather again. Any damage or issues we have now, we are not going to really have recovery until next April or May.
No sooner do we get over one big downpour, another follows right behind.
So, here's what happens to our courses if October continues into a wet winter.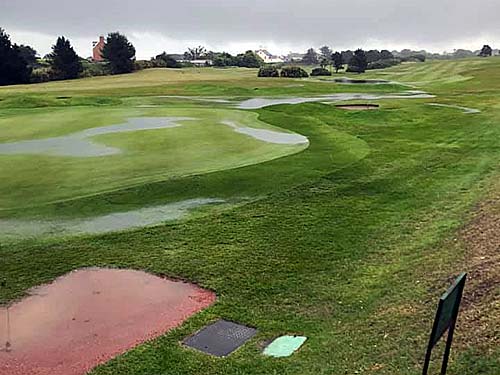 It's a greenkeeper's worst nightmare. Wet warm winters and increased disease activity equals more cost, greater deterioration of surfaces through continued wet periods and, effectively, gains made in the summer would be lost for the following season.
We can't stop nature. We can't change the weather and we can't stop it raining, but we can stop people and we can stop buggies and trolleys. That is something we can control. That's why you'll get a lot of roped off areas. It's horrible to look at but, without that, it would be absolute carnage.
So, that's why most courses ban buggies and ride-on carts and some prevent the use of motorised trolleys too.  If you're able to, you should really carry your clubs, if you want to protect your course from damage during the wet winter months.
---
Disabled Irish Golf
An exciting new development supporting inclusive golf has recently been established at Donaghadee Golf Club.
The Inclusive Golf Hub, the first of its kind in Ireland, has been created with the support and backing of the Confederation of Golf in Ireland (CGI).
The Hub will act as a central point for disabled groups and individuals to give golf a go in a welcoming, supportive and encouraging environment.
A group of Donaghadee club members have volunteered to launch this new initiative and have been trained to deliver basic golf coaching.
On October 16th, the Hub went live with a group of students from Killard House Special School joining us for a morning of fun golf.
That was followed in the afternoon with another first for disabled golf in Ireland. An Irish disabled golf team featuring the world number one disabled golfer, the one armed world golf champion, British Wheelchair golf champion and the ladies Canadian Open golf Champion, to name but a few, took on a group of Donaghadee able bodied members in a nine-hole match-play tournament.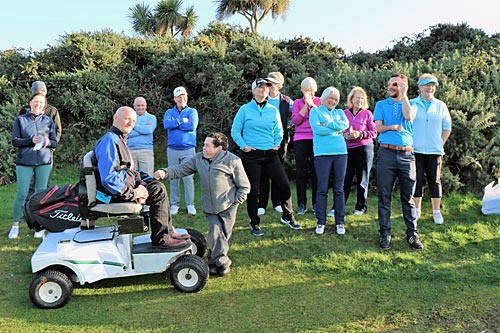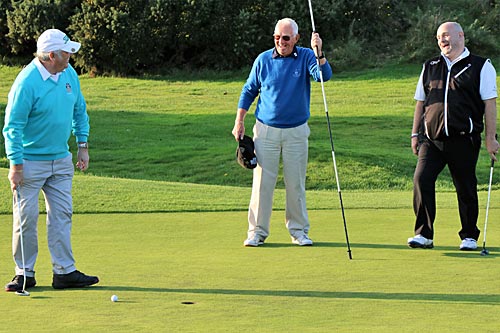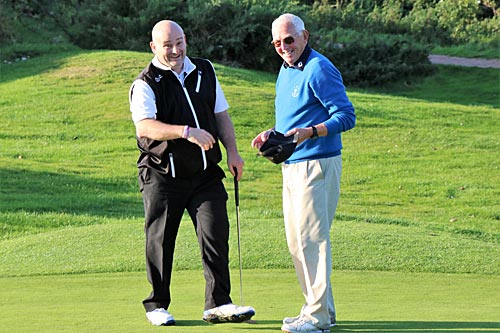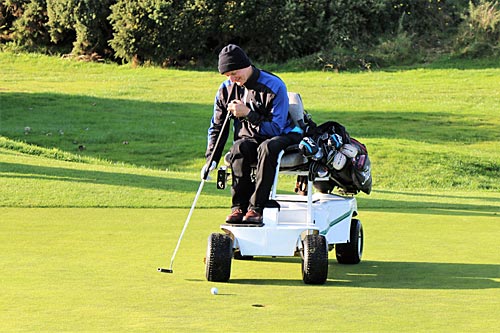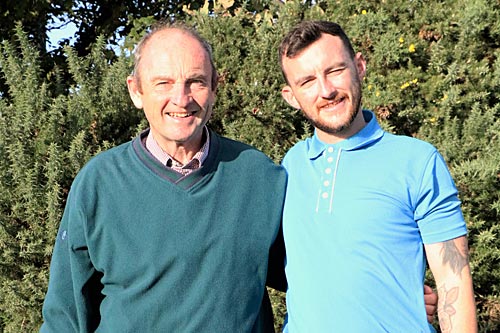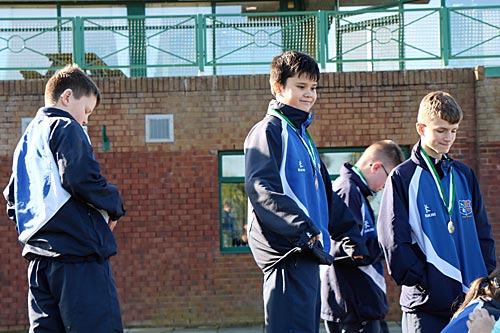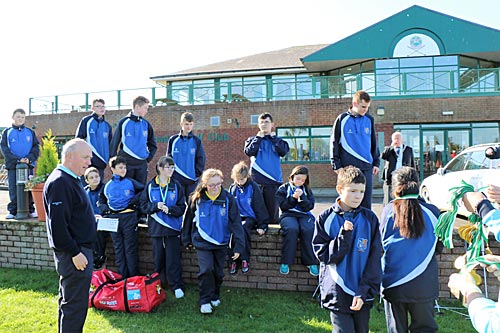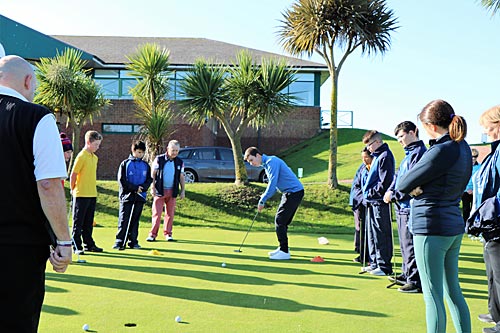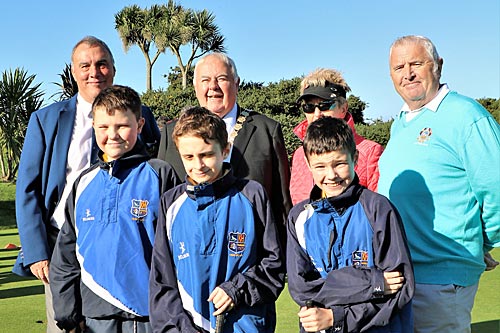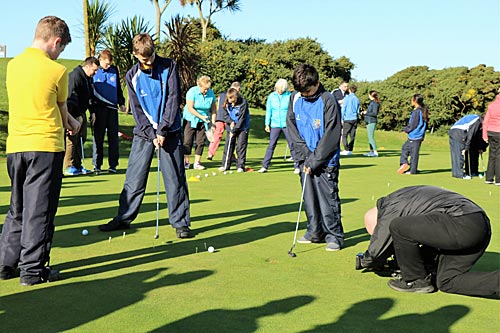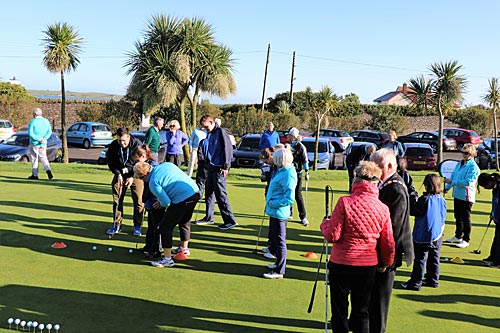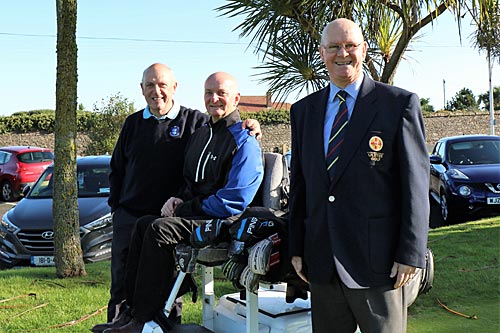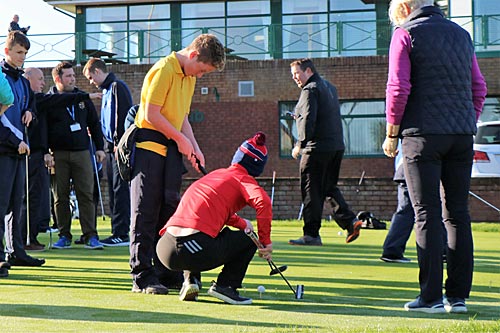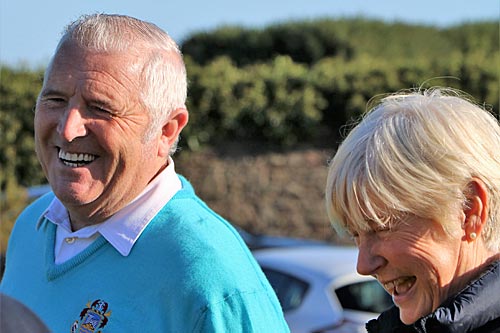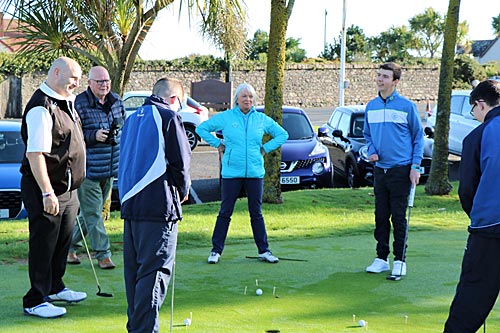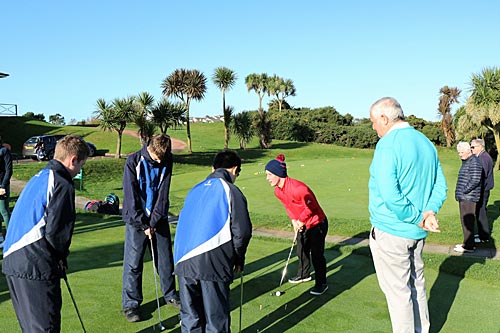 ---
BELFAST & DISTRICT VETERAND LEAGUE
The Belfast and District Veterans' League ended last month with a cheque of just short of £14,000 being handed over to the nominated charity which this year was the Air Ambulance. When Gift Aid is factored in, this will increase to around £17,000. Donaghadee Golf Club donated £1,320 (£1,600 with gift aid) – a magnificent contribution.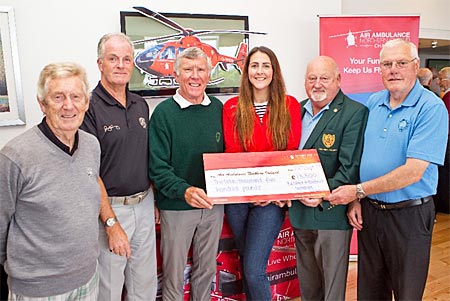 The league consists of 14 teams with matches home and away. It is played in a fourball better ball format with 12 players making up the team for each match. Our performance on the course was not so good but this league is basically a fun competition with a strong focus on meeting new friends and playing different courses.
My thanks to all who played this year and also
Jim McClure and Ian Garside for their assistance
those who captained the teams for the matches,
bar staff,
our caterer,
the Pro shop,
course staff and
the office.
John Caldwell
---
BUSINESS LADIES LEAGUE
Congratulations to Donaghadee Ladies who won the Business Ladies league. Trophy presented by Lady Captain Sandra from Blackwood GC.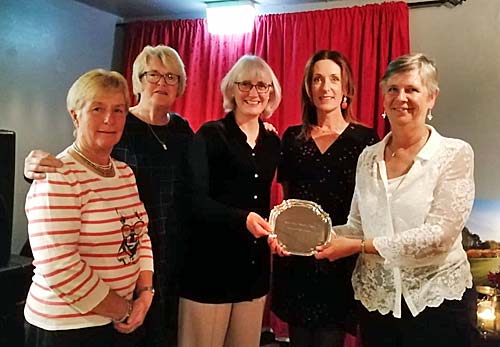 ---
DISABLED GOLF HUB

---

---
PARENT AND CHILD COMPETITION
On Sunday 6th October we held our popular Parent & Child competition. Despite the course being wet underfoot the weather stayed fair and it was great to see so many pairs take part and compete for the coveted title.
As has become customary it was a well organised event, in the capable hands of Past Captain Neale Jenkins and when it came to the results it could not have been closer. The top three pairs all returned 22 points, which was a superb score over 9 holes.
After a countback the winners on the day were Holly & Peter Roberts beating Harry & Neill Boyd who in turn pipped Jack & Ray Whiteside.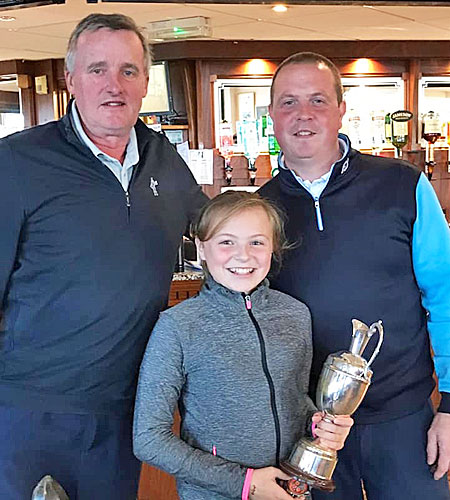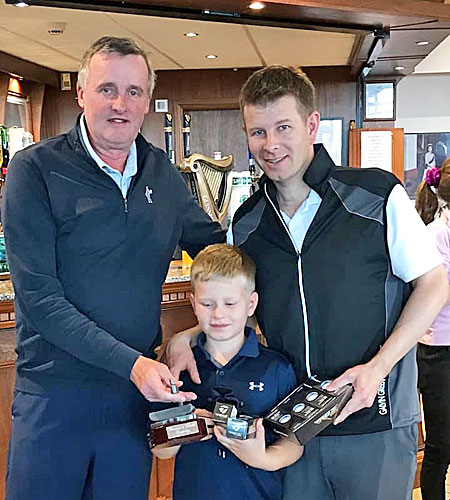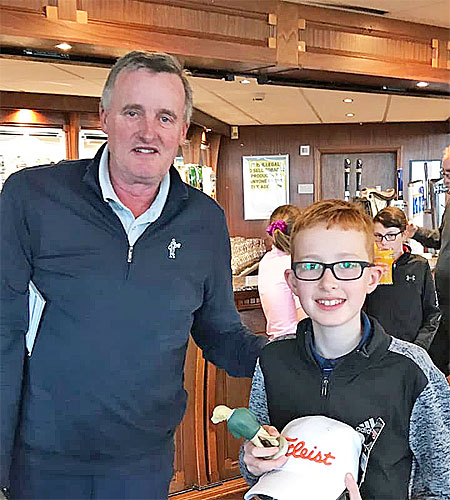 Many thanks to Neale for all his organisation and hard work on the day.
---
WINTER TIME SHEET
The draw for the Winter Time Sheet will take place on Friday Night – 6.30pm for 7pm start in the John Nelson room. Please ensure someone is there from your fourball.
---
CLUB HOUSE NEWS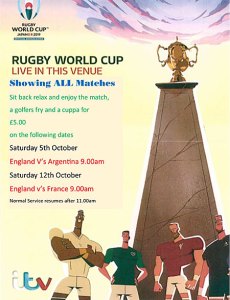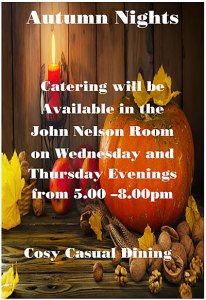 ---
DISABLED GOLF HUB
An exciting new development supporting inclusive golf has recently been established at Donaghadee Golf Club.
The Inclusive Golf Hub, the first of its kind in Ireland, has been created with the support and backing of the Confederation of Golf in Ireland (CGI).
The Hub will act as a central point for disabled groups and individuals to give golf a go in a welcoming, supportive and encouraging environment.
A group of Donaghadee club members have volunteered to launch this new initiative and have been trained to deliver basic golf coaching.
On October 16th, the Hub will officially go live with a group of students from Killard House Special School joining us for a morning of fun golf.
That will be followed in the afternoon with another first for disabled golf in Ireland. An Irish disabled golf team featuring the world number four disabled golfer, the one armed world golf champion, British Wheelchair golf champion and the ladies Canadian Open golf Champion, to name but a few, will take on a group of Donaghadee able bodied members in a nine-hole match-play tournament.
I would be delighted if you could come along on the day to join us for this unique event and learn a bit more about the plans we have for inclusive golf for all of Ireland going forward.
10.00 am set up for volunteers attending
10.30 am arrival of students from Killard Special School
11.00am – Invited guests start to arrive – tea and coffee / biscuits
12.00 pm – Fun golf event finished
All meet in function room
Short presentation / talk on aims of Hub
12.30 pm – Lunch
1.30pm announcement of the teams / opponents
The match will take the form of foursomes
1.45pm –  Guests leave if they want to – players get ready for action
2.15pm – Play gets underway 9 holes
4.30pm – Play comes to an end
4.45pm – Final meeting by all concerned on 18th green and surrounds.
---
TINY LIFE CHARITY BALLOT
The Captain would like to thank everyone who bought a ticket and is pleased to announce that a grand total of £1020 was raised for his Charity – Tiny Life.
Winners of the Competition 4 Balls at the following Golf Clubs
Any winner who was not present at the draw can pick a voucher up from the club office
Tiny Life Charity Ballot
J Wallace Portstewart Golf Club
J Wallace Scrabo Golf Club
R Finlay Kirkstown Golf Club
S Wilson Helen's Bay Golf Club
G Milligan Kilrea Golf Club
A Doherty Aughnacloy Golf Club
G Parkinson Castle Rock Golf Club
B Heathrington Scrabo Golf Club
A Pitman Donaghadee Golf Club
A Legg Helen's Bay Golf Club
D Porter Cairndhu Golf Club
N Bailey Clandeboye Golf Club
G Hunter Scrabo Golf Club
M Carlisle Holywood Golf Club
Please keep an eye out for our future events.
---
PAST CAPTAIN'S COMPETITION
On Friday, 20th September 2019 our Past Captain's held their annual Autumn event when they competed for the John McCann Cup, played over 13 holes in the glorious Indian Summer sunshine.  Later they enjoyed one another's company when senior Past Captain, Victor Stephens, presented the cup to Brian Hutchinson, the victor with 26 points, beating Neale Jenkins on the countback.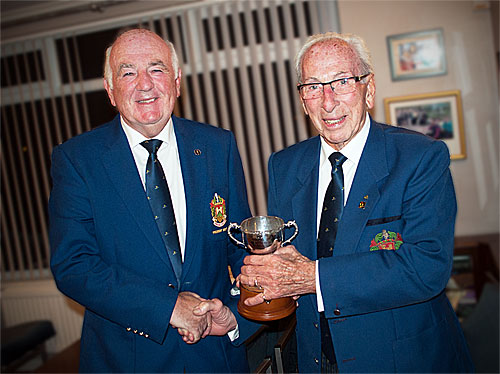 ---
THE ALPINES GOLF SOCIETY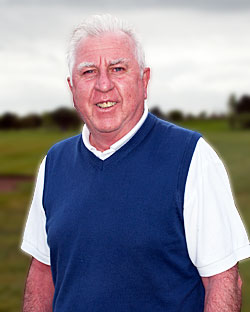 The Alpines Golf Society get their winter season off the mark on Thursday, 3rd October 2019.  The Alpines would be regarded as the biggest society within the Club, often with more than sixty golfers on the course.  Playing each Thursday afternoon throughout the winter they tee-off between 12md and 2pm.
The cost to join the society is £35 and that covers the cost of all the weekly prizes through the season and one evening meal.  Traditionally they hold two functions, one at Christmas and finally at the end of the season after their Captain's Day.  This year the new Captain and leading the society into 2020 is Ray Logan and Ray is keen to welcome new members.  Just come along on any Thursday and join up.  It's a great way to make new friends and enjoy golf throughout the winter.  The craic in the John Nelson Room is renowned – you'll not regret it!
We have created a new society page on the website for the Alpines and this can be found under the Members Area.  We hope to keep you up-to-date with their society news as they progress through the winter.
If you are part of a society within the Club and would also like to have a similar page on the website then get in touch.
---
LADY CAPTAIN'S CHARITY COMPETITION
The Lady Captain held a competition in aid of charity on Tuesday, 10th September in aid of the British Heart Foundation.  The event was generously sponsored by Jonzara, Newtownards.  The winners (L to R) Heather Majury, Christine Kennedy and Alison Strain are with Heather McCann (Jonzara) and the Lady Captain Valerie McIlveen.  Congratulations to all for raising £257.28 on the day.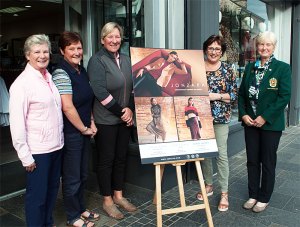 ---
MISS DESIGNER GOLF COMPETITION
On 3rd September 2019 our Ladies Section held a special competition for Miss Designer and the winner on the day was June Simpson and June can be seen with the Lady Captain, Valerie McIlveen in Conway Square, Newtownards.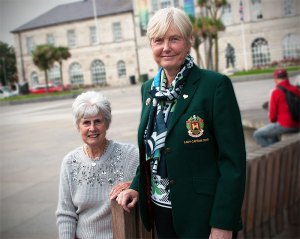 ---
PAST LADY CAPTAINS' CUP
Congratulations to Eleanor Alcock, winner of Past Lady Captains' cup. Runner up – Alison Strain. 3rd Kate Jackson and 4th Freda McQuoid. Well played Eleanor!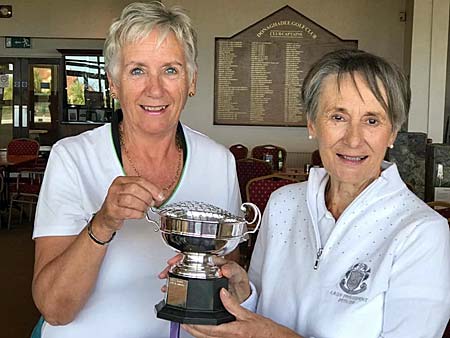 ---

---

---
O'HARA CUP
After foul weather previously saw a postponement of the O'Hara Cup (stroke mixed foursomes), this competition actually took place on Friday, 6th September when members of both sections of the Club entered their names for a free draw to decide partners on the night.  After a flurry of rain saw golfers on the 1st tee scramble for waterproofs if proved only to be a scare as it turned out that fair and pleasant weather was the backdrop for the event.
After all was done and dusted the John Nelson Room was the setting for the results and presentation when it was announced by Philip Robinson (Match & Handicap) that the Captain and Lady Captain had hit the crossbar and came in second.  It took a brilliant score to beat them and that was managed by Johnny Wallace and Janet Adams who now find their names inscribed on the trophy.  Well done to the winning pair and all who took part.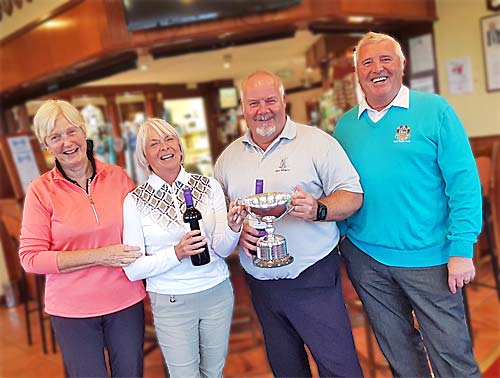 Johnny Wallace & Janet Adams (32.5)
Captain Jim Gunning & Lady Captain Valerie McIlveen (33.75)
Philip McCullough & Angela Carlisle (34.5)
Helen Dunbar & Colin Robinson (35.25)
---
DISABLED GOLF HUB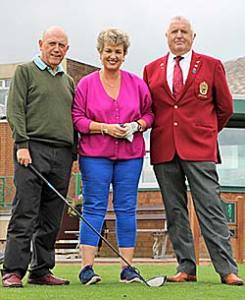 Trevor Hillen isn't a man to let an obstacle get in his way and that includes when on the golf course.  Trevor's dedication and enthusiasm has been rewarded in his being selected to represent Europe in in the bi- annual golf Disabled Ryder Cup competition against their American counterparts at Fort Myers in Florida USA in October 2018.
Trevor, a 25 golf handicapper, has been playing in EDGA (European Disabled Golf Association) tournaments since 2015 and has, like the pros, racked up thousands of air miles playing in competitions for disabled golfers in the UK, the Algarve, Sweden and Spain.  Trevor is currently in Scotland getting ready for the Scottish open which begins on Saturday.
He remarked, "I won't be home until Thursday of next week.  It is very important that people are aware of this initiative and I am heading up a work party for the GUI/ILGU/Confederation/PGA on how inclusive golf is set up for disabled people and my plan has now expanded to include able bodied."
On Tuesday past (3rd September) Trevor was interviewed by Anne-Marie McAleese for the Radio Ulster programme "Your Place and Mine".  It will feature Trevor and Donaghadee Captain Mr Jim Gunning.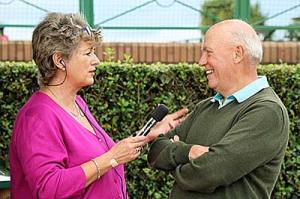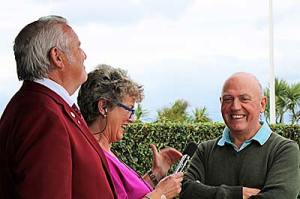 The first disabled friendly hub open for business is at Donaghadee Golf Club and full details will be available to everyone in the next couple of weeks.  Why not give it a go – just get in touch at disabledgolf@mail.com.
---
LADY PRESIDENT'S DAY 2019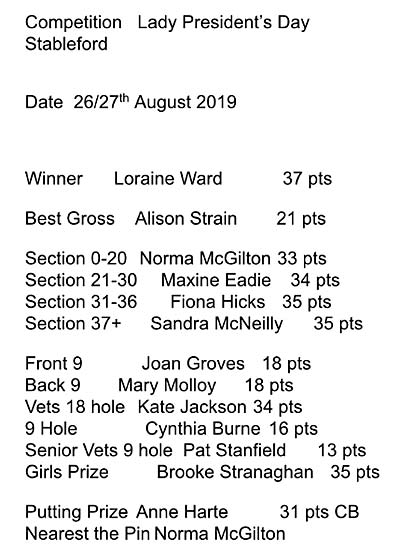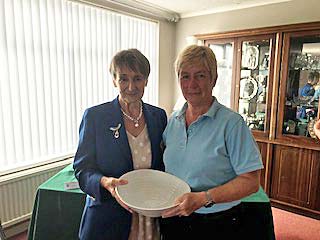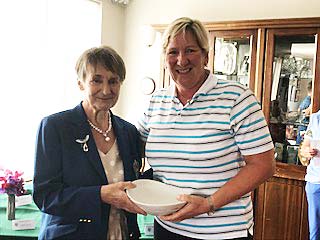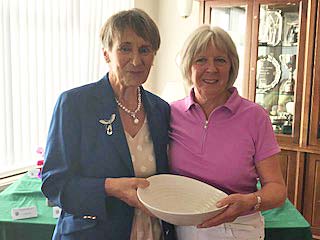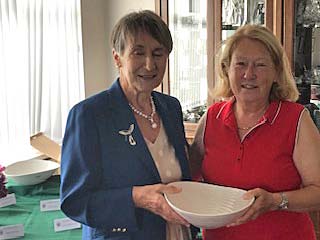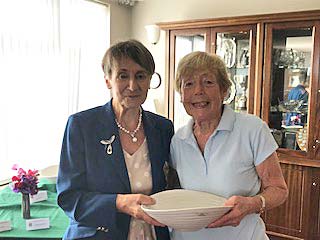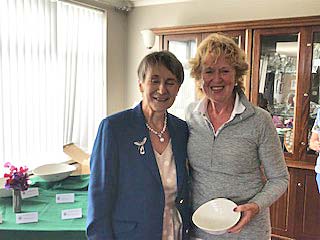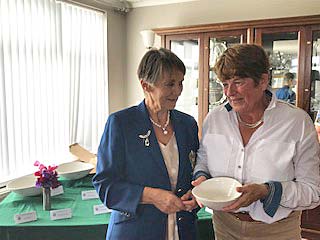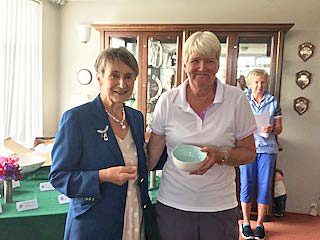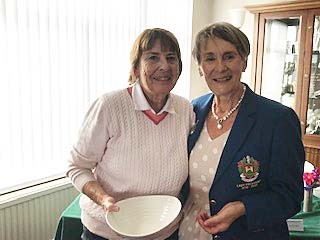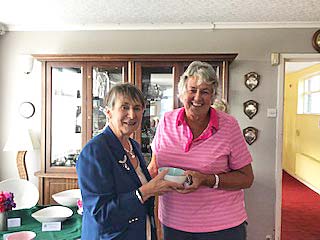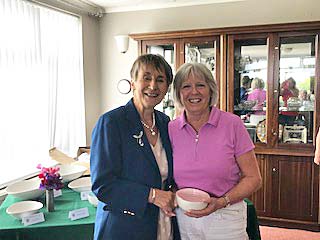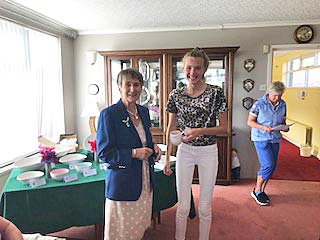 ---
HACKWORTH TROPHY
Congratulations to our Past Captains who reclaimed the Hackworth Trophy in their annual challenge match against the Past Captains of Clandeboye on Friday.  In a closely fought contest, Donaghadee Past Captains recorded their first away win in the 26 years of this annual challenge which celebrates the close ties between our two clubs. Our older (sorry, more senior members!) will have fond memories of Billy Hackworth who was the professional at Donaghadee for many years.
---
LADIES DAY OUT
What a great day out at Rockmount Golf Club for the Dee Ladies. Good golf, lovely food and hospitality from Rockmount and brilliant craic. What more could we ask for.
Big thank you to Lady Vice for arranging it all.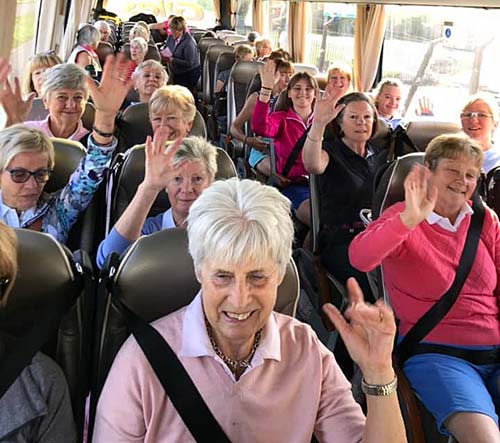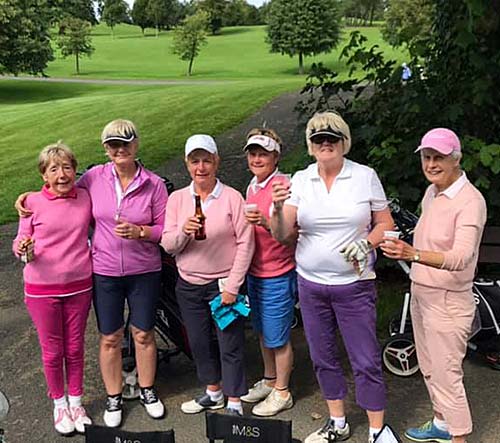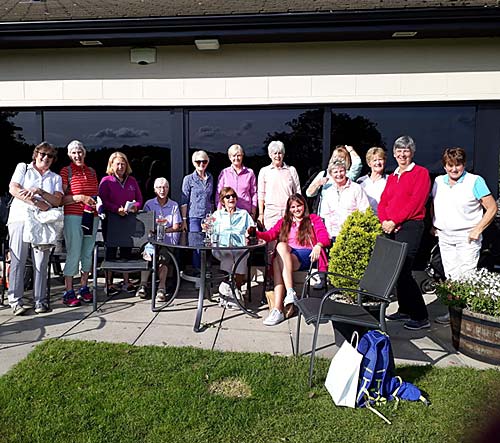 ---
CAPTAIN'S DAY 2019
There was good and bad weather wise, with the early starters enjoying pleasant sunshine throughout their round but later starters had to suffer from some rain – not that put any damper on what was a brilliant day for our Captain Jim Gunning.  Nor the winner on the day – Mark Carlisle.  Playing off a handicap of 18 Mark registered six pars and just the two double-bogey holes, a very steady round of golf beating the three section winners by a single point (Gavin Leeburn, Gordon Stubbs and Reece Simpson.  Garth Boyd continued his excellent form by collecting the gross prize with a one under par 70.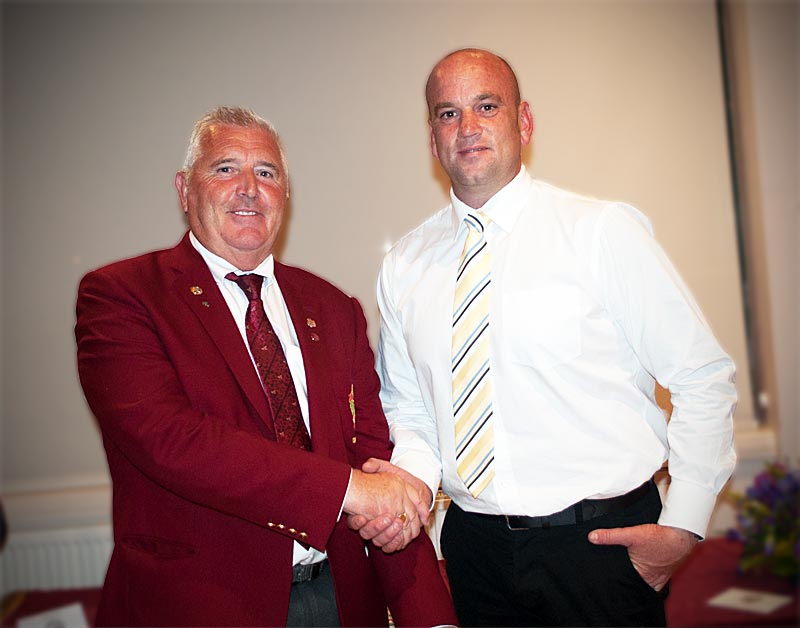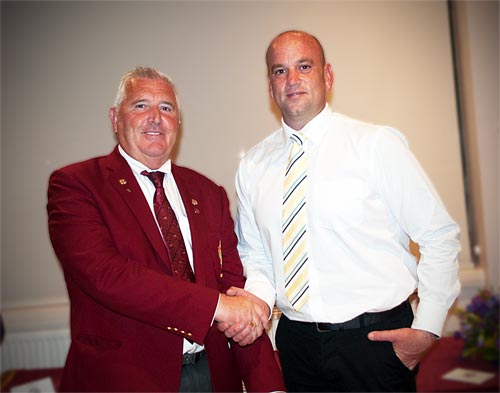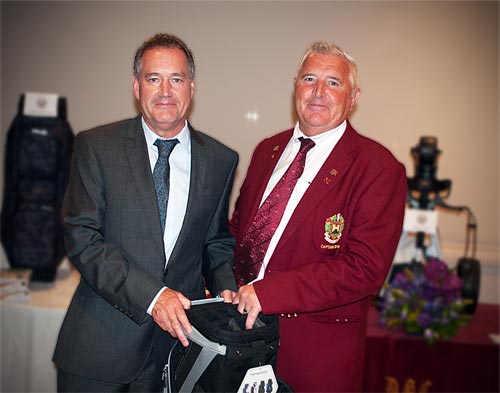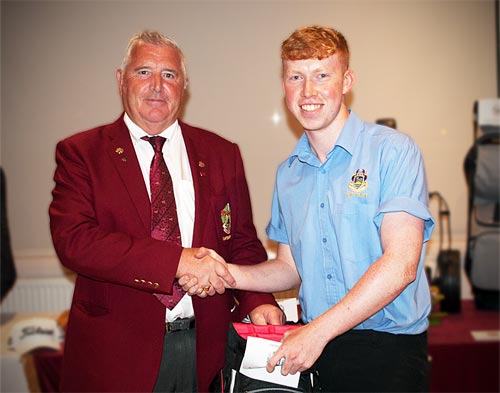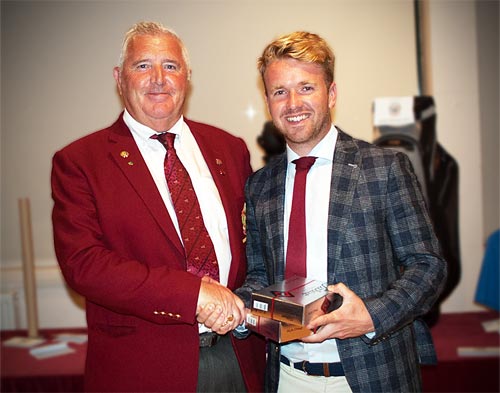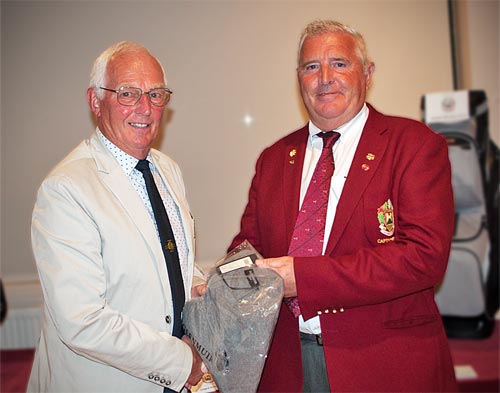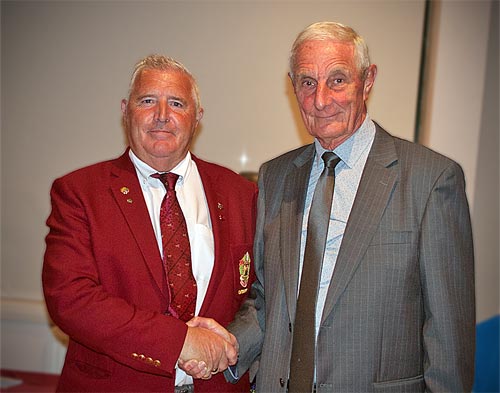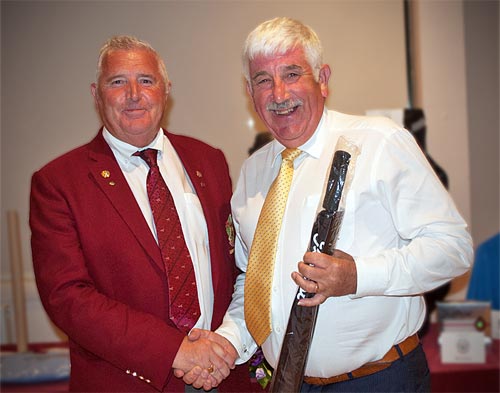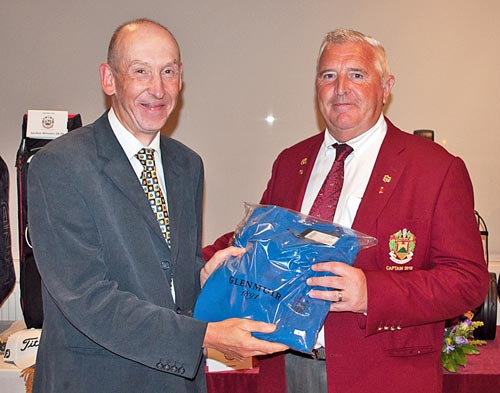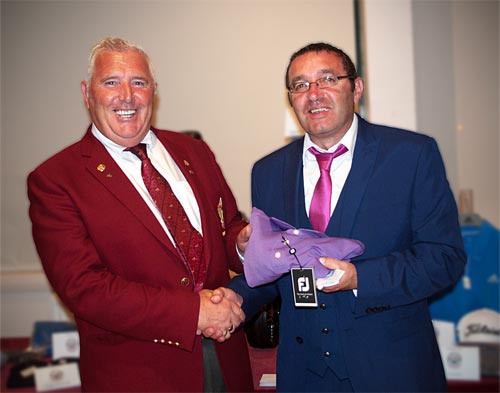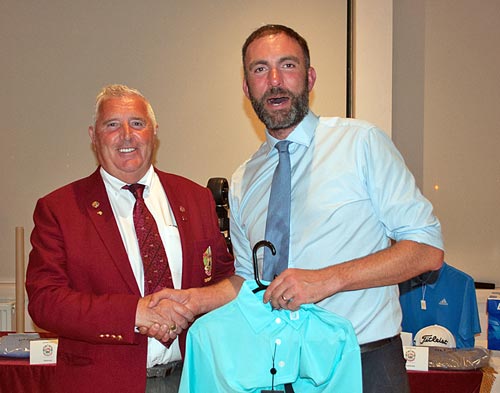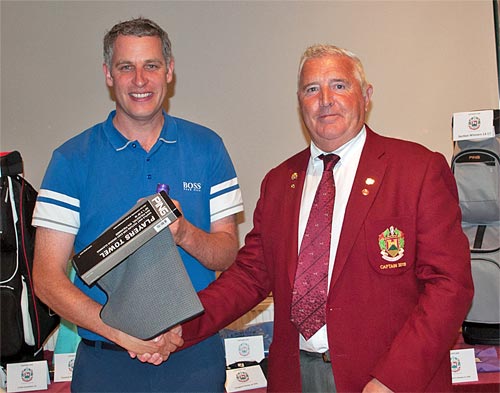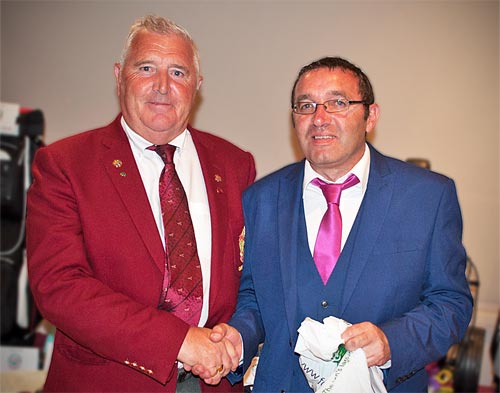 ---
LADIES CHALLENGE CUP

The Ladies Dream team played their quarter final match against Shandon Park Golf Club going into the second leg with a comfortable home win of 4 and 1/2 matches.  But Shandon with their home ground advantage gave us a hard-enough battle.  However, the girls played very well and with one win we called in the rest of the team in.
---
LADIES CLOKEY CUP
The Ladies Clokey Cup took place on Tuesday 23rd July 2019.  The event was generously sponsored by Harrisons of Greyabbey and David and Helen Harrison can be seen presenting the trophy to Rachel Brunton.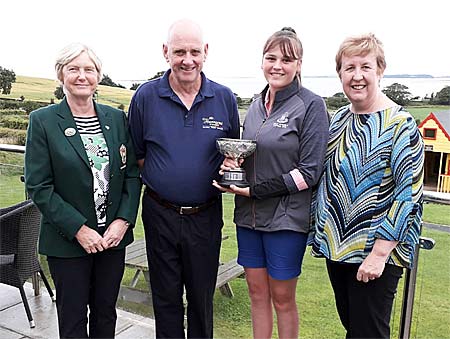 Rachel was a comfortable winner on the day, starting and finishing her round strongly to reach 37 points, beating Penny Patterson into second place.  Section winners were Brooke Stranaghan, Lady President Judith Purdy and Sandra McNeilly.  Hazel Caldwell won the 9-hole competition.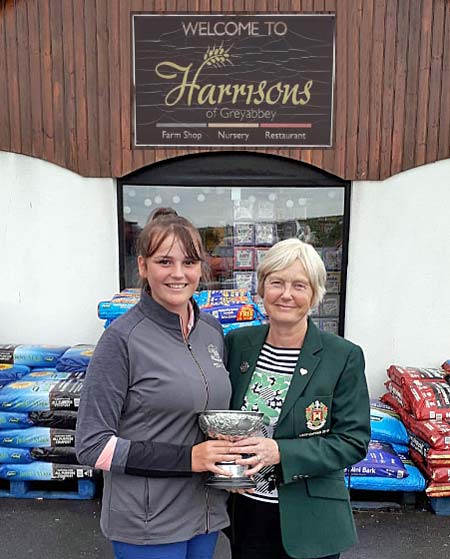 Lady Captain Valerie McIlveen was delighted to see another young golfer doing so well and Rachel is one of a trio of young ladies including Ella Ross and Brooke Stranaghan that the ladies' section is so proud off.  Lady Captain has also noticed the emerging talent of Alex Roberts who has now joined this clutch of young golfers who all have a promising golfing future.
Harrisons of Greyabbey.  Nestled on the shores of Strangford Lough and situated on the outskirts of the picturesque village of Greyabbey (1.5 miles south of Greyabbey on the A20), Harrisons offers a fully stocked Nursery, Farm Shop, and Restaurant, everything you need for a lovely day out in this beautiful part of the Ards Peninsula.
---
FRED PERRY TROPHY UPDATE


After a disappointing result last Sunday our Fred Perry team travelled the 200 mile round trip to Newtownstewart requiring 3 matches to progress to the semi-final of the Fred Perry Trophy – and progress they did!
---
IRISH FOURBALL TEAM BOW OUT

Donaghadee had another mountain to climb in the second leg of their last 16 clash at home to Rockmount on Sunday, trailing by 4 and a half to a half match and 15 holes.. The team were still optimistic having managed a great comeback in the last round. However, Rockmount were recent finalists in this tournament and started much the stronger leading in 3 of 5 matches early on.
---
LADY CAPTAIN'S DAY
Congratulations to Freda McQuoid who won Valerie McIlveen's Lady Captain's Day.  Glorious sunshine bathed the North Down coast and the whole of Ulster while Freda composed a round of 34 points.  The highlight being a birdie three at the 11th, complimented by sound pars at 5, 7 and 13.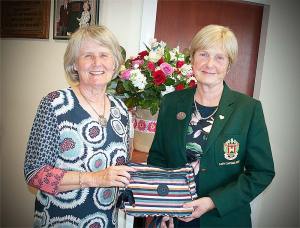 Just a slender point less were the four section winners, Penny Patterson, Janet Adams, Cynthia Smith and Jennifer Nevin.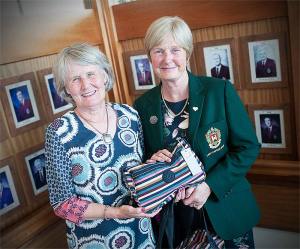 As is traditional, the Lady Captain invites men to play a 13-hole competition later in the day and towards 9pm Valerie was applauded into the John Nelson Room when she presented Mark Farrell with the winning prize, a beautiful golfing picture by Pebbles from the Dee (a local business) as a reward for his 31 points.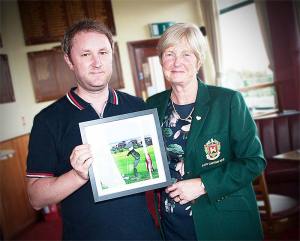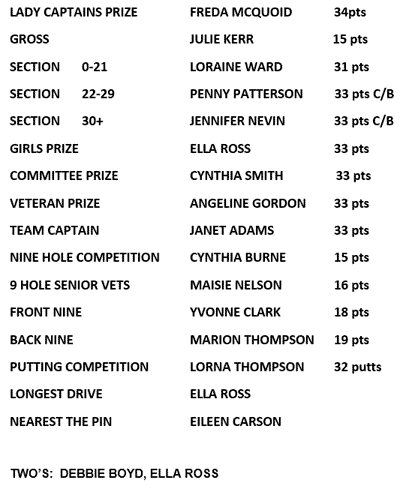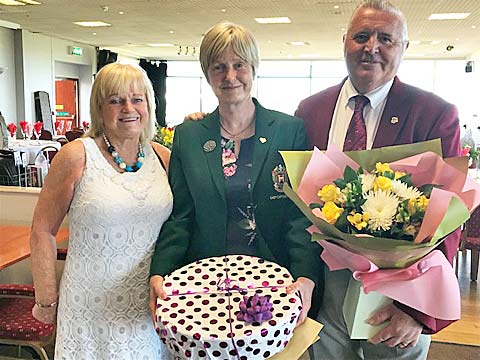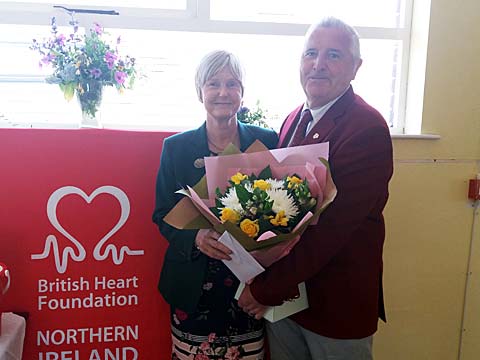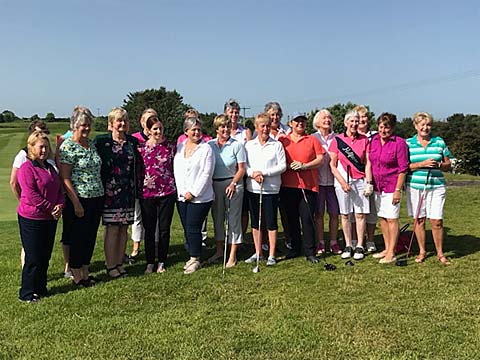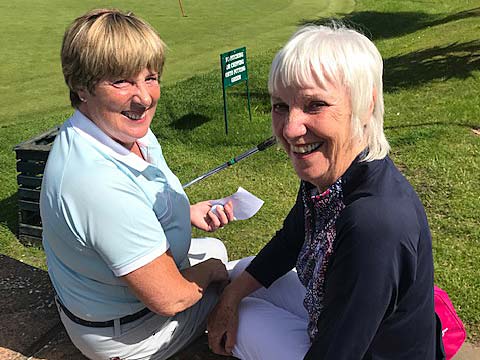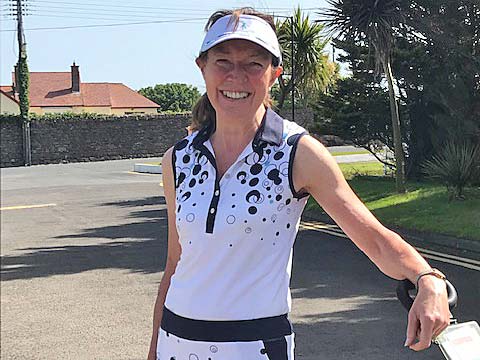 ---
PRESIDENT'S DAY
Congratulations to Gareth Boyd who won President's Day with a magnificent gross 64.  Just two short of the course record, Gareth put together a round of 44 points that included eight birdies, six of them on a flawless front nine.  Gareth can be seen collecting his trophy from President John Caldwell.Other winners were Mark Weatherall (Best Gross), Brian Miller (Best Veteran), Paul Swenarton (Best Restricted) and Tom McNulty (Best 9-Hole competition).
The President was blessed with magnificent weather, a fabulous attendance at his evening function and a fly-past by the Red Arrows!!!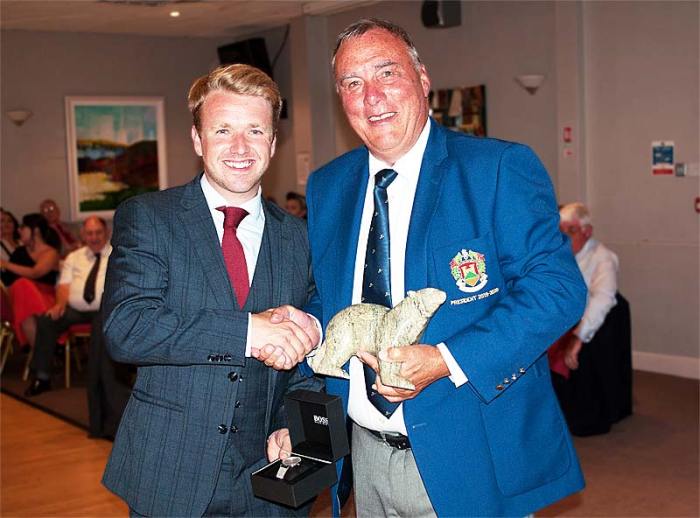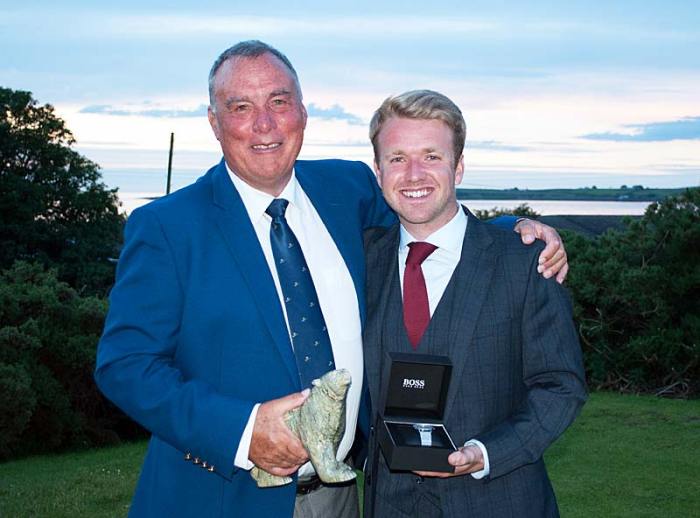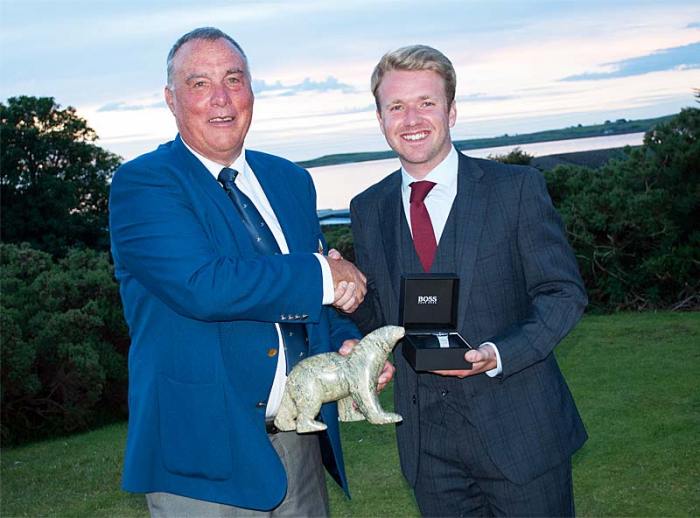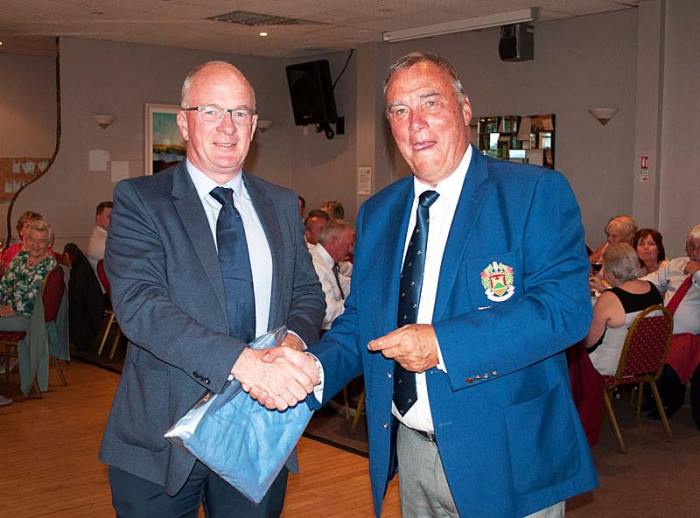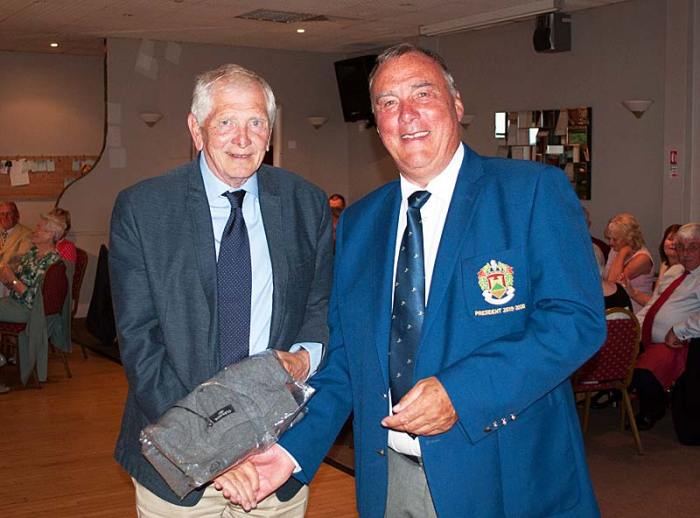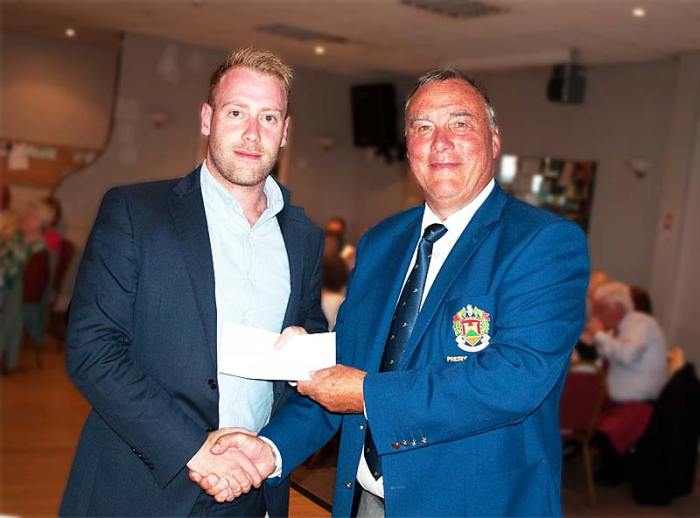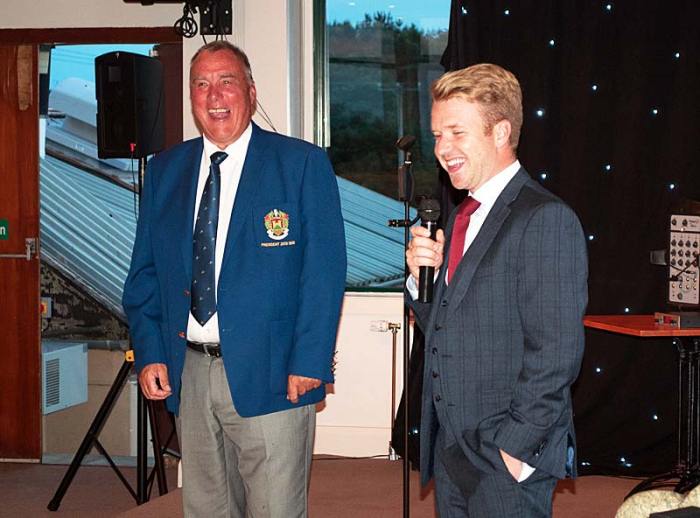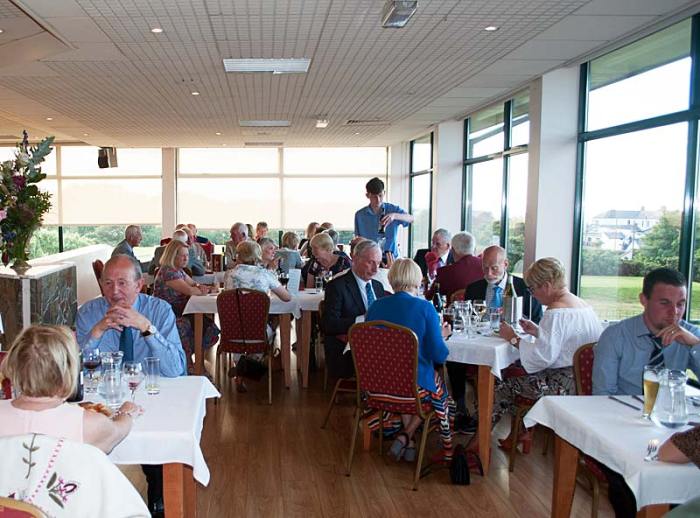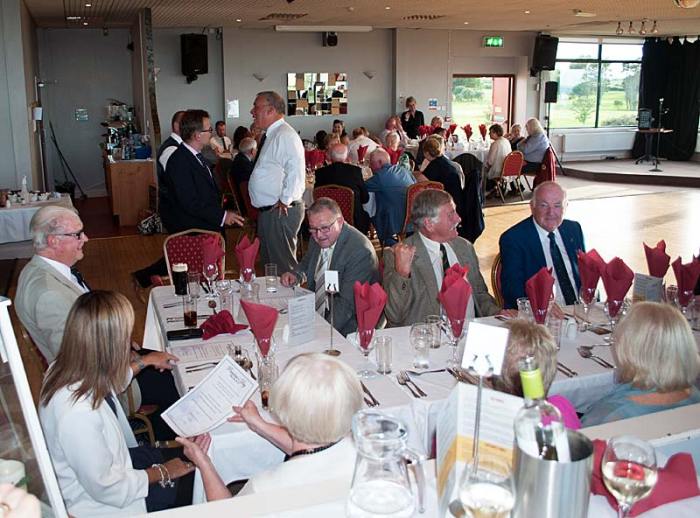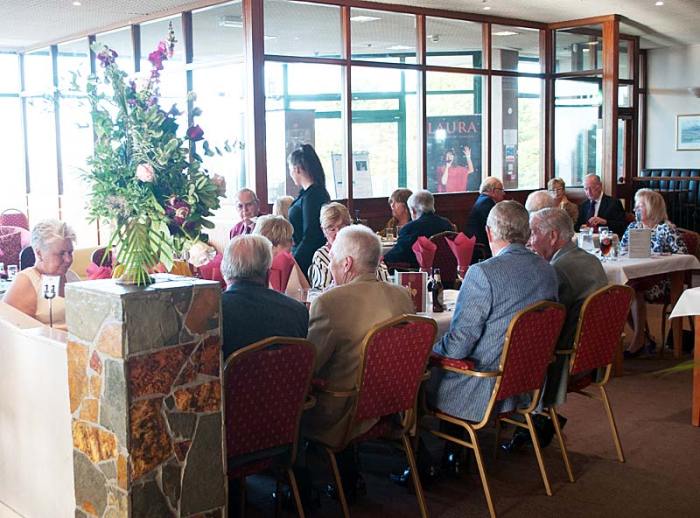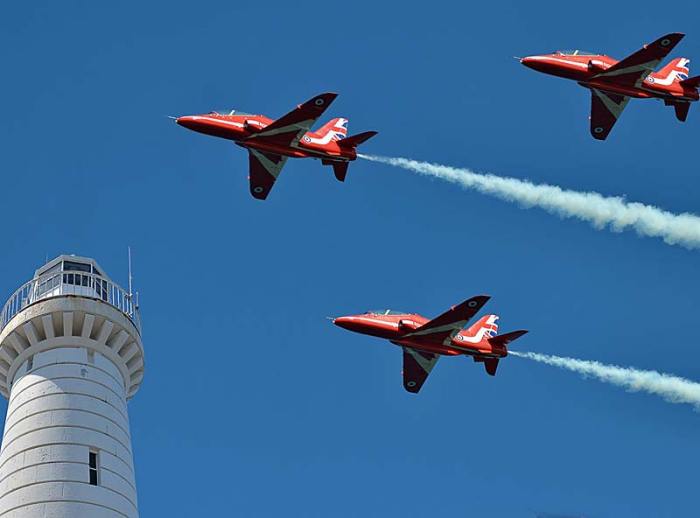 ---
MIXED FOURSOMES AGONISINGLY LOSE ON THE LAST GREEN

Last night saw "The Dee" mixed foursomes team nearly pull victory from the jaws of defeat against an exceptionally strong Mannan Castle side. It was easy to see how in recent years Mannan had done well in the mixed, including an Ulster title a few years back.
---
FRED PERRY SENIOR FOURBALL

On Thursday night the Fred Perry Team played their home tie versus Portadown G.C. for a place in the quarter finals.
---
CLUBHOUSE REFURBISHMENT
As part of the next phase of Clubhouse refurbishment it is intended to repair and paint the rear section of the clubhouse, the rear hallway from the lift to the kitchen door down to the gents locker room and up the main stairway and the landing to the Elsie Brown room.
This is a significant area and is definitely a contract for a professional painter. The club is seeking three quotes for this work. As there are a number of professional painters members of the club Council has decided to ask if any of these members wish to provide a quotation to carry out the work in the first instance.
The Club as always will select what is judged to be the best value for money and the contract will be awarded without prejudice. Only those with the required public Liability insurance will be considered.
Please contact Secretary Manager to express your interest.
---
LADIES LIFEBOAT OPEN TROPHY
Yvonne Clarke was the winner of Donaghadee Golf club's first ladies open competition of the year. The day (Tuesday 28th May) was sponsored by John Minnis Estate Agents and all proceeds went to the RNLI.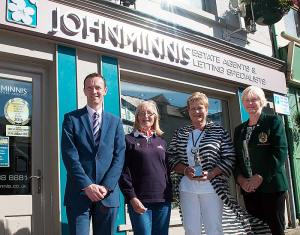 ---