JUVENILE COMPETITION – JACK TORRANCE CUP
Due to the Ulster U14s Boys Championship being held at Donaghadee Golf Club on Monday 10th August, the scheduled Juvenile competition the Jack Torrance Cup has been postponed. Details of the rearranged date for this fixture will follow.
---
THE DISTRAUGHT CADDY
Only the other day I spied a golfer on another fairway dropping a ball from shoulder height. I'm sure most of you will immediately have recognised that they were wrong, but maybe not everyone will have remembered that this was one of the rules that changed last year.
If you've been playing under the new rules for the past year, how well do you know them?  I'm sure it took most of us a few weeks to get out of the habit of lifting the ball to our shoulders to drop it, but hopefully dropping from knee height is second nature now.  The current Covid-19 regulations have banished the "whether to leave the flagstick in or take it out" dilemma, but what about the rest of the rules?

I've taken a few quiz questions from a golf website so you can test how well you know the rules.  The answers are at the bottom, but don't cheat!  Scribble your answers on a piece of paper and don't look at the bottom until you've answered them all!
---
JUVENILE NEWS
After discussions between the Juvenile Convenor, Girls Convenor, some parents and long-time volunteers – it has been decided:
The 'A' section will play 18 holes from men's white and ladies Red tees. The 'B' section will play 9 holes from men's yellow and ladies red tees.
The 'C' section will play 4/6 holes from the blue tees. The second hole being played to the blue flag.
We will also have some development sessions for the 'C' section most days.
A & B section handicap adjustments will be mainly carried out on the computer, while with the 'C' section any reduction will be made after discussion between myself and Yvonne (Girls Convenor).
The aim of this is to enable all our juveniles to enjoy their game and progress their talents.
Jim Gunning
Juvenile Convenor
---
JUVENILE GOLF
Juvenile Golf competitions at the Club will start on Monday 13th July and continue on Mondays and Thursday until the end of August.  The Albatrosses (A section) playing 18 holes will tee off from 2.00pm followed by the Eagles (B section) and finally half of the Birdies (C section). It is hoped to do a draw and the names should be on the BRS timesheet by Saturday afternoon.  To avoid overcrowding at the moment players should only arrive at the Club fifteen minutes before their tee time to get ready for play.  As there are relatively few in the first two sections most players will tee off before 2.30pm.  Cards can be collected from the Pro Shop before heading to the first tee box.
It is important that players and markers follow the current Protocol guidelines re score cards.  Each player will mark their own card as Player A and the score of one other player in the group on the left-hand side.  Agree your scores after each hole and at the end of the round.  Total your score and sign your own card; put the initials of the person you are marking against their total score (strokes or points as appropriate) to indicate they agree.
We have asked for a nominal upfront payment to cover all of this summer's competitions to avoid the use of cash but unfortunately as the Office is out of commission from today, and all of next week, for refurbishment, they cannot accept card payments.  Cheque or cash can be left at the Pro Shop in an envelope clearly marked with the players' names.
The Birdies section is very large, and we would ask for parents to assist with them either on the course or on the practice academy.  Volunteers are welcome from non-parents and should be at the Club from about 2.15 ready to either walk the course with Eagle section or Birdie section or assist on the academy or putting green.
It is vital that parents or guardians collect the children promptly after play as the Clubhouse is currently closed and there is no catering at the moment on the competition days.  Toilets are available in the Locker Rooms.
Thank you for adhering to all these extra guidelines and enjoy your golf
Fiona Hicks
Lady Captain – Chair Juvenile Committee
---
DONATION TO TINYLIFE
Immediate Past Captain Jim Gunning had named TinyLife as his nominated charity for his year as Captain 2019.  He was very pleased to present a cheque for £1,896 to Valerie Cromie and expresses his sincere thanks to the Club membership for their generous donations.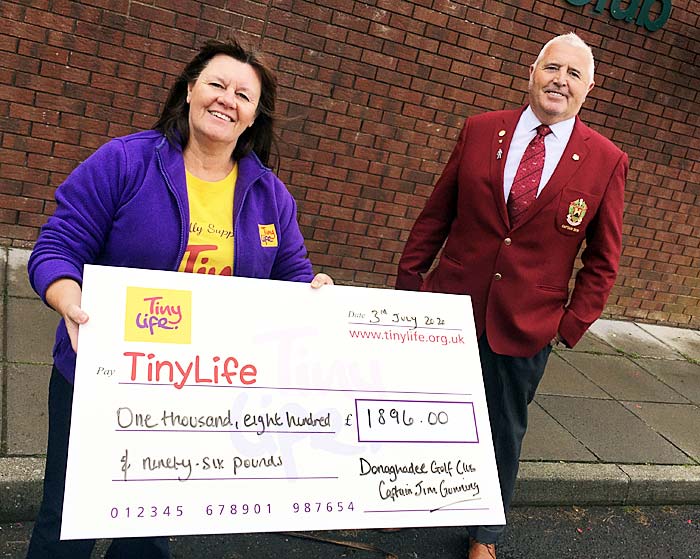 ---
COURSE PHOTOGRAPHS AVAILABLE
You may have seen our new promotional video of our course, professionally created by Jonny McBride.  Jonny has now made available some photographs of the course that our members may be interested in purchasing for display at home.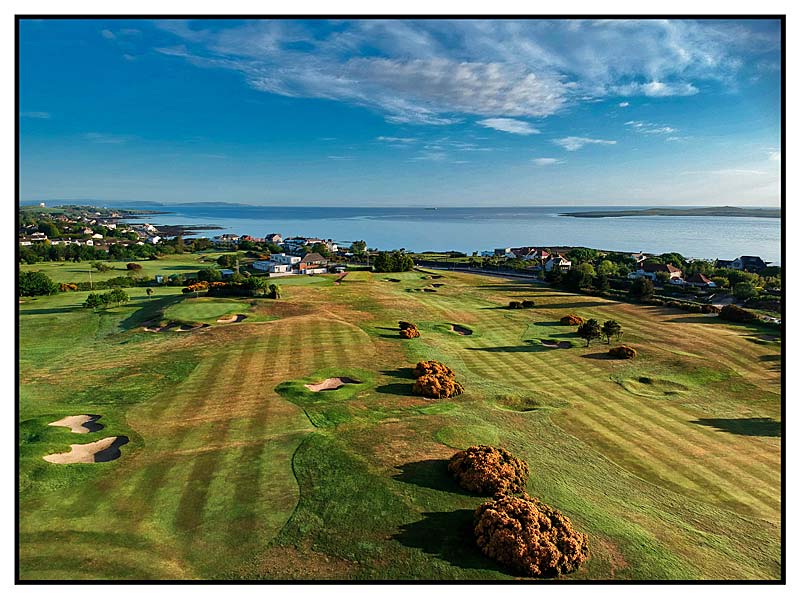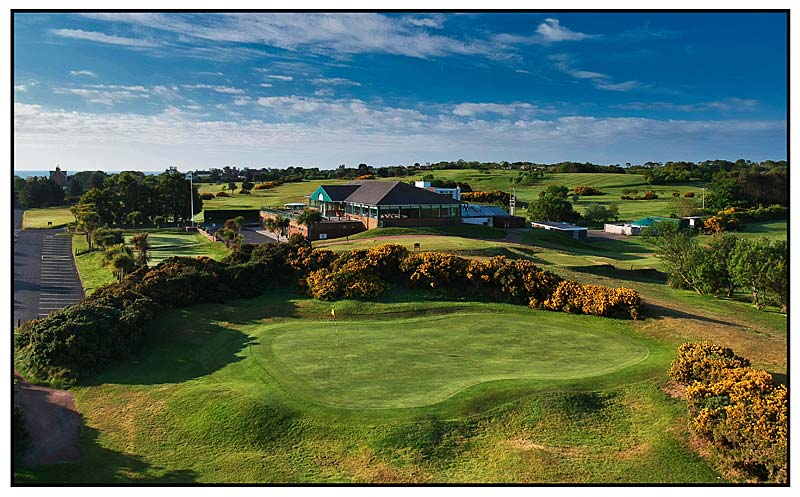 If you are interested then contact Jonny by email (jonny@jbphotographyonline.com) or mobile (07925294815)
Jonny McBride @jbphotograpghyonline – click the image below to view the website.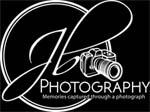 ---
CAPTAIN'S UPDATE
Hi everybody,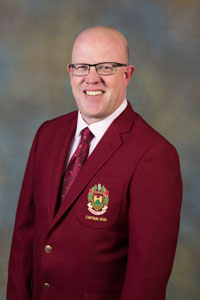 Welcome to my fifth Captain's update.
It is nearly a month since I last wrote to members. It is amazing how those weeks seem to have flown by since the course reopened for play on May 21st. We were blessed with a sustained period of good weather following reopening which saw huge numbers taking the opportunity to play and reacquaint themselves with just how wonderful our course is. Competitions have now resumed, and not being able to play golf is already becoming a distant memory.
As lockdown continues to ease and with more members returning to work, pressure on the timesheet has reduced. This has meant we can now give the opportunity to members to bring guests to play across Monday to Friday. We have a green fee rate offer, initially just for July, where discount off the standard rate is available after 4pm each day. In addition, house members, guests under 25 and any adult playing with a juvenile member can avail of the discount before 4pm as well. We hope to be able to open seven day booking for guests, as well as other visitors and Society groups soon. A key factor in this decision is around the impact on timesheet availability for members. I have asked John Caldwell's workstream team to look at this as well as a wider piece of work on how we manage the timesheet going forward.
As far as we have come in a relatively short period of time, it is important to remember that we are only actually in Step 3 of the Return to Golf Protocol and we have a long way to go to before we come out of the end of the overall Protocol process. With the passing of time members could be forgiven for forgetting that there are still many rules in place. We have seen some slippage around adherence, particularly with course arrival times and, more worryingly, members turning up to play without a booking. Compliance with the Protocol procedures and our own local rules are what makes it possible for us to be open so for everyone's safety please stick to the rules.
This weekend sees another milestone with the reopening of the restaurant. I have had queries around why the Club would open if it is only the restaurant. Simple answer is that Joe and Cora and the JAG catering team were keen to open. JAG have been brilliant for the Club since taking over the catering franchise and it was important that we support them as well as offering our many House members further access to the Club. The restaurant is initially open across Friday to Sunday.
Current legislation prevents us from selling any alcohol indoors without food. We will continue to review whether a limited opening of the upper balcony is feasible. With use of the balcony being totally dependent on the weather we will assess on a week by week basis and will update members when any opening is planned.
Members will be aware that in recent times the Covid taskforce team have operated with delegated powers afforded to us by Club Council. This week Council met via Zoom and at this meeting it was agreed that these delegated powers should cease. From July we will revert to the workstream structure outlined at February's SGM. The four workstream groups led by Matthew McLain (Membership), John Caldwell (DGC Having Fun), Greg McDaid (Sustainability) and Neil Bailey (Finance) will look after all issues under their span of control and report directly into myself and Council. It is hoped that July's Council meeting will be able to be accommodated on a face to face basis. Can I record my sincere thanks to the taskforce team of John Caldwell, Richard Caldwell, Davy Porter, Greg McDaid, Neil Bailey and latterly Fiona Hicks for the extraordinary level of support they have given to me.
During this week we will have seen all our furloughed permanent staff return to work. The majority have returned on a flexi-furloughed basis whereby they can work some of their hours and can still be covered under the Job Retention scheme. Clearly the environment these colleagues are coming back to is a different one they left. Our primary concern is for their safety as well as the safety of our members and we ask that members be tolerant of the processes in place. The wider clubhouse will remain closed Monday to Thursday although access to the office, locker rooms and toilets will be available each weekday.
This week the draws were made for the GUI competitions that are going ahead this summer. Three teams have first round byes. The Jimmy Bruen team will play Blackwood in round two; the Junior Cup team will take on Shandon Park and the Ulster Cup team will play the winner of the first-round match between Ardminnan and Scrabo. The Senior Cup team have a first-round match against Bright Castle and the Pierce Purcell play Royal Belfast. My best wishes go to all the Team Captains and their respective squads.
Our work in the clubhouse continues apace. Virtually all the inside walls have now been repainted and the flood repairs to the first floor Gents are complete. We are also in the process of installing new flooring in the previously tiled part of the John Nelson room and along the first-floor corridor. We have also taken the opportunity to reconfigure some of our wall displays around the Club and I am delighted that our Juveniles now have their own designated display area. Over the long July weekend, we will be giving our office a much-needed makeover and the office will be closed on Monday 13th and Tuesday 14th. As I say in every Captain's note, the level of volunteer support in the clubhouse and on the course has been simply brilliant and thank you to every one of you who has been involved.
Can I also take this opportunity to thank all members who have volunteered for shifts in the Starters Hut for the tee-time hours after the Pro-Shop is closed. Tonight's shifts will take us to over 260 hours covered by volunteers since reopening which is incredible.
Last month we shared with members a brilliant video showcasing the course from above. Many of the photos used in the video are available for members to purchase as portraits directly from Jonathan McBride who made the video for us. His website is Jbphotographyonline.com and you can get email and telephone contact details directly from the site.
This week we have written to parents of all Juvenile members outlining our plans for the summer programme which we hope to start on July 13th. As you would expect, this year's programme will need to see some differences to the traditional format. One of these changes will see Juvenile competitions now taking place on Monday and Thursday afternoons. We will look to ensure that any changes will not detract from the key aim of our younger players enjoying some competitive golf in a friendly, fun environment. Our fixture list may be subject to some amendment and it is likely that we may need to add the odd additional fixture on a Saturday or Sunday afternoon to get the programme completed. Plans for Juvenile Captains Day will be confirmed when we are clear on the impact of school return dates.
Good luck to everyone entering Club competitions this week. I hope the weather is kind.
Stay safe and enjoy your golf.
Trevor Simpson
Captain
---
RESTAURANT
On Friday the Club will re-open as a restaurant not a bar. In line with legislation alcohol will only be served with a substantial meal.
In keeping with the protocol laid out by Hospitality Ulster we must make a number of changes as laid out below;
Before you arrive – if possible, please book by calling the club and selecting option 5.
When you arrive – please enter through the front door only and keep left. At the entrance to the Walter Smiles room you will be met and the names and contact details for your party will be recorded. You will then be shown to a table. You will have that table for a maximum of 2 hours. Last orders for drinks and food will be 45 minutes before closing at 9pm Friday and Saturday, 7pm Sunday.
When you order – The menu will be simplified from what we normally expect. Alcohol may only be ordered along with a substantial meal, defined in our case as a main item on the menu.
When your order arrives – You may notice a few changes in how food and drinks are served, you may be asked to lift your order from the tray yourself. This is to minimise the amount of handling of plates and glasses.
When you pay – in keeping with a number of retailers, if you can, please pay with a card or by your bar card which may be loaded using contactless.
When you leave – Please register with the greeter that you have departed and leave by the main stairs again keeping to the left. It is also requested that you vacate club premises immediately.
The Club recognises that these restrictions on how we use the facilities of the Club are novel but they are there for the safety of both diners and club staff. The Council has asked staff to manage these procedures with a zero tolerance to variation and may we ask you to support them in this.
Greg McDaid
Honorary Secretary
---
ALPINES GOLF SOCIETY

Just a brief update, the Alpines will restart on Thursday 1st October and I've been afforded the opportunity to continue as captain for another year which of course I accepted.
As you are all aware the away day was postponed and I imagine this will now take place March next year.  When we reconvene, we can decide to cancel the booking or carry it over to our next date.
On a sadder note I know you will all join with me in sending our deepest sympathies to Brian Walsh at this sad time after the death of his son Jonathan.
Ray Logan
---
COMPETITION GOLF
This Saturday (20th June) will see the start of the competition's. There will be a 9&18 hole competition, the 18 hole will be the Cyril Lord.  To ease the congestion on the time sheet both competitions will be run over two days, Saturday and Sunday.
Guidelines will be emailed out on how to return your card digitally and I would encourage as many members as possible to use this method . For those that can't return the cards this way a box will be on site, details to follow.
I would ask the members to be patient as the return of cards has never been dealt with this way and we are learning as we are going. Hopefully there will be no issues as the testing went as well as possible. Please note the results will not be available as quickly as they usually are.
Enjoy your golf and stay safe
Match & Handicap
Philip Robinson
---
DONAGHADEE GOLF CLUB
Sometimes when we are strolling down the fairways, we only remember our last poor swing or how badly we played the last hole. A deep breath later, all we need to do is remember how fortunate we are and what beauty we have surrounding us at Donaghadee Golf Club.
If you are interested in;
Joining a family friendly club
Playing all year round
Enjoying a sea view
Please contact the office for membership enquires across a range of categories at office@donaghadeegolfclub.com
Media credit. Jonny McBride @jbphotograpghyonline – click the image below to view the website.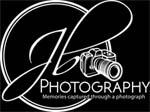 ---
CAPTAIN'S UPDATE
Welcome to my fourth Captain's update.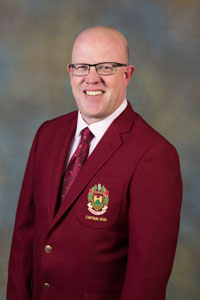 It is the first update I have been able to write where we have had a golf course open for play. The last couple of weeks since reopening have flown by and at the time of writing we are now already in preparation for the move into Step 2 of the Northern Ireland Protocol which Is available from Monday June 8th.
Before anything else, I want to publicly record my sincere thanks to all those who worked tirelessly to ensure we were able to open promptly after the return to golf was authorised. Our staff, our Professionals, our COVID taskforce and our hardy bunch of volunteers were simply brilliant in pulling together to make sure we delivered golf back to our members.
Feedback from you has been overwhelmingly positive. I had previously asked for members understanding and their tolerance and I have been delighted with the response. In the main, behaviour has been exemplary, and I extend my thanks to members for this. I will comment more specifically on reflections from Step 1 and on Step 2 challenges later in the note.
As members would expect, much work continues behind the scenes to ensure the Club is successfully steered through these extraordinary times. The taskforce still meets via conference call twice weekly and this group will oversee all COVID related actions. This week we have also had a meeting of the full Council via Zoom. These meetings are only for 60 minutes but we seem to be able to cover a lot of detail. There may be a message here around how meetings should look post COVID 19. Certainly, saves the Captain on his bar bill!
Over the past 3 weeks we have seen the phased return of our furloughed greenkeepers. I know from direct feedback that members were delighted by the impressive standard of the course given the circumstances prior to reopening. Now, for the first time since lockdown, we have all 5 course employees back on the course. James, together with the Honorary Secretary, have agreed a 3-week plan to bring the course back to full order. I would ask members to be patient as this work is completed.
Rosemary has now moved back to working from the Club office. The office workload has increased markedly over the last couple of weeks. Who knew so many people were not registered on BRS! I am extremely grateful to Maggie who, at short notice, came back in off furlough for a few days to give Rosemary some well-deserved support. I would remind members that the clubhouse is though still closed and that visits to the office should only be by exception.
Members will recall that there were consultative exercises ongoing around the feasibility of Team golf this year. The survey of all Ladies Committees, conducted by the ILGU, resulted overwhelmingly to sadly cancel all Ladies competitions. For the surviving GUI competitions, I had asked Team Captains, along with their squads, to make the decision on our participation. I was delighted with the positive responses and can confirm that Donaghadee will compete in the Ulster Cup, Senior Cup, Junior Cup, Jimmy Bruen, and the Pierce Purcell.
We have finally been able to mark the membership renewal period complete for adult playing categories. This has proved to be a challenging exercise in nailing down the final outcomes from those members who had not proactively contacted us. The final figures were unfortunately more disappointing than I had outlined in my last note. From last year's membership roll we saw 56 adult members resign across all categories including 33 full members. Disappointingly, given our strategic aim of growing our female membership, most ladies who joined under the Get into Golf programme in 2019 have chosen not to renew.
We are clearly not alone in losing significant numbers of members this year. Some of our local neighbours have rushed to offer short term deals to help support cash levels. As a club we have not followed suit. Our view was that it was not fair to offer a membership that gave a new member the chance to only pay for the premium summer months whilst existing members are supporting us all year round. The super news is that through our existing core membership packages we have attracted 30 new playing members over the last 3 weeks. These include 8 full members, 12 flexi members and 10 younger players.
Clearly the net loss of subscription income is a blow. However, the Honorary Treasurer, with support from the Honorary Secretary and the Sustainability workstream, have built this subscription reduction into our budget forecasts for the year. Members will appreciate that given the uncertainty around the return of key income streams from the bar and green fees, some forecasts will need to be assumptive. As such, we have adopted a worse-case scenario approach around income forecasts and will hope to be pleasantly surprised if some form of normality comes sooner than anticipated. Costs are being robustly managed and, as highlighted in previous notes, we are maximising all financial support available to us. Members should be confident in the resilience of the Club to come through this most challenging set of financial circumstances. All of us can help play a part by actively supporting the Club when the clubhouse reopens later in the year.
I continue to be humbled by the level of volunteer work being delivered on the course and in and around the clubhouse. The financial savings of this work is huge and is such a boost to the Club.
Members will have seen the beautiful flowers in the hanging baskets at the Club entrance. There are also additional displays on the balcony which will be well established by the time we are able to return into the clubhouse. Thank you to all concerned with a special mention to Lynda Lister, Thelma McMurray, and Joan Groves.
On the course, with the reduced number of greenkeepers, the support has been vital to look after some areas, such as the Practice Academy, which otherwise would have been left.
The clubhouse work continues. Work in the John Nelson Room, the ladies locker room, the Elsie Brown Room and the second-floor kitchen is now complete. Painting of the Walter Smiles Room and the first-floor hallway is also now underway. On investigation of a slight rise in the floor of the first floor Gents toilet we uncovered a significant leak. Unfortunately, the leak has clearly been there for some time and the damage means that the floor needs totally replaced. Again, through the skills of our volunteers, replacement costs should be restricted to materials only.
Can I also give a big thank you to Neale Jenkins, not only for his greenkeeping talents, but also for organising a promotional video for our Club. The free video will we shared with members via social media over the next few days. It is simply superb and showcases our course and its views brilliantly.
As I said at the outset of this note, the first couple of weeks of the course being open have simply flown by. The rules needed for Step 1 have been well observed by most members and the positive spirit displayed has made a challenging period that bit easier. It is brilliant that the course has been busy with male, female, and juvenile golfers happily co-existing at the same time.
Most local rules we put in place have worked well. On a couple of things, we got the rules wrong and we moved quickly to correct. Our biggest challenge is still undoubtably around the timesheet. Capacity is a challenge for us and that is clear to everybody who is looking at BRS. Given that knowledge, it is disappointing that a small number of members have ignored the request to restrict their number of advance bookings whilst other members are simply not turning up for their booked time. We have also seen some trends in booking that, whilst technically not outside of the rules, are certainly not within the spirit of them. I know that some members are used to playing almost every day in normal times but as I have stressed before, these are not normal times. Other clubs have more restrictive measures in place including limiting play to 9 holes, particularly at weekends. We will do our best to not introduce further restrictions, but we may be left with no choice. As we move into Step 2, capacity will be improved by the move to four-balls from next Monday. It is important that we maximise these slots and we may need to merge two ball bookings on busy days. Presently we have retained the 14-minute gap, but we will review this next week.
We will continue to open the timesheet each Friday for the following Sunday to Saturday period. I know some members have been disappointed to not secure a slot at their desired time, particularly on a Saturday. Members should remember that we are still only at less than 50% of our normal tee time capacity. We have reserved times for telephone only bookings and online booking opens to all members at the same time via BRS. Whilst the temporary first come first served method is far from ideal it is preferable to imposing any form of hierarchy to protect historical tee times that currently do not exist. Can I restate that no bookings should be attempted to be made in person and that telephone bookings should only be made by ringing the Pro-Shop number and not the office or the Professionals personal mobiles. Whilst a degree of frustration from members is understandable any abuse of our staff or Professionals cannot be tolerated. Where this happens, the Club will have no hesitation in taking appropriate action.
Council are currently reviewing proposals around the re-introduction of Club closed competitions. We will hope to announce details around these next week. As part of this we will need to review timesheet management on a Saturday and Tuesday going forward. Similarly, next week we will confirm arrangements that will start to allow members to bring a guest as a playing partner.
I finished my previous note with a plea for members to be supportive and I will take the opportunity to do so again. We are trying to work our way through the Protocols in the best and fairest way we can. It is impossible for us to please everybody all the time. The Club are happy to take any feedback on how we might improve but we need to make decisions we feel are in the best interests of the overall membership rather than just for individuals. Thank you to the vast majority for your super support.
Stay safe and enjoy your golf.
Trevor Simpson
Captain.
---
JUVENILE SECTION
We are announcing some changes to enhance the Juvenile section at DGC. As part of this, we are launching a competition open to all our Juvenile members. We are asking them to suggest a new name for the Juvenile section.
Please send your suggestions to office@donaghadeegolfclub.com
The winner of the chosen name will receive a prize. Entries close on Wednesday 27th May.
Thank you and Good Luck!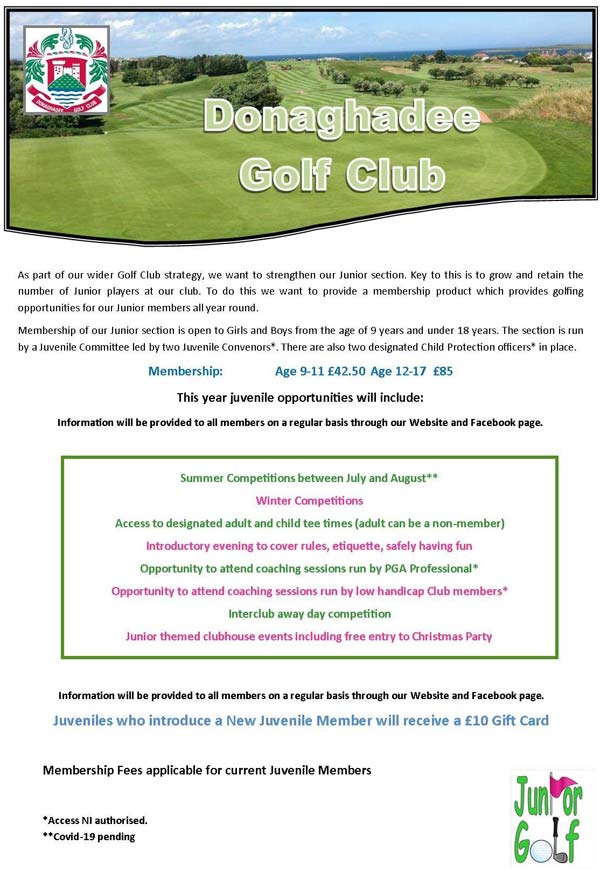 ---
---