FAMILY FUN DAY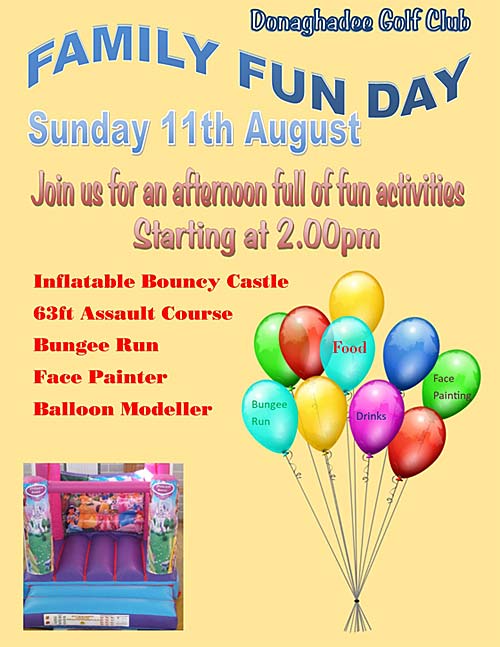 ---
FRED PERRY TROPHY UPDATE


After a disappointing result last Sunday our Fred Perry team travelled the 200 mile round trip to Newtownstewart requiring 3 matches to progress to the semi-final of the Fred Perry Trophy – and progress they did!
---
IRISH FOURBALL TEAM BOW OUT

Donaghadee had another mountain to climb in the second leg of their last 16 clash at home to Rockmount on Sunday, trailing by 4 and a half to a half match and 15 holes.. The team were still optimistic having managed a great comeback in the last round. However, Rockmount were recent finalists in this tournament and started much the stronger leading in 3 of 5 matches early on.
---
LADY CAPTAIN'S DAY
Congratulations to Freda McQuoid who won Valerie McIlveen's Lady Captain's Day.  Glorious sunshine bathed the North Down coast and the whole of Ulster while Freda composed a round of 34 points.  The highlight being a birdie three at the 11th, complimented by sound pars at 5, 7 and 13.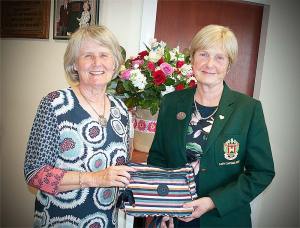 Just a slender point less were the four section winners, Penny Patterson, Janet Adams, Cynthia Smith and Jennifer Nevin.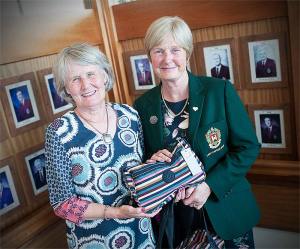 As is traditional, the Lady Captain invites men to play a 13-hole competition later in the day and towards 9pm Valerie was applauded into the John Nelson Room when she presented Mark Farrell with the winning prize, a beautiful golfing picture by Pebbles from the Dee (a local business) as a reward for his 31 points.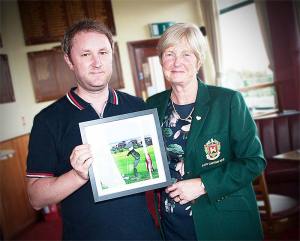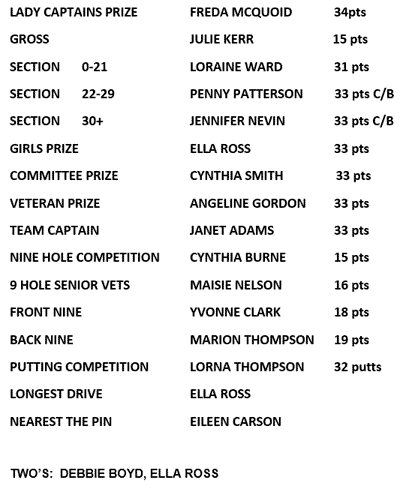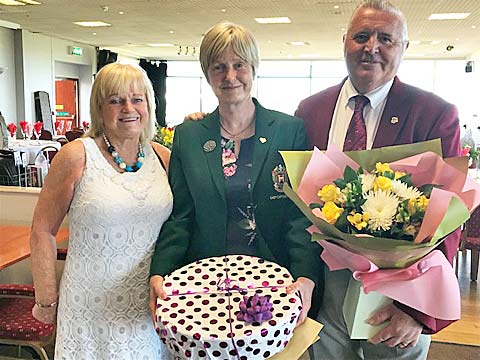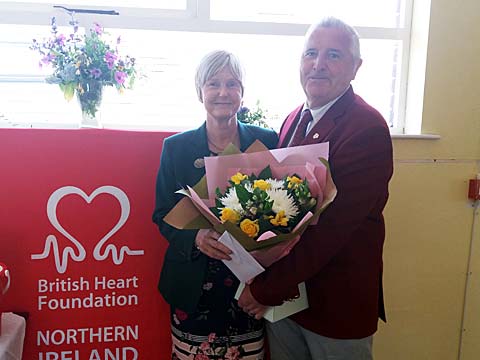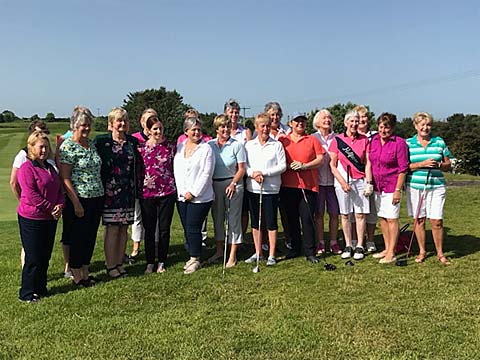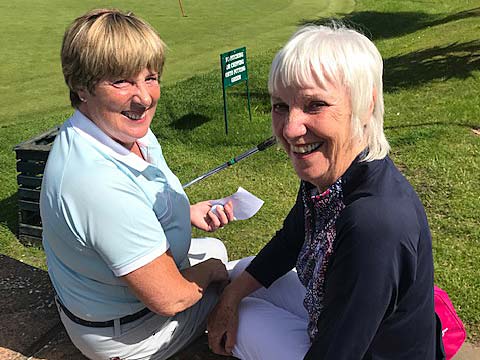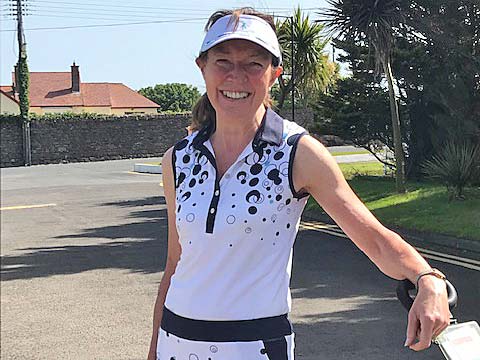 ---
ULSTER MID AMATEUR OPEN
This is a 36 Holes played at Rosapenna Golf Club on Saturday 22 June and was open to players 30+ Years of Age on the day of the Championship.  Congratulations to Ryan Gordon who finished 5th. He shot 79 and 72 for a 151 total that was an enormous credit to him and a performance that the Club can be proud of.

---
PRESIDENT'S DAY
Congratulations to Gareth Boyd who won President's Day with a magnificent gross 64.  Just two short of the course record, Gareth put together a round of 44 points that included eight birdies, six of them on a flawless front nine.  Gareth can be seen collecting his trophy from President John Caldwell.
Other winners were Mark Weatherall (Best Gross), Brian Miller (Best Veteran), Paul Swenarton (Best Restricted) and Tom McNulty (Best 9-Hole competition).
The President was blessed with magnificent weather, a fabulous attendance at his evening function and a fly-past by the Red Arrows!!!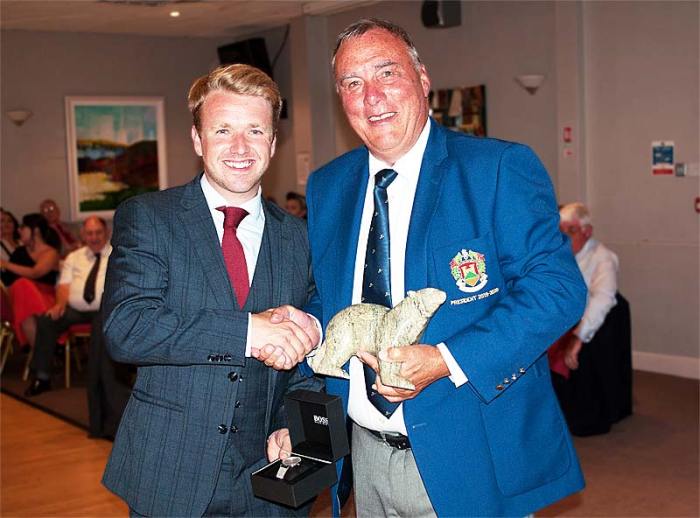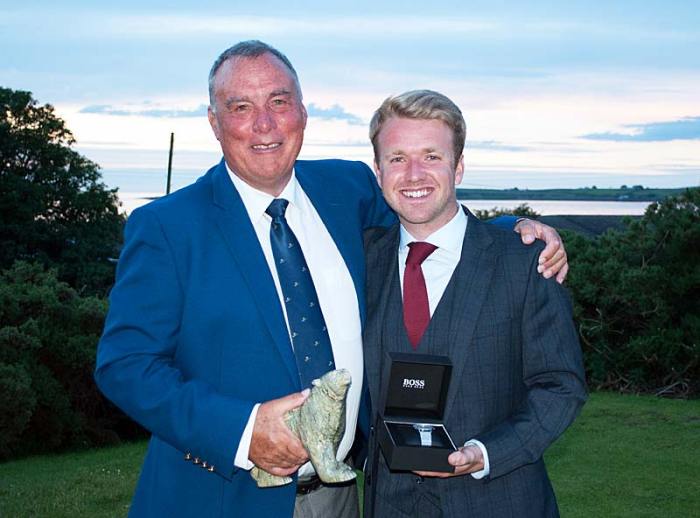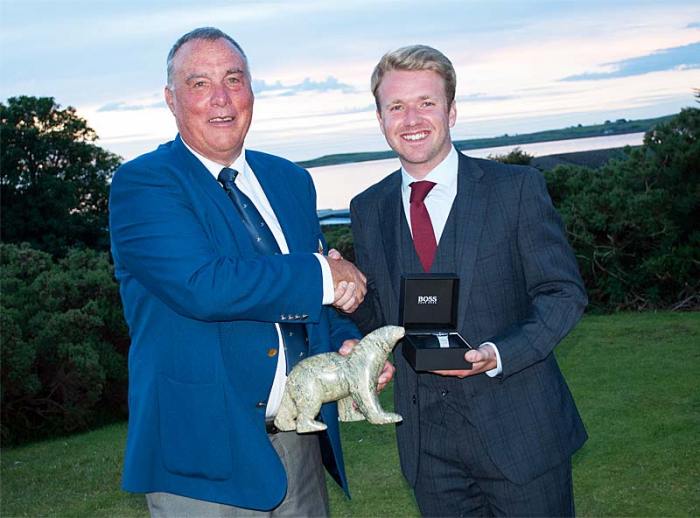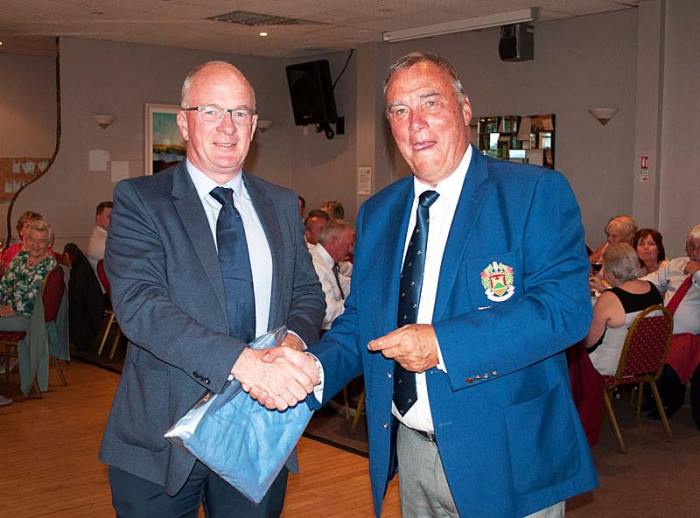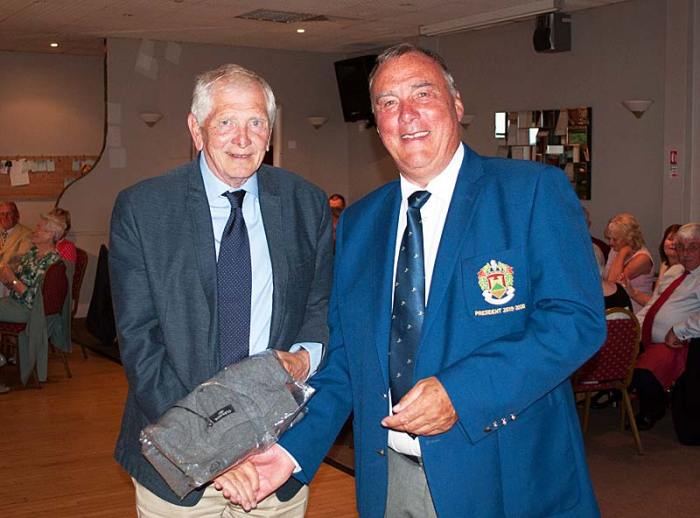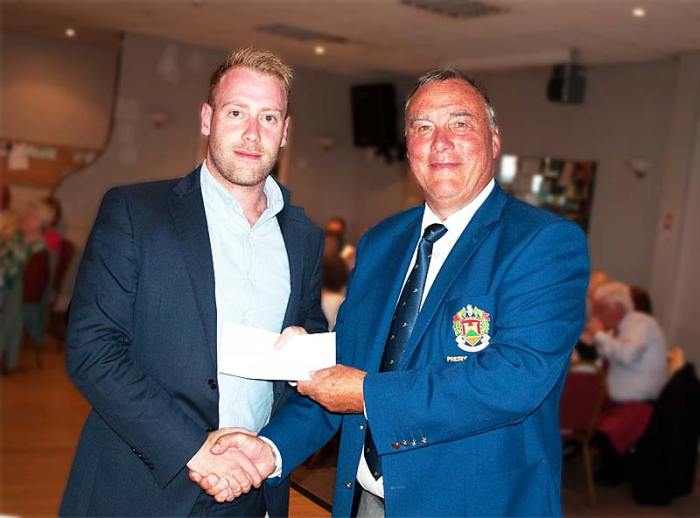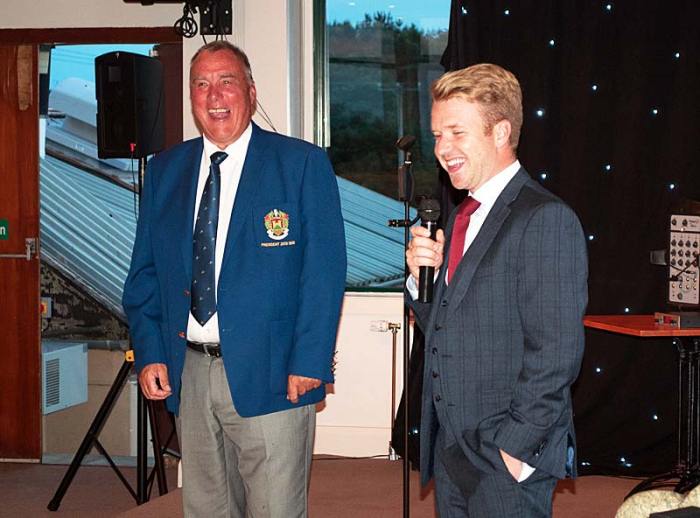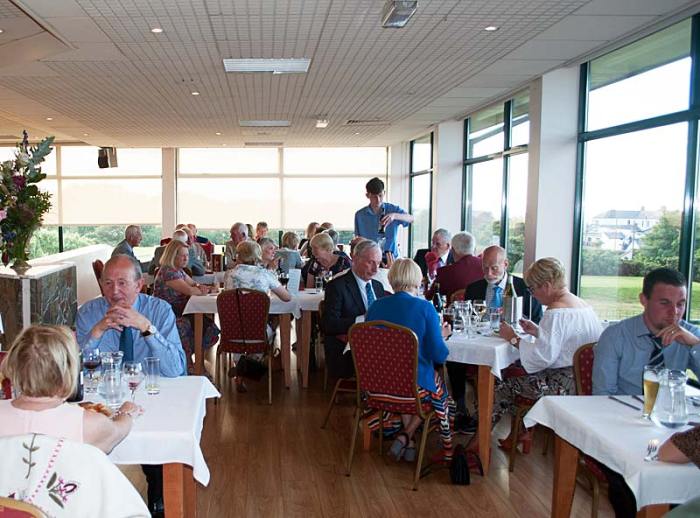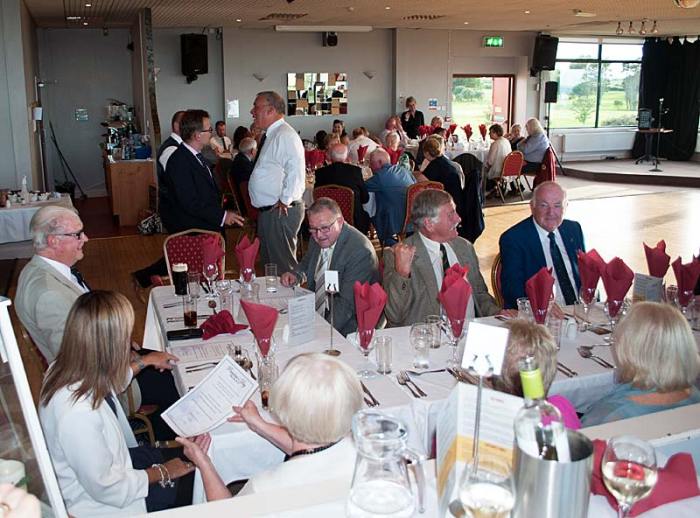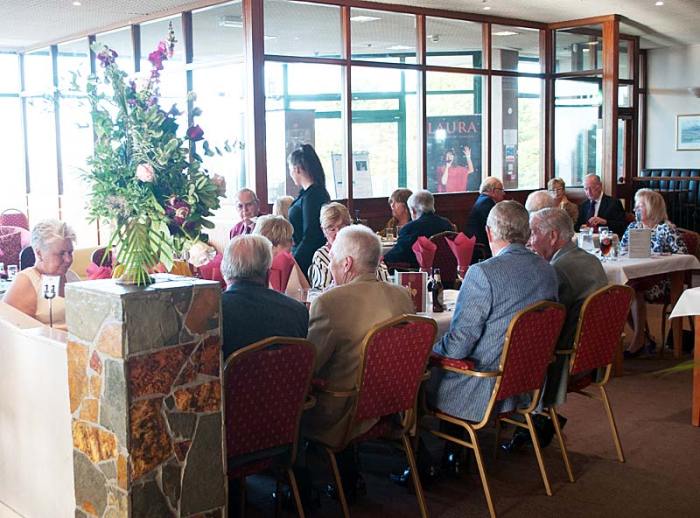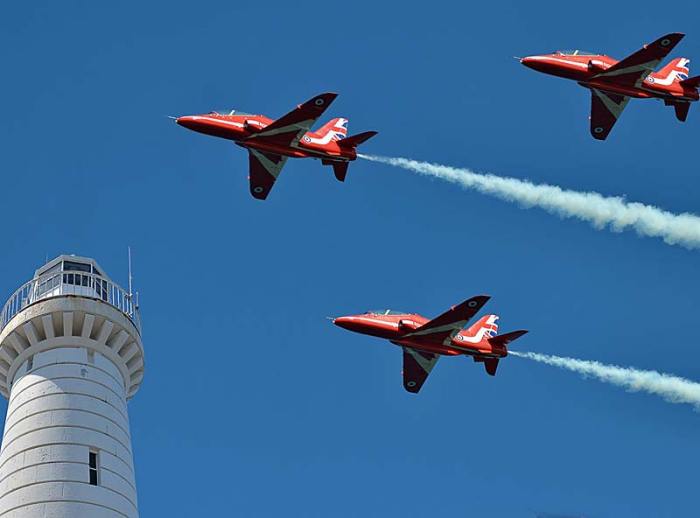 ---
MIXED FOURSOMES AGONISINGLY LOSE ON THE LAST GREEN

Last night saw "The Dee" mixed foursomes team nearly pull victory from the jaws of defeat against an exceptionally strong Mannan Castle side. It was easy to see how in recent years Mannan had done well in the mixed, including an Ulster title a few years back.
---
QUINTA DO LAGO
Past Captains of Donaghadee Golf Club Trevor Kelly and Neale Jenkins enjoy each other's company at Quinta do Lago along with Callum Jenkins who also has a footprint in the Clubs history as a previous Juvenile Convenor.  Friendship is precious, especially when many hundreds of miles is not an obstacle to special moments like this.  But who are you taking shots off?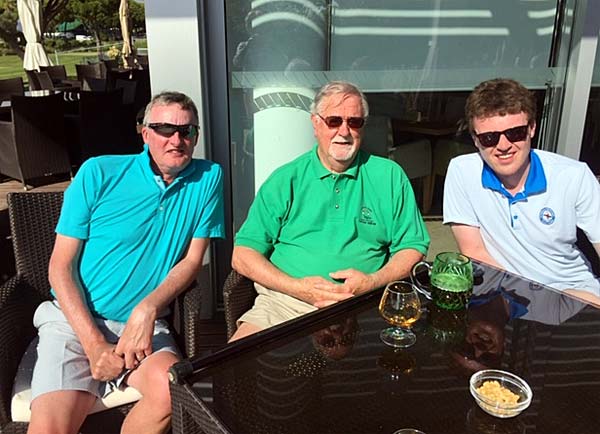 ---
FRED PERRY SENIOR FOURBALL

On Thursday night the Fred Perry Team played their home tie versus Portadown G.C. for a place in the quarter finals.
---
CLUBHOUSE REFURBISHMENT
As part of the next phase of Clubhouse refurbishment it is intended to repair and paint the rear section of the clubhouse, the rear hallway from the lift to the kitchen door down to the gents locker room and up the main stairway and the landing to the Elsie Brown room.
This is a significant area and is definitely a contract for a professional painter. The club is seeking three quotes for this work. As there are a number of professional painters members of the club Council has decided to ask if any of these members wish to provide a quotation to carry out the work in the first instance.
The Club as always will select what is judged to be the best value for money and the contract will be awarded without prejudice. Only those with the required public Liability insurance will be considered.
Please contact Secretary Manager to express your interest.
---
LADIES LIFEBOAT OPEN TROPHY
Yvonne Clarke was the winner of Donaghadee Golf club's first ladies open competition of the year. The day (Tuesday 28th May) was sponsored by John Minnis Estate Agents and all proceeds went to the RNLI.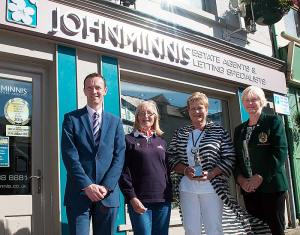 ---
DRAMATIC FINALE CLINCHES A FANTASTIC COMEBACK FOR IRISH FOURBALL TEAM

Well done to all the players involved on the day for the fantastic spirit and performance representing the club. Thanks also to the other squad players, club captain and members who came out to support the team in such horrendous weather and to witness one of the best ever comebacks for any of our club teams.
---
LADIES GET INTO GOLF
Last night (Thursday, 6th June) brought to a close this year's Ladies Get into Golf programme. Even with some of the regular girls on holiday, we had ten very eager participants in attendance.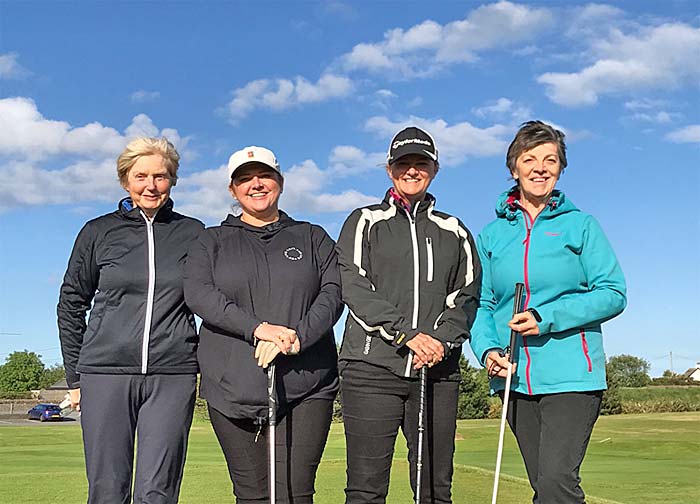 The evening was very enjoyable as we went out on the course for the first time. It is very exciting to report that a lot of the ladies are already showing great potential! We then headed back to the club house for a celebratory drink and presentation of certificates and goodies.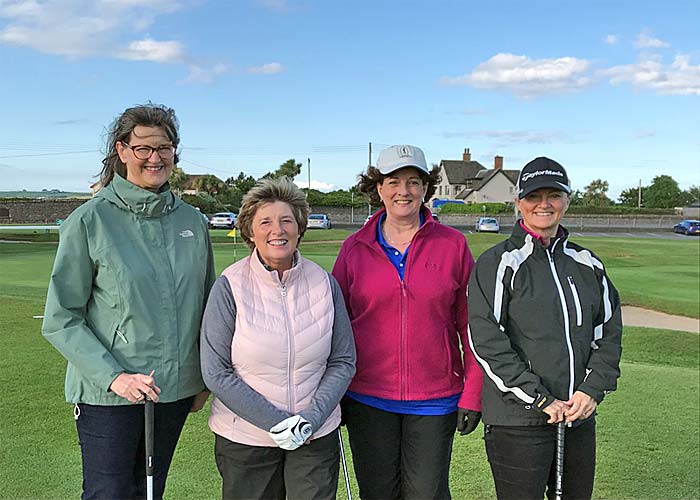 A huge thank you must go to Gordon, Craig and Julie for coaching this year's group. Also thank you to Lynda for her hard work behind the scenes and to the other Lady members of the club who helped me throughout the programme.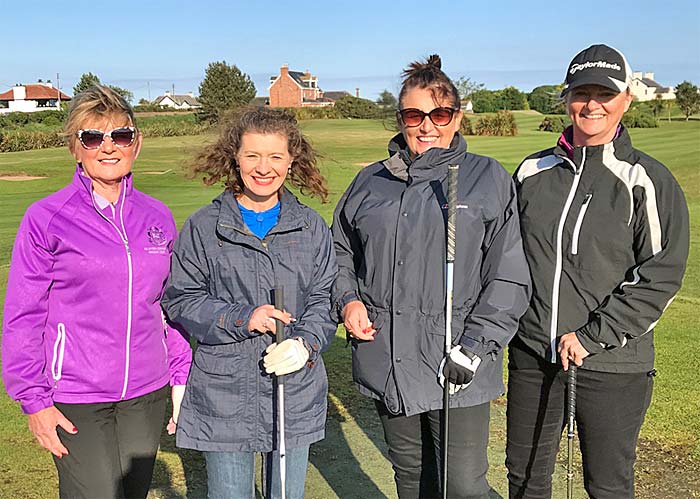 I sincerely hope that the Class of 2019 enjoyed themselves to the extent that they might consider joining our club. I am delighted to report that two of the ladies have already joined, which is great news indeed.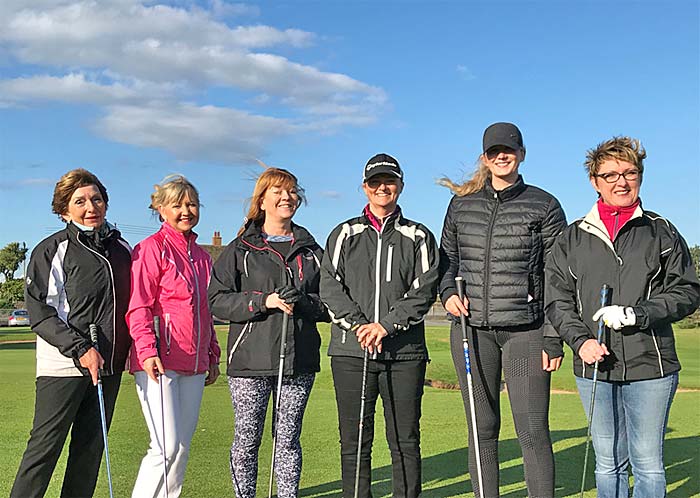 Valerie McIlveen
Lady Captain
---
FURTHER SUCCESS FOR IRISH MIXED FOURSOMES

Our Irish Mixed Foursomes team were magnificent at the Ava (Clandeboye) on Thursday, 6th June when they secured a great win over Blackwood to progress to another matchplay round against Mannan Castle, Monaghan.
---
JUNIOR CUP TEAM ARE TOP QUALIFIERS

In the worst of the conditions, Donaghadee Golf Club overcame a shaky start to lead the qualifiers at a fantastically prepared Donaghadee golf course.
---
ALL IRELAND FOURBALL TEAM LEFT WITH ALL TO DO AT HOME
Our Irish Fourball Team played the 1st leg away today against Donegal Golf Club. The final result was a 4& a half to a half defeat and leaves us with all to do next Sunday.

---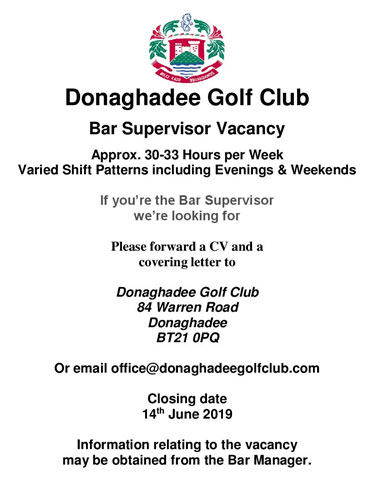 ---
CHARITY CYCLE
Our best wishes and good luck go to Ray Watts who begins a massive challenge this weekend when he will be getting on his bike to cycle from Lands End to John O'Groats in support of local charities, fightED and CAUSE.⭐️
 This epic cycle will see him pedaling one thousand miles over the next two weeks – finishing poignantly at the end of Carers Week! 
 You can support Ray by helping him raise some much needed funds to support many people affected by someone living with a complex mental illness and/or an eating disorder.
You can sponsor Ray here:
https://www.justgiving.com/fundraising/ray-fundraiser
---
JUVENILE COMPETITIONS 2019

Details of our Juvenile competitions for 2019 are now available.  Taking place on Monday and Thursday through July and August.  For further details see our Juvenile News & Events page.
---
CHAMPIONS LEAGUE FINAL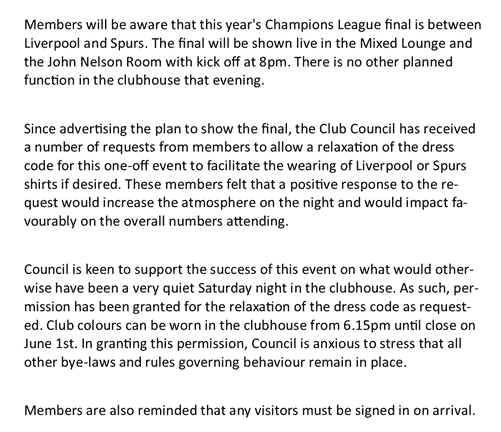 ---

---
MIXED FOURSOME TEAM EXCEL AT CLANDEBOYE

Our Mixed Foursomes team had an excellent day during stroke play qualifying on Sunday, 19th May.  They were best qualifiers on the day, beating home club Clandeboye into 2nd place.  The team will now play Blackwood at Clandeboye on a date yet to be decided.
---
FRED PERRY TEAM MAKE FORTUITOUS PROGRESS

Our Fred Perry team have made progress to the 3rd round of the competition.  Although narrowly beaten on the course a technicality sees them through to face Portadown on dates yet to be decide.
---
LADIES CELEBRATE IN PORTUGAL
A number of our ladies visit Portugal annually, the habit starting about five years ago.  This year they had particular cause to celebrate – when Joan Miller score an ace for a hole-in-one at one of the Par 3's.  Joan said, "It was 180 yards downhill and I took my driver.  When Joan (Groves) and Freda (McQuoid) reached the area of the green my ball couldn't be seen.  After looking behind the green, it was found nestled in the cup."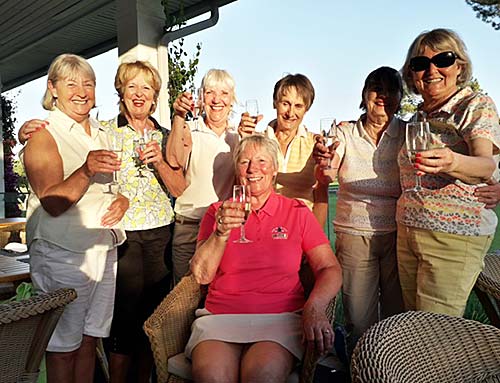 ---
ILGU Medal Finals at Headfort
The 2019 ILGU Silver and Bronze Medal Finals concluded at Headfort Golf Club on Wednesday, 15th May.  Played for annually at club level, the Silver and Bronze Medals are awarded to players who return the lowest aggregate of four nett scores in ILGU Medal Competitions from January 1st to December 31st.
For the Silver Medal, all four scores must be returned whilst the player has a playing handicap of 20 or under.
For the Bronze, whilst the member has a playing handicap of 21 or above.
The club Medal winners are then invited to the ILGU Medal Finals where they compete for Gold Medals in each category.  Norma McGilton and Anne Campbell qualifying on behalf of Donaghadee.
In the Silver Final on the new course Norma had the daunting task of playing the long New Course alongside a lady playing off a handicap of one.  Norma said, "It was lovely to qualify and I was glad I didn't disgrace myself.  It was a lovely day and the course was buzzing with so many people about."  Norma certainly did herself and the Club proud registering a Nett 79 to be 21st in a field of 129.
In the Bronze Final on the Old Course Jeff Aiken was caddying for Anne and he said, "I was so very proud of her for qualifying to represent Club at this prestigious event.  Under glorious sunshine on a very tough and long course Anne shot a magnificent Nett 79 with a very 'cold putter' to finish a superb 19th out of 126 competitors. She battled all day and if only a few putts had dropped she would have had an even better result."  Anne added, "It was an honour to represent the Dee and have the opportunity to play on the lovely Old Course.  I played alongside two ladies with similar handicaps so that made for a reasonably relaxed round of golf.  The Course seemed long with five par 5's in the first 11 holes and with some difficult pin positions it was a tough enough day but thoroughly enjoyable.  Thankfully the weather was kind."
Congratulations to both Norma and Anne for representing us so well.
---
Captain's Update – Monday 13th May 2019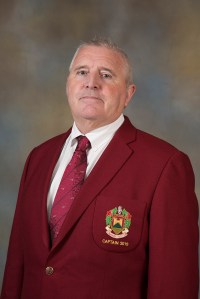 Over the past weekend our teams have again had a fair amount of Success.
The Belfast & District team overcame Blackwood over the two legs and progress to the next round. Thanks to Grahame Hamilton who stood in for team Captain Ian Gunning.
The Barton Shield under the guidance of John Ross once again defeat Blackwood to progress passed the preliminary round.
The Holt Shield team followed up their to excellent victories with a fine 2 1/2 – 2 1/2 draw away to Ballymena.
The Ladies Intermediate team completed the job at home against Cushendall Ladies and joined all the other ladies teams into their next round.
The Pierce Purcell team under the dual Captains David Porter & Trevor Murray missed out on qualification on count back with the same score as the 3rd and 4th placed teams. My personal thanks go to both Captains and all the players involved, for the effort they all put in over the past couple of months.
The men section has lost a second team early this season. Neither team lacked the quality or effort required to progress, both teams didn't have Lady Luck on their side.  Gentlemen all I would ask is we start preparing for next year now and with just a little luck who knows where it will end.
---
JIMMY BRUEN SHIELD TEAM QUALIFY AT KIRKISTOWN

Congratulations to our Jimmy Bruen Shield team who qualified at Kirkistown Castle and will now play Royal Belfast at Kirkistown on a date TBA.
---
ALL IRELAND FOUR-BALL TEAM

Our All Ireland Four-Ball team have made it through to the 3rd round.
---
DONAGHADEE MALLARDS

When Past Captain Jeff Aiken became the Chairman of Ballinamallard United, an Irish League football team based in his Fermanagh homeland it caused a bit of a stir within the Club.  Jeff dedicated himself to the role, constantly making the long return journey earning the respect and admiration of many involved in local football.
The interest generated within the Golf Club saw the creation of a small band of supporters within our membership who, as a group, often travelled to support United.  In common with other football clubs the reins of control have since been handed over.  But, despite the team dropping out of the Premiership and into the Championship, local interest remained and when the team, against all the odds, made it to the Irish Cup Final against Crusaders Jeff put preparations in place to make sure the Donaghadee Mallards enjoyed the big day.
Gathering at the clubhouse at midday JAG catering supplied the big Ulster Fries before they set off on a coach to the National Stadium.  The taste of the delicious fry was replaced by the taste of defeat but Ballinamallard United and their supporters played a big part in making this annual event a special occasion.  The Donaghadee Mallards returned home without success but with pride firmly in place for their wee team from Fermanagh.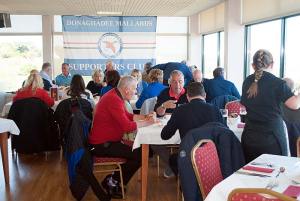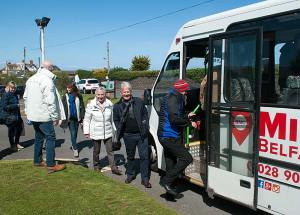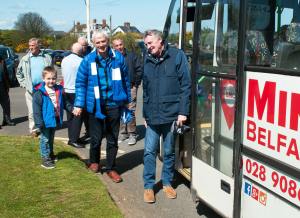 ---
WOMEN IN GOLF
"There was a fantastic turn out on Thursday night for the start of this year's "Get into Golf" programme for women. It was lovely to see so many enthusiastic ladies who showed such great potential!! I hope they all enjoyed it. I am looking forward to seeing them next week again for some further coaching from our Professional Coaches Gordon, Craig and Julie. A big thank you to all three coaches who continue to support this programme each year!!"
Valerie
Lady Captain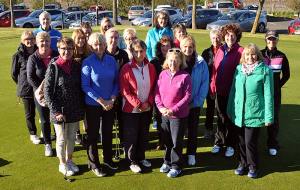 ---
DRAW FOR CAR PARKING SPACES
The draw for the personal use of the President's car park space was won by Past Captain and President Tom McNulty.  Tom will now be able to enjoy the convenience of leaving his car by the front door of the clubhouse until 30th April 2020.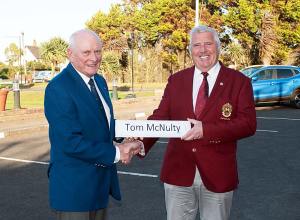 The weekend use of the Secretary Manager's space was won by Brian Miller.
Thank you to everyone who supported this ballot that raised funds for the Club.
---
DONAGHADEE PAST CAPTAINS
The Past Captains of the Club held their first event of the year on Friday, 5th May when they competed for their Spring competition (13-holes) – the Bert Mason Salver.
Twenty-one Past Captains enjoyed the company of current Captain Jim Gunning and after a very agreeable 3-course meal it was down to see who the best golfer was on the day.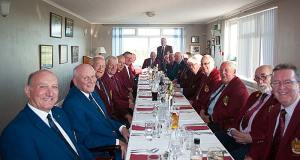 For the first time in the history of the fraternity a single winner couldn't be declared.  Over the course of the 13 holes both scored 28 points and couldn't be separated on any countback.  So, there being less than a 'fag paper' between them Senior Past Captain Victor Stephens presented the trophy to be shared between Neale Jenkins and Barry Davison.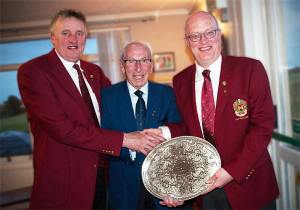 After a little business and some nostalgia, it was then off to the John Nelson Room at the invitation of the Captain.
---
Information of Members
All members should be aware that the Club are hosting a Fundraising Day for the Fight ED and Cause Charities on Friday 17 May 2019.
This involves a shotgun start for the participants commencing at 1.30pm
On Friday 17 May the course will be open as normal for members on Friday morning. In order to accommodate the Shotgun start the entire course must be cleared by 1.00pm to allow the players to make their way to each tee to start at 1.30pm. The course will be open for play again by 6.00pm.
I am sure members will be very understanding as the club assists in fundraising for a worthy cause.
Richard Caldwell
Honorary Secretary
---
GLENLOLA COLLEGIATE
On Thursday, 2nd May it was the Captain's pleasant duty to welcome the Year 14 leavers from Glenlola Collegiate, when over 100 young ladies joined Maxine Porter (Head of Year 13 who is herself a frequent visitor to the Club) to enjoy their 'leavers' dinner.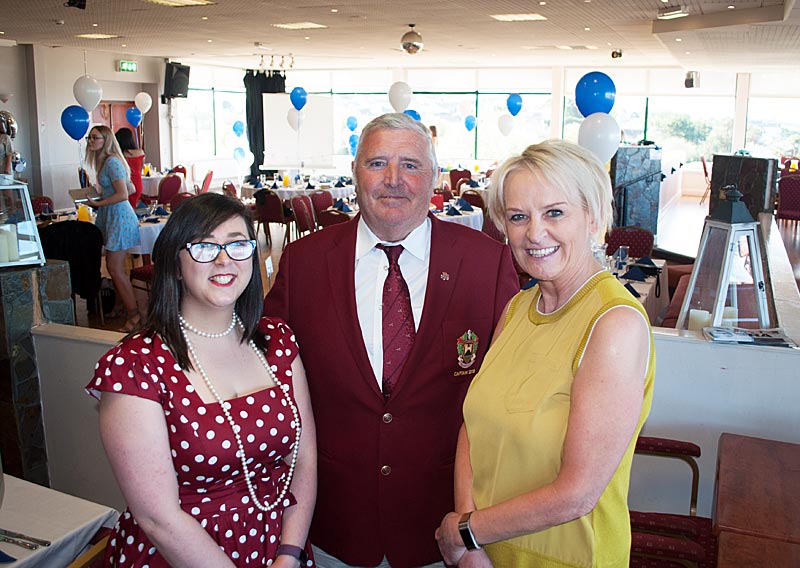 The girls had their final assembly earlier in the day and now go off on study leave before returning to sit their A Level examination.  The best wishes of the Captain and the Club go with the girls, we trust that everyone enjoyed their evening and we thank Glenlola for selecting our Club for their special occasion.
---
Hood Cup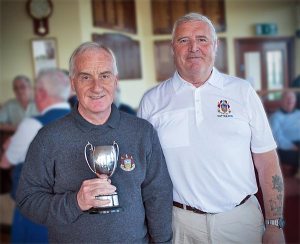 On Thursday, 2nd May members over the age of 65 were able to compete for the Hood Cup.  A trophy that has been played annually for the past 53 years with food and refreshments sponsored by Mrs Mabs Galbraith, in memory of her father.  First played for in 1966 and won by RJ Attwooll, who went onto win the cup for following two years for the hattrick!
The weather turned out to be very favourable, apart from the moment the President stepped onto the first tee when the rain started to fall.  Thankfully it wasn't for too long and the 'auld boys' were able to enjoy their golf.  Those who didn't were able to console themselves in the clubhouse where sausage rolls and sandwiches were provided.
When all was done and dusted, cards returned and counted for this 9-hole event, Roy Bird was declared the winner with Captain Jim Gunning beaten into 2nd place on the countback.
There were two birdie twos with Clive Majury and the President (John Caldwell) collecting the golf balls.
And the competitors were: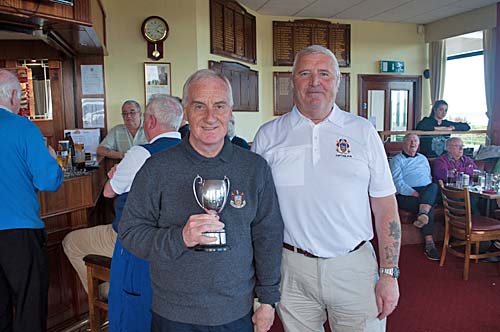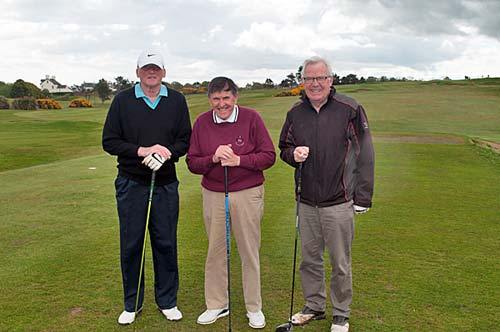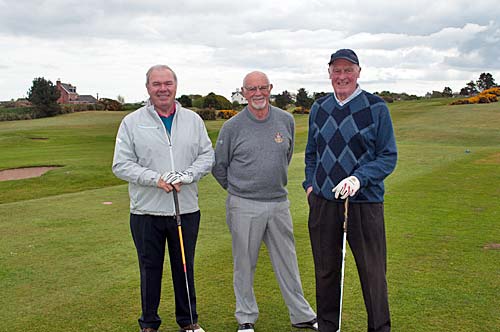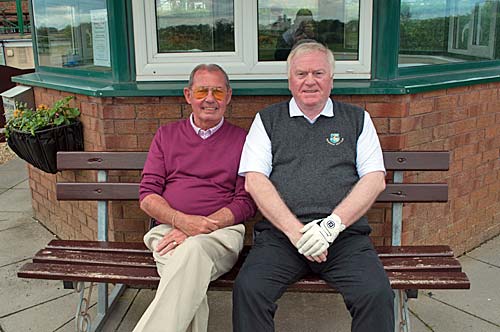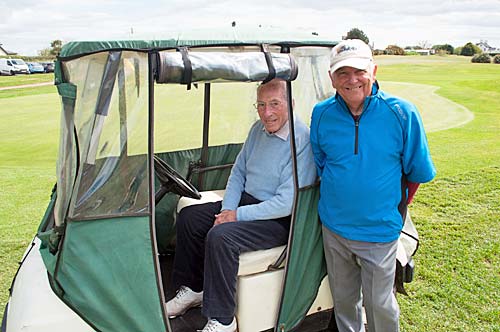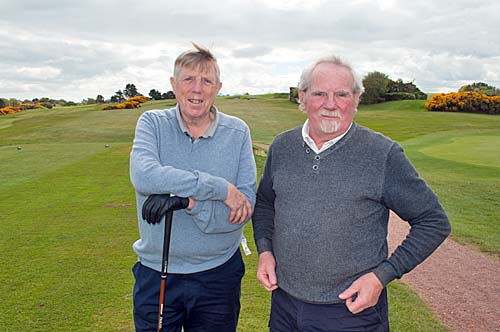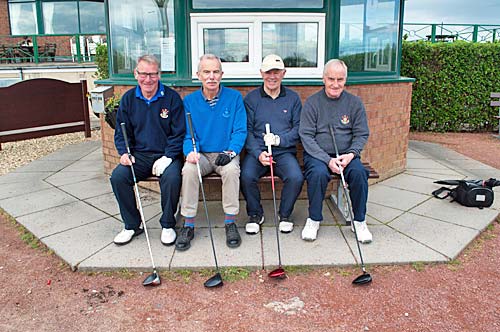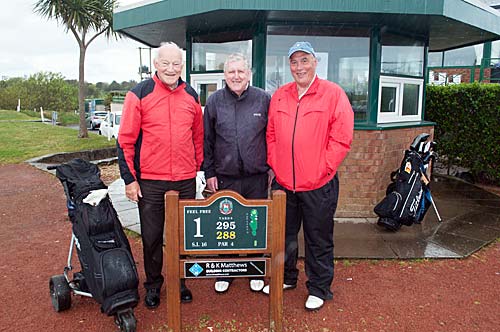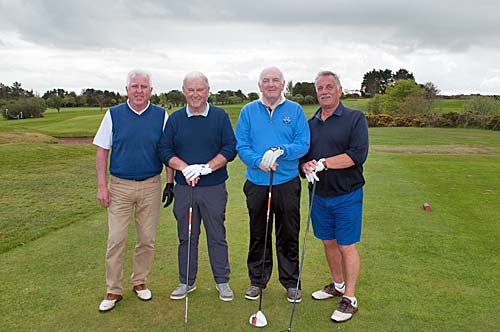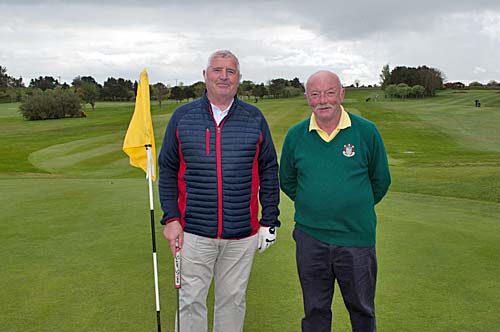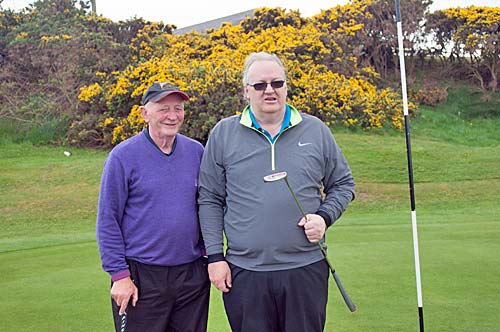 ---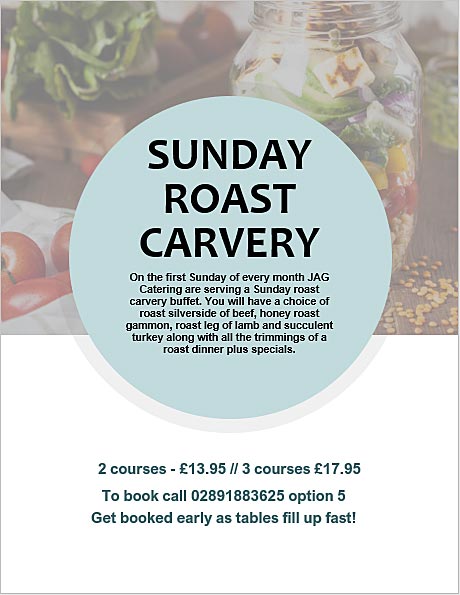 ---

Calling all Juveniles!
All Juvenile members (boys and girls) are invited to enter a new open competition, running from now until the end of June.
---
Captain's Update – Thursday 2nd May 2019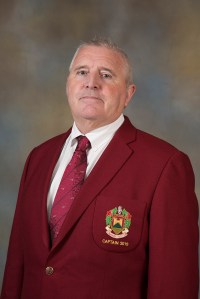 Holt Shield
Our Holt Shield team had another great result on Sunday.  Following 4-1 away win at Galgorm Golf Club the hosting Knock Golf Club and managed a 4 1/2 to 1/2 result. Again great to see not only Lady Captain Valerie, but also Peter and Eleanor Alcock wishing the lads their best.  Came along to support the team. Great results for team Captain Matthew.

Irish Fourball
The Irish Four-Ball team travelled to Roe Park for the first leg match. Coming home with a creditable 3 1/2 to 1 1/2 defeat with only one hole in it. Work to be played but good start lads. PS team Captain and partner David McBride contributing a solid 4 & 2 win. Well done Mervyn.

Ulster Cup
As club Captain I had hoped not to send out my thanks to a team Captain so early in the season. Ryan Hay's Ulster Cup team fell at the first hurdle this year. It was not due to a lack of effort by Ryan or the talent in his team. We just drew the short straw when the weather nullified any home advantage when playing the first leg.   The team produced a fine response in the return leg, just coming up short when a putt here or there would have made all the difference.
---

Pro Shop Offers
See the latest Pro Shop offers for the month of May.
---
All Ireland Four-Ball Inter-Club Team 2019
Our All Ireland Four-Ball team travelled to Limavady to play Roe Valley in the 2nd round and obtained a creditable score to give them all to play for in the return leg.
---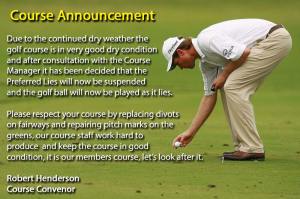 ---
Lady Captain's Update – Thursday 25 April 2019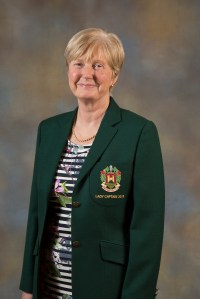 Our ladies weekly competitions started in March and to date everything has gone according to plan.
The ILGU interclub competitions have begun and so far in the first leg of the first rounds.
Donaghadee have been very successful:
Junior Foursomes – Played at home against Lurgan and won 2 ½ matches out of 3
Intermediate Cup – Played away against Cushendall and won 2 ½ matches out of 5
Minor Cup – Played away at Dunmurry and won 4 matches out of 5
Challenge Cup – Played at home against Spa and won 4 matches out of 5.
Mr Captain attended some of the matches, which was very much appreciated by the Ladies Section.
Lady Captain hosted a Sponsors' lunch on Tuesday 16th April as a thank you to everyone for providing sponsorship for our Ladies open competitions this year.  Everyone attended and they all enjoyed it.  They were very pleased to be invited and were complimentary of our facilities, staff and food.
A photograph was taken on the day and we hope to have an article in the local press this week to help promote the individual businesses and the club.
We have a sub-committee up and running from the Ladies Committee who will be dedicated to ensuring that we present the outside of the club at its best throughout the summer for the upcoming events.  They will be planting flowers and plants and replanting the pots which are already in existence. It even looks better already! Any help re watering the plants throughout the season would be very much appreciated.
Our Women in Golf programme is starting on Thursday 2 May 2019 with an introductory night, and will run for the following 5/6 weeks. A leaflet drop has been done by the Ladies Committee throughout the Donaghadee area and also Millisle, Groomsport and part of Bangor.  We hope it will be as successful as last year in our efforts to gain as many new members as possible.
---
LADY CAPTAIN PREPARES FOR SUCCESS
The Lady Captain, Valerie McIlveen, has prepared for success during her time in office by ensuring her 'open' competitions are supported by generous sponsors who she welcomed to the clubhouse on Tuesday (16th April) where they enjoyed lunch together giving Valerie the opportunity to thank them personally.
Valerie said: "My sponsors are very important to me especially in my efforts to raise as much as I can for my nominated charity for the year: The British Heart Foundation NI. If we as a club can create more awareness of Dilated Cardiomyopathy and help fund the research into this condition throughout my year in office, I will be very happy."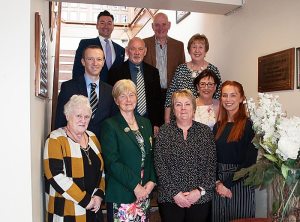 Getting behind the Lady Captain in her drive to support the British Heart Foundation NI are Jonzara Newtownards, Harrisons of Greyabbey, John Minnis Estate Agents, Dunn's Shoes Donaghadee and Jim Devonport Meats Donaghadee.
ALL CHANGE AT THE TOP TABLES
On Saturday evening, 6th April we had our Spring Ball in the clubhouse, during which our new Club Captain and Lady Captain were introduced.  On the same evening it won't have gone unnoticed that we also have two new Presidents whose periods of office extend for the coming two years.  We extend all four our best wishes for an enjoyable and successful term in office.
(L to R) John Caldwell, Judith Purdy, Valerie McIlveen and Jim Gunning.