FRED PERRY 1ST ROUND MATCH V LOUGHGALL SUNDAY 13TH JUNE
Our 1st round match takes place on Sunday 13th June at 2pm.
We have 2 pairs at home and 3 pairs away.
We have worked hard to get to this point and any local support would be greatly appreciated.
Many thanks
Bernard Brown
(Team Captain)
---
ULSTER CUP
The Ulster Cup Team to play Clogher Valley on Saturday 19th June is as follows
Nigel Carson
Andy Scott
Michael Carlisle
Ryan Hay
Jonny Perry
Lee Cummings
Robin Crothers
Reserve
Sam Campbell
Both matches tee off at 3pm with 3 matches at Home & 4 matches Away.
All support greatly appreciated.
Ryan Hay
Ulster Cup Captain
---
THE HAT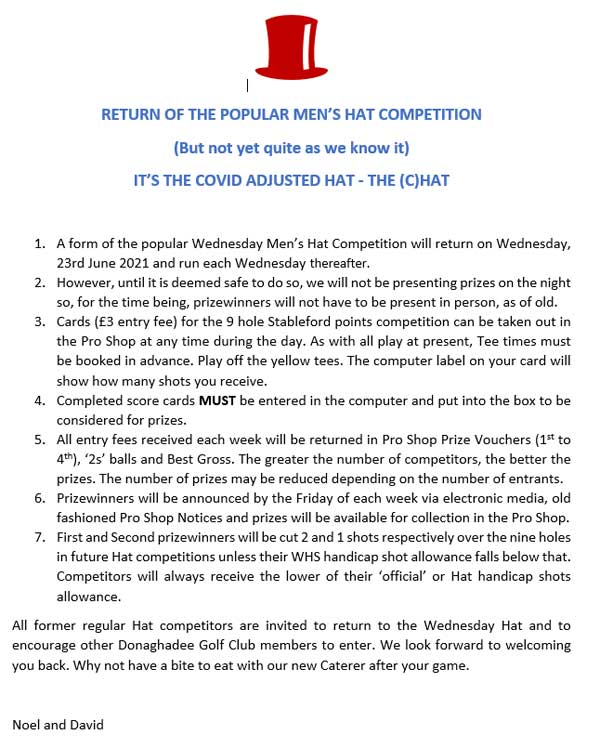 SENIOR CUP
On 4/06/21, three of our Senior Cup players travel to play against Mourne Golf Club. The first match is out at 5.28pm on the Royal County Down course. The two home games are being played on 5/06/21 @ 4pm.
The lads have put in hard work and I hope to see members turning out to support them.
Thanks,
Ian Gunning
Team Captain
---

ALPINES GOLF SOCIETY
The Alpines finally managed to close their winter season that originally started in 2019 and after two years punctuated by Covid-19 lockdowns celebrated with a day's competition and evening meal in the clubhouse.
The Alpine Golf Society will recommence a new winter season this coming September with 9-hole competitions each Thursday.  After two partial and difficult seasons Ray Logan has kindly agreed to continue as Captain of the society for the 21/22 season.
Competition Results:
18-hole competition
Richard Caldwell 38 pts
Nigel Carson. 37 pts (cb)
Drew Todd. 37 pts
Ryan Hay. 35 pts
Thomas Charteris. 34 pts
9-hole competition
Alan Morris 22 pts
Brian Miller 21 pts (cb)
David Carroll  21 pts (cb)
Brian Hutchinson  21 pts
Fred Green  18 pts
2's club. Brian Hutchinson; Nigel Carson.
Cards returned – 41
---
SENIOR/JUNIOR GREENSOME – SUNDAY 23RD MAY 2PM.
Pairings.
Andy and Adam v Neill and John.
Peter and Brian v Mark and Harry.
Jessica and Holly v Craig and Rory.
Ella and Helen v Janet and Megan.
We have some great golfers playing on Sunday.  Jessica a full Irish International golfer, and Ella her sister a Medical Student, Andy a + 2 golfer. The last event on 9th May witnessed some great golf in windy conditions. Come and see some of the present and future great golfers of Donaghadee.
---
HOLT SHIELD
Anyone interested in playing for this team who has a handicap of 4.5 or above, should contact Pete Smith on 07740071135.
Donaghadee drawn with Hlton, Kirkistown and Whitehead.
Thanks
Pete
---
PIERCE PURCELL
Anyone interested in playing for this team who has a handicap between 10 .5 and 18 should contact Davy Porter 07989883374.
Match details are as follows:
1st round-bye
2nd round-SILVERWOOD away. To be played before 28 June
Thanks
Davy
---
ULSTER CUP 2021
Calling Donaghadee members I am looking to add some new players into this year's Ulster Cup squad
To be eligible, players must have a Handicap Index on 1 January 2021. This Handicap Index applies throughout the competition.
Lowest permitted Handicap Index of a player is 9.5.
So, If you are eligible and would like to be a part of the Ulster Cup squad this year, please phone/text me ASAP on 07710 115959 and you will be made most welcome into our squad.
Thank you
Ryan Hay
Ulster Cup Captain
---
JUNIOR TRANING
Junior Training took place on Saturday, 1st May and also Alastair Law took advantage of new pre-round practice equipment secured with the help of a generous grant from Ards & North Down Borough Council.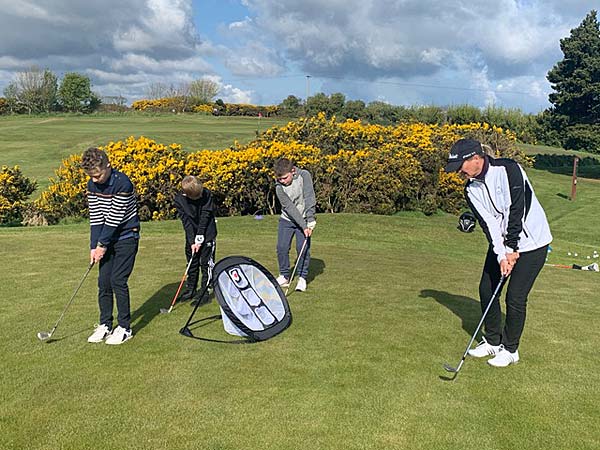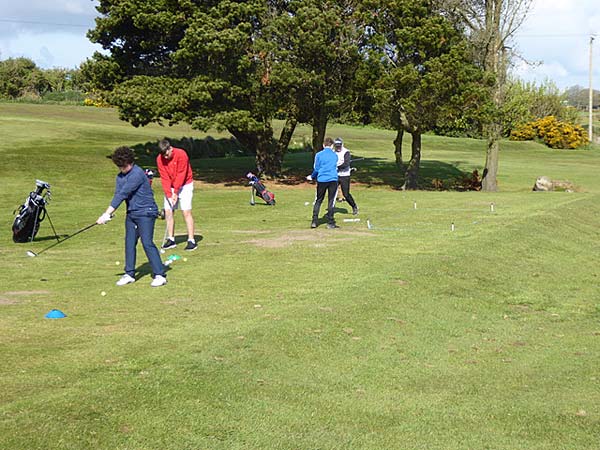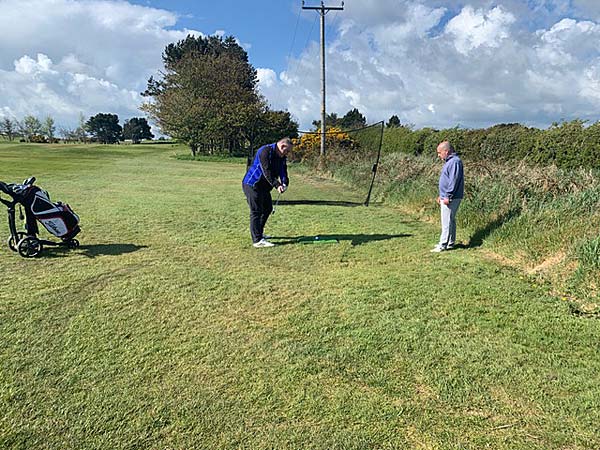 ---
DEATH OF A MEMBER
It is with great sadness that we announce the passing of Trevor Hillen this morning.
Trevor was a great contributor to golf at Donaghadee and was a prominent member of the Steelers.
Over recent years Trevor was the driving force behind the Irish Disabled Golf Association.  He was passionate about securing opportunities for disabled and partially disabled golfers to be involved with the sport.
Members will also recall that Trevor was part of the victorious 2018 European team that travelled to Florida and defeated the USA to win the Phoenix Cup.
He will be missed by all those that knew him and our thoughts and prayers are with Vivienne and the wider family at this time.
---
BELFAST AND DISTRICT VETERANS' LEAGUE 2021
The pandemic has curtailed this year's league but the organisers have agreed to run the league from the end of May.
For further details click here.
---
NEW FEATURE
A copy of Council Meeting minutes are now being made available (PDF Document) and can be accessed via the Members Area on the top menu bar.  Access is protected via the previously used password.
---
LADIES OPEN COMPETITION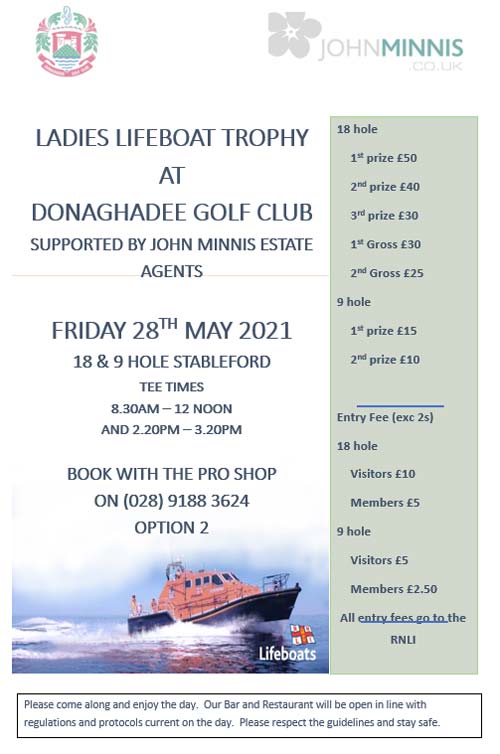 ---
Jimmy Bruen Shield 2021
Anybody interested in representing Donaghadee Golf Club in this year's Jimmy Bruen please contact me on the number below. The format has changed back to foursomes this year and we have been drawn at home to Knock, match to be played before 14th June 2021.
To be eligible players must have a handicap index of no less than 3.5 on 1st January 2021, combined total to be no less than 14 again from 1st January 2021.
I will be arranging practices at Donaghadee within the next few weeks. If you wish to be considered as a pairing then let me know when you contact me.
Many Thanks
Colin Robinson (07876455987)ULSTER CUP 2021
---
This year's Ulster Cup draw has been released and we have been drawn in the South Section against Clougher Valley with the tie to be played by 21/6/2021 (date to be confirmed).
Some details of the format are still TBC but a summary of this year's rules are as follows: –
To be eligible, players must have a Handicap Index on 1 January 2021. This Handicap Index applies throughout the competition.
Lowest permitted Handicap Index of a player is 9.5.
If you are eligible and would like to be a part of the Ulster Cup squad this year, please phone/text me on 07710 115959 and you will be made most welcome into our squad.
Thank you
Ryan Hay
Ulster Cup Captain
---
ATTENTION MEMBERS
As from Friday 30th April 2021 Preferred Lies will be in the Bunkers only. Please play the ball as it lies Through the Green.
---
MIXED FOURSOMES
This years Mixed Foursomes draw has been released and it's local derby time as we take on Scrabo with the tie to be played by 21/6/2021 (date to be confirmed).
A summary of this year's rules are:-
To be eligible, players must have a handicap index on 1 January 2021. This handicap index applies throughout the competition.
For a pair to be eligible, their handicap indexes on 1 January, when added together, must not be lower than 19.0
Donaghadee has a proud tradition in this format and we are keen to have as big a squad as possible involved. So if you are interested please text your name and number to either myself or Carol. We would be delighted to welcome both experienced campaigners and those new to this format.
Barry Davison
07920832280
Carol Davison
07767018530
---
ALL IRELAND FOURBALL Inter-Club Team 2021
If you were 30 years of age or older on 1st January 2021 and interested in playing in this Competition please text me on the number below:-
The team consists of 5 pairs with a maximum combined handicap of 34 and no lower than 15 the match format is Four-Ball Better Ball.
Many thanks
Girvan Boyle (Team Captain)
(07784409837)
---
Fred Perry Senior Four-Ball Inter-Club Team 2021
If you were 55 years of age or older on 1st January 2021 and interested in playing in this Competition please text me on the number below:-
The team consists of 5 pairs with a maximum combined handicap of 42 and the match format is Four-Ball Better Ball.
Many thanks
Bernard Brown (Team Captain)
(07752176129)
---
PAST CAPTAINS UPDATE – APRIL 2021
Bert Mason Salver
I have spoken to a few Past Captains and have agreed that, due to the continuing Covid restrictions on the use of both the course and clubhouse, we should postpone our outing for the Bert Mason Salver, due to be played on 23 April,  until later in the Spring or early Summer. Hopefully by then the new normal will more normal.
Harry Kerr
Following so quickly after the loss of Matt Peacock, we were again saddened to hear of the death of Harry Kerr. While ill health and immobility prevented Harry from joining us in recent years, he nevertheless still took a keen interest in Past Captain affairs. His good humour will be sadly missed.
While the Covid restrictions prevented us from attending Harry's funeral, Jim McClure was pleased to attend at the personal invitation of the family. I have also written on behalf of Past Captains to express our condolences to Harry's wife, Sybil, and the rest of the family.
Fred Green                                                
---
HISTORY MAKERS
Congratulations to the ladies Northern Ireland team on qualifying for the Euros beating Ukraine on Tuesday, 13th April 2021. A proud moment for one of our members Tommy Hutton whose daughter plays for the Northern Ireland team.
The 2-0 Seaview victory over Ukraine completed a 4-1 Euro 2022 play-off triumph as the euphoric Northern Ireland squad celebrated the country's first ever qualification for a major women's tournament.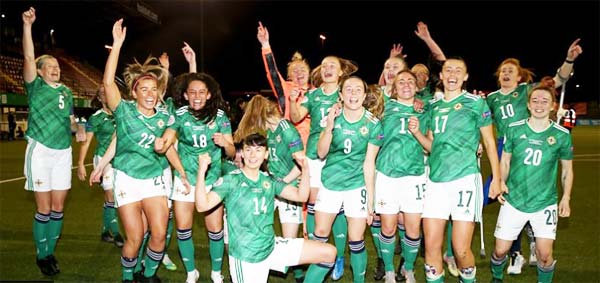 ---
ANNUAL GENERAL MEETING
With the sad news of the death of Prince Philip today, during this period of national mourning and in consultation with senior members of the club it has been decided to postpone the AGM until Friday 23rd April. Registration details for this new date will be issued in due course.
Our thoughts and prayers are with the Royal Family at this time.
Greg McDaid
Honorary Secretary
---
MEMBERS
As you are aware from previous emails, we are moving to fourballs this Monday.
The Tee-Sheet will go live tonight at 7pm and will cover Monday 12th till Saturday 17th.
This will allow us to start our competitions and we would ask that ladies don't book a time on a Saturday before 2pm and that the gents don't book a time on a Tuesday morning as per pre Covid times.
Regards
DGC M&H
---
FOURBALL GOLF RESUMES ON 12TH APRIL
We are delighted to confirm that from next Monday, 12th April we will return to a one tee start and four ball golf with no restriction on the number of households.  The gap between groups will revert to the 10 minute gap in place prior to the most recent lockdown.  The timesheet opening on-line at 7pm on Thursday 8th April will reflect this change.
Full details can be obtained by clicking here.
---

Timesheet Bookings for the period 12th – 17th April will open as follows:-
Online –             7pm on Thursday 8th April
Telephone –     10am on Friday 9th April
We await the Government's decision on whether fourballs will be permitted from 12th April.
---
MEN'S WINTER LEAGUE 2020-21
The organisers of the Winter League are keen to see the league run to a conclusion and has decided to run the league for a further four weeks commencing on Friday 2nd April.  It will clearly not be possible to organise the usual Winter League Dinner and in lieu of this it has been decided to provide each member of the league with a meal voucher to the value of £10 and to be used in the Club restaurant once it re-opens.
Full details revised rules and format can be obtained by clicking here.
---
RETURN TO GOLF – 1ST – 11TH APRIL 2021
The current COVID-19 pandemic represents an unprecedented challenge which Donaghadee Golf Club continues to deal with in the most professional, efficient and diligent manner possible.  On behalf of all involved in the management of the Club we express our sincere appreciation to you for the patience and understanding you have shown during the period the Club has been closed.  We know that everyone is keen to get back out on the course and envisage that when lockdown is lifted on 1st April demand for tee-times will be very high and we have therefore introduced a series of measures to give as many members as possible an opportunity to play while keeping themselves and other members safe.
Full details can be obtained by clicking here.
---
COLLECTION OF EQUIPMENT
To facilitate the return of Golf on 1st April the Locker Rooms (Gents and Ladies) and Electric Trolley Store will be open from 9.30am – 4.00pm on Wednesday 24th and Thursday 25th March for collection of golf equipment.
---
OBITUARY
It is with sadness that we announce the death of Mr HI Kerr (Harry), who past way on Wednesday 24th February 2021. Due to the current situation the funeral and home will be private.  Family flowers only.  Donations in lieu, if desired, may be sent to the Alzheimer's Society NI, c/o Russell's of Bangor.
The Council and members of Donaghadee Golf Club wish to extend their sincerest condolences to the family circle at this sad time.  Harry was Captain of the Club in 1975, and President of the Club 1996 – 1998.  He will be sadly missed by all at Donaghadee Golf Club.
---
SPORTS LEADERSHIP AWARD
This is a great course for anyone in the Club who is interested in working with our junior players.  Especially of interest to any young members who might be thinking of a career as a golf professional or other sports coaching.  A Club Mentor is required and a member will be there to support anyone taking the course.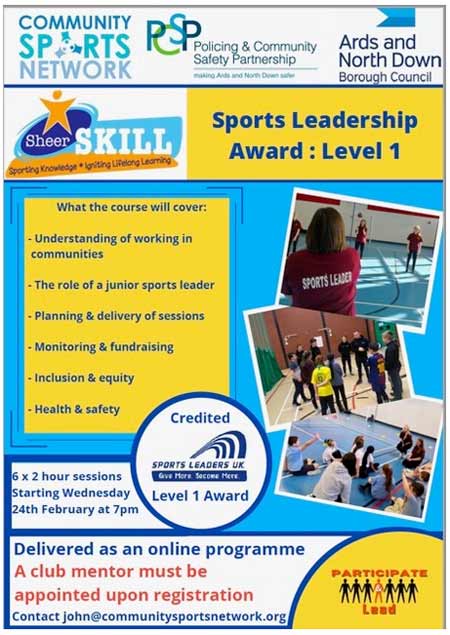 ---
CHRISTMAS TREE RECYCLING
Our thanks go to Kenny Campbell, Lee Cummings, Alister Law and Robert Neill who recycled the Christmas trees that were collected. They trees were collected on 1st and 2nd January and £337 was received in donations.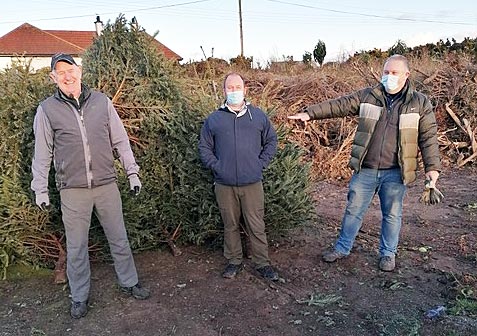 They say it was good fun and not difficult and plan to increase the volume next year, with people very pleased to get their trees collected and used for a good cause. With more promotion next year, we believe it will become even more popular.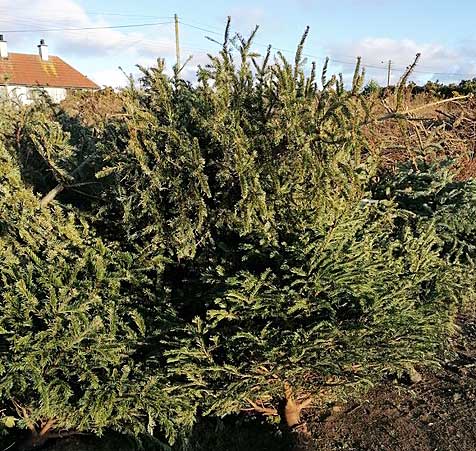 Up to 40 trees were collected and will be made into woodchip by Peter Roberts.  All the proceeds are going to the Juvenile Section at the Club and we hope next year will be even bigger and better.  Thank you to everyone who contributed their trees.
---
SUPPORTING JUNIOR GOLF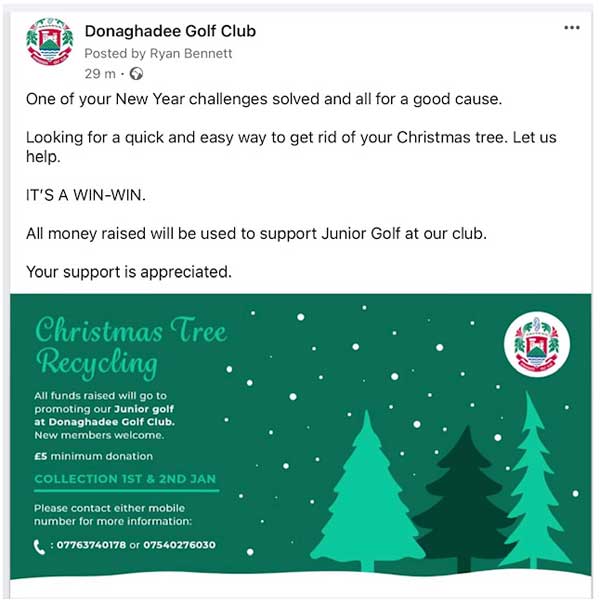 ---
OBITUARY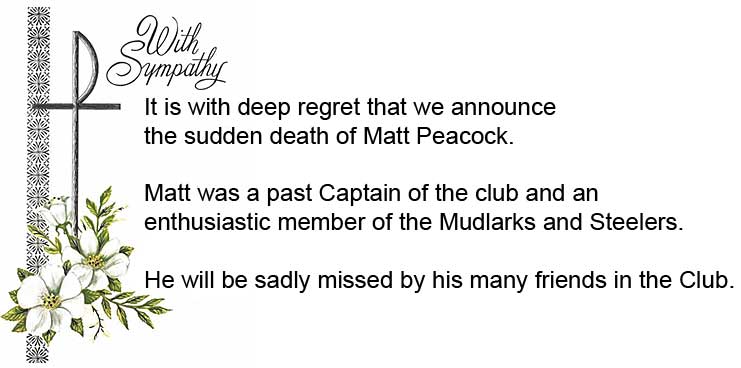 ---
JUVENILE WINNERS 2020
The full list of prize winners can be downloaded HERE.  Please arrange to call and collect the prizes before 12 noon on Friday.  Due to COVID restrictions we were not able to hold the usual celebrations so I would ask you to take a photo, or short video message, of the winner/s with their prizes and send it to me for our web site and social media.  Best to message me, Lady Captain, via the Messenger tab here or e-mail to the office address if you don't have mine already.  If you can't make it get in touch and we will see if we can deliver. Asterisk indicates prizes already collected.
Thank you all for competing this year and I hope we have a better one in 2021 when we get back out onto the course.  Thanks also to all of the parents and volunteers who make it all possible, and to the Pro Shop, Office and Greens crews The Juvenile Committee already have a schedule of coaching and special competitions such as GolfSixes planned for the spring and summer.  The US Kids Golf and the Flogas Junior Golf Tournaments are both holding an event with DGC.  Great times.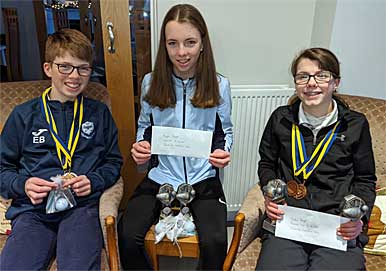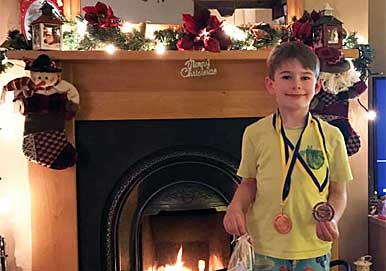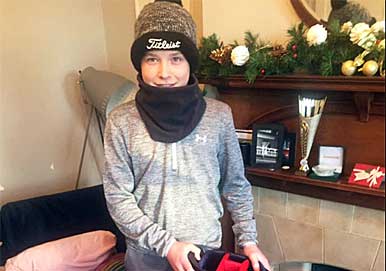 ---

---
CLOSING
Following the Government guidelines, imposing a 6 week lockdown, the Clubhouse will be closing at 5.00pm on Thursday 24th December 2020.
Jag Catering will be open on Thursday 24th December (Christmas Eve) from 12 noon until 3.00pm, offering a reduced menu and if you purchase food you may also purchase a Christmas beverage.
From Monday 4th January 2021 the Club Office will open two days per week during the lockdown; the days will be Monday and Thursday from 9.00am to 4.00pm.  The Office will be open to receive telephone calls, respond to emails and take payment by telephone, however it will not be open for visitors.
We would like to wish all our Members a Merry Christmas and a Happy New Year.
---
ALPINES GOLF – THURSDAY 17TH DECEMBER
The Alpines had their final outing before Christmas and enjoyed some reasonable weather in-between yesterday and tomorrow's foul weather with predicted heavy rain and strong winds.
Fifty golfers played the 'middle' nine holes with Club President, John Caldwell, ribbing and topping the ball round for an amazing 23 points, shading Gordon Stubbs and Alastair Miskimmin by a single scuffed putt.
There will be no Alpine's event next Thursday (Christmas Eve) and depending on Covid-19 restrictions (rumours of sever impending lockdown) we hope to close off 2020 with a New Year's Eve competition.  That may be optimistic, but further news will be circulated as necessary.
Finally, Alpine's Captain, Ray Logan, appeals to everyone to stay safe, wishes all a merry Christmas and happy & prosperous New Year.  Ray looks forward to welcoming you all back to golf in 2021.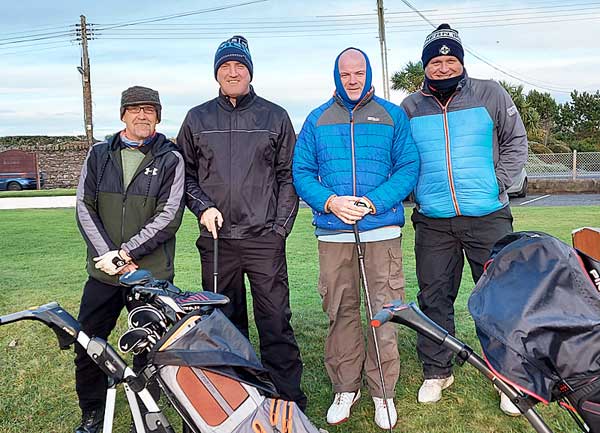 ---
CHRISTMAS GIFT
Because it's the season of giving – why not delight your loved one with one of our vouchers.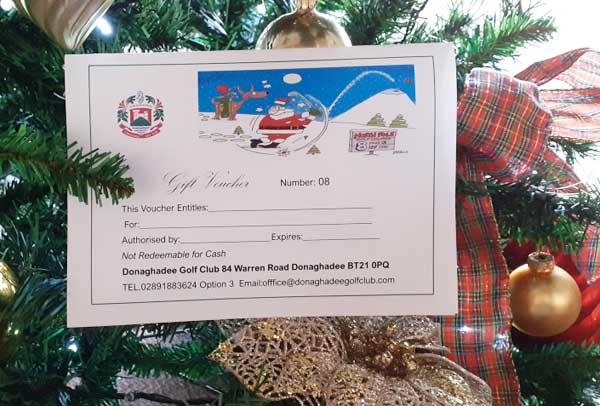 ---
LADIES COMPETITIONS
Unfortunately we are not able to hold a prize giving at present.
Congratulations to all the winners and thank you to everyone who came out to play and compete under the COVID-19 Restrictions.
Stay Safe and let's look forward to a more normal season in 2021.  All the best for Christmas and a Happy New Year to all.
Fiona – Lady Captain
Christmas Hamper Winners
Christine Kennedy (79)
Maxine Eadie (76)
Elaine Meneely (73)
Sharon Cherry (70)
Elaine and Sharon please collect your prizes from the office. Due to Covid we are not allowed to have a prize giving.
Qualifiers
A.Carlisle, A.Harte, A.Strain, N. McGilton, M.McKnight, S.McNeilly, N.Morton, J.Holmes, Lo.Ward, C.Davison, R.Campbell, J.Herron, G. Chivers, Y.Clarke, F.Hicks, L.Thomson, J.Kerr, C.Smith, H.Keys, J.Miller, F.McQuoid, P.Patterson, J.Groves, L.Dorrity, C.Minnis, V.McIlveen, J.Adams, M.Molloy, E.Alcock, P.Campbell, J.Baker, J.Purdy, K.Jackson, P.Oliver, N.Briant, H.Dunbar
Qualifiers can collect their chocolate prize in the locker room. Please take one.
2020 SUMMER WINNERS
| | |
| --- | --- |
| BRING A PRIZE WIN A PRIZE | JOSEPHINE BAKER |
| BRYANSBURN CUP | ALISON STRAIN |
| E STRAIN & M MILLS | ALISON STRAIN |
| ORRS TRAVEL | MAXINE EADIE |
| 02 CHALLENGE TROPHY | SHELLEY NEILL |
| IEVERS TROPHY | ELLA ROSS |
| QUEEN ELIZABETH 11 JUBILEE CUP | VALERIE McILVEEN |
| STREBOR CUP | SHELLEY NEILL |
| BELART CUP | ELLA ROSS |
| CORONATION SALVER | LORAINE WARD |
| GOWAN GARAGES TROPHY | CYNTHIA SMITH |
| LADY PRESIDENT'S DAY | ALISON STRAIN |
| JOSEPHINE PEACOCK TROPHY | CAROL DAVISON |
| NI KIDNEY RESEARCH CUP | SHELLEY NEILL |
| YVALDA CUP | PENNY PATTERSON |
| MARIE MCCOMB CUP | CYNTHIA JAYNE DUNWOODY |
| CENTENARY BOWL | SHELLEY NEILL |
| LADY CAPTAINS CHARITY TEAM DAY | CJ DUNWOODY, CYNTHIA SMITH, YVONNE CLARK |
| BIRDIE TREE | JULIE KERR |
| SHEELAGH BATES CUP (Most improved player) | ELAINE MENEELY |
| GOLFER OF THE YEAR | CAROL DAVISON |
RE-OPENING
Great News – Golf Courses can re-open from Friday, 11th December!!
We strongly urge all golfers to continue to fully adhere to protocols which are aimed at keeping golf and the wider community safe while the Covid-19 pandemic remains such a serious threat. We also ask golfers to fully comply with the wider public health restrictions as set out at https://www.nidirect.gov.uk/campaigns/coronavirus-covid-19 .
Jag Catering and the Bar will re-open on Friday 11th December at 11.00am.
Northern Ireland Executive guidance states wet pubs remain closed and therefore it will only be possible to purchase alcohol if you have purchased a main or substantive meal.
Sign in providing name, contact telephone number and the names of any other persons in your party.
Service will be provided at each table and members must not approach the Bar.
All persons must vacate the Clubhouse by 11pm at the latest.
No more than two households are permitted at each table and tables on the carpeted area have been set out for individual groups of two.  Tables should only be moved by staff.
Please be patient with all staff.
---
GENTS WINTER LEAGUE

---
JUVENILE COACHING – NOVEMBER 2020
For four weeks in November the Club held coaching sessions for some of our young players.  Lead by Pro Gordon at Groomsport Driving Range, four groups of five or six attended on Thursday evenings, two groups each evening on alternative Thursdays.  The sessions proved very popular and everyone seemed to enjoy themselves and improvements were noticeable.  We have some great talent in our junior section and the Juvenile Committee is determined to keep them busy with development and competitions throughout the year.  A busy programme has already been proposed for 2021 with coaching continuing on our own Academy in the Spring.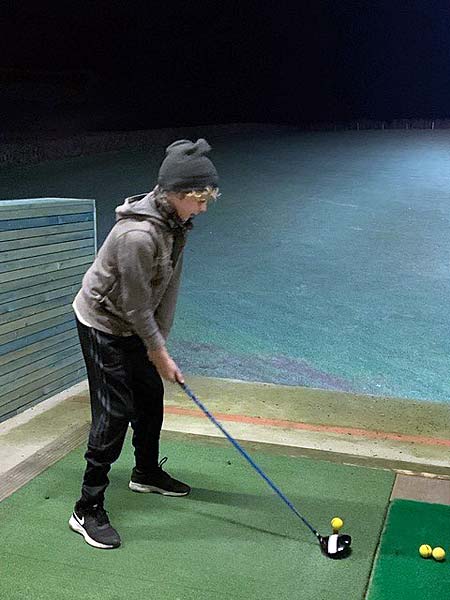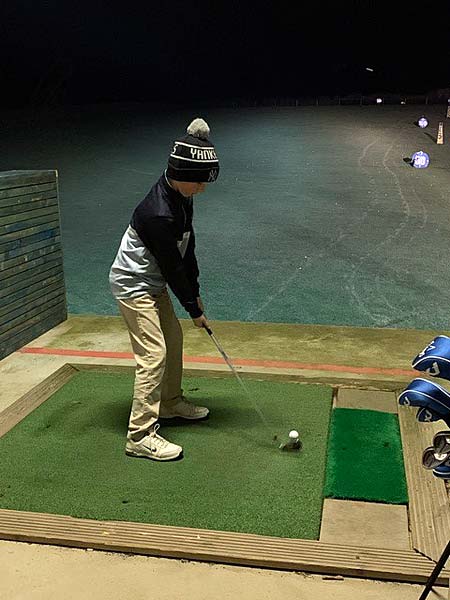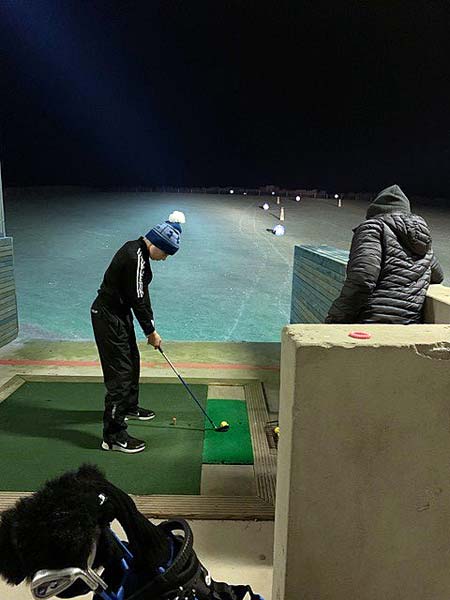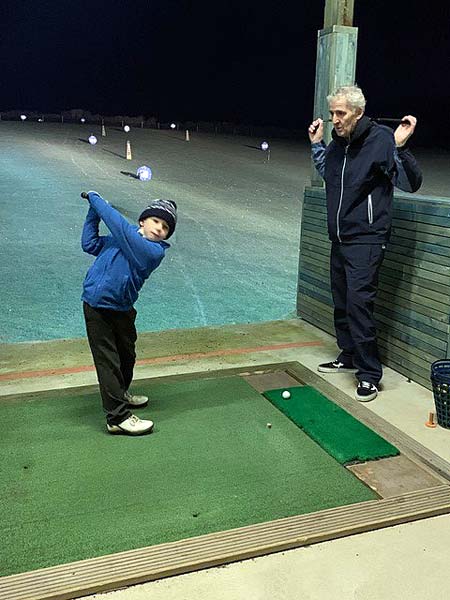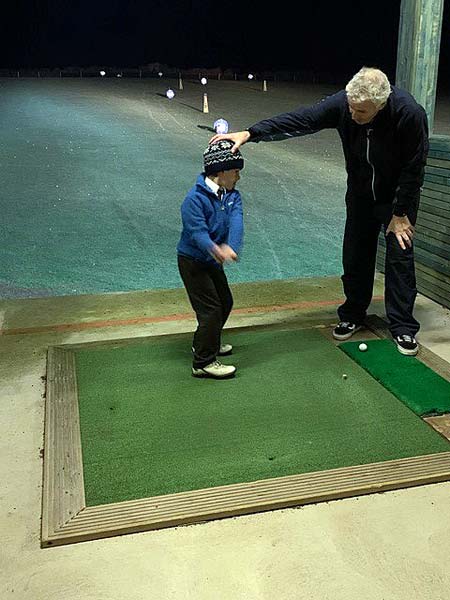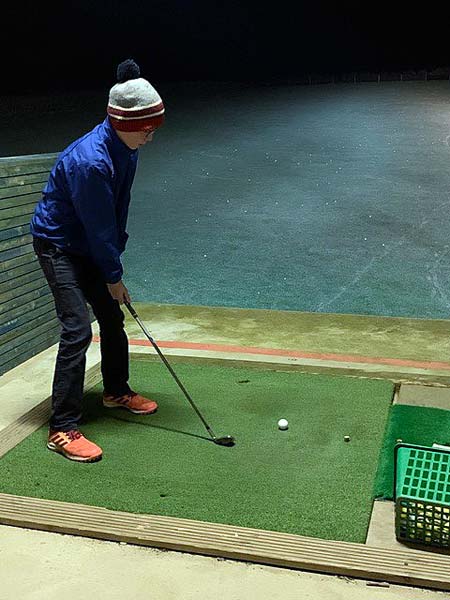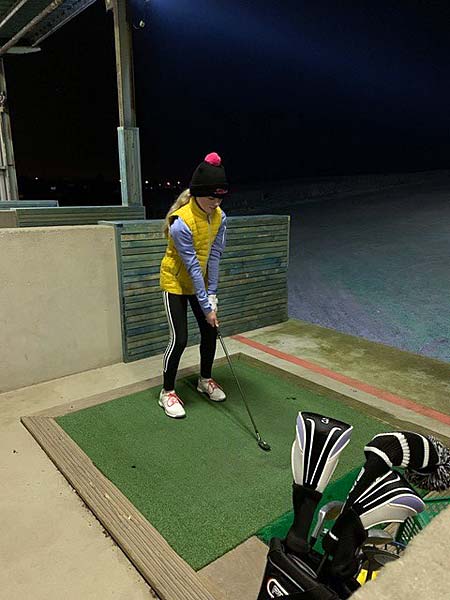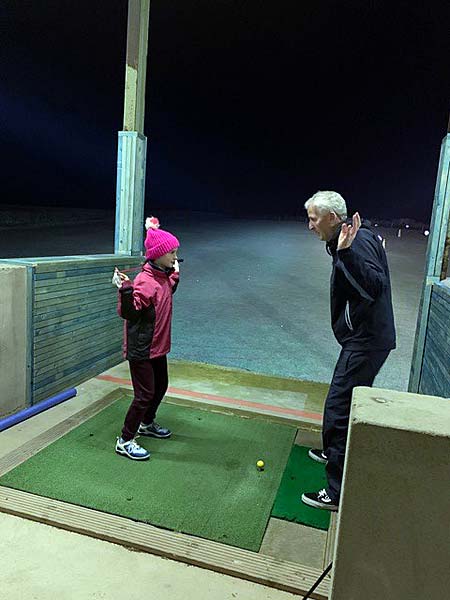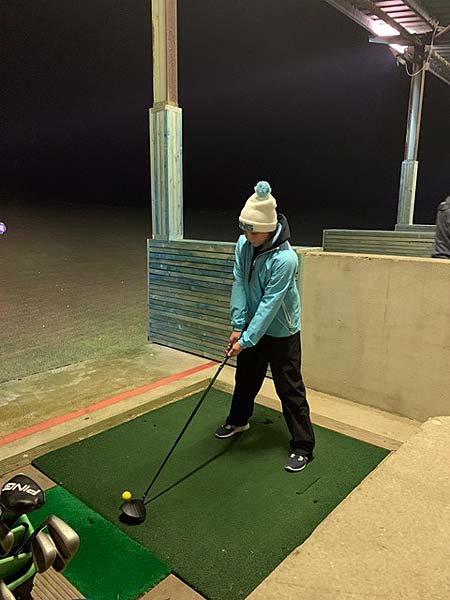 ---
KILLER MILLER PLAYS A THRILLER
Brian Miller signed off in his last game before lockdown with a fantastic score of 28 points. Playing off 18 he went round 1 under gross – 8 pars and a birdie. His team (Team Homer) only managed 4th place, a massive improvement on previous weeks.
Team 7 (Snoopy) were the best team this week with a strong showing from Rodney Hughes (24pts) David Jackson (24pts) and Roger Dorrian (22pts).
Team 3 (Bart) are out in front with 23pts narrowly ahead of team 7 (Snoopy)
Team 3 Bart 23pts
Team 7 Snoopy 22pts
Team 8 Flanders 20pts
Team 9 Burns 20pts
Team 6 Jetsons 19pts
Team 2 Topcat 15pts
Team 5 Magoo 14pts
Team 4 Cartman 11pts
Team 10 Popeye 11pts
Team 1 Homer 10pts
Gents all being well we will recommence the league on Friday 11th December until then stay safe.
---
ALPINES GOLF – THURSDAY 26TH NOVEMBER
The Alpines had a last hurrah before the impending new Covid-19 lockdown, which was less than 8 hours away.  56 golfers enjoyed pleasant benign conditions, which were reflected in the scores.  None more so that Brian Miller, a 19 handicapper who, after adding a birdie at the 6th to pars at every other hole on the front nine, collected 28 points to blow the rest out of the water!  Normally Trevor O'Rorke and Tom McNulty would have been confident enough with 24points but they had to settle for the minor places behind Mr Miller who dandered around the course picking up points with effortless ease.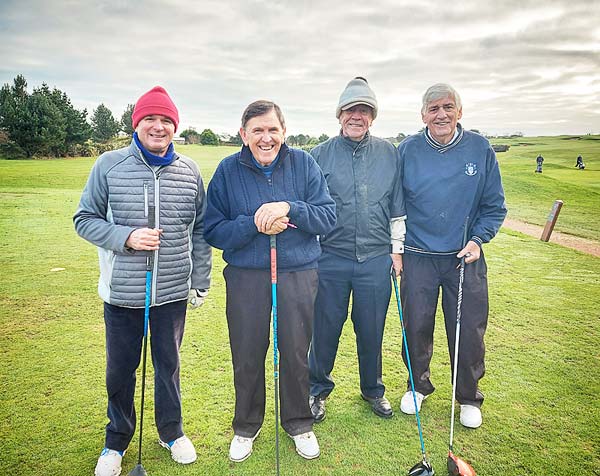 ---
COVID-19 UPDATE
Following the latest guidance on the COVID-19 restrictions, Donaghadee Golf Club will be closing from midnight on Thursday 26th November 2020, hopefully re-opening on
Friday 11th December 2020.
From Friday 27th November, for two weeks while the Golf Club is closed, the Office will be open for telephone calls, between 9.00am – 1.00pm, Monday to Friday.
---
DONAGHADEE GOLF CLUB RAISES FUNDS FOR GUIDE DOGS NI
In March, Fiona Hicks selected Guide Dogs NI as the Lady Captain's charity for her year in office at Donaghadee Golf Club.  Unfortunately, due to Covid-19, not only was golf brought to a halt for weeks, so also were fund raising activities for most local charities.  When golf got back underway Fiona was determined to play catch up and nominated an Open Event at Donaghadee as a fund raiser for Guide Dogs NI.  With the terrific support of Rollins Insurance in Holywood, the event raised over £500 and, together with more kind donations from club members, visitors and friends, the total raised so far has exceeded £1000.  Fiona was delighted to welcome Helen Kennedy and her Assistance Dog Rigsby to the Club today, together with local Guide Dogs NI Fund Raiser, David Mackey, and to present them with cheques totalling £1011.  Helen explained that without Rigsby by her side she would be lost, he is she said reliable and intelligent.  It can cost over £7000 to bring a guide dog from puppy to fully trained companion and today's contribution goes a small way towards this.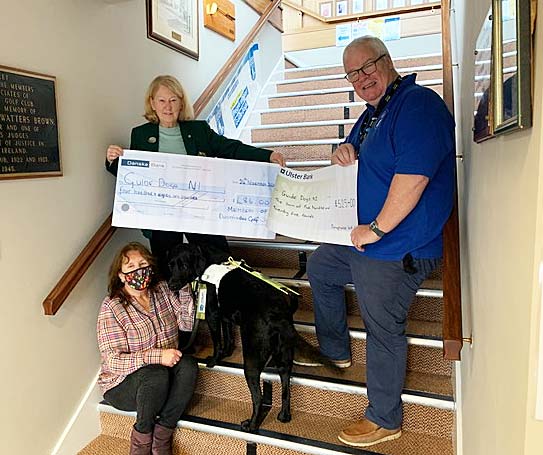 ---
GENTS WINTER LEAGUE
Bad Weather Poses a Challenge (for some).
Last week's bad weather, especially over the weekend, brought participation and scoring levels down. Not so for Garth Milliken who returned a fantastic score of 25 points for team 10 Popeye.
Team 9 Burns topped this week's team totals which moved them up to 2nd place in the league behind team 6 Jetsons.
STANDINGS AFTER WEEK 2
Team 6 Jetsons 17pts
Team 9 Burns      16pts
Team 2 Topcat    14pts
Team 3 Bart         14pts
Team 8 Flanders 14pts
Team 7 Snoopy    12pts
Team 5 Magoo     9pts
Team 10 Popeye  8pts
Team 1 Homer     3pts
Team 4 Cartman  3pts
Please note that the Winter League will be played this weekend (21/22 November). Unfortunately following this weekend, due to Covid-19 and the government restrictions, there will be no Winter League until the week commencing the 11th December.
---
MAKING A LITTLE GIRLS DREAM COME TRUE
Thank you, Donaghadee Golf Club for making a little girl very happy.  Arianna is Autistic and may have to go to Barcelona for brain surgery. She is awaiting her new wheelchair. It was Arianna's dream to ride on a Golf Buggy.
Thanks to Craig Lyall, Club Professional, for making this dream come true.  Arianna had a fantastic time and told everyone she is going to play golf soon.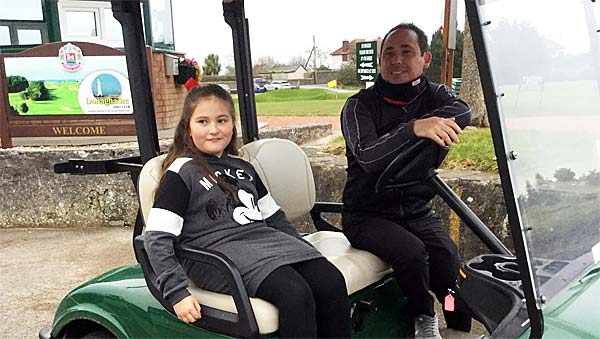 ---
ALPINES GOLF – THURSDAY 19TH NOVEMBER
Sunshine always bring golfers out onto the course and with pleasant days being rare during November, it was no surprise to see 50 members tee off today in the hope of a good score to match the weather.  Mind you, later starters felt the chill as they came to the end of their round as the light faded.
Nigel Carson got off to a great start, birdying the first two holes and following that up with pars at the next two holes.  He held his score together by pitching well to get up and down to finish the front nine holes with 23 points, which could have been better but for bogies at the 7th and 8th temporary greens.
Nigel Carson – 23 points
Brett Borkowski – 21
Paul Forde – 20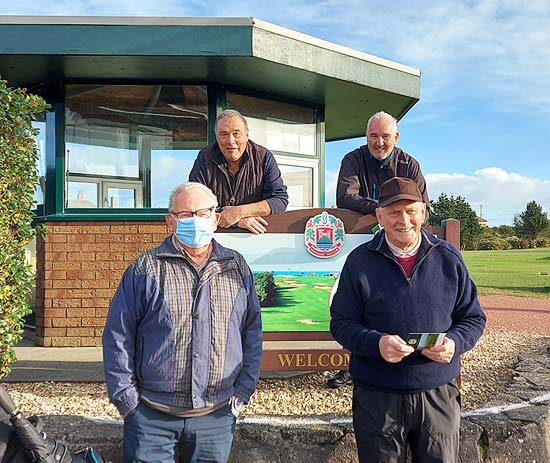 ---
SATURDAY TIMESHEET
At various times since the Club reopened in May, there has been some negative commentary around the availability of Saturday morning tee times. With the reduction in daylight hours over recent weeks, this disquiet seems to be on the increase.
I am sure that members are aware that, under the restrictions laid down by the Executive allowing us to play golf, we are only allowed tee times at 10 minute intervals for four-ball players. Normally, at this time of the year we would play at 7 minute intervals. Members will be able to work out for themselves what impact this has on capacity and the ability to provide space for everyone at the time they wish to play.
The current booking process on the Friday morning isn't ideal. However, to date nobody has provided me with an alternative solution that would be a better option. I have seen commentary questioning the integrity of the process claiming some members receive favourable booking treatment. This is categorically untrue. We have on occasion contacted members making these claims asking for any evidence to substantiate their view. To date none has been provided.
The situation is clearly frustrating in lots of ways. It is frustrating for me that members use social media to be critical of the Club on this issue, particularly when they offer no solution. I completely agree that the process should be fair for all, however some commentary seems to suggest an entirely contrary position, particularly when badged with comments around renewal.
The current position with supply unable to meet demand is clear to see, particularly with the excellent winter league entry of 130. The question on how to proceed has been under review. As stated previously, no alternative to the Friday 10am booking process has been identified. The lazy view is to simply say to restart a winter timesheet. However with the 10 minute intervals this will lead to only a reduced number of players having access to the course and there is no element of fairness with that at all.
An alternative approach is therefore to look potentially at reducing demand on a Saturday. I was approached by a member who suggested that with changes to the Pro-sweep and winter league conditions, his 4 ball, who are all available on a Friday, would be prepared to move to playing on that day rather than a Saturday. From some research done subsequently with other 4 balls, it appears that this idea has some support.
As a result from Friday November 20th, the Winter League can be played any day between Friday and Thursday. In agreement with the Pro-Shop, the Pro-sweep can be played on Friday, Saturday or Sunday. Members can, though, only enter once.
Can I stress that no member should feel under pressure to relinquish playing on a Saturday and that any decision to do this should be strictly on a voluntary basis. Can I also reassure members that any reduction in the number of Saturday's played this winter will have no detrimental impact on their ability to access any future fixed Saturday timesheet.
I am grateful to the member for the proactive suggestion made and appreciate the support and sentiment behind it. We will continue to monitor the timesheet, and social media commentary, to see the impact, if any, that the changes may make. Ultimately we may need to take further action including potentially restricting Saturday play to 9 holes, with a two tee start. Whilst this is not ideal, particularly with the wetness of some parts of the course, it will at least allow many more members to play at their preferred times on a Saturday morning. As ever, members are also asked to ensure that they always remove their name from the timesheet when they are unable to play.
I am, of course, completely open to other suggestions on how to mitigate the current issues. Please email the office with the details.
Stay safe
Trevor.
---
WINTER LEAGUE OFF TO A FLYING START
What a start. A fantastic turnout of 90% in the first week.
Team Flanders (8) are out in front with their best 8 scores totalling 162 four points ahead of team Topcat (2).
Gary Smyth (12) of team Topcat and Wesley Martin (19) of team Bart (3) both returned a splendid 24 points.
TEAM STANDINGS AFTER WEEK 1
Team 8 Flanders 10pts
Team 2 Topcat 9pts
Team 6 Jetsons 8pts
Team 3 Bart 7pts
Team 9 Burns 6pts
Team 10 Popeye 5pts
Team 7 Snoopy 4pts
Team 5 Magoo 3pts
Team 1 Homer 2pts
Team 4 Cartman 1pt
Would any member who scored over 20pts please check their handicap for this week.
---
ALPINES GOLF – THURSDAY 12TH NOVEMBER
With the course being closed on Wednesday and more heavy rain throughout the evening the Alpines were surprised but very pleased to fine nine holes open for play today.  They were, what has become known as, the Inner Nine, including six of the nine most difficult holes on the course.
Even heavy wet ground and a fair breeze couldn't stop Gerald Marshall climbing into the winner's circle again, just edging out Robert Henderson for top spot, with Peter Dornan sweeping up in third place.  53 cards were returned.
Gerald Marshall – 22 points
Robert Henderson – 22
Peter Dornan – 21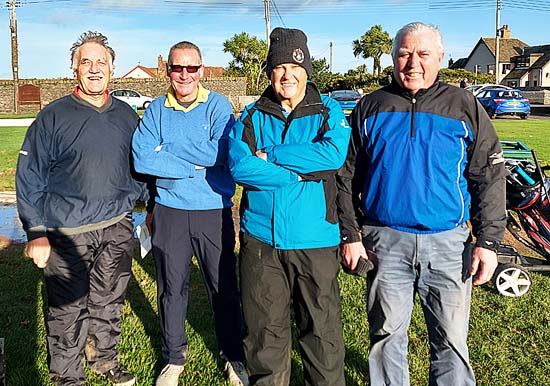 ---
REMEMBRANCE SUNDAY
Unfortunately there was no usual Remembrance ceremony on Sunday (8th November) but the two Captains did lay the Club's wreath at the cenotaph in the afternoon.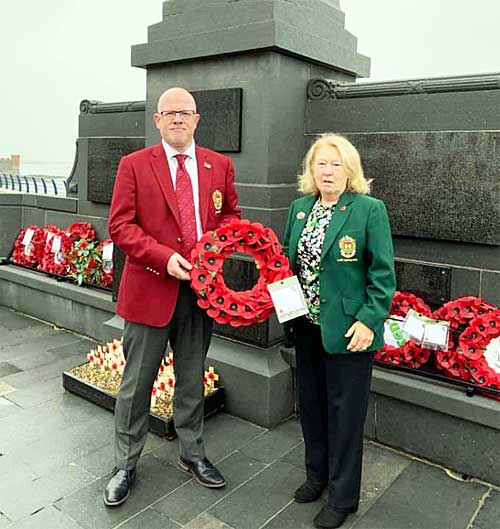 ---
ALPINES GOLF – THURSDAY 5TH NOVEMBER
After an enforced day off last week because of wet and windy weather, conditions today couldn't have been more pleasant (for November anyway).  There was even some sunshine but no rain and very little by the way of wind, just the occasional breeze.  No need for long-johns today and of the 56 golfers that took to the course it was Brett Borkowski who came out best with 24 points, helped with birdies at the 2nd and 5th.
Brett Borkowski – 24 points
David McBride – 23
Gerald Marshall – 21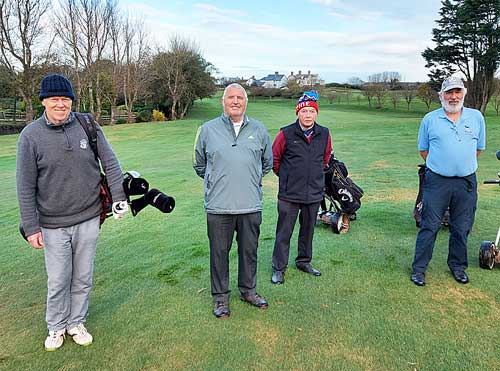 ---
GOLF SIXES
Over the last 3 weeks we have been running a new format of golf for the juveniles called GolfSixes and last Sunday was the finale. We had 22 junior golfers who committed and played their hearts out and they have made some great friendships; they played for their teams in Texas Scramble format over holes 1 – 6, teeing off from the 150 yard marker. It was played in the best of spirits and they had a ball. A big thank you must go to the parents for bringing their children down especially with the cold conditions on Sunday. Another massive thank you must go to the volunteers who took the time to walk round with the groups and give them so much encouragement and most importantly, made sure they had fun. Overall, a very successful 3 weeks and more to come. Thanks to everyone!
The prize giving was held outdoors immediately after the event.  As two other local clubs also adopted the GolfSixes format this year we are hoping to maybe throw out a challenge to them early next year.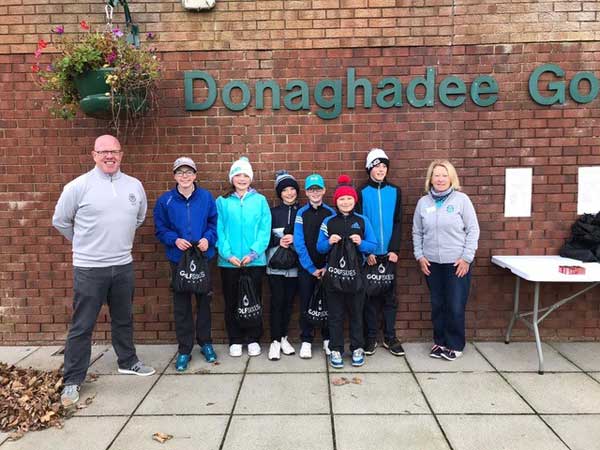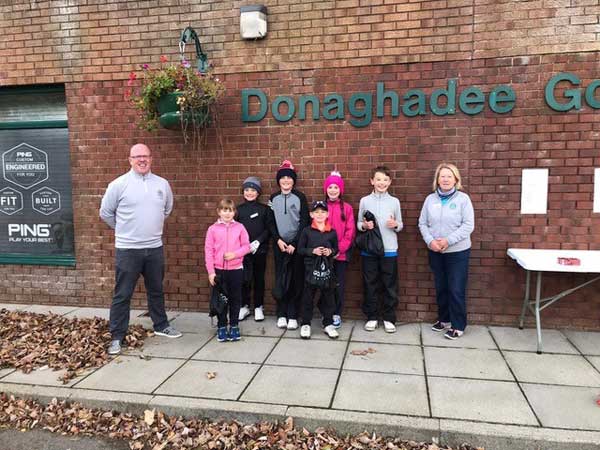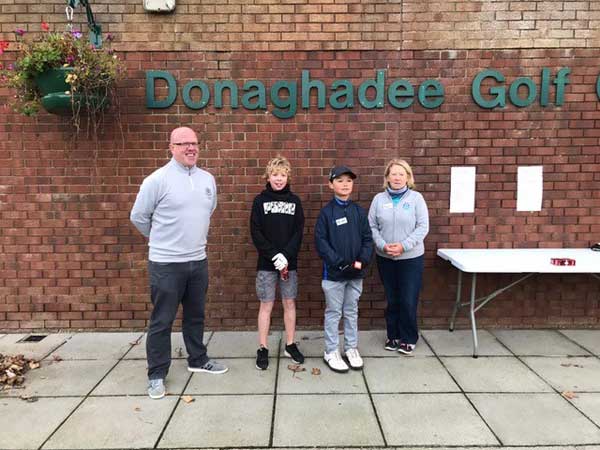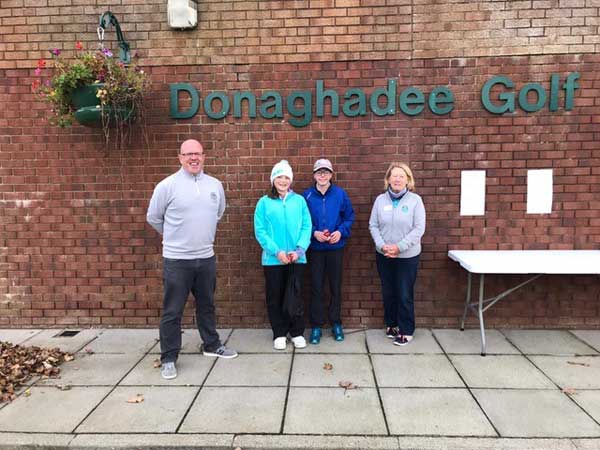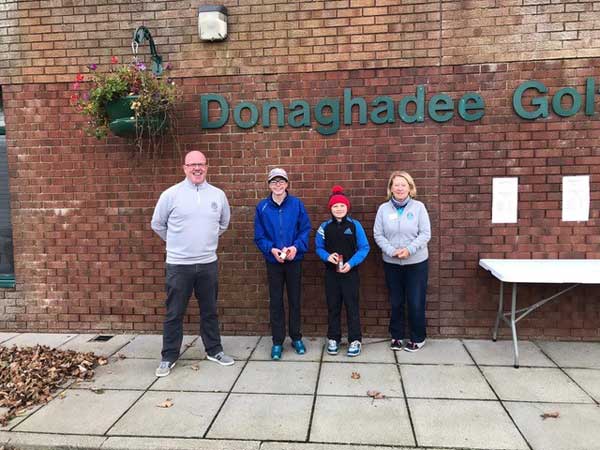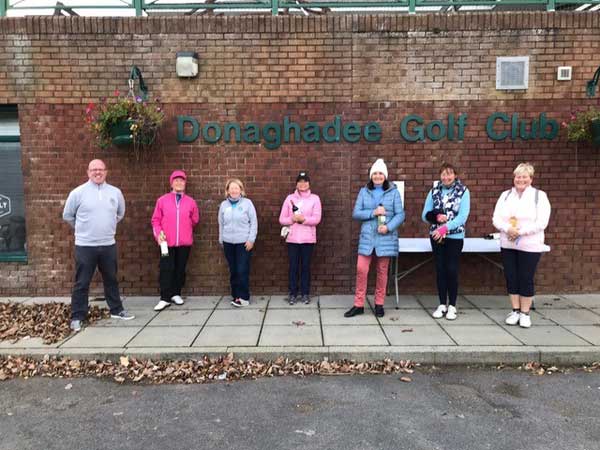 ---
BIG WIN FOR AIR AMBULANCE NI
As many of you will know, Sam Campbell won the inaugural Air Ambulance Trophy with an excellent score of 42 points, but the real winner was the Air Ambulance itself which has been presented with a cheque for £2,750.89.
At the formal presentation at the weekend the Captain paid tribute to all those who had made the event so successful "My thanks to Ian Gunning, Phil Robinson, Mark Weatherall for their generosity in providing the trophy; our many sponsors; those who purchased ballots and those who played in the competitions.   A lot of work went into organising the competitions and I am particularly grateful to our Match and Handicap teams, our office and bar staff, JAG catering and our Professional."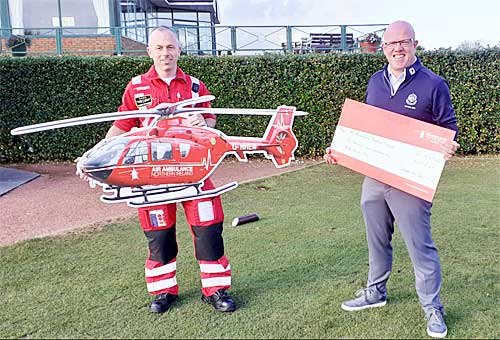 Glenn O'Rorke, Operational Lead for the Service, was very appreciative of the Club's fund-raising efforts, saying "We need around £2m a year to keep the service operational and we are entirely reliant on support from the public and local businesses.  We are very grateful to the members of Donaghadee Golf Club for their organising the event and for this very sizeable donation"