LADY CAPTAIN'S CHARITY COMPETITION
The Lady Captain held a competition in aid of charity on Tuesday, 10th September in aid of the British Heart Foundation.  The event was generously sponsored by Jonzara, Newtownards.  The winners (L to R) Heather Majury, Christine Kennedy and Alison Strain are with Heather McCann (Jonzara) and the Lady Captain Valerie McIlveen.  Congratulations to all for raising £257.28 on the day.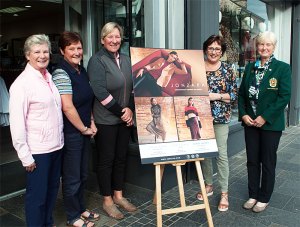 ---
MISS DESIGNER GOLF COMPETITION
On 3rd September 2019 our Ladies Section held a special competition for Miss Designer and the winner on the day was June Simpson and June can be seen with the Lady Captain, Valerie McIlveen in Conway Square, Newtownards.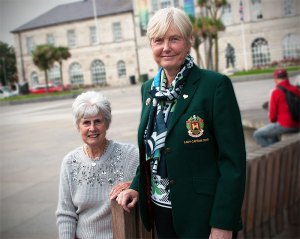 ---
PAST LADY CAPTAINS' CUP
Congratulations to Eleanor Alcock, winner of Past Lady Captains' cup. Runner up – Alison Strain. 3rd Kate Jackson and 4th Freda McQuoid. Well played Eleanor!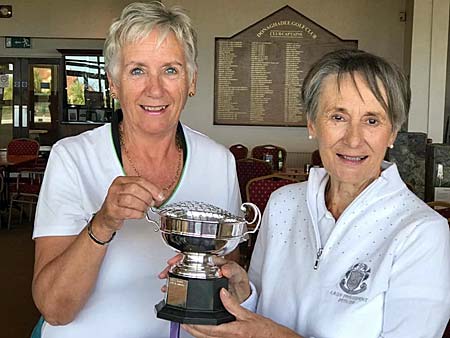 ---

---

---
CHILDRENS' PARTY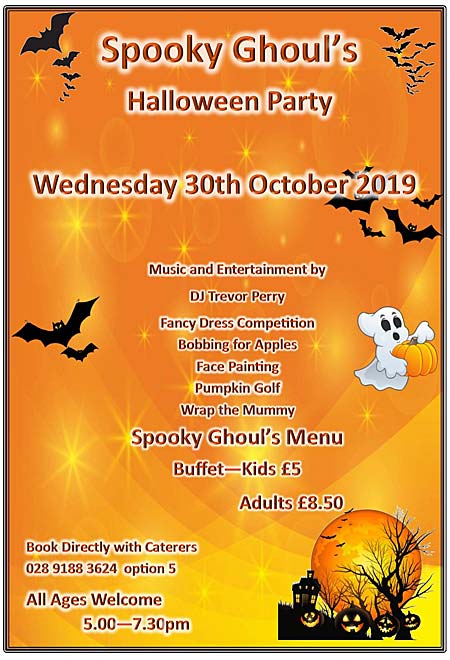 O'HARA CUP
After foul weather previously saw a postponement of the O'Hara Cup (stroke mixed foursomes), this competition actually took place on Friday, 6th September when members of both sections of the Club entered their names for a free draw to decide partners on the night.  After a flurry of rain saw golfers on the 1st tee scramble for waterproofs if proved only to be a scare as it turned out that fair and pleasant weather was the backdrop for the event.
After all was done and dusted the John Nelson Room was the setting for the results and presentation when it was announced by Philip Robinson (Match & Handicap) that the Captain and Lady Captain had hit the crossbar and came in second.  It took a brilliant score to beat them and that was managed by Johnny Wallace and Janet Adams who now find their names inscribed on the trophy.  Well done to the winning pair and all who took part.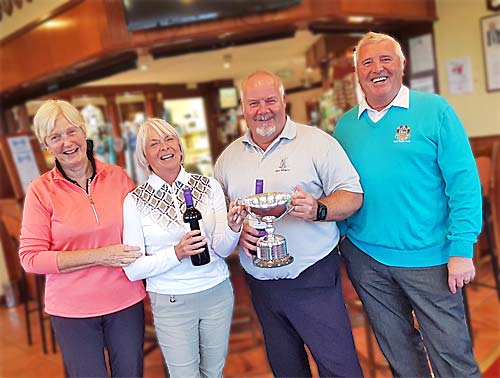 Johnny Wallace & Janet Adams (32.5)
Captain Jim Gunning & Lady Captain Valerie McIlveen (33.75)
Philip McCullough & Angela Carlisle (34.5)
Helen Dunbar & Colin Robinson (35.25)
---
DISABLED GOLF HUB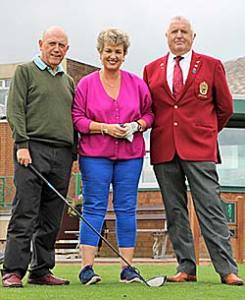 Trevor Hillen isn't a man to let an obstacle get in his way and that includes when on the golf course.  Trevor's dedication and enthusiasm has been rewarded in his being selected to represent Europe in in the bi- annual golf Disabled Ryder Cup competition against their American counterparts at Fort Myers in Florida USA in October 2018.
Trevor, a 25 golf handicapper, has been playing in EDGA (European Disabled Golf Association) tournaments since 2015 and has, like the pros, racked up thousands of air miles playing in competitions for disabled golfers in the UK, the Algarve, Sweden and Spain.  Trevor is currently in Scotland getting ready for the Scottish open which begins on Saturday.
He remarked, "I won't be home until Thursday of next week.  It is very important that people are aware of this initiative and I am heading up a work party for the GUI/ILGU/Confederation/PGA on how inclusive golf is set up for disabled people and my plan has now expanded to include able bodied."
On Tuesday past (3rd September) Trevor was interviewed by Anne-Marie McAleese for the Radio Ulster programme "Your Place and Mine".  It will feature Trevor and Donaghadee Captain Mr Jim Gunning.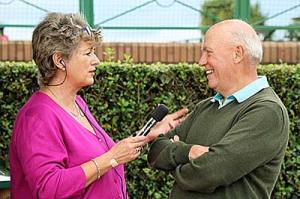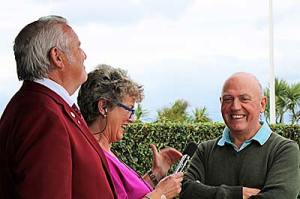 The first disabled friendly hub open for business is at Donaghadee Golf Club and full details will be available to everyone in the next couple of weeks.  Why not give it a go – just get in touch at disabledgolf@mail.com.
---
Reviewed O'Hara Cup Draw

Friday 6th September 2019

The draw for the O'Hara Cup has now taken place, meet @4.30pm.
Cost of entry £4 per pair
Lady Captain                                Captain
June Simpson                               Greg McDaid
Freda McQuoid                            Ryan Hay
Joan Millar                                    Alistair McQuoid
Jude Myers Holmes                    Terry Hegan
Marion Thompson                      Alex McWilliams
Caroline Minnis                           Marty McIlveen
Angela Carlisle                             Philip McCullough
Linda Crawford                            Brett Borkowski
Loraine Ward                               Nigel Carson
Janet Adams                                 Jonny Wallace
Maxine Eadie                               David Millar
Helen Dunbar                               Colin Robinson
Joyce Cunningham                      Robert Henderson
Heather Majury                           Girvan Boyle
Yvonne Clark                                Philip Robinson
Jennifer Nevin                              Barry Davison
Carol Davison                               Clive Majury
Fiona McGhee                             Jeff Aiken
---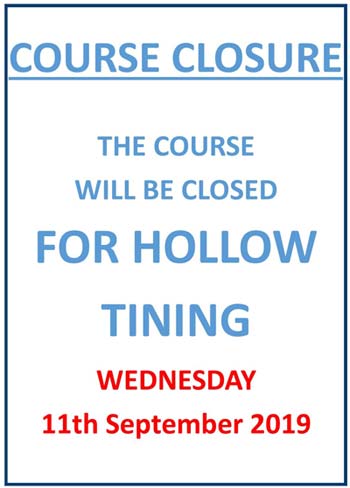 ---
LADY PRESIDENT'S DAY 2019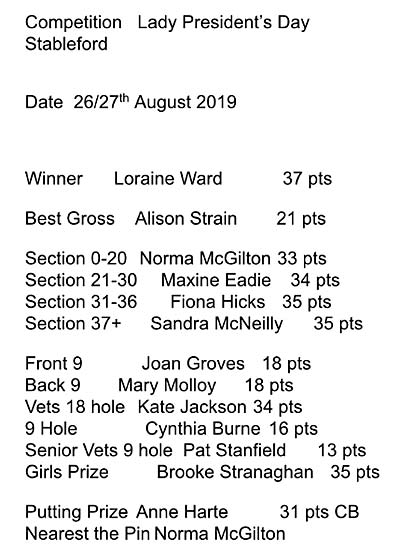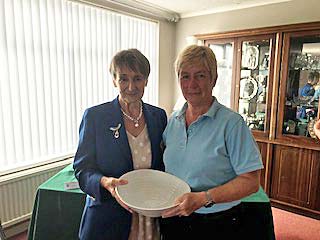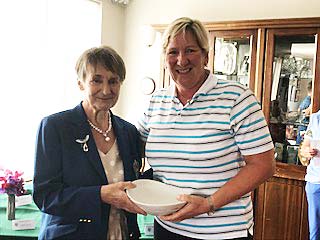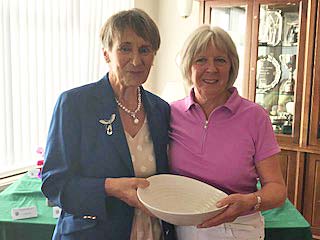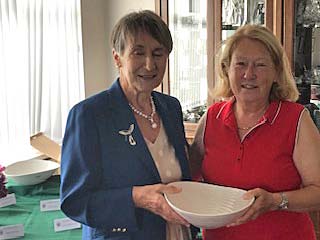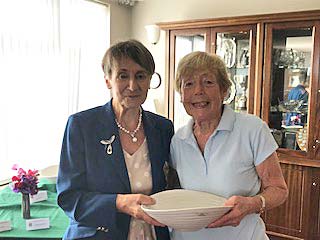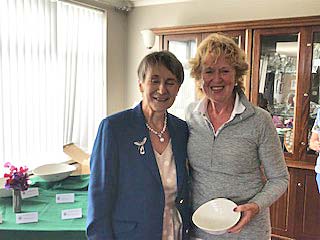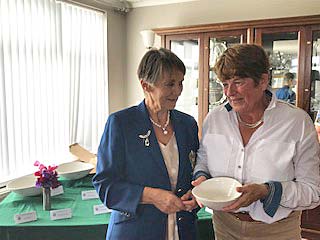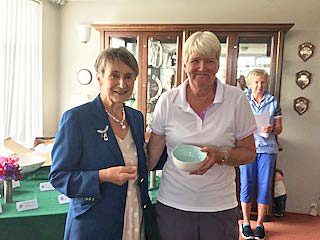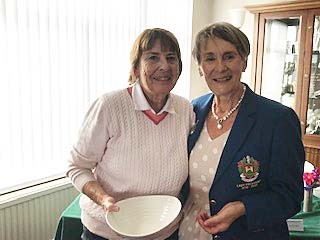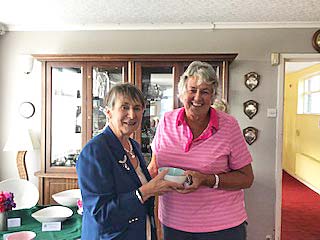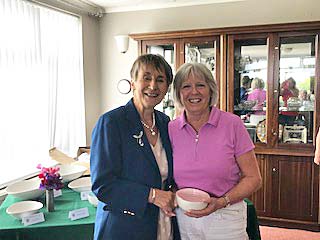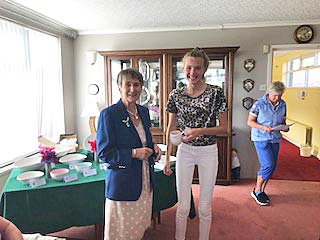 ---

---
HACKWORTH TROPHY
Congratulations to our Past Captains who reclaimed the Hackworth Trophy in their annual challenge match against the Past Captains of Clandeboye on Friday.  In a closely fought contest, Donaghadee Past Captains recorded their first away win in the 26 years of this annual challenge which celebrates the close ties between our two clubs. Our older (sorry, more senior members!) will have fond memories of Billy Hackworth who was the professional at Donaghadee for many years.
---
O'HARA CUP
The O'Hara Cup has now been arranged for the 6th September. First tee off will be 4:45pm.
Can all players who entered please tick their name off the draw sheet if available on that date.
The draw sheet is in the back hall.
---
DONAGHADEE SCRATCH CUPS
We have rescheduled our Scratch Cup Competitions for September 1st 2019. Booking is advisable & the time-sheet is now available for reservations. Contact Gordon/Craig @ 02891883624 ext.2 or book online.
---
COURSE CLOSURE
Monday 19th is Juveniles Captains Day. As normal the course is closed all day. We have always accommodated members who wanted to play. This is with the understanding that juvenile competitors have priority on the day thanks.
Jim Gunning
---
JUVENILE CAPTAINS DAY
Monday coming will, weather permitting, be Rachel and Reece's Captains day. To this end any assistance on the day would be much appreciated.  As Juveniles nearly all stay from morning until the prize giving we need extra help to supervise the competitions during the afternoon.
The 'A' section play a 9-hole qualifier with the top 8 scores going into the match play stage.
Non-qualifiers can play a 9-hole supplementary competition. All from white markers.
Longest drive on the 6th and nearest the pin on the 9th. Everyone can enter the putting competition.
The 'B' section play 9-holes from either the yellow/blue markers depending on categories. All holes played onto the real greens.
Driving, Pitching and Putting competitions will be organised in the afternoon.
The 'C' section will play 9 shortened holes the same as last year.  As with the 'B' we will organise afternoon competitions.
All Juveniles will each receive a meal and drinks Voucher to be used on the day.
Jim Gunning
Juvenile Convenor
---
LADIES DAY OUT
What a great day out at Rockmount Golf Club for the Dee Ladies. Good golf, lovely food and hospitality from Rockmount and brilliant craic. What more could we ask for.
Big thank you to Lady Vice for arranging it all.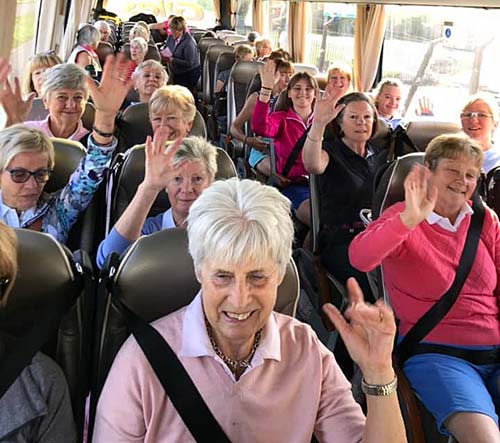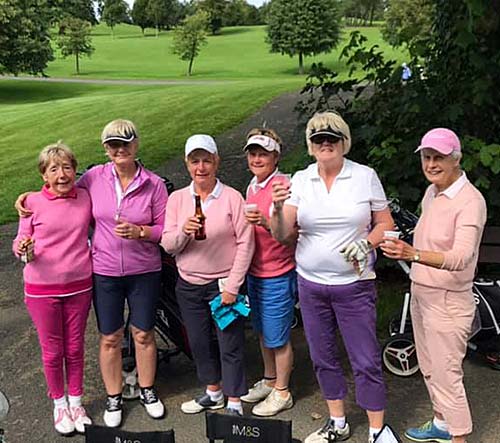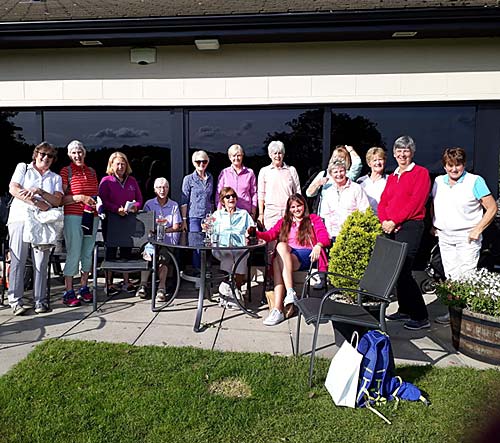 ---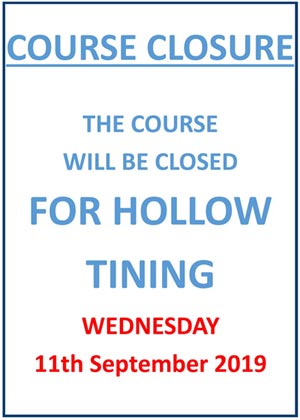 ---
Family Fun Day
Family Fun Day Sunday 11th August 2019 cancelled due to adverse weather conditions.
Apologies for any inconvenience caused.
---
O'Hara Cup
O'Hara Cup Friday 9th August 2019 is postponed due the course being flooded and therefore the course has been closed all day
Apologies for any inconvenience caused.
---
New Policies – Volunteer Policy and Equal Opportunities Policy
The Club have adopted 2 new policies Volunteer Policy and Equal Opportunities Policy.  Copies of these policies are on display on the council notice boards.  Anyone requesting a personal copy please contact the office.
---
CAPTAIN'S DAY 2019
There was good and bad weather wise, with the early starters enjoying pleasant sunshine throughout their round but later starters had to suffer from some rain – not that put any damper on what was a brilliant day for our Captain Jim Gunning.  Nor the winner on the day – Mark Carlisle.  Playing off a handicap of 18 Mark registered six pars and just the two double-bogey holes, a very steady round of golf beating the three section winners by a single point (Gavin Leeburn, Gordon Stubbs and Reece Simpson.  Garth Boyd continued his excellent form by collecting the gross prize with a one under par 70.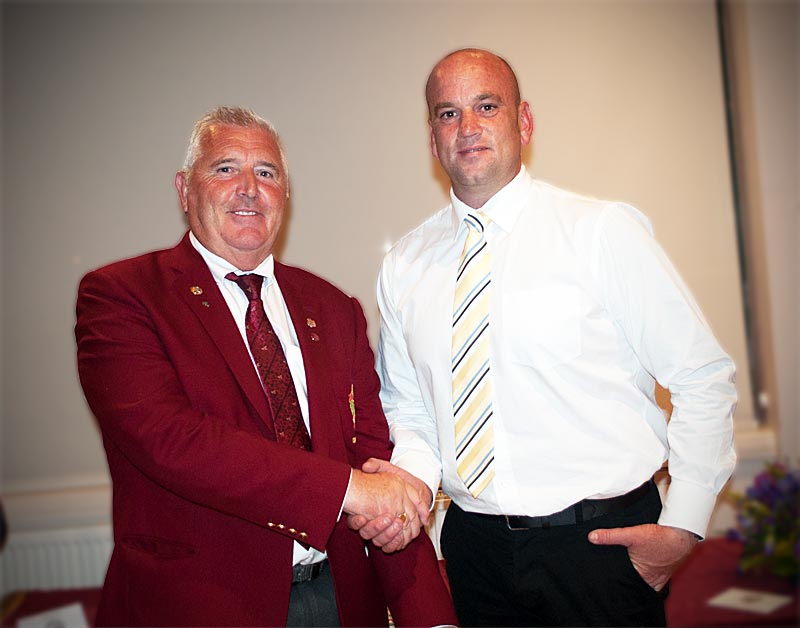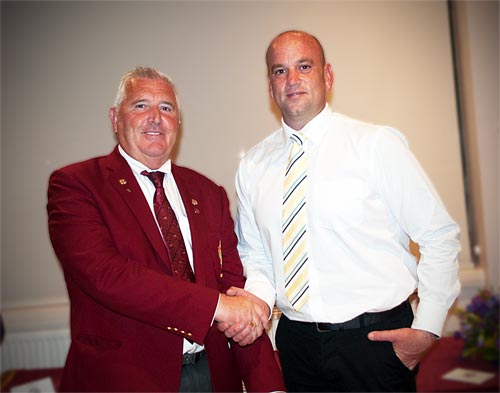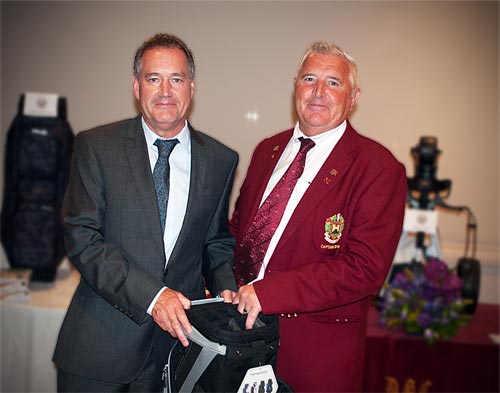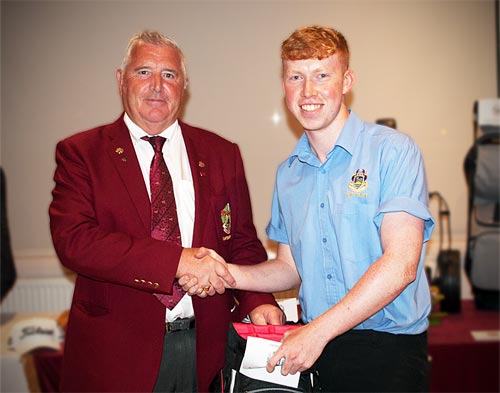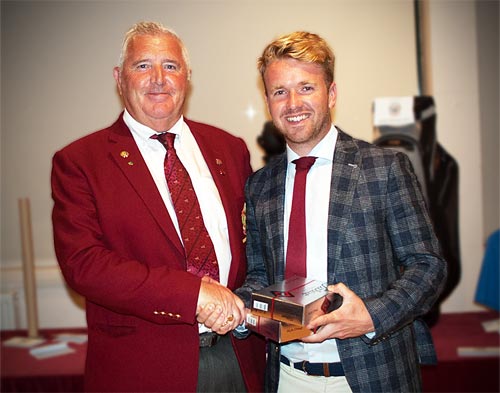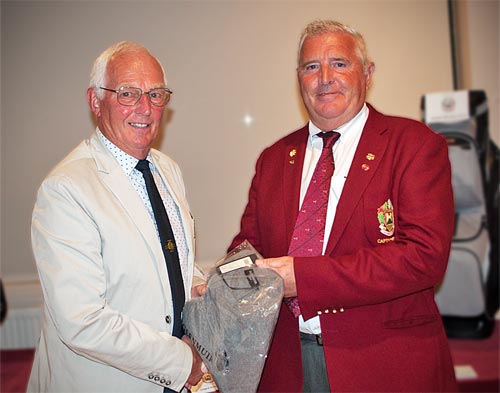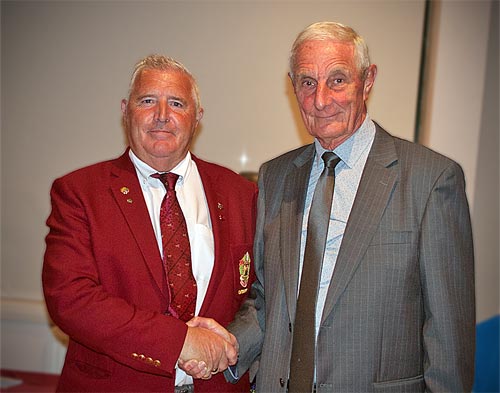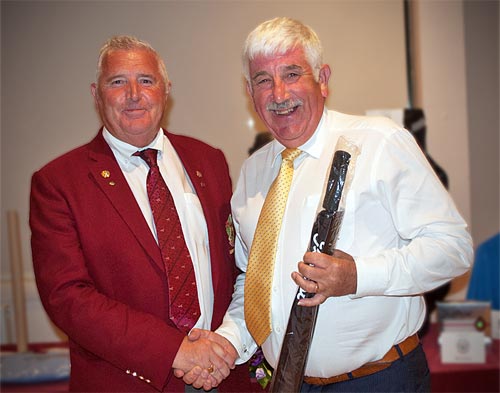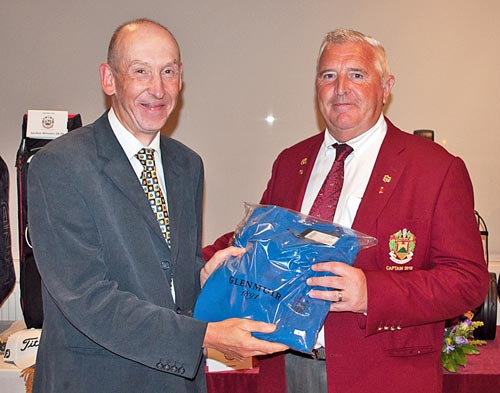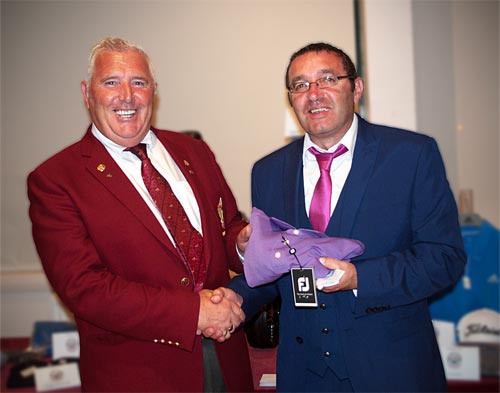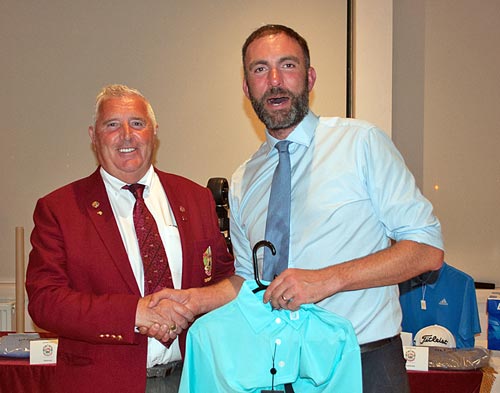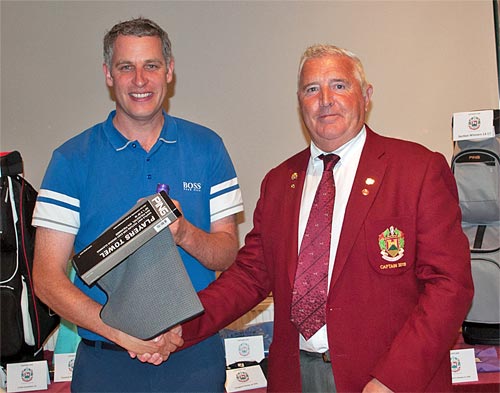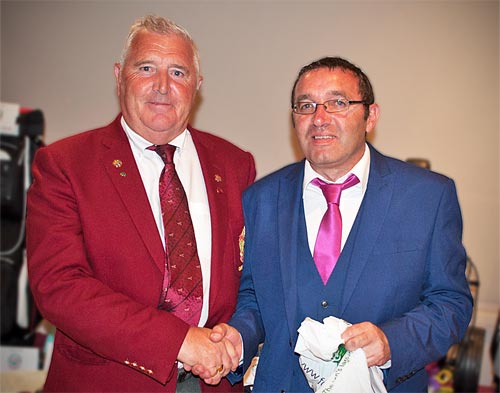 ---
LADIES CHALLENGE CUP

The Ladies Dream team played their quarter final match against Shandon Park Golf Club going into the second leg with a comfortable home win of 4 and 1/2 matches.  But Shandon with their home ground advantage gave us a hard-enough battle.  However, the girls played very well and with one win we called in the rest of the team in.
---
LADIES CLOKEY CUP
The Ladies Clokey Cup took place on Tuesday 23rd July 2019.  The event was generously sponsored by Harrisons of Greyabbey and David and Helen Harrison can be seen presenting the trophy to Rachel Brunton.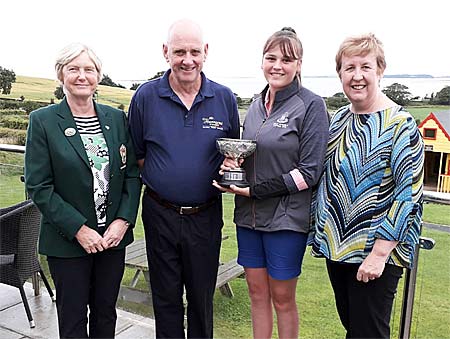 Rachel was a comfortable winner on the day, starting and finishing her round strongly to reach 37 points, beating Penny Patterson into second place.  Section winners were Brooke Stranaghan, Lady President Judith Purdy and Sandra McNeilly.  Hazel Caldwell won the 9-hole competition.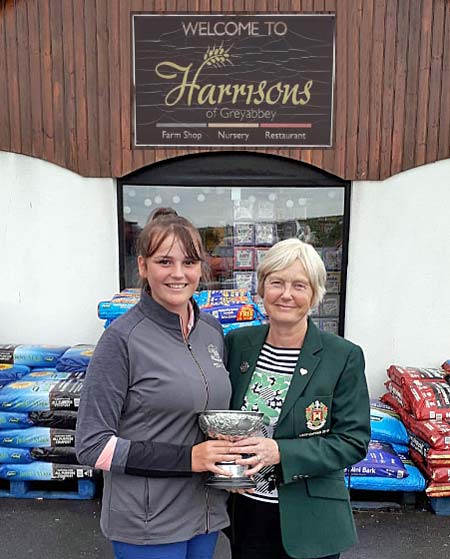 Lady Captain Valerie McIlveen was delighted to see another young golfer doing so well and Rachel is one of a trio of young ladies including Ella Ross and Brooke Stranaghan that the ladies' section is so proud off.  Lady Captain has also noticed the emerging talent of Alex Roberts who has now joined this clutch of young golfers who all have a promising golfing future.
Harrisons of Greyabbey.  Nestled on the shores of Strangford Lough and situated on the outskirts of the picturesque village of Greyabbey (1.5 miles south of Greyabbey on the A20), Harrisons offers a fully stocked Nursery, Farm Shop, and Restaurant, everything you need for a lovely day out in this beautiful part of the Ards Peninsula.
---
FAMILY FUN DAY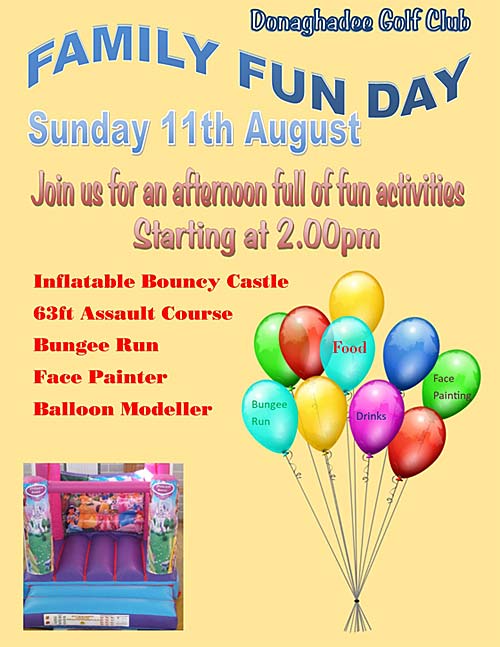 ---
FRED PERRY TROPHY UPDATE


After a disappointing result last Sunday our Fred Perry team travelled the 200 mile round trip to Newtownstewart requiring 3 matches to progress to the semi-final of the Fred Perry Trophy – and progress they did!
---
IRISH FOURBALL TEAM BOW OUT

Donaghadee had another mountain to climb in the second leg of their last 16 clash at home to Rockmount on Sunday, trailing by 4 and a half to a half match and 15 holes.. The team were still optimistic having managed a great comeback in the last round. However, Rockmount were recent finalists in this tournament and started much the stronger leading in 3 of 5 matches early on.
---
LADY CAPTAIN'S DAY
Congratulations to Freda McQuoid who won Valerie McIlveen's Lady Captain's Day.  Glorious sunshine bathed the North Down coast and the whole of Ulster while Freda composed a round of 34 points.  The highlight being a birdie three at the 11th, complimented by sound pars at 5, 7 and 13.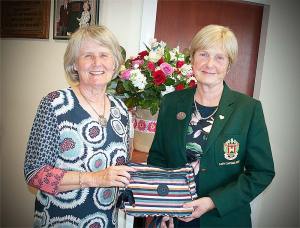 Just a slender point less were the four section winners, Penny Patterson, Janet Adams, Cynthia Smith and Jennifer Nevin.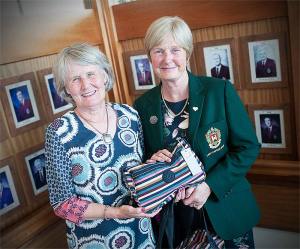 As is traditional, the Lady Captain invites men to play a 13-hole competition later in the day and towards 9pm Valerie was applauded into the John Nelson Room when she presented Mark Farrell with the winning prize, a beautiful golfing picture by Pebbles from the Dee (a local business) as a reward for his 31 points.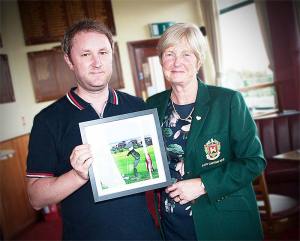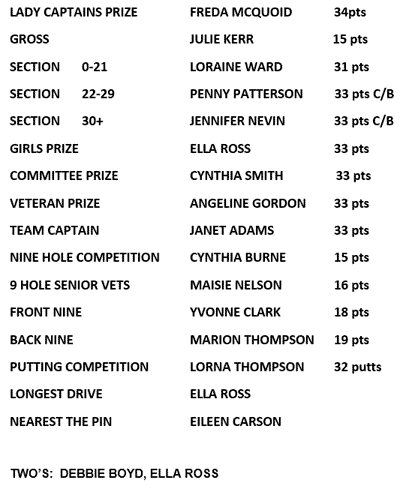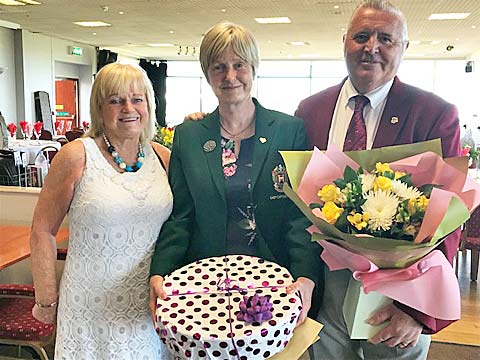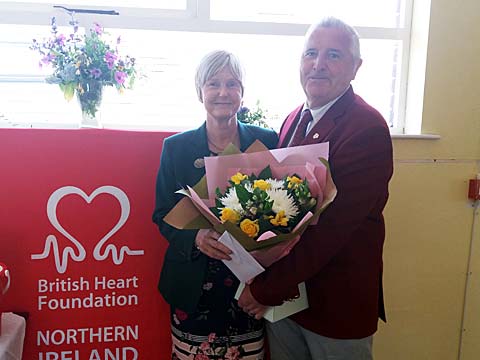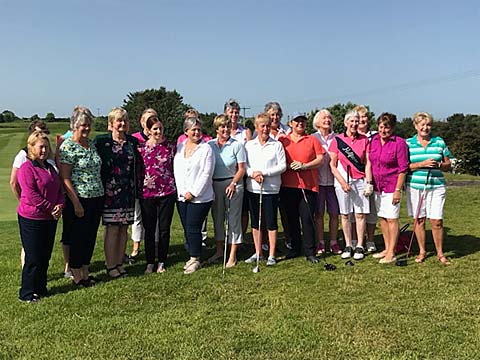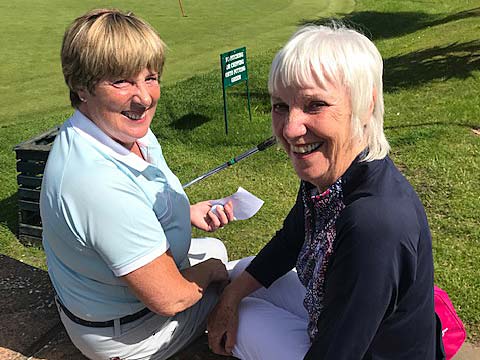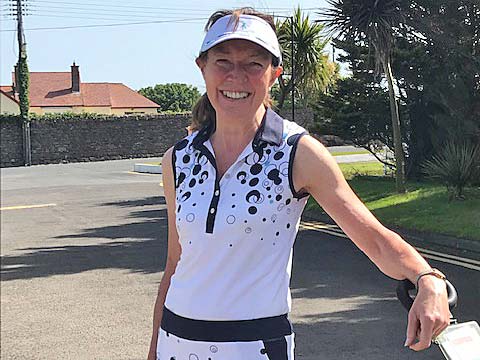 ---
PRESIDENT'S DAY
Congratulations to Gareth Boyd who won President's Day with a magnificent gross 64.  Just two short of the course record, Gareth put together a round of 44 points that included eight birdies, six of them on a flawless front nine.  Gareth can be seen collecting his trophy from President John Caldwell.Other winners were Mark Weatherall (Best Gross), Brian Miller (Best Veteran), Paul Swenarton (Best Restricted) and Tom McNulty (Best 9-Hole competition).
The President was blessed with magnificent weather, a fabulous attendance at his evening function and a fly-past by the Red Arrows!!!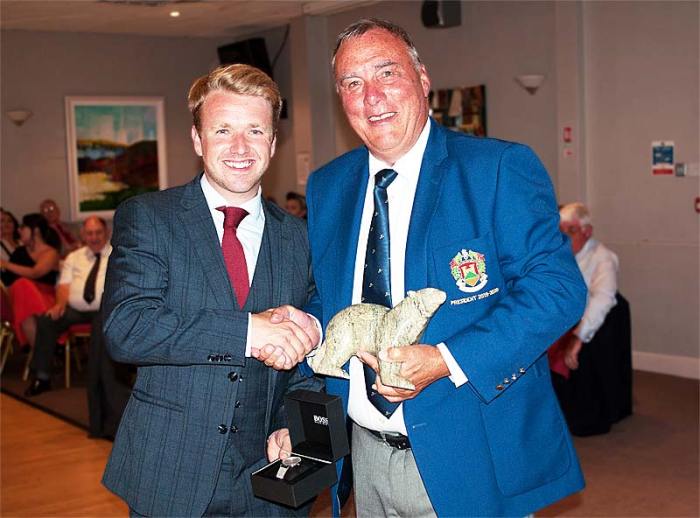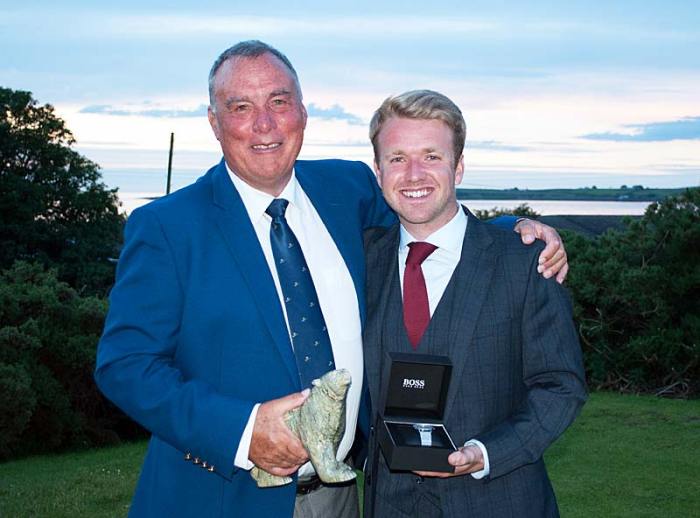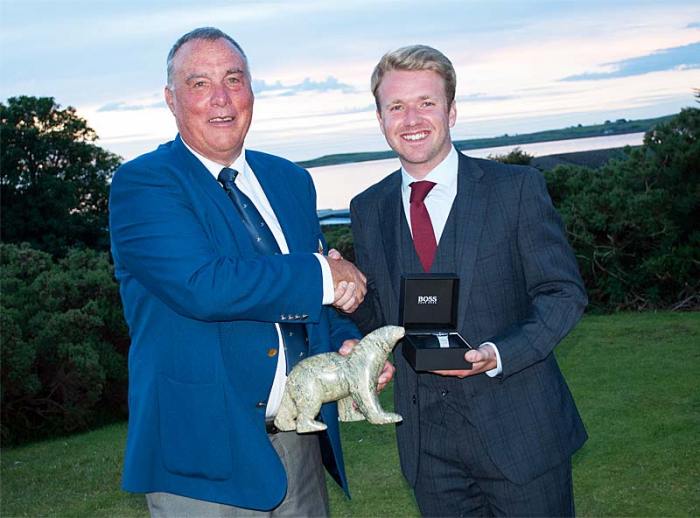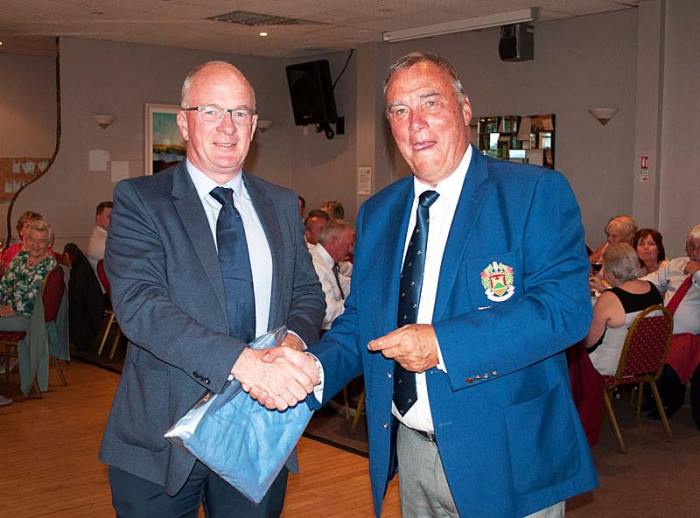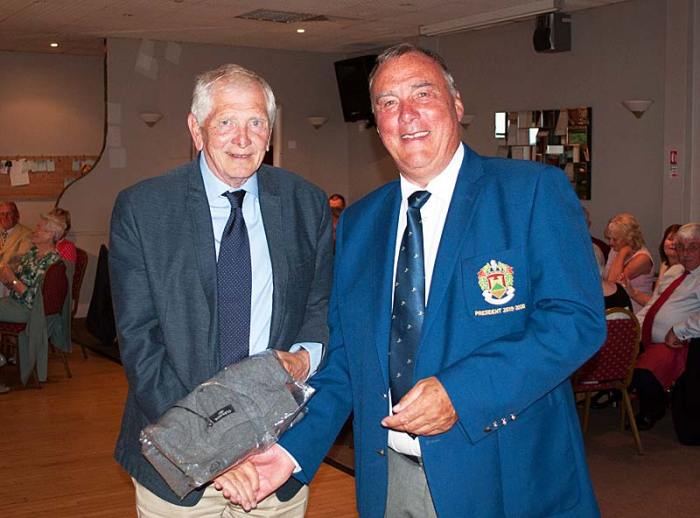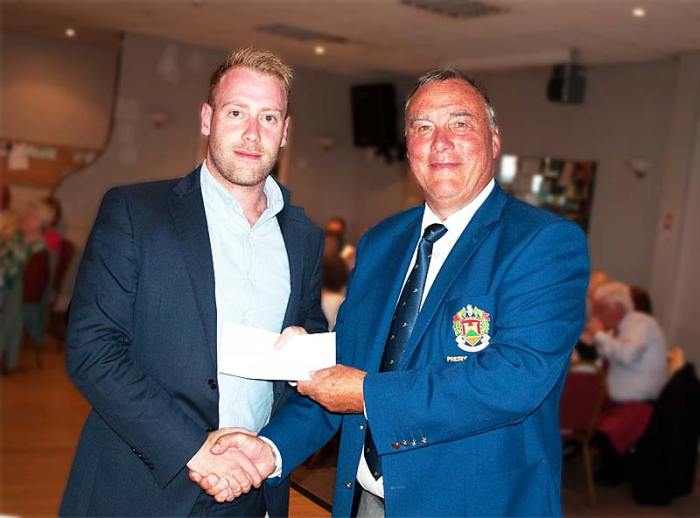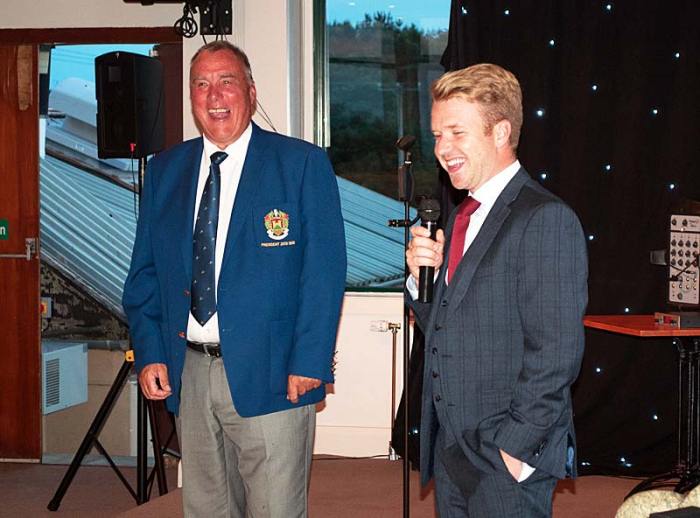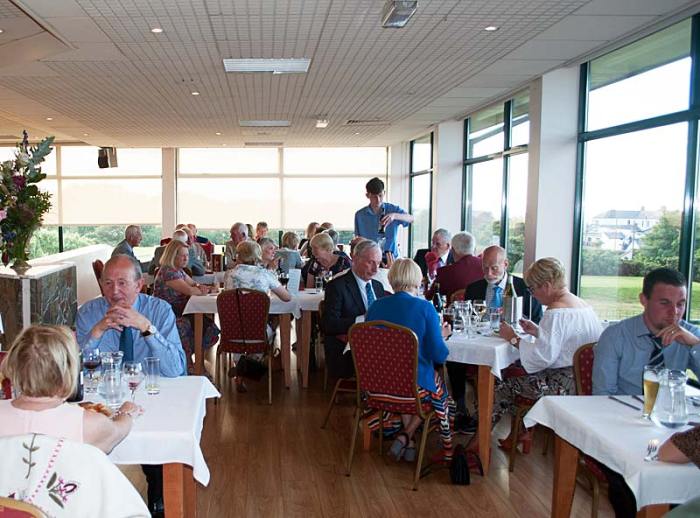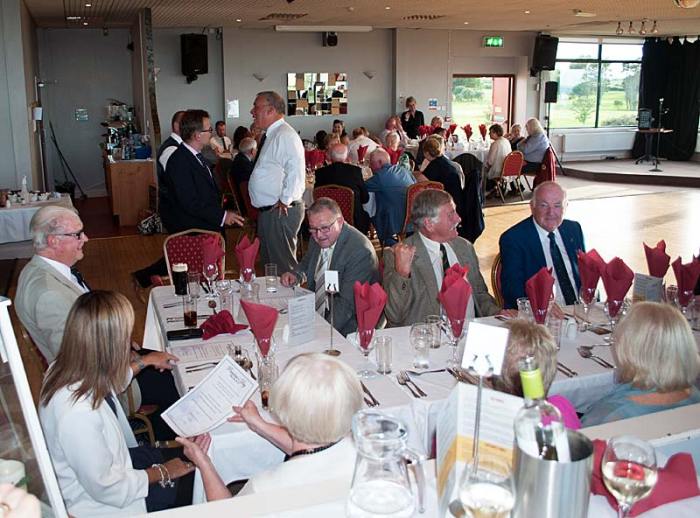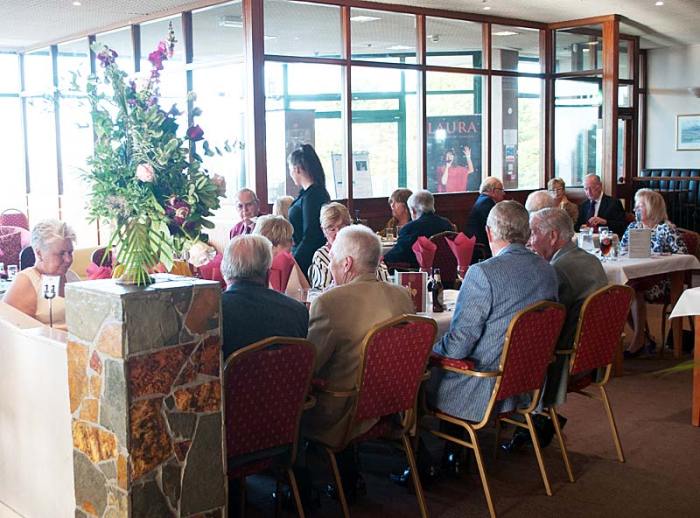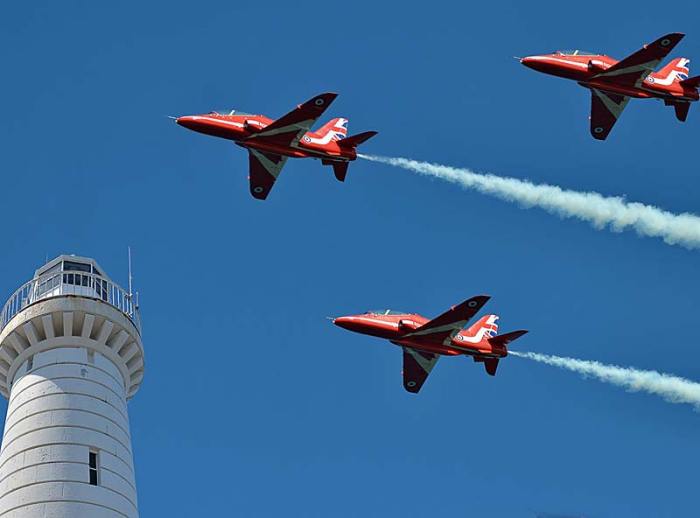 ---
MIXED FOURSOMES AGONISINGLY LOSE ON THE LAST GREEN

Last night saw "The Dee" mixed foursomes team nearly pull victory from the jaws of defeat against an exceptionally strong Mannan Castle side. It was easy to see how in recent years Mannan had done well in the mixed, including an Ulster title a few years back.
---
FRED PERRY SENIOR FOURBALL

On Thursday night the Fred Perry Team played their home tie versus Portadown G.C. for a place in the quarter finals.
---
CLUBHOUSE REFURBISHMENT
As part of the next phase of Clubhouse refurbishment it is intended to repair and paint the rear section of the clubhouse, the rear hallway from the lift to the kitchen door down to the gents locker room and up the main stairway and the landing to the Elsie Brown room.
This is a significant area and is definitely a contract for a professional painter. The club is seeking three quotes for this work. As there are a number of professional painters members of the club Council has decided to ask if any of these members wish to provide a quotation to carry out the work in the first instance.
The Club as always will select what is judged to be the best value for money and the contract will be awarded without prejudice. Only those with the required public Liability insurance will be considered.
Please contact Secretary Manager to express your interest.
---
LADIES LIFEBOAT OPEN TROPHY
Yvonne Clarke was the winner of Donaghadee Golf club's first ladies open competition of the year. The day (Tuesday 28th May) was sponsored by John Minnis Estate Agents and all proceeds went to the RNLI.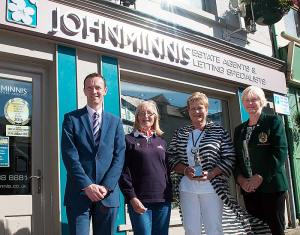 ---
DRAMATIC FINALE CLINCHES A FANTASTIC COMEBACK FOR IRISH FOURBALL TEAM

Well done to all the players involved on the day for the fantastic spirit and performance representing the club. Thanks also to the other squad players, club captain and members who came out to support the team in such horrendous weather and to witness one of the best ever comebacks for any of our club teams.
---
FURTHER SUCCESS FOR IRISH MIXED FOURSOMES

Our Irish Mixed Foursomes team were magnificent at the Ava (Clandeboye) on Thursday, 6th June when they secured a great win over Blackwood to progress to another matchplay round against Mannan Castle, Monaghan.
---
JUNIOR CUP TEAM ARE TOP QUALIFIERS

In the worst of the conditions, Donaghadee Golf Club overcame a shaky start to lead the qualifiers at a fantastically prepared Donaghadee golf course.
---
ALL IRELAND FOURBALL TEAM LEFT WITH ALL TO DO AT HOME
Our Irish Fourball Team played the 1st leg away today against Donegal Golf Club. The final result was a 4& a half to a half defeat and leaves us with all to do next Sunday.

---
JUVENILE COMPETITIONS 2019

Details of our Juvenile competitions for 2019 are now available.  Taking place on Monday and Thursday through July and August.  For further details see our Juvenile News & Events page.