NORMAN DREW TROPHY
The Norman Drew competition has four teams in each section who all play each other, home and away, in a Round Robin event.  Donaghadee are in the same section as Belvoir, Holywood and Bangor with the eventual winners and runners-up going forward to the knock-out stages.  This year the team captain is Gary Smyth, who has dedicated himself to our juveniles in this competition for the past five years.
Yesterday saw our juveniles play their first fixture of the year when they welcomed Belvoir Park to Donaghadee and played five single matches.  The eventual score ending up with honours even at two and a halve matches each.  Successful for our own team were Jordan Gunning and Brooke Stranaghan with Jake Wilson getting a half match. Unfortunately, Calum McDaid and Oliver Allen lost their matches.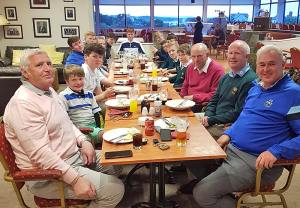 The return leg is on Monday at Belvoir Park at 5pm.